Using clever little ways to brighten up a small bathroom is crucial for making the most of the space that you have. If you manage to nail this, you can even make even the tightest of spaces look (and feel) more spacious and open.
Look, I get it, small bathrooms can feel kind of dull and dreary. I have a teeny tiny bathroom in my house that's really dark. It has small windows and low ceilings so I know how tricky it can be to make a smaller bathroom feel bright.
If your space is in need of a makeover, you're in luck. I've spoken to experts to find the best ways to brighten up your small bathroom. And if you're looking for more design inspo, we have plenty of small bathroom ideas to keep things new and fresh.
6 expert-approved tips for brightening up your small bathroom
Want to know how to overhaul your small bathroom so that it looks and feels brighter and lighter? Here are five tips that interior design experts swear by.
1. Be mindful of what you put in your bathroom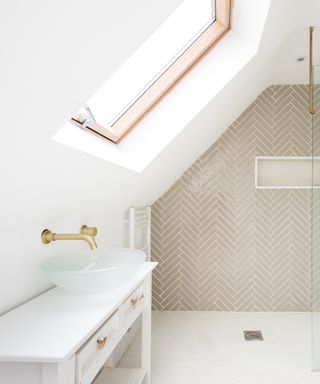 Ok, so I am the Queen of clutter, and I know just how easy it is to overfill your bathroom with clutter. But, if you want to create a space that feels bright and spacious, you need to be mindful of what actually goes into your bathroom, and find ways to store everything (such as by using these handy bathroom organizer bins from Target).
Shantae Duckworth, professional organizer and founder of Shantaeize Your Space says: "One of the major ways to brighten up your bathroom is to be intentional about what you put in there in the first place. A small bathroom can feel very dark and cramped very easily, so it's important to be wise about what you're filling the space with, to begin with."
Before adding an item to your bathroom, take the time to think about whether you need it in there or not. Ask yourself: is it really necessary? You might want to add that cute candle to your bathroom, but ask yourself: do you need that cute candle in there? If the answer is no, then save the space.
Shantae Duckworth is a professional organizer and Founder of Shantaeize Your Space which helps declutter and organize homes in the greater Seattle area and virtually.
2. Keep it minimalist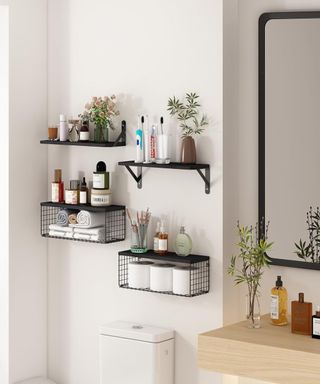 It can be tempting to add lots of little knick-knacks to your bathroom but if you want to make the space feel brighter and more open, it's important to keep it minimalist (or, as minimalist as possible).
"If you have a small bathroom and you want to keep it feeling bright, you're going to want to really lean toward the minimalist style of the room," says Duckworth.
"Stick with vertical wall shelves (like these Aiyome floating shelves available on Amazon) and don't overcrowd them with items. Any medicines or excess hair supplies should be stored under the sink or in a cabinet. The trick is to really declutter the space so that it's not overwhelming to look around and see everything.
3. Implement pretty accents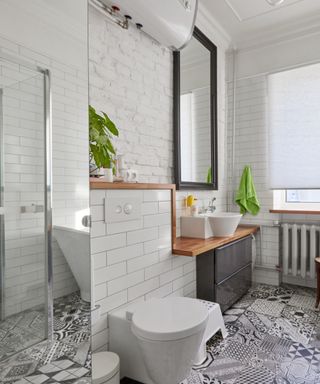 Living in a bland rental that has the classic white bathroom, that every landlord seems to love, doesn't mean having to compromise on color. I, personally, like to add little pops of color wherever I can by picking out colored versions of all the essentials my bathroom needs, from bathroom bins (like this compact bin from Amazon that comes in a wide range of colors) to storage caddies and floor mats, and pretty much everything in between.
4. Pick a light paint color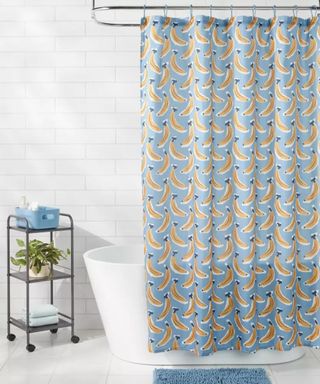 A super simple way to brighten up a darker or more compact space is to opt for a light color palette, and avoid dark, dreary colors.
"An easy way to make your bathroom feel lighter is to simply keep the wall color a light color," says Olivia Dreizen Howell, co-founder and CEO of Fresh Starts Registry.
"If you can't paint in the bathroom because it's a rental, you can use awesome sticky wallpaper (like this Erfoni peel-and-stick wallpaper available on Amazon) that can be taken down easily."
Personally, I always like to keep my small bathroom white, and then add pops of color here and there. However, I do think that the smaller bathrooms painted in a light pastel hue, tend to look great as well.
Olivia Dreizen Howell is Co-founder and CEO of Fresh Starts Registry. the first and only platform for everything you need to begin again, including divorce or breakup, moving, career changes, stepping into your truth, or starting again after grief.
5. Increase light with a well placed mirror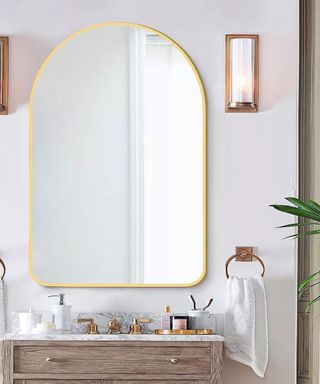 For bringing additional light and brightness into your small bathroom, mirrors, like this Hasipu bathroom mirror available on Amazon, can be a complete game-changer. "Another quick way to make a bathroom feel brighter is to put up mirrors," says Howell.
"I love checking out the local thrift store for mirrors and safely hanging them on the walls of a small bathroom to make the room feel brighter because the sun will reflect off of each mirror, and add a lot of light to the room."
Adding a large mirror to your small bathroom can make the space feel far lighter and brighter, especially if you face the mirror strategically so that it reflects natural light back into the room.
6. Add layered lighting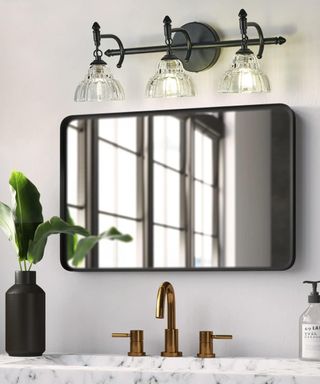 Don't just opt for one overhead light in your bathroom. Instead, aim to layer your lighting to create a brighter-looking space. "Another key aspect is lighting. Install layered lighting to eliminate dark corners and shadows," explains Howell.
"Overhead fixtures provide general illumination, while wall sconces or vanity lights (like these Zarbitta bathroom light fixtures available on Amazon) offer focused task lighting. A strategically placed mirror can also amplify light and make the room seem larger. Mirrors reflect both natural and artificial light, so position them across from your light sources for maximum effect."
3 buys that will help you make your bathroom brighter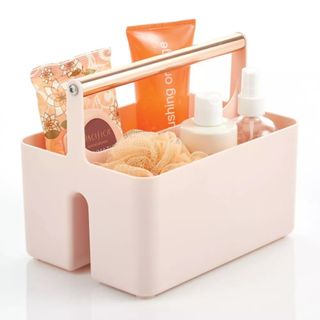 Pop of color
Price: $19.99
Size: 9.37 inches (L), 7.66 inches (H) x 6.78 inches (W)
For adding a little extra color to your small bathroom, this handy storage caddy (that comes in a range of colors) is a great buy.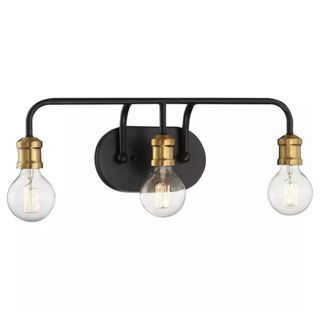 Chic
Possini Euro Design Aras Modern Industrial Wall Light
Price: $79.99
Size: 6.25 inches (H) x 20 inches (W) x 4.75 inches (D)
Add extra lighting to your small bathroom with these chic vanity lights that come in a range of colors and styles.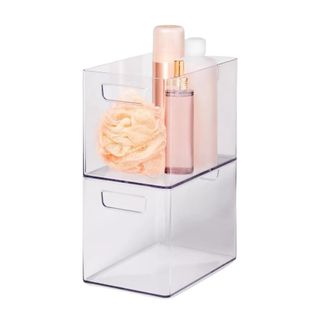 Versatile
Brightroom Bathroom Organizer Bin
Price: $6
Size: 6.5 Inches (H) x 6 Inches (W) x 9 Inches (D)
Keep your bathroom sides clear and clutter-free with these handy storage bins that can be easily stacked to reduce the amount of space they require.
FAQs
What can I do if I have no windows or light?
If your bathroom isn't getting any natural light at all, you'll have to supplement with artificial light sources. Be sure to only install lighting that is approved to work in the bathroom and don't put any electricals near a source of water. Try adding scones, some lighting behind the mirror, or a battery-powered lamp.
What do I need to keep in the bathroom?
Keep items you use every day for washing and grooming. You can store things like extra towels or backups of your favorite products in a linen closet or under your bed if you'd like to declutter. Think of the bare minimum product line-up you need to get ready and try to make some cuts.
---
Now that you know how to brighten up your small bathroom, you might be wondering how to ditch all the clutter that's clinging to the space, which is where our expert-approved tips to declutter your small bathroom could come in handy.