Building a single storey extension is the perfect way to create extra living space in your home, while transforming your space to better suit your lifestyle. It is also the perfect opportunity to get more natural light into interiors with the addition of rooflights and much sought after bi-fold doors. Extensions are a good alternative to moving house, too – just think of the savings you'll make in fees like moving van hire and stamp duty alone.
But what does a single storey extension cost? And how should you go about planning it? Follow our expert, step-by-step guide to getting the planning and budgeting right first time – then check out our extension design advice. Find much more advice on extensions on our dedicated page, too.
Related articles: The ultimate guide to extending your home | 13 ways to cut the cost of your extension | How to build a glass extension
How much does a single storey extension cost?
For an accurate estimate of how much your extension will cost, use our extension cost calculator.
But for a rough idea, there are different ways to break down the cost of a single storey extension.
Building work costs depend on the results you're after, but reckon to pay around £1,500 to £1,900 per square metre for basic quality; £1,900 to £2,200 per square metre for good quality; and £2,200 to £2,400 per square metre for excellent quality.
For an average extension of 4m x 5m, the build cost would therefore be £30,000 upwards for basic quality; from £38,000 for good quality; and from £44,000 for excellent quality.
Remember, this is without professional fees (see more on this below), which come in at around 10 to 15% and VAT. With these added, the lowest cost for a 4m x 5m single storey extension would be just shy of £40,000, with the upper end nearer £58,000.
Bear in mind too that a single storey extension is cheaper to build than a two storey extension because it needs less substantial foundations and steelworks. However, two storey extensions are more cost-effective per square metre, so consider your options carefully. And, if you think you may want to add a second storey in the future, now's the time to up the spec of the extension basics (such as the foundations) to allow for this with minimal extra expense.
What does it cost to do an interior fit-out on an extension?
The cost of fitting out your single storey extension will depend on the rooms within it, but these interior fitting costs for extensions will give you a good start:
For a kitchen, budget from around £5,000 to £20,000, depending on the specification; if you go high end, costs can increase significantly on this.
For a bathroom, factor in from around £4,500 to £11,000, according to the level of fittings.
For a shower room, plan for between £4,500 and £11,000, again depending on your level of fittings.
For flooring, budget in the region of £25 to £100 per square metre.
For wall and ceiling finishes not included in the build costs, set aside from around £85 per square metre for plaster or dry-lining plus paint.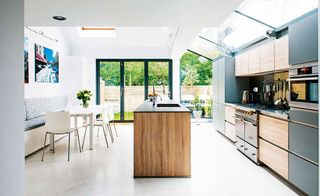 How much do bi-fold or sliding doors cost?
If you're including bi-fold or sliding doors in your single storey extension, factor in £1,500 to £2,000 per linear metre. They are a great way to bring in light and connect your home to the garden – this also creates the feeling of even more space.
How much will it cost to add heating to an extension?
It may be possible to extend your existing central heating system, which could mean a couple of day's work by a plumber, at around £150 per day excluding materials.
Or you may opt for underfloor heating. Electric underfloor heating might be a simpler, less expensive option when it comes to fitting (it can be fixed in place by a DIYer but needs to be connected to the mains by a qualified electrician; day rates are around £150 per day), but water-fed underfloor heating will be less expensive to run over time.
However, this may mean you need a new boiler to meet the demand; the Energy Saving Trust estimates the cost of a gas boiler replacement at around £2,300.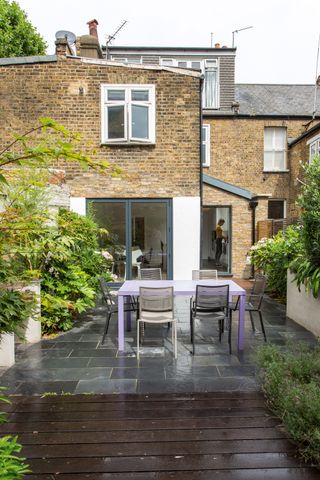 How much are professional project fees for extensions?
Budget for architect design fees from three to seven per cent of the construction cost, with a minimum of around £2,700 to £4,000 for the planning drawings. Construction drawings will typically cost the same and you might need a structural engineer to size roof joists and foundations. Factor in £500 to £1,000.
A measured survey of the existing house will cost from £500 to £1,500 depending on the size of the property.
If you are employing your designer to put the contract out to tender, appoint the builder and administer the contract, budget for a further three to seven per cent of the build cost. Alternatively, agree a day or hourly rate for ad hoc site attendance.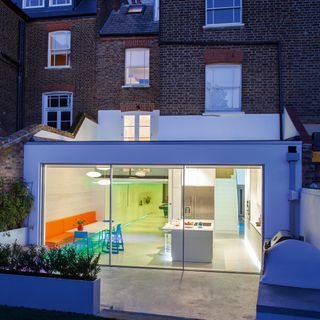 What does planning permission cost for an extension?
The planning fee for a residential single storey extension in England is £206. A certificate of lawful development will cost you £103 and the fee for discharging planning conditions is £34 per request.
Make sure you have gone through your plans thoroughly with an architect or builder who is familiar with the local planning authority and their preferences.
Find out how to make a planning application with our easy guide, and discover all you need to know about planning permission, too.
Bear in mind that other reports may be needed:
Tree report, £250 upwards;
Flood risk assessment within flood zones, £250 upwards;
Ecology report that may be required by your local authority, from £400, but can be much more;
Archaeological report if in an area of archaeological interest, possibly several thousand pounds;
Historic building report, likely if your home is listed.
Will you need planning permission for your extension?
When planning a more ambitious single storey extension, you will need planning permission if:
Your extension covers more than half the area of land surrounding your home;
You are extending towards a road;
You are increasing the overall height of the building;
You are extending more than six metres from the rear of an attached house;
You are extending more than eight metres from the rear of a detached house;
Your single-storey extension is taller than four metres;
Your single-storey extension is more than half the width of your house;
You are using materials that differ from the original style of the house;
You plan on building a balcony or raised veranda.
Subscribe to Real Homes magazine
Love your daily dose of Real Homes? Then why not subscribe to our magazine to see our newest content first? Packed with fabulous readers' homes, trend features, project advice and easy updates, you'll wonder how you ever lived without it.
Planning constraints will obviously limit your extension's footprint and height, but bear in mind that the larger the extension, the more cost-effective per square metre.
That said, an extension that dramatically reduces the size of the garden can have a negative impact on the desirability of your home to future buyers, while keeping within permitted development criteria will allow you to build without going through the planning process.
Plus, even building a small side return extension can dramatically transform your space.
You may be able to make use of permitted development (PD) rights for your single storey extension, which allow you to build without having to make a planning application.
However, under PD, you cannot use contrasting materials for an extension — they have to be similar to that of the existing house. If you want something different, permission will be needed. The footprint and height of the extension will also have to meet PD criteria.
If building under PD, you may want to apply for a certificate of lawful development from your local authority. You can build without one, but it will give you paperwork to prove that your scheme met requirements and did not need planning permission.
The general PD criteria is detailed on the official government website, but check with your local authority as well, because some areas have more restricted rights, such as in Conservation Areas. Local authorities can also use Article 4 Directions to remove rights.
Find out more about building a single storey extension without planning permission in our guide.
What do building regulations for an extension cost?
Building regulations approval is essential. 'Any extension will have to demonstrate compliance and this usually comes in the form of making a Building Control application to the local authority,' explains Alan. 'Each authority has its own table of charges or you can use a private certified Building Control firm if you prefer.'
The size of your extension will affect the fees for building regulations approval. Plan for from £200 for one to 10 square metres, and £900 for 80 to 100 square metres, whether you go for a full plans application with everything approved before you start, or a building notice application, where you need only give 48 hours' notice of commencement.
What do party wall agreements cost?
'If your neighbours consent formally to your single storey extension project, you won't need a party wall settlement and can save money here. If not, having a surveyor arrange party wall agreements for you typically costs from £700 to £1,000 per neighbour,' says Michael.
How to find an architect or designer for your extension
'As well as finding a designer you can talk to easily, make sure that they will carry out small-scale work,' says Alan Cronshaw of Acronym Architecture & Design.
'Choose someone who can demonstrate completion of similar schemes that impress you. You may want to choose a firm that is located fairly near to your house. Some designers charge for an initial visit; others do this for free. This may inform how many you decide to get into an initial dialogue with.'
You can find architectural technologists on ciat.org.uk and architects via architects-register.org.uk or RIBA.
Planning a single storey extension's interior layout
The interior layout is an important part of extension planning. Should you go open-plan or create a series of smaller spaces, or a combination of the two? Consider your needs and how you'll use the space carefully before you start. Building a kitchen extension might mean you're designing an open-plan kitchen diner and living space, but allowing space for a separate utility room and cloakroom is a sensible addition to your design.
Checking the flow between extension and original house works
The flow between new and old spaces should be as natural as possible for your extension to be successful. If you've created a kitchen extension, you might want to access it from the original hallway via wider than usual doors, whereas a home office would only require a standard door width. Hiding joists in the ceiling void beneath the floors of upstairs rooms can be more costly to achieve but will ensure a continuous ceiling level between existing and new spaces, which will give you a more pleasing finish architecturally.
Similarly, ensuring floor levels in the new extension match those of the original house – or at least the hallway it leads off from – will make the new room feel like a natural part of the house. Continuing decorative elements, such as mouldings, skirting boards, door furniture and colour schemes, right through from the original to the new extension will create a harmonious flow, too.
Read our feature on getting the flow right for an interior layout for more tips.
Maximising the impact of the indoor outdoor link
Merging indoor and outdoor spaces will make both the extension's interior and the garden feel bigger and cohesive – ideal if you've had to significantly reduce the latter's size to make way for the extension. You can achieve this with wide bi-fold or sliding doors overlooking the garden.
To exaggerate the effect created by the doors, you could run continuous flooring from inside to out, giving the impression of both areas being one space. Stone floors that run from the kitchen out onto a patio, for example. Having a stone floor that looks as good in the extension as on the patio can create an expansive feel. 'Make sure the stone you choose will work outside and in, and make sure both are fitted to a solid substrate,' says Jo O'Grady, marketing director at Stone Age.
'Often the exterior stone will be thicker than the internal and it may require a slightly coarser finish. Depending on the climate and surroundings of the area you live in, bright and dazzling limestones work well, as they help to open up the space and illuminate when the sun hits it — try creamy Brabazon or Piedra Plana Extra.'
Finally, consider the relationship between interior and exterior materials – from wall treatments to planting. The more complementary they are, the more successful your extension will be overall – and again, both spaces will feel larger. So, if your garden has brick walls, you might consider an exposed brick wall inside, too. Or, if your garden colour scheme is blue, for example, you might like to reflect that in accessories indoors.
Finding a builder for your single storey extension
Recommendation, as well as trade bodies such as the Federation of Master Builders, can help you to find reliable contractors for building your single storey extension.
'Decide if you want to use a larger, faster but more expensive firm that may be more flexible, or a smaller firm that will be less expensive,' says Marta de Sousa of property developers Lux Reality.
'Make sure that any contractors you use have warranties in place, such as Masterbond. Draw up a watertight contract using a template, such as a JCT homeowner contract, and make sure to state in it that payments be made following the completion of specific parts of work and not at different stages, as it is usually very hard to define when you are halfway or a quarter of the way through an extension project.'
Once lined up, you can agree an extension timeline with your builder. Use our week-by-week extension planner to help yours be built to schedule.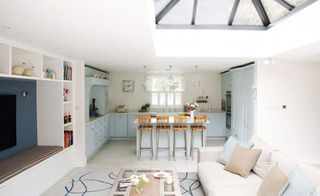 Ways to add space without having to extend out
If you decide an extension is not for you, there are still other ways to add the space you need:
Read more: