Want to know how to wash an electric blanket without damaging it? Just like weighted blankets, heated throws have seen us through the coldest nights and then some. But you've probably found that over the winter, they've had their fair share of food spillages while you've been curled up on the sofa with a good movie, and some snacks.
If a spot clean won't cut it, it's time to sanitize yours properly. The key to washing an electric blanket successfully is firstly making sure that you've chosen the right method for your product. Water and electricity do not mix, so it's vital that you understand how yours is wired, and the manufacturer's instructions, to know whether it can be cleaned safely in a washing machine or, if you'll need to take a different approach.
Hayley Thistleton, sleep expert at SleepSeeker explains more. She says: 'The first thing you should do when attempting to wash it is to check the tag. 'The instructions will be listed there or in the booklet that comes with it, and you should primarily take this advice that comes with the product,'
How to wash an electric blanket in the washing machine
'If the washing machine safe symbol is listed you should make sure the electric blanket is unplugged, and wash it on a gentle cycle.' Says Thistleton.
'Be sure to make sure the water is at a cool to warm temperature, as water that is too hot can ruin it.'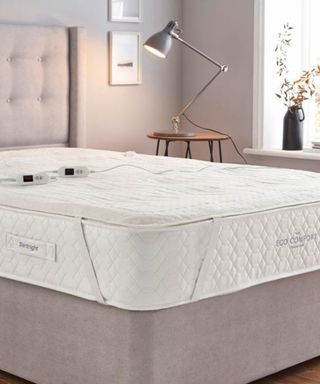 A word of warning: before putting your beloved heated blanket in the washer, it's paramount that you remove all power cables and cords from this energy-saving product.
Most newer plug-in electric blankets have internal wiring that's waterproof so it's really the outer cords you need to disconnect. After doing this, it's time to get that grubby electric blanket in the wash on a gentle cycle.
Hannah Shore, sleep knowledge and research manager at Silentnight, says: 'Electric blankets are an economically friendly way to keep warm and can help mitigate the need to put on the heating for the whole house, making them a great choice this autumn with energy costs continually on the rise,'
'Our range of electric blankets provide reassurance for the user as they are designed with overheat protection so there are no risks to using them, and cost just 1p to heat your bed. The range comprises various electric blanket styles, from the Teddy Topper for a super snuggly option, to the Yours & Mine topper that features dual controls so each partner can choose the right heat setting for them.
"A common misconception is that electric blankets can't be washed properly, however, Silentnight's range features detachable controllers so that the blanket itself can be machine washed up to 40 degrees, for a cozy and hygienic sleep.'
Warning: A normal cycle could damage the inner workings, which might not be obvious but could pose a potential fire risk.
Here's how:
If your electric blanket is attached to your mattress, carefully remove it off the bed.
Make sure your electric blanket is free of crumbs and debris by giving it a good shake. You can also use a handheld vac to get rid of anything else.
Next, place it in the washing machine, spreading it out in the drum as best you can.
Add a few non-lint bath towels in to balance the load.
Learn your machine's washing symbols to choose the right cycle. We recommend a gentle cycle with cool or lukewarm water.
Set the spin to the lowest setting to avoid damage to the internal components of the electric blanket.
Add a mild laundry detergent, without any bleach or fabric softener.
Let the machine wash it for two minutes, before stopping the machine immediately. Follow with a rinse cycle and low-setting spin to get rid of suds and excess water.
'Whether you wash an electric blanket is something I first thought about when I invested in one. And now I know how easy it is to do, it seems like a silly question,' says Louise Oliphant, eCommerce writer.
'Simply enough, most eclectic blankets come with a removable cover, which can be bunged in the wash, usually at 40 degrees. I give myself a routine fortnightly change of the beds, and because I have a relatively large washing machine drum, I can put the blanket in with the rest of my bedding. Similarly, they can be tumble dried, recommended on low.'
'And if you're lucky enough to have an electric blanket with a detachable controller, like the Cozee Home heated throw I have and love, then you can wash the entire thing without the worry of damage. Still, we'd always suggest reading the care label instructions beforehand.'
How to wash an electric blanket by hand
We've got the info on how to wash an electric blanket by hand, if the washing machine method fills you with dread. Handwashing your electric blanket will require all the cords and wiring to be detached.
You might also want to switch your normal liquid detergent or washing powder for an eco-friendly cleaning product seeing as your hands will be in direct contact with the solution. If not, you could stick on some gloves, or rinse your hands directly after washing the electric blanket.
Most modern heated blankets have waterproof inner workings so you'll just be looking to remove the outer cords.
Here's how to wash your electric blanket by hand:
Fill your bathtub with cool, lukewarm water, and use only enough water to submerge the electric blanket and agitate it.
Add an eco-friendly laundry detergent and follow the instructions to the t, so you have enough detergent to clean but not too much that it's hard to rinse away all the suds, which if not rinsed could potentially damage your heated blanket.
Mix the laundry detergent through the water to create a sudsy foam.
Then add the electric blanket, submerge it completely and let it soak for around 10 - 15 minutes.
After 10 - 15 minutes, get your hands in the water to squeeze sections of the blanket to help accelerate the stain removal process and get rid of grubbiness. Do this without wringing the electric blanket as this can damage the wiring.
Rinse the electric blanket with lukewarm water until the water runs clear.
Press down on the electric blanket to remove excess water avoiding wringing at all costs.
How to dry an electric blanket
Now you've learned how to wash an electric blanket, it's time to master how to dry it. Using a tumble dryer isn't strictly recommended as it can damage wiring but when done right you can give it a short whirl in the dryer.
Thistleton explains that 'you can use a dryer to take the moisture out of the electric blanket, but you shouldn't use this for too long,'
'Set a timer for no longer than 20 minutes on a low setting, and then hang it up to dry.'
'You should never dry clean an electric blanket (although it may seem convenient) as the chemicals used can damage the wiring and heating system - the same goes for ironing it.'
If this all sounds slightly precarious, air drying the heated blanket will ensure it's kept in good condition. Use a flat surface and lay it out, turning it every so often, or alternatively hang it on your washing line to stretch it into its original shape.
If you are using a clothesline, the experts at Dreamland advise that you 'hang the appliance without using pegs on the wired area of the throw so as not to cause any damage to it.'
Referring to their manufacturer's guide, you should also 'examine the appliance against the light to make sure the cables are not bent or twisted.' And, 'if the appliance does not resume its original size or if problems arise with the internal cables contact an authorized service center for a safety check.'
How often should you wash your electric blanket?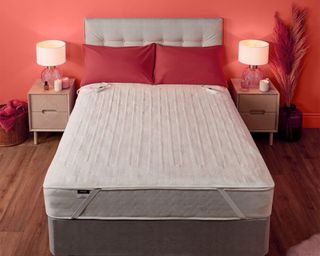 Now you've got how to wash an electric blanket down, how often should you be washing yours? You'll be pleased to know, it's not as often as you'd wash bed sheets (1-2 weeks), but it's not far off...
'You should wash your electric blanket approximately every few weeks - once a month or whenever the blanket gets dirty.' says Thistleton
Make sure you are alternating between tumble drying and air drying to keep your electric blanket's inner connections in tip-top condition.
To ensure you don't make any laundry mistakes that might damage your electric blanket, follow the recommendations from our bed accessory experts and take extra care when laundering your heated throw, as this is a little different from a regular clothes wash.
After studying biomechanics at the University of Central Lancashire, Hannah Shore initially joined Silentnight Group, the UK's most trusted sleep brand, to understand how mattresses support our bodies during sleep. This then evolved to studying how certain mattresses perform in real sleep environments, and how this affects individuals and their different styles of sleeping.
Hannah has a keen passion for understanding sleep and identifying how we can help everyone achieve the best night's sleep possible.