When it comes to buying the best washing powder for doing the laundry, many of us will automatically keep buying the same brand and same product week in, week out. But have you ever really stopped to consider if you are using the best buy for your needs?
With bio and non-bio to choose from, as well as those that tackle tough stains, are kind on sensitive skin or add a lovely fragrance to your wash, isn't it time to take a moment to think about your shopping habits and maybe change your order?
Start by reading our top tips on how to buy the best washing powder. Then, see our pick of the best washing powders below to give your laundry the best clean ever. From non bios that are kind on sensitive skin to unbeatable stain removal and those that infuse your laundry with a sweet smelling aroma, you're sure to find something that suits.
And if you need the best washing machine to go with the powder... don't miss our expert buyer's guide.
What is the best washing powder?
Why you can trust Real Homes Our expert reviewers spend hours testing and comparing products and services so you can choose the best for you. Find out more about how we test.
The best washing powder is Fairy Non Bio Washing Powder. It gives long lasting freshness – up to one week, in fact – while making clothes feel soft and comfy thanks to its natural ingredients, which are dermatologically tested – so ideal for sensitive skin. We also love Surf Tropical Lily Washing Powder for its intoxicating smell of Tropical Lily and Ylang Ylang.
Read more on both below, or see our best list below if you're in a rush:
The best washing powder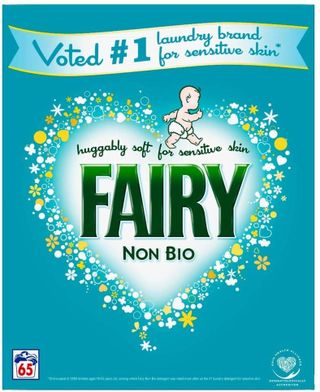 Perfect for sensitive skin, Fairy Non Bio Washing Powder is the best washing powder. This non bio washing powder is gentle next to your skin and is dermatologically tested. It was awarded the Skin Health Alliance seal and is the no. 1 laundry brand for sensitive skin. Here's everything you need to know:
Gentle formula
The best buy not only for sensitive skin but also for baby clothes and bedding, too. It's not perfumed either so is ideal for all the family. Many buyers say it reminds them of their childhood.
Can be used on….
Everything, as it removes dirt and ground-in grime without fading colours.
Results
Works great on everything from work shirts to knitwear.
Good to know
Also works brilliantly at low temperatures, saving energy and money on utility bills in the long run.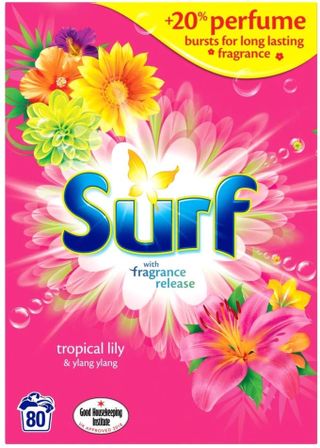 Thanks to the blend of Tropical Lily and Ylang Ylang, the Surf Tropical Lily Washing Powder gives laundry an amazing smell after washing. And is said to reconnect mind and body as well as create feelings of euphoria!
Use on
Both colours and whites, simply separate your loads as usual.
Also available in…
As well as washing powder, you can also buy this product as a washing liquid and washing capsules, so no matter what type of detergent you like to use, there's something to suit.
Results
The fragrance lingers on your laundry long after washing, releasing s burst of floral aroma throughout the day.
Good to know
You can use Surf even at low temperatures and cold water and it's great on whites.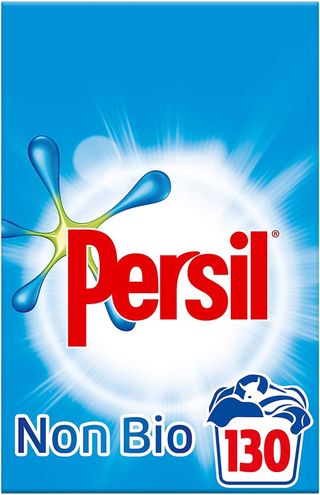 When you want a powder that takes care of stubborn stains such as oil or blackcurrant but is also kind on skin, the Persil Non Bio Washing Powder is the one for you. Persil's skin care research is recognised by the British Skin Foundation so you can rest assured this non bio product is suitable for all the family.
Use on
Everything including baby clothes and bedding as well as workwear, sports kits and delicates.
Stubborn stains
Add this powder to the dispenser drawer and always check the labels on your clothes before washing to choose the best temperature and cycle for the job.
Results
Ideal for washing machines as well as hand washing, just make sure you dissolve the powder properly in water and keep lights and darks separate.
Good to know
Save time and energy by switching to a cooler temperature and a speedier cycle for your wash, safe in the knowledge that Persil Non Bio will do a great job.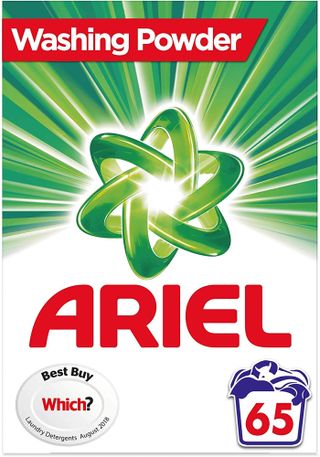 The Ariel Washing Powder Original produces amazing results and leaves clothes spotlessly clean every time. It cleans deep in the fibres to prevent stains from setting in and can also deal with sweat and nasty odours too.
Use on
All cycles, including 30˚C programmes and enhance the brightness of your whites as well as leaving clothes smelling fresh.
Highly recommended
Ariel is the no.1 recommended brand by more top selling washing machine makers globally (according to a P&G Study in 2017).
Long lasting
You should get around 65 washes out of one box, which equals a few months on average.
Good to know
Take extra care of your colours by choosing Ariel Colour & Style Washing Powder too, which is designed specially to keep colours bold and bright.
If you're looking for long lasting freshness and a brilliant clean, every time, try the Bold 2-In-1 Washing Powder with Lenor Long Lasting Freshness. Designed by Lenor perfume experts, the scents are said to leave laundry fresh and floral.
Outstanding results
Bold 2-in-1 gives fantastic cleaning results every time, so everything looks as good as new.
Fresh for longer
That lovely fresh fragrance lasts and lasts, and is such a treat on bedlinen as well as everyday clothes.
Scents to try
As well as this one, there's also Sparkling Bloom & Yellow Poppy, Lotus Flower & Waterlily and Silk Flower & Gold Freesia.
Good to know
For even softer clothes, use with Lenor fabric conditioner.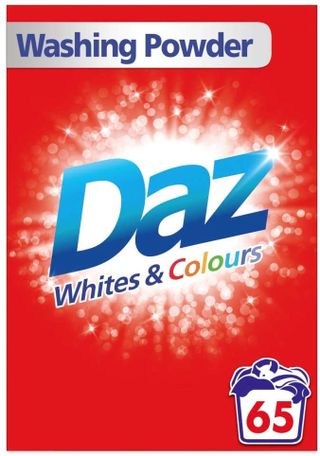 As the name suggests, the Daz Washing Powder Whites & Colours is best for whites and colours. So, no need to buy a second box of washing powder to have one for each; this product can clean both.
Outstanding results
Thanks to the built-in polymers in Daz washing powder, colours are prevented from turning grey, while the brightener system will freshen up your whites.
Tackles stains
There's no need to use a stain remover with this washing powder, as it deals with ground-on stains brilliantly.
Smells amazing
Some users say it even removes odours such as oil from clothes and instead, leaves them sweet smelling and fragrant.
Good to know
Buyers say it works on sensitive skin too, so no worries about allergies or sensitivity.
How to buy the best washing powder
Washing powders for whites, colours, or both
Washing powders in general contain bleaching agents, which means that they can get rid of everyday stains, while the optical brighteners will slow down the time it takes clothes to turn grey. Some washing powders are designed to work on whites as well as colours while others are aimed at colours only, so they won't have the bleaching agent added.
Save money: buy bigger
Consider the size of box you want. It makes sense to buy big, as you'll make your money go further, but think about where you will store it. It's no good keeping it in the garage or shed, as it will get damp, so make sure there's room under the sink or on a high shelf in a utility room.
Bio washing powders vs non-bio
Bio powders work particularly well on smelly clothes while non-bios are more natural without the enzymes added and are suitable for use with a septic tank. Non-bio washing powder works well at high temperatures and some are said to work just as well on a 30ºC wash, so check before you buy. You may need something that's kind on sensitive skin, especially if you have a baby or family members with allergies. This will be fragrance-free so you won't get that lovely smell that comes with some powders that sell themselves on a floral aroma.
Looking for more cleaning advice?