When it comes to getting clean clothes, only the best laundry detergent can truly perform in the way you need it to. With options ranging from liquid, powder, and pods, there are lots of ways to get your laundry clean — but we're only interested in the highest-performing picks. Here, you will find what you need to buy to get your laundry day routine down to a fine art.
Prepped with these detergents, you'll find that stains and marks come out of your clothes easier — and that you have unbeatable fresh laundry smells floating around your home. Certain products can also help keep your precious whites gleaming, and bring back vibrance to well-worn clothes. One of the best things about excellent detergents is that you don't have to spend a fortune to get worthwhile products, with sustainable picks and sensitive-skin friendly cleaners also covered within this guide.
Add wonderful smells and better stain removal into your laundry routine with these detergents, and we're sure you'll never look back. And if you need a complete overhaul, why also check out our guide to the best washing machine for more. Otherwise, if you are hoping to contribute to saving the planet this year, then an eco-friendly laundry detergent might be your best bet.
---
The best laundry detergents
Why you can trust Real Homes Our expert reviewers spend hours testing and comparing products and services so you can choose the best for you. Find out more about how we test.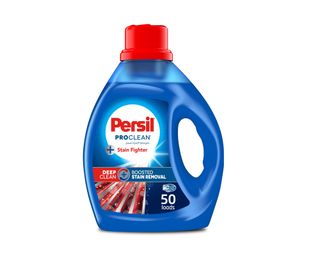 Laundry detergent is a necessary cleaning supply that everyone has under their kitchen sink or in their laundry room, and usually, everyone wants the same two things: a detergent that cleans your clothes and dissolves stains. Persil Proclean Stain Fighter does all of that – and then some more. Persil's formula was recently redesigned to tackle a wider range of stains thanks to a few new ingredients, and it seems to do the trick. Whether you want to remove grass stains from your kid's soccer jersey or clean that dish towel that got spaghetti sauce all over it, Persil Proclean Stain Fighter can handle it all. Persil Proclean also has a mildly strong flowery scent that will remain on your freshly-cleaned clothes for days, even weeks, after the wash.
Load your items into the washing machine, set it on any water temperature (yes, even cold), and fill the cap with detergent. Use a third of a cap of detergent for regular loads and two-thirds of a cap for large loads or those with lots of stains. While the detergent does pretty good on most stains without pre-treatment (even set-in stains), you could pre-treat a difficult stain by rubbing some of this detergent into the stain before washing.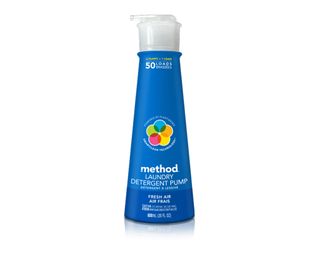 Method has redesigned the way we do laundry with the Method Laundry Detergent Pump. Though you may be used to filling up the detergent cap with liquid, scooping powder into your washing machine, or throwing in a pod, Method is offering users a new way to do laundry – with a pump. A pump isn't the only thing this detergent has going for it. The plant-based formula does a great job of clearing away dirt and stains. You can even choose between Lavendar Cedar, Fresh Air, or no scent with this detergent.
Two pumps will do the trick for a small load, though most will need four pumps for a regular load. Six pumps will take care of a large or heavily-soiled load. With the pump feature, you won't have to worry about spilling liquid or powder detergent or the plastic wrapping around the pod not actually disintegrating in your drum. Best yet – this method could save you money, ensuring you don't lose any precious detergent and actually utilize the 50-75 loads that Method promises.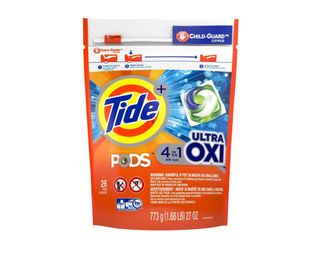 Hot and warm water has long been thought of as the best temperature for washing clothes. But there's a lot to love when it comes to cold water – like how your clothes are less likely to fade, ruin, or shrink. And it saves you money! If you're a cold water washing fan, you'll want to go with the Tide Coldwater 4-in-1 Pods.
These pods are designed to dissolve in cold water (they can also be used in hot water too), and as the name implies, they're filled with four things: super-concentrated detergent, odor fighters, stain removers, and a coldwater clean solution. Conveniently packaged into a tiny pod, it's easy and efficient to throw a pod into the drum of your washing machine and let it do its magic. No need to pour or measure which is half the effort of doing laundry anyway.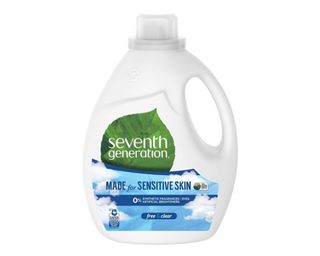 Seventh Generation has a wide range of eco-friendly home products, but we're a fan of their Free & Clear laundry detergent. This biobased product was made with 96% of plants and other renewable agricultural, marine, or forestry materials. Some laundry detergents that claim to be eco-friendly are only 65% biobased, so Seventh Generation Free & Clear is well above the rest. How does it do on stains? Very well! You'll enjoy clean items and a product that does an above-average job at ridding your clothes of stains over the course of 66 loads, proving that you don't need a lot of chemicals to get the job done.
What does this mean for you? The product is free of dyes, perfumes, and artificial brighteners which could irritate those with sensitive skin. And the bottles are made of recycled materials which is a nice perk for those who want to protect the planet.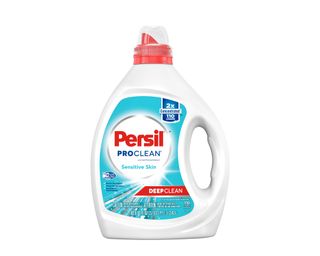 Sensitive skin shouldn't prevent you from a laundry detergent that works. That's why we like Persil ProClean Sensitive Skin. This formula has all the benefits of the Persil ProClean Stain Fighter: a formula that rids clothes of deep stains, brightens and whitens, ability to pretreat stains, and works in cold water and all washing machines. Keep in mind that while ProClean Sensitive Skin is perfume-free, it does have a faint scent that is arguably more pleasant (and less strong) than that of the Persil ProClean Stain Fighter.
However, this formula has been specifically made to be gentle on skin. Tested by dermatologists, this hypoallergenic liquid laundry detergent is free of dyes and perfumes. Though they've done a great job with sensitive ingredients, Sodium Borate or Propylene Glycol have been known to be irritating to some. A list on their website of the ingredients is helpful for any interested in the product.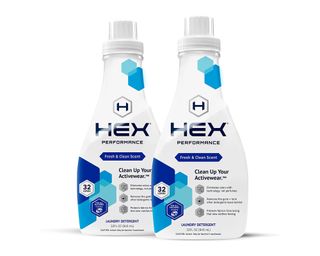 Any frequent gym-goers will be glad to have this special laundry detergent in their arsenal. Of course, your workout gear can get sweaty and smell less than appealing sometimes, and getting those sorts of things out in the wash is so important. However, there can be times it feels like the odor or bacteria hasn't quite made its way out of your leggings or sports bra, and that's where HEX detergent can step in.
This detergent is designed to weave its way into tight-knit materials and give a thorough clean, without compromising on the high-quality stretch of your favorite leggings. Not only do we think this is genius, but gives peace of mind when it comes to stepping out in the gym or heading for a run in terms of bad smells. HEX is also a sustainable brand, right down to the recyclable bottle.
HEX detergent has a strong fruity smell and is capable of working at any different water temperature. It's not just for your gym stuff either, meaning you can throw it in with your towels, bedding, and other clothes for a squeaky clean.
---
Where to buy laundry detergent?
If you have particular needs you have to cater to, like young children or especially sensitive skin, then you might still be on the lookout for the perfect detergent to suit you. For more, check out our recommended retailers for the best laundry detergent below.
Laundry detergents: what's the difference?
Laundry detergent comes in three different forms – liquid, powder, and pods. While they all have the capability of cleaning your clothes, there are pros and cons to each type of solution. We go over them below:
Liquid
Pros: You won't have a hard time finding a liquid detergent as it's the most common type. Liquid detergent can be as cheap as a $1 or cost upwards of $17, which is nice for those with varying budgets. Plus, it's supposedly better on grease stains than other types of detergent. Whether you're looking for something tough on stains, sensitive on skin, or retains color, there is plenty to choose from among liquid detergents.
Cons: If you don't measure out liquid properly, you could find that it leaves a residue on your clothes. It's also not the easiest thing to measure and sometimes it results in messes, unless you use an innovative product like the Method Laundry Detergent Pump which has a pump to prevent any minor waste.
Powder
Pros: Powder is a little old school in the laundry detergent scene, but many people like it for its affordability. And if you find yourself with a lot of mud-covered clothes – powder is the way to go.
Cons: Be wary of using powder detergent with cold water as some formulas have issues dissolving in that water temperature which could cause build-up and problems in your washing machine.
Pods
Pros: The best washing pods are the most convenient form of laundry detergent. You grab one and throw them in the machine; it's that easy. Pods come in various solutions, some are powder, some are liquid, and some have both. Find the one that works for you.
Cons: Not all pods sealings are created equal; some don't dissolve in washing machines as they advertise. Plus, pods are the most expensive form of detergent.