Confused by your appliance's washing symbols? We know what you're thinking: figuring out how to do laundry is tricky enough without confusing symbols to deal with too.
It's true that it may sometimes feel like you're decoding a secret message or simply guessing the optimum wash, but selecting the right programme on your washing machine will give the best results while caring for your clothes.
Experts at AEG explain more, 'Washing your clothes using the correct programme can increase the life of your clothes significantly. It also has a large impact on the environment as it reduces the number of items placed in landfills.'
'The production of clothing carries a large carbon footprint also, so by washing clothes in the correct way, we keep our favourite clothes looking for longer.'
Don't panic, it's all pretty simple once you're armed with some basic knowledge.
What you need to know first is that the washing symbols found on the control panel of your washing machine are different depending on the manufacturer and can even differ on models from the same manufacturer. Helpful.
However, to give you a helping hand, we've looked at the top five manufacturers to see what programmes they offer and when best to use them so that you can confidently understand your washing machine's symbols.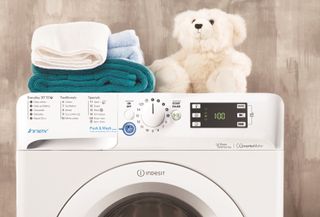 Washing symbols: know the basics
Jump to the manufacturer of your washing machine
Before you begin, familiarise yourself with the different dials/buttons for wash type, temperature and spin. If in doubt, flick through the user manual – it may be 100s of pages long but there's usually a contents list, which will show you where to find information with explanations for the different symbols and programmes and when best to use them.
Wash type is where you'll see the programmes available with their individual symbols or writing. This will include options such as wool, silk, sports, half load and so on.
The temperature shows how hot you want the water to be. In most cases it ranges from 30ºC to 90ºC. Think about the clothes and fabrics you're putting in to the machine as this will determine the right temperature to use. Check the label on clothes for guidelines and consider washing at lower temperatures to save energy. You can buy detergent that is specially designed to work on a cooler wash for the best results.
Next, the spin speed. This indicates how fast the machine will spin your clothes after it has washed and rinsed them. A maximum spin is usually 1400rpm and this gets laundry ready for line or tumble drying.
Hoover and Candy washing symbols
The Hoover Group also includes Candy appliances. These symbols in particular can be found on Hoover's Wizard app-controlled washing machines but you may find some of the symbols on Candy models too.
In the market to buy new? See our Hoover AXI washing machine review first.
AEG, Electrolux and Zanussi washing symbols
Part of the Electrolux Group along with Electrolux and Zanussi, AEG washing machines mainly feature four icons.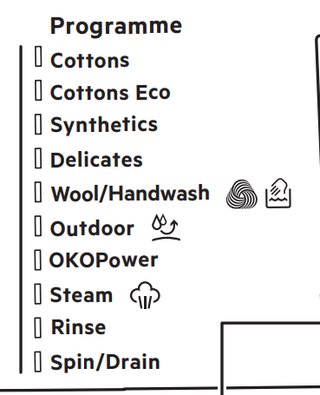 Wool/Handwash – use for machine-washable wool as well as hand-washable woollens and delicates.
Outdoor – this innovative programme combats all the usual stains and marks found on sportswear and PE kits without damaging the fabric.
Steam – a quick and easy way to refresh creased clothes so they're ready to wear. The short, gentle steam programmes safely remove odours and reduce creases in dry fabrics. Or you can finish your wash cycle with a gentle steam so clothes need little to no ironing.
Whirlpool, Indesit and Hotpoint washing symbols
Whirlpool is part of the Whirlpool group, which also owns Hotpoint and Indesit, but it's not necessarily true that symbols on a Whirlpool washing machine will be the same as those on an Indesit or Hotpoint model, so check your manufacturer's handbook carefully. Here, we look at the icons and programmes available on Whirlpool's FreshCare FWD91496W UK washing machine.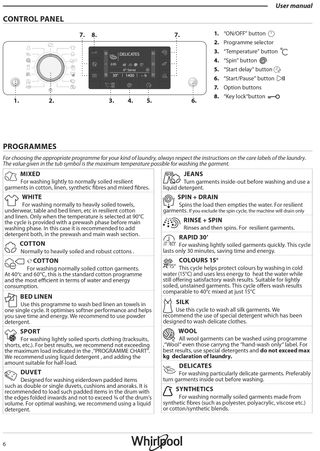 Mixed – for washing lightly to normally soiled resilient garments in cotton, linen, synthetic fibres and mixed fibres.
White – for washing normally to heavily soiled towels, underwear, table and bed linen in resilient cotton and linen. Only when the temperature is selected at 90ºC the cycle is provided with a prewash phase before main washing. In this case it is recommended to add detergent both in the prewash and main wash section.
Cotton – normal to heavily soiled and robust cottons.
e Cotton – for washing normally soiled cotton garments. At 40ºC and 60ºC, this is the standard cotton programme and the most efficient in terms of water and energy consumption.
Bed Linen – use this programme to wash bed linen and towels in one single cycle. It optimises softener performance and helps save time and energy.
Sport – for washing lightly soiled sports clothing such as tracksuits and shorts. For best results, do not exceed the maximum load indicated in the programme chart and use liquid detergent.
Duvet – designed for washing eiderdown padded items such as double or single duvets, cushions and anoraks. It is recommended to load such items in the drum with the edges folded inwards and not to exceed ¾ of the drum's volume. For optimal washing, use liquid detergent. For more information on how to wash a duvet, head over to our guide.
Jeans – turn garments inside-out before washing and use a liquid detergent.
Spin + Drain – spins the load then empties the water. For resilient garments. If you exclude the spin cycle, the machine will drain only.
Rinse + Spin – rinses and then spins. For resilient garments.
Rapid 30º - for washing lightly soiled garments quickly. This cycle only lasts 30 minutes, saving time and energy.
Colours 15º - helps protect colours by washing in cold water and uses less energy to heat the water while still offering satisfactory wash results. Suitable for lightly soiled, unstained garments. This cycle offers wash results comparable to 40ºC mixed at just 15ºC.
Silk – use to wash all silk garments. It recommends the use of special detergent, which has been designed to wash delicate clothes.
Wool – all wool garments can be washed using this programme, even those carrying the hand-wash only label. For best results, use special detergents and do not exceed max kg.
Delicates – for washing particularly delicate garments. Preferably turn garments inside-out before washing.
Synthetics – for washing normally soiled garments made from synthetic fibres such as polyester, polyacrylic, viscose or cotton/synthetic blends.
Bosch, Siemens and Neff washing symbols
The BSH Group, which includes Bosch, Siemens and Neff, has a wide range of laundry models to choose from. These symbols are specific to Bosch washing machines.
WaveDrum – select the programme for your wash and the droplet-shaped drum structure and asymmetrical paddles adjust the drum movements to powerful or gentle.
Aqua Stop – this gives peace of mind that the water will stop in the unlikely event of a leak.
iDOS – automatically senses exactly the right amount of detergent and water to use, as well as the correct temperature, whatever your load, adapting to the fabrics, level of soiling and weight of the laundry.
ActiveOxygen – this system cleans your most delicate fabrics at low wash temperatures, protecting their colour while eliminating 99.9 per cent of the bacteria and germs found in clothes, without the use of any chemical additives. Experts at Bosch say:'ActiveOxygen safely washes and preserves the colours of your most delicate fabrics (such as silk, wool and linen) at low temperatures without using any chemicals. And for clothes that just need a freshen up, choose the 45 minute ActiveOxygen Refresh mode.'
Reload – pause the cycle and the machine will automatically adjust the water. This allows you to add or remove items of any size to your wash.
Time Delay – have your laundry ready when you need it. Just delay the start of the programme with this one simple button.
Miele washing symbols
Miele washing machines offer a wide range of programmes specifically designed to suit the fabric.
Here, we look at the washing symbols on a typical control panel.

Cottons – for normally soiled cotton garments, this is the most efficient in terms of energy and water consumption.
Minimum Iron – use for mixed fibre textiles as well as easy care cotton, to reduce creases.
Delicates – ideal for clothes made from synthetic fibre, mixed fibre, rayon and viscose.
Woollens – machine-washable or hand-washable wool or wool blend fabric. If the care label doesn't specify a temperature, wash using the cold setting.
Shirts – perfect for shirts and blouses made of cotton and mixed fibre.
Express 20 – use this option for cotton garments that have hardly been worn or are only very lightly soiled.
Dark Garments/Denim – use for black and dark items made of cotton, mixed fibre or denim.
Outerwear – designed for performance outerwear such as jackets and trousers made from membrane fabric such as Gore-Tex®, SYMPATEX® or WINDSTOPPER®.
Separate Rinse/Starch – ideal for rinsing hand washed items or starching tablecloths and workwear.
SingleWash – Have a sweater to wash but nothing else? Their SingleWash function can help with that. Miele explain, 'The Miele solution for this is the SingleWash option which can be used with lots of programmes. This option adapts programme duration, water and energy consumption for loads up to 1kg.'