Let's be real: apartments aren't as big as a regular ol' house. While this does mean there's less space to actually have to clean (always a bonus), it also means that you really do notice when the grime accumulates.

I know how it feels to live in a tiny space and be overwhelmed as you try all your best cleaning hacks to stay on top of dirt and clutter. That's why it's super important to make sure you're properly cleaning your apartment more frequently. After all, not only are dust bunnies not as cute as the name suggests, but they really aren't great to be breathing in. Gross.

If your apartment is in need of some TLC, I've got you. I'll show you which cleaning tools and supplies you need, how to tackle each room in the house, and answer your commonly asked questions.

Get ready, as your apartment is about to get a serious glow up…
Good to know
Time: 2 hours and 30 minutes. This is broken down into 30 minutes for each room — kitchen, bathroom, living room, and bedroom — plus an extra 30 minutes for gathering all your cleaning supplies and tools. Depending on if your apartment is bigger or smaller, this amount of time may change.
Difficulty: Easy. While this may take a good chunk of time, none of the cleaning techniques used are complicated. Phew.
Helpful hints: A cleaning caddy will make this so much easier, so you have all your supplies in one place. If you have the budget, I recommend purchasing a cleaning caddy for each room and separating out the supplies. This way, you don't have to carry the caddy in between rooms.
Here's what you'll need
How to clean your apartment
Step 1: Gather your cleaning tools
Save yourself from dashing back and forth between your cleaning cabinet by gathering all the supplies and tools that you need in one place. You can either lay them out on a surface and move them around with every room, or you use a cleaning caddy to carry everything around. For room-specific tools such as the toilet brush, you can just put this in there, ready for when you need it.
Step 2: Start with the kitchen
The kitchen is the first room you should clean, as it's the space that will need the most love, due to how much it's used and how wet it can get. Start with dusting the tops of cabinets, the extractor fan, and the top of the fridge. Then, clean the cabinets — both the surface and handles — with a microfiber cloth and an all-purpose cleaner.

Continue using your microfiber cloth and cleaning spray to clean the surfaces, including countertops, the sink, and the faucet. Finish off with the floor, using a dustpan and brush to get rid of crumbs, before using your mop.
Top tip: Give your microfiber cloth a little rinse before you start to use it to loosen the fabric up and move the cleaning spray liquid around more effectively
$4.49
Mrs. Meyer's Multi-Surface Spray
The perfect everyday spray, this cleaner is great for all around your home. Affordable, well-scented, and cruelty-free, it's an essential for your cleaning caddy. The spray is a golden pick because it's made with plant-derived ingredients and avoids artificial colors, parabens, and glycol solvents. Well-scented and thoughtfully made, what could be better to spritz your home with?
$14.44
Swiffer 2-in-1 Dry + Wet Mop
Don't be fooled by the budget-friendly price tag of this simple dry and wet mop. While it's not electric, it's the perfect manual cleaning tool for small apartments and dorms and is backed by our editor-in-chief and 50,000 five-star reviews. Swiffer has set up a recycling program for the pads. And you can buy ones for wooden floors, pet owners, and more.
$14.31 for 3
Spontex Microfibre Cloths
These microfiber cloths are my fave to use. The cute colors just make me so happy and put me in a good cleaning mood. They're super soft, don't leave stray fibers, and are easy to wash. I'm a fan of the classic rainbow set, but it's worth having a peep on Amazon to see if there are any patterns that match your aesthetic. Because I know that's important, people.
Step 3: Move to the bathroom
The bathroom is another apartment room that gets super wet (because obvi we clean ourselves in there), which means bacteria builds up quickly. Start with spraying the highest places with all-purpose cleaner — which in the bathroom are the shower head and the wall-tiles — and then wipe them down.

Follow this along with cleaning the sink faucets and basin, and then the toilet. Go all around the bowl with the toilet brush, scrubbing away any gross stains. Finally, sweep with a dustpan and brush, then mop the floor from the end of the room to the start of the room so you don't leave any footsteps. Finish your cleaning with a spray of air freshener.
Top tip: Use a bathroom-specific cleaning spray for better results.
$13.13
Clorox Toilet Wand Starter Kit
This toilet wand has been all over my TikTok FYP, and it's so efficient that I can def see why. All you have to do is click the disposable head on, scrub the toilet with it, and then throw the head in the trash. That way, you won't keep scrubbing the toilet with the same germs. Genius.
$4.27
Lysol Power Foaming Spray
Lysol has such a fab range of cleaning products, and this one is Amazon's Choice for bathroom cleaners. It gets rid of 99.9% of bacteria (that's a whole lot), cuts through soap scum, and makes getting off grime so much easier. After all, we don't have hours to spend scrubbing.
$27
Made with no synthetic chemicals, this blend of 100% pure and natural essential oils has been a firm favorite of ours for years. With notes of tea tree, peppermint, and eucalyptus, it's great for stomping out bathroom smells.
Step 4: Head to the bedroom
No, it isn't nap time (maybe after). Start by dusting the tops of your wardrobes, cabinets, lampshades, TV stand, and nightstands. Dust your headboard, too — this is one place I always forget to clean. Then, wipe down the surfaces with a microfiber cloth and spray. Make sure you remove any objects, such as night lamps and diffusers before you do this, so you don't miss any spots underneath them.

Spray any nasty spots with an upholstery cleaner (I get so much makeup on my carpet, so I ain't judging), rubbing them in with a scrubbing brush. Then, go over the whole floor with your vacuum cleaner or your mop, depending on if you have carpet or wooden flooring.

Top tip: If you have time and if they need changing (this is how often we recommend), swap out your bed sheets for an extra-fresh finish.
$29.98
Oxo Good Grips Microfiber Duster
You get two for one with this set: a hand duster and an extendable duster. The fluffy head quickly traps dirt and chemicals, so you won't be flinging dust around your bedroom. It also extends up to 53 inches, meaning you can reach right to the top of the wardrobe without having to strain. Plus, the handle is easy to grip, so you won't be slipping around when you're dusting.
$4.97
Resolve Upholstery Stain Remover
This easy-to-use spray is amazingly effective at both cleaning and deodorizing upholstery. Simply blot the stain, spray over the area that needs cleaning, and wait for five to 15 minutes for it to soak in. The worse the stain the longer you'll want to wait before blotting again. The light scent is also fresh without being overwhelming. Just bear in mind that it works best when used on stains immediately after they happen.
$9.95
In this set, you get two scrubbing brushes, as well as a tile lines brush, a groove gap brush, and a scouring brush. Basically, no matter the size of the stain or the size of the gap, you're going to be able to get in there real well with this set. It's Amazon's Choice for scrubbing brushes, and I can totes see why.
Step 5: Finish in the living room
This is the best place to finish cleaning. It doesn't have surfaces that need time to dry, like in your kitchen and bathroom. Plus, chances are this is where you're going to go to chill out once you're done. Dust bookshelves, picture frames, and light fixtures with the duster, before wiping them with a microfiber cloth and cleaning spray. Repeat this with your tables and chairs. Same as with the bedroom, either use a dustpan and brush and mop combo or a vacuum to clean the floor.
Top tip: For an extra deep clean, use a carpet or upholstery cleaner machine on your couch and cushioned seats.
$430
Shark IZ862H Stratos Vacuum
Our head ecommerce editor Annie (and her pug, Doug) gave this Shark vacuum a run for its money and discovered that it works wonders on pet hair. We know that it's pretty expensive at $430, but its quality will last for years. We promise that the long battery life and bendy stick are both game-changing features.
$109.59
Bissell Little Green Portable Cleaner
This green machine may be small, but it packs some serious power. Lift spots and stains off your couch and chairs with this adorable upholstery cleaner that's easy to carry all around your apartment. It's the perfect size for storing in your cabinet and will be a long-lasting tool you can rely on.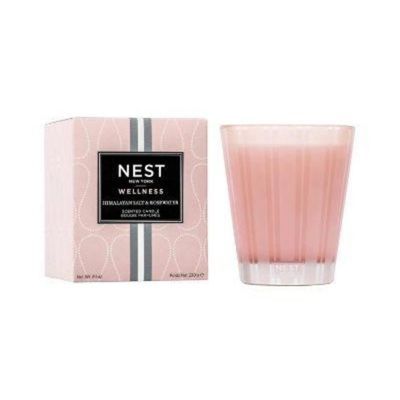 $61.08
Nest Salt & Rosewater Candle
This has to be our favorite candle for year-round use. Not only does it look luxurious, but it smells incredible. It even offers a clean burn, too. It comes in a luxury pink-tinted glass vessel that's frosted with stripes. Lighting this is the perfect way to end your cleaning sesh.
FAQs
What is the fastest way to clean a dirty apartment?
If you don't have time to clean absolutely everything, just wipe down the eye-level surfaces, as this is what most guests will see when they enter. Also, walk around the apartment with a trash bag to declutter the space.
How do you deep clean a dirty apartment?
Focus on areas that are often overlooked, such as baseboards and moldings, light fixtures, cabinets, and drawers. Check out our piece on deep cleaning an apartment for more in-depth advice.
How do I clean my apartment like a professional?
Cleaning like a professional is all about focusing on hard to reach areas and paying close attention to detail. Make sure to clean every single surface, both top and bottom, and declutter trash and miscellaneous items.