Decorating on a budget can give results that are just as nice (if not better) than expensive designs. You may get something more unique and personal in the process. But if you're in doubt about where to look, or what exactly you're trying to get your hands-on, we've got some thrifty tips that can save you hundreds of bucks... Literally.
And who else to ask about the latest home trends but a group of independent homeowners and renters, who live and breathe interiors every single day? From Instagram inspo to pinning on Pinterest, we pride ourselves on knowing where to look to save you spending your hard-earned cash.
So these tried-and-tested tips from the Real Homes team might be what you are after, drawing upon our own authentic renovation and upcycling and DIY project experiences to style our homes, and help yours look good for less.
These ideas won't break the bank but will include a lot of creativity and perhaps the odd DIY tool. The main thing is that you're taking out the middle man, and getting hands-on to achieve an aesthetic that costs less. These nice but no-frills suggestions are still jam-packed with style, just without the hefty price tag. And, you won't need to hire any specialist equipment or power tools either.
1. Upcycle with chalk paint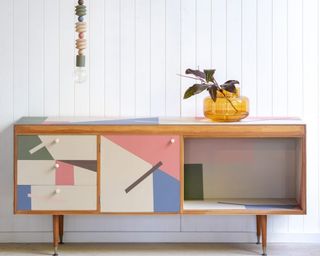 'Buy some decent furniture paint to reinvent everything from old furniture to fitted cupboards and kitchens,' says Lindsey Davis, editor of Realhomes.com.
'The best products cover all kinds of surfaces with very little prep and it is worth forking out for them as the cost of under £50/$50 for a tin is much better than hundreds to thousands for new furniture.'
Using chalk paint on furniture, we think you'll agree that Polly Coulson, resident painter at Annie Sloan has created a mid-century modern sideboard that rivals even the best mid-century modern furniture designs from high-end brands like Anthropologie. It is the perfect way to create something from old furniture, that nobody else will have.
2. Try a no-plaster wall hack
Learning how to repair or plaster walls is sometimes not worth the time or the money. Believe it or not, there are ways to smooth walls without plastering whether you want to use a sander or not.
'My workaround to avoid re-plastering if your walls are a bit iffy, and you want to paint the walls, is to cover with decent quality lining paper from Amazonand paint that. Plaster inevitably cracks anyway. And if you're careful, you can avoid lumps and giveaway joins in the paper.' says Alison Jones, assistant editor, Real Homes.
3. Use online marketplaces to pick up cheap finds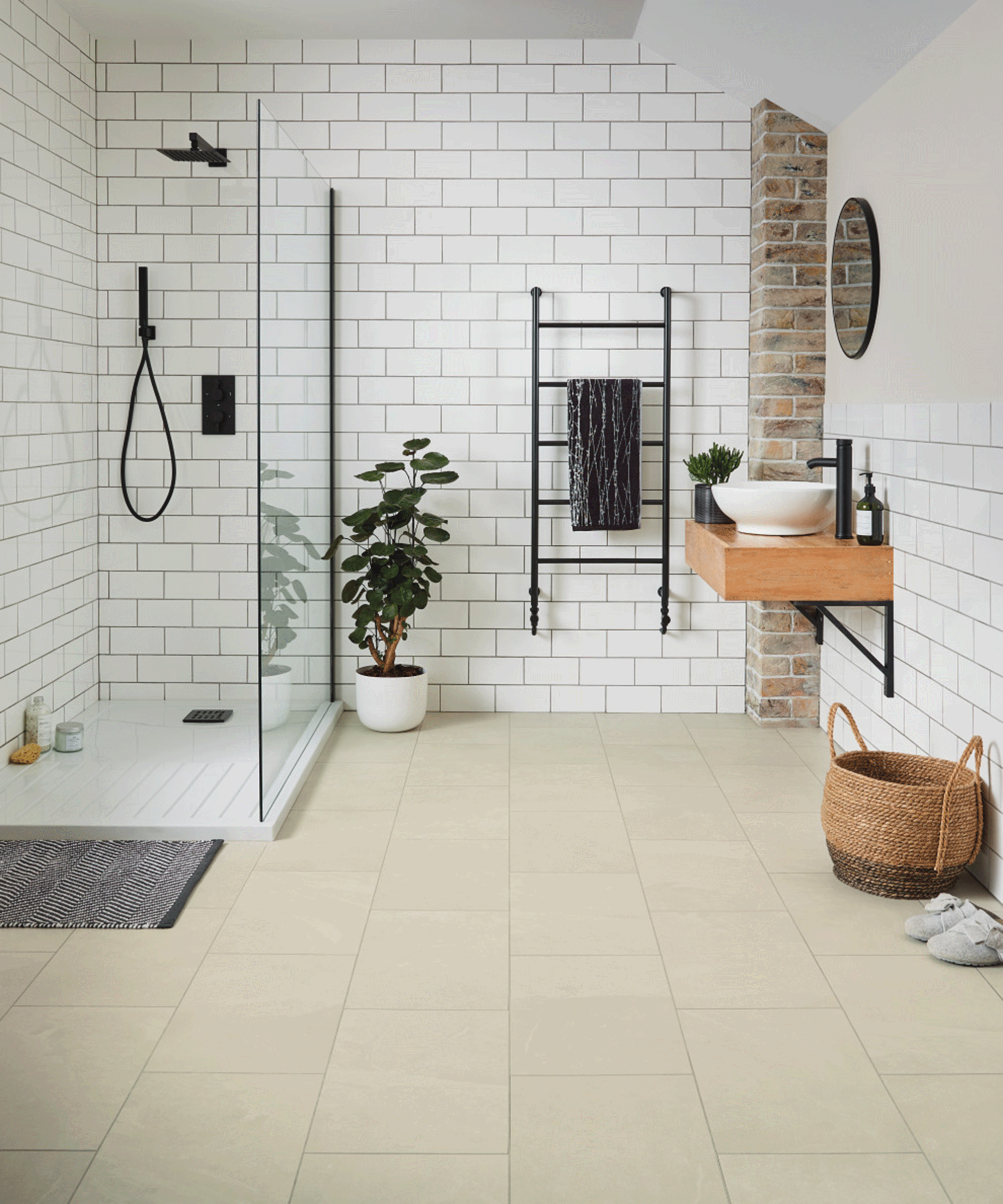 'For small space updates – look to eBay,' says Davis.
'For example, for a downstairs toilet /cloakroom or utility, you will almost certainly find enough leftover floor tile for a small space. When I DIYed my bathroom, I found two packs of the same Knight Tile Gluedown Karndean tiles people were selling as leftovers and it was enough to do my floor, plus wastage and only cost me half the price of one pack at full whack!' says Lindsey Davis.
You can also find wall coverings, such as tiles and wallpapers for much less. You won't often find enough for a full room (unless you hit up a few sellers), but there is generally plenty for creating big impact in a small place. 'I also got a roll of the lust-worthy Woods wallpaper by Cole & Son for less than a third of the price thanks to an eBay seller who had bought too much,' continues Davis.
4. Make some noise with acoustic panels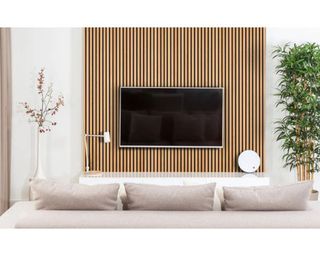 'An acoustic wall paneling idea behind your TV looks nice, plus they make the sound quality of your media accessories better and they are so easy to stick up yourself,' says Camille Dubuis-Welch, editor, Real Homes. The ready-made panels are quick to fit and give very high-design vibes.
Or if you're not fussed about the audio benefits, fake the look with a wood-effect wallpaper. This Panacea wood slat wallpaper from B&Q is a great renter-friendly alternative if your landlord won't allow you to stick pieces of wood to the wall. The best peel-and-stick wallpaper means that there's no scraping away with this adhesive covering.
5. Add height and interest where you can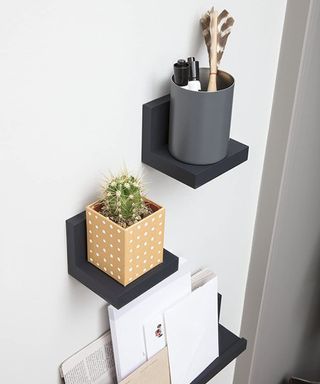 'Add height and more interest on the walls where you can,' says Dubuis-Welch.
'Command brand has these awesome little display ledges on Amazon which can take a small load like a cute plant, trinket, camera, or ceramic piece to show off and they can make a basic space look way more cool and curated.'
So if you don't have the time to learn how to install a floating shelf, or are worried about damaging your walls, these petit shelving ideas are easy to install, remove cleanly and hold up to 2lbs of weight - perfect for lightweight trinkets.
They're also available in a wider picture ledge size, which again, needs no nails!
6. Invest in neutral items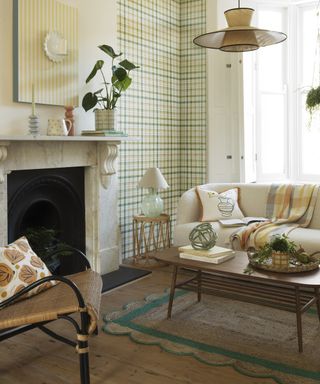 Knowing where to spend and where to save is essential when decorating on a budget. So splash the cash when choosing a good investment couch (like this small sofa with Boucle detail from Habitat).
And, whether you're renting or have bought a property, consider a bed that you take with you, but using second-hand shelves or units that might be for an awkward nook as an idea for an alcove.
7. Find expensive lighting on Facebook
'Layered lighting is my go-to and I find all manner of cool home additions on Facebook Marketplace usually, or by just going to local thrift shops.' says Dubuis-Welch.
'Competition for good online marketplace finds is high in cities like London, but thrift stores in cool parts of town will bankrupt you, so it's still worth sticking to websites and using social media is the better option! You just have to be on it,'
8. Learn the art of the cover up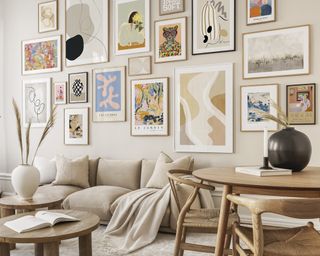 'Learning the art of the cover-up!' advises Jones.
'Nice throws, tablecloths, bedding, etc to hide the sins, and disguise furniture imperfections. Big artwork that you love (and if you can afford to, get a frame so it lasts).'
For scratched wooden floors and scuffs on your best dining set, fill them in with a furniture crayon (you can easily find these on Amazon). No one will ever know the difference with the true-to-life shades on offer.
9. Pick up street finds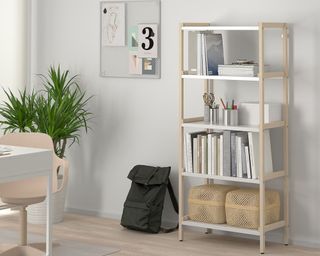 'I also will be the person who picks furniture up that people leave outside their house, street dependant of course, but I found a great IKEA EKENABBEN open shelf unit bookshelf, and it's the perfect station for our cookbooks (and cat food) now, and it was free!' says Dubuis-Welch.
Of course, it's courteous to knock on your neighbor/the owner's door to check that they're happy for you to take the item, so always ask for permission first.
10. DIY your own artistic masterpieces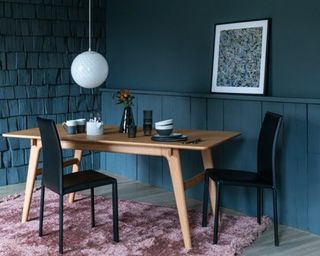 Make your own artwork by Jackson Pollocking white canvas boards (which you can pick up for cheap on Amazon). You could try using some of your leftover paint samples, or commission yourself and/or the kids, says Jones.

Not only does a personalized framed wall art idea feel sentimental, but you could also save yourself around £/$140 when compared to the No. 4, 1949 by Jackson Pollock Framed Print, available on Heal's.
11. Look to Etsy for downloadable prints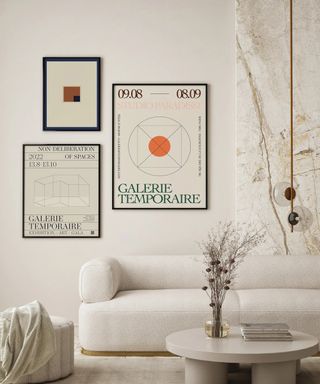 'Instead of forking out for expensive artwork or posters to frame, a lot of Etsy sellers have really budget-friendly and high-res prints that you can download and get printed yourself for way cheaper,' says Jenny McFarlane, senior digital editor, Real Homes.
'And if you're looking for ideas for a gallery wall, you can collect a few of your favorite prints in the form of postcards to frame reasonably cheaply and hang alongside artwork of various sizes.'
Some Etsy sellers even sell on a program that allows you to edit the text for a truly personalized piece of artwork. Alter it to include your favorite song lyrics, family name, or a special date, for example.
So there you go. You don't need to be David Hockney to dabble in a bit of photography. This HP DeskJet 3755 Compact all-in-one wireless printer we found on Amazon is an affordable find and works with the Amazon Alexa too. LOVE the seagrass green colorway too. Then of course, you'll need to pop some glossy paper and ink in your basket. The Amazon Basics semi-glossy 100-piece pack is really good value.
How can I decorate my home on a tight budget?
Part of decorating on a budget is all about being resourceful and sustainable. Look around in your house and see what you already have on hand. Sample paint pots, leftover wallpaper samples, and fabric off-cuts are all perfect foundations for a creative idea.
Kate Watson Smyth, author of Mad about the House blog often uses the wardrobe analogy, often asking us to delve into our wardrobe to inspire our interiors.
But fashion designer Patrick McDowell takes this concept one step further using surplus textiles from Burberry and other high-end factories to create his fashion collection. At Chelsea Flower Show 2022, he together with plant stylist, James Whiting (aka @plantsbythere), created a disco-inspired outbuilding, featuring upcycled furniture upholstered with denim jeans material.
He says: 'The furniture was made from thirty pairs of jeans, that were cut up and sewn back together. The sofa, the bar stools, and the cushions were also covered.'
'Everything is sewn in the first place, so it can all be unsewn or resewn. There are loads of amazing things you can do at home. If you're not confident with sewing, almost in every community in the country, there's a dry cleaner that does alternations and can do these small things.'
'What we did with the jeans was technically a patchwork, it just had a different look to what you might think patchwork looks like. It doesn't have to be a floral quilt that your grandma has made.'
'All of those techniques can be adapted to feel modern, like denim patchwork, silk, scraps from a bridal factory... You can patchwork anything, it's a great way of using little leftover pieces of fabric.'