Believe it or not, there are ways to smooth walls without plastering. Whether you are redoing one room or a gigantic whole-house renovation, plastering walls is one of those tasks that even experienced DIYers often dread. Why? Because it's ridiculously easy to make a mistake.
We would go as far as to say that unless you've had years of practice, plastering is one of those undertakings that is best left to professionals. However, calling in experts can be pricey, yet you don't want to leave the walls unattended. The next best step is to take matters into your own hands.
So, if your heart is set on DIY renovation, but you really don't want to be looking at skim coating walls, these are the ways to smooth walls without plastering. We've asked expert home renovators to give us their tips.
Six methods to smooth walls without plastering
"Always bear in mind, every space has its charm," says interior expert Artem Kropovinsky. "With the right techniques and materials, even the most flawed walls can transform into a statement."
That being said, below are a number of DIY methods that will fix uneven walls. They require varying skills, but are all great for hiding cracks and imperfections. Ready to get started?
Artem Kropovinsky is an interior design expert and founder of Arsight, an award-winning interior design studio based in New York.
1. Use a joint compound
Mike Baldicana, a home improvement specialist at Trekroofing, advises using a joint compound (available from Amazon) and applying it with a trowel or putty knife instead of skimming. Doing so is easier than working with plaster, and though it isn't thick, it provides a similar finish. He recommends the following process:
Apply a thin layer of joint compound to the wall.
Use a putty knife (like this Warner one) or trowel (e.g. this $4 from Goldbatt at Amazon) to spread the compound evenly across the wall.
Allow it to dry for about an hour before sanding it down with sandpaper.
Repeat these steps until you're satisfied with your work.
When speaking of compound and spackling, Kropovinsky says, "They seamlessly fill minor wall flaws, offering a pristine canvas ready for color. Just remember, if you're renting, it's essential to keep the space as you found it."
Mike Baldicana is a marketing content specialist at TrekRoofing, a family-owned business that provides professional roofing solutions, including installation and maintenance services, to small businesses, residential properties, and commercial properties.
2. Sand your walls down with sandpaper
Yes, sandpaper can be effective for smoothing old walls if you don't want to mess around with plaster or any adhesives whatsoever. Rick Berres, owner of remodeling company Honey-Doers, recommends using 100-120 grit sandpaper for this purpose. He cautions that this method will only work "if the paint was applied with proper coating and if you are getting rid of minor imperfections." For those larger surfaces that might present a challenge, he suggests using a filler before sanding them down.
Rick Berres is the owner of Honey-Doers, a roofing and remodeling company based in Lakeville, Minnesota.
3. Use wall lining paper
Wall lining paper, or insulation paper as it's sometimes called, is basically the same as hanging wallpaper. You will still need to use adhesive to apply it, but thankfully, you don't have to get the skimming action perfect because the lining paper will mask any imperfections.
"Think of it as a lifesaver for those walls that have seen better days," Kropovinsky says. "It masks the imperfections beautifully and sets the stage for a revamped look."

4. Try the dabbing and dotting technique
Corey Morgan, a painting expert and director of marketing at Kind Home Painting Co. recommends this technique as an alternative to full-wall plastering. Just dab on the plaster in a thin layer where it's needed, smoothing it out with a putty knife or scraping tool as you go along. It won't be perfect, but it's much better than leaving holes in your walls.
Corey Morgan is the director of marketing at Kind Home Solutions, a home painting company located in Colorado. The company serves Westminster, Broomfield, Thornton, Arvada, Lafayette, Golden, Lakewood, Parker, Denver, Wheat Ridge, Lone Tree, Littleton, Englewood, Aurora, Highlands Ranch, and Centennial.
5. Add wall paneling
For a whole new look, why not consider wall paneling? There are so many wall paneling ideas and while it is often thought of as a more traditional finish, there are striking modern looks that can be achieved, too. Be it beadboard or wainscoting, it can be applied over old walls to cover a multitude of sins. Then you can paint it however you'd like.
6. Just paint
Berres suggests skipping the dirty work and getting straight to the painting — but only "if your walls are in pretty good shape, to begin with" and notes that this alternative is not always "ideal."
"If you cannot sand your walls for your desired effect, you may just want to either paint a wall or apply wallpaper for a smoother finish," he adds.
What to shop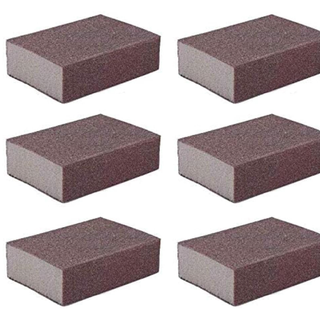 Washable and reusable
Grit Sponge Emery Cloth Sandpaper Blocks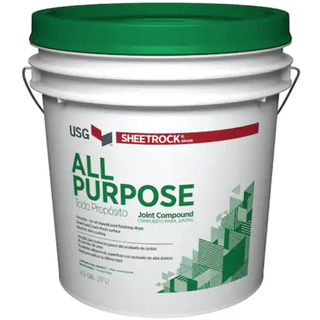 4.5 Gallons
All Purpose Ready-Mixed Joint Compound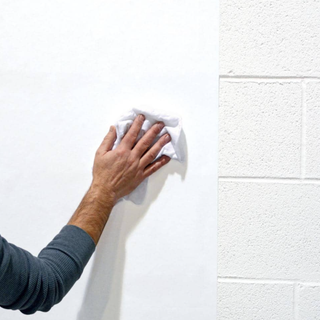 Covers 55 square feet
White Paper Pre-Pasted Strippable Wallpaper Roll
FAQs
What is a good alternative to plaster?
There are many alternatives to plaster, such as drywall, wood, and metal. Baldicana explains that "while each of these materials has its own benefits and drawbacks, the decision ultimately comes down to your needs. For example, drywall is often cheaper than plaster but it does not provide insulation." If you have the budget for it, plastering is generally better, even if it comes down to calling in a professional.
How can I smooth a wall without a sander?
There are many ways to smooth a wall without a sander. Using sandpaper wrapped round blocks of wood for a level surface is one.
Or a good coat of paint can act to smooth minor imperfections. According to Baldicana, "one of the most popular methods is to use a paint roller. This is because it gives you the smoothest finish and can be done quickly. To make sure your paint roller doesn't leave any marks on the wall, you should use a thin layer of paint and roll in one direction only,"
Top tip: "You can also use an old t-shirt or towel to clean off any excess paint from the roller after each stroke."
What is the difference between plastering and skimming?
When you hear that someone is attempting to plaster their own walls, they are most likely talking about skimming. Skimming is a plastering technique that uses a very thin layer of plaster that is spread over an existing layer of plaster to make an old wall smooth. Skimming is the plastering technique used to renovate old walls that do not need replacing in full.
Plastering however will be necessary if the plaster is blown or damage is deep. This is most common in old homes where plaster has been applied to brick or block. If your rooms are drywall, skim is often all that is needed.
There are other techniques and forms of plastering, some of them only used in new home construction. In this article, we refer to 'skim coat' and 'plaster' interchangeably, because we're only talking about that thin layer of plaster used on old walls.
---
When all is said and done, don't forget to scope out renter-friendly wall decor to beautify your space (and keep walls fresh).