If you are designing a living room on a budget, need to quickly revamp your living room for last minute guests or if you are just bored of your current surroundings and looking for some easy changes, check out these super speedy design tips that can transform your living room in just a few hours.
1. Change the layout
Reconfiguring your living room layout can make it look and feel completely different. If you really can't face moving the sofa from its prime 4K TV watching position, try arranging your armchairs to create a reading corner or shop the rest of your home for a side table and create a small home office.
Working with a small living room? Maybe you are more limited to where you can move your furniture but try scooting it slightly away from the walls to give furniture more breathing room, you would be surprised by how much this can open up a small space.
2. Switch up your cushions
Ah, cushions: the most versatile of soft furnishings. They have an incredible ability to completely change a room, even if all you have done is add a few new scatter cushions to your collection. Available in so many different sizes, shapes, colours and textures, they could be all your living room needs to feel refreshed.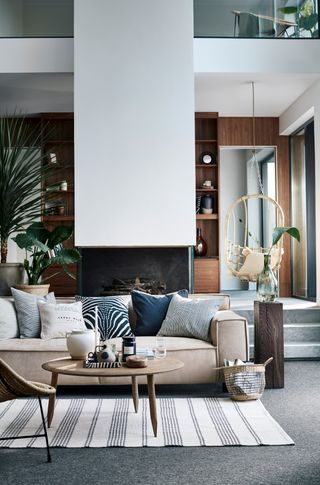 3. Create a gallery wall
We've said it before and we will happily say it again – adding a gallery wall is a great way to cheaply fill a blank space and give a room much needed personality. Use photos, record covers, prints – you could even frame fabric cut-offs or spare bits of wallpaper.
4. Add plenty of greenery with house plants
House plants are a great way to quickly add colour and shape to a living room. Invest in a couple of larger plants to dot around the edges of your room and add smaller plants like succulents and cacti to shelves and mantelpieces.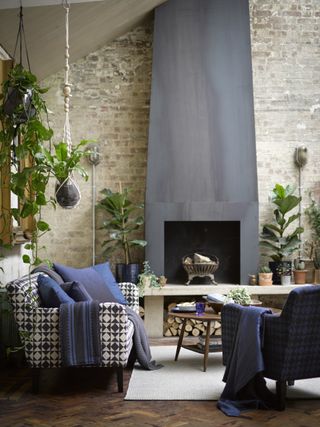 5. Give old furniture some TLC
For all you DIY phobes out there don't worry, anyone with a paintbrush and a positive mindset can gets to grips with updating old furniture. Have a look round your house and scout out the pieces that are looking a bit worse for wear, see if they could potentially find new life in your living room. Then put that neglected furniture to good use by giving it a lick of paint – if you are unsure where to start we suggest with our guide to painting furniture.
For those of you who really don't trust yourself with a paint pot, try giving your sofa a new look instead by recovering it with a throw.
Looking for more living room inspiration?