Small apartment living room ideas are something we are always looking out for, because the majority of us aren't blessed with a ton of space and it's always inspiring to see well thought out, stylish, tiny living rooms. We put together five spaces that just show how much you can do with a small apartment living room – from practical tips for expanding your space to handy multifunction furniture buys to make your room work harder. 
If you are after more small living room ideas, we have a whole gallery of looks for you to delve into. And for more apartment decor ideas head it our feature too. 
1. Fill a small living room with personality and prints 
We have previously advised keeping things simple in a small room so the space feels as large and airy as possible but we might have to backtrack on that slightly. Don't be afraid to still add plenty of 'stuff' to a small living room, you don't want it to feel stark and bear so make sure you add in prints and patterns that suit your style. It can actually make the space feel bigger because having plenty on the wall can blur the edges of the room.
Our tip would be to keep at least two walls completely clear however and still make sure there is some negative space in there. 
2. Pick out slimline furniture 
So to stop your small living feeling too crowded even with all your lovely pieces in, switch swap out dark, bulky furniture for more slimline pieces. You could choose a coffee table made from clear acrylic so it doesn't stop the light flowing through or pick pieces with slim frames.
3. Expand your apartment's small living room with mirrors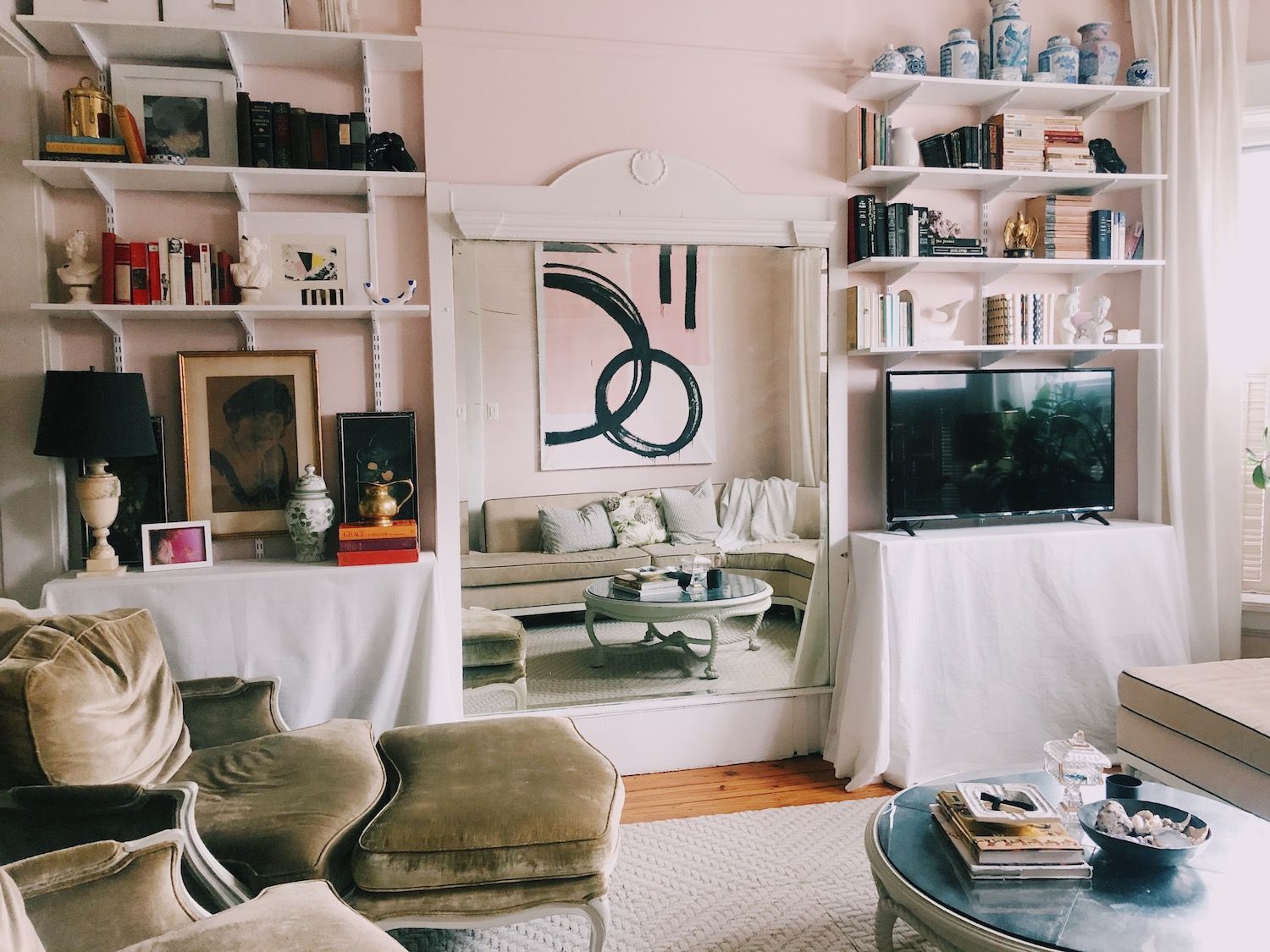 It's interior design 101, mirrors make spaces feel bigger. A strategically placed mirror can make the smallest of living rooms feel larger and lighter. Go for a simple mirror, nothing too heavy or ornate and go as big as you think your place can handle. Rather than put it high on the wall, behind your furniture, try hanging it just off the floor like in the room above or even get a leaning mirror you can prop against the wall (a great solution if you are renting). 
4. Have a rethink of your small apartment living room
A really simple, small apartment living room idea that doesn't even involve you buying anything new is to have a reshuffle of your space. There is a common tendency, when designing a living room layout, to shove all your furnishings up against walls. But this attempt to claim back those precious few inches can often have an adverse effect. Instead, copy this small living room design and pull your furniture away from the wall a tad, creating space around the outside of the room, and group them around a central coffee table.
For more living room layout ideas, check out our feature. 
5. Embrace your tiny dimensions and make a small living room feel extra cosy 
We are all always so keen to try and make small space feel bigger, but what if we just embraced the tiny proportions? You want a living room to be cosy and inviting and small living rooms are perfect for this, so layer up the soft furnishings add in plenty of low, glowy lighting (fairy lights too obviously) and snuggle up in your diddy but delightful space. 
6. Make practical storage a stylish feature of your room 
When square footage is limited, keeping everything organised is key, hence the need for extra savvy storage. Wall mounted shelves look amazing even in smaller living rooms (as the #shelfie trend proves), they are often inexpensive, plus they will save on precious floor space, too. 
Pick shelves that are a mix of open and closed so you can hide away unsightly clutter and keep all your nicest knick-knacks and healthiest house plants on show. For more inspiring shelving ideas check out our gallery. 
7. Pick the right colour scheme for small apartment living rooms
Generally speaking, crisp white walls and minimalist hues are always going to make a small living room feel more spacious. BUT having a small apartment to work with doesn't need to crush your colour dreams. If you prefer a more vibrant aesthetic over magnolia-blah then run with it. Just approach with a bit of a plan, pick a few colours and dot them about the room in ways that won't overwhelm the space – rugs, cushions, throws, soft furnishings will be your friends here. 
Read more: