Choosing the best living room flooring is such an important part of creating a room that works for you and your style. Obviously we want all flooring to be pretty, but as one of your home's hardest working floors, it has to be durable as well as good looking. It's a trick to balance to get, but don't worry we cover all the flooring options here in this guide so you can make the best choice.
So just keep reading so get the lowdown on living room carpets, vinyl flooring, wooden options, tiles (yes this is a thing) and more. And when you have made your choice don't miss our living room ideas gallery for loads of inspiring ways to get decorating your space. 
What choices are there for living room flooring?
The options for living room floors are wide. Of course we have a continued love affair with living room carpet but there's a growing trend for natural flooring (like jute and seagrass) which are a contemporary twist on good old carpet. 
Hard flooring – predominantly wood floors – can prove equally appealing, of course, especially if the living room is part of an open-plan kitchen diner design so the floor needs to suit a kitchen space, too. Tiles as living room flooring are also becoming increasingly stylish and they are such a practical choice, easy to clean and ideal if you have kids or pets.
We will talk you through the pros and cons of each of these below plus include some lovely pics incase you need more convincing:
Carpet and natural living room flooring 
If a surface that's warm and soft underfoot is number one on your list of criteria, the merits of both carpet and plant-fibre natural flooring are worth considering.
Carpet for a living room should be hard wearing. An 80 per cent wool, 20 per cent manmade fibre version will stand up to the everyday foot traffic and stay looking good. Household includes small children? You could go for polypropylene to maximise stain resistance. Pattern can add glamour: small versions look more traditional while large-scale motifs have a contemporary aesthetic. Thinks stripes, geometrics and even florals – now available with 21st century style. 
For more types of carpet and tips on how to choose it for every room head to our guide. 
Natural flooring is also an option for the living room floor. Natural flooring suitable for a living room includes hard-wearing sisal, which can add subtle detail through interesting weaves such as bouclé and herringbone; rustic seagrass (which may need protection for a heavy traffic area: check with your supplier); and robust coir. The latter isn't kind on bare feet, though, so won't suit all households.
Need more advice on how to choose natural flooring? We have a whole guide for you to read through. 
Wooden living room flooring
Wooden floorings, real or fake are great practical choices for living room floors, especially if they are partof an open plan space where a carpet just won't be practical. Plus you can always soften up the look with a rug or two. 
Choices such as vinyl flooring or laminate flooring can pull off the look of natural materials without the same cost, while solid and engineered wood flooring, and natural stone flooring are enduringly beautiful. Alternatively, contemporary options like concrete flooring might be up your street instead.
Let's break it down and look at each option:
Wood introduces an organic element to a living room scheme, and the variety of species, tones, and board lengths and widths, plus the option of geometric parquet patterns mean it can be as subtle or statement as you like. Wood flooring can last for many, many years, and if it is damaged can be sanded and refinished.
Engineered wood has equal natural beauty and the benefit of a structure that makes it resistant to changes in humidity. Look for engineered wood with a top layer that allows it to be refinished should dents occur – lower quality versions won't offer this. As with solid wood, there are plenty of options when it comes to tone and look.
Laminate is a great alternative to solid or engineered wooden living room flooring, especially if you are doing up a living room on an budget. It's worth going for the best quality laminate so it'll last. Make sure, too, that the version you opt for is suitable for a heavy traffic area.
Vinyl might not be an option you have considered for living room flooring, but it's a money-saving way to get the look of a more expensive wood, parquet or stone. Vinyl flooring also has the advantage of being more yielding and warm underfoot than other materials.
Tiles may be a flooring you've considered for areas like the kitchen, bathroom and hallway, but not as a living room flooring. However, both natural stone or manmade floor tiles can be appealing choices. They're eminently suitable for this high traffic space, and easy to look after.
Natural stone can be used as living room flooring, as well as throughout an open-plan space to create a consistent look and avoid breaking up the area with thresholds. For living spaces, extremely hard-wearing granite, limestone, filled travertine, slate, or even the opulence of marble are possibilities. Correct sealing is vital, as is checking a particular tile's suitability with the supplier. Bear in mind, too, that some stones are more slip resistant than others, so tiles need to be chosen with the home's occupants in mind.
Alternative living room flooring 
So we've been through all the obvious living room flooring choices, but there are so new flooring options that have been increasing in popularity. So if you prefer a modern style in a living room, check out these alternatives to more traditional floor coverings.  
Resin or concrete flooring is increasingly popular for contemporary homes, and ideal for emphasising the dimensions of an open-plan layout. Neither are cheap options, although concrete tiles are a budget alternative to a poured concrete floor. Different finishes and colours can be achieved with resin or concrete flooring, and they're both easy to clean and care for. 
Rubber flooring is more reasonably priced alternative, can be laid as tiles, and its longevity makes it an attractive option.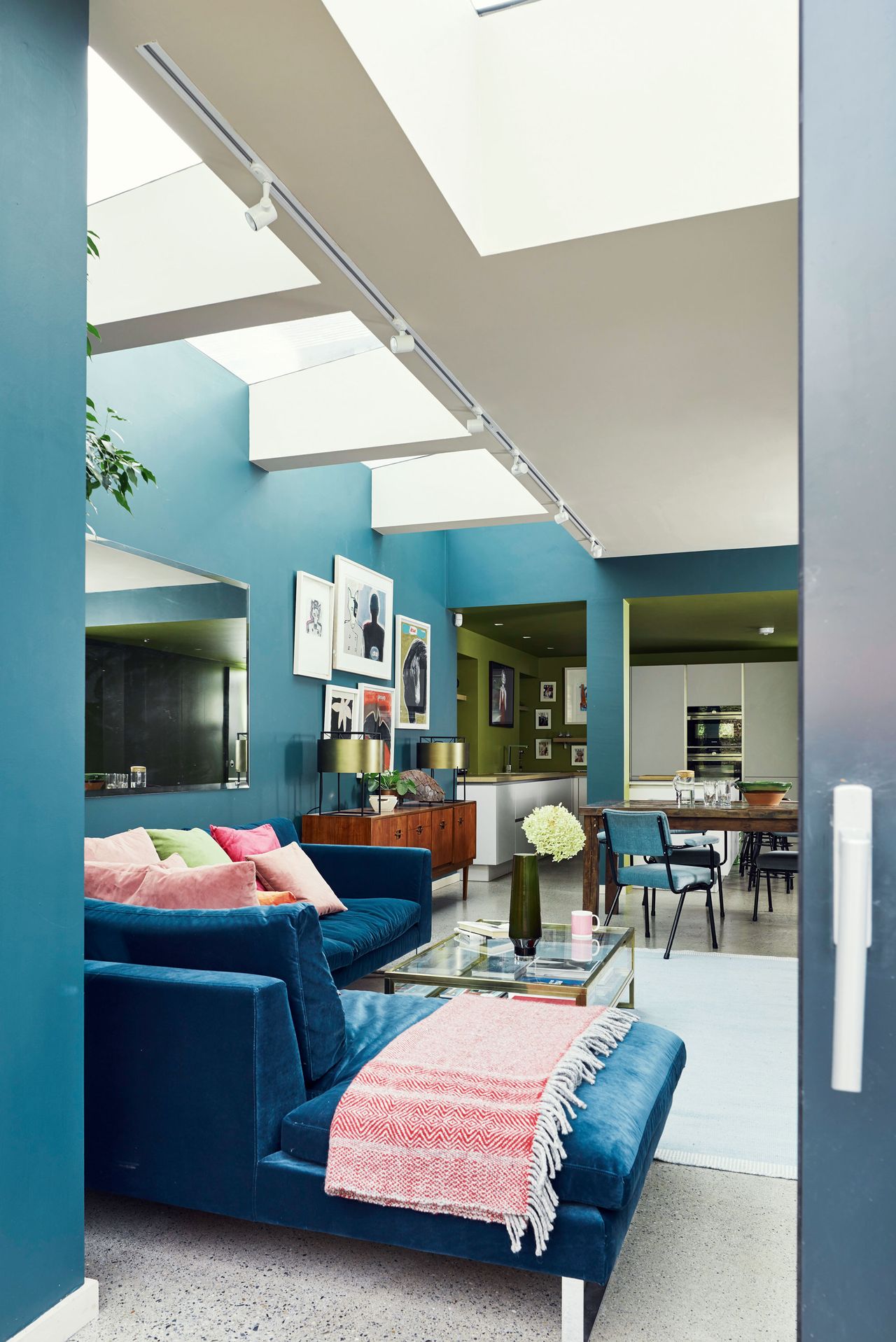 Using underfloor heating with living room flooring 
Considering underfloor hearing for your living room, it's definitely worth knowing what living room flooring options will work best. Here's what to bear in mind:
Floor coverings such as stone, porcelain and ceramic tiles work well with underfloor heating. 
Check with your supplier if you want to combine solid wood flooring with underfloor heating. 
Engineered wood should be fine, but do ask the question. 
Good-quality laminates and vinyls can be used with underfloor heating. 
Carpet can be teamed with underfloor heating. Check that the carpet and underlay conform to the maximum TOG (thermal resistance) rating specified by the heating manufacturer, though. 
Contemporary concrete and resin both work with underfloor heating, as can rubber flooring.
For more advice on underfloor heating make sure you have a read through our guide.
Looking for more living room inspiration?