Nespresso Vertuo Next : Quick Menu
Always pushing the boundaries, the Nespresso Vertuo Next is significant for a number of reasons. Not only is it Nespresso's most compact machine yet – just 5.5" wide – it's also made with over 50% recycled plastic and introduces a new 18 oz. carafe size for extra versatility.
When bundled with the Nespresso Aeroccino 3, the coffee-drinking experience turns from a daily habit into a true ritual. Let's just say, the Nespresso Vertuo Next and the Nespresso Aerocinno 3 milk frother go together like milk and cookies, peanut butter and jelly, and Sundays and brunch. Alone they're pretty good, but together, they're great! I tried this perfect combination in my own home, and it's true, coffee just hits differently with Nespresso, thanks to that irresistible layer of frothy crema that turns an ordinary black coffee into something gourmet.
Nespresso machines give you the best of both worlds when it comes to access to coffee and tea at the touch of a button. Couple in the multiple preparations that stem from each Vertuo pod, and you have a whole cafe in one compact machine. Continue reading to get the full review on my experience with both the Nespresso Vertuo Next and the Nespresso Aeroccino 3, where I'll break down what makes the brand one of the best single-serve coffee makers and milk frothers.
Amazon Prime Day deal
This year, the e-retailer has treated us to two Amazon Prime Day sales. This means if you missed your chance to shop for one of the best pod coffee makers, it's your lucky day. And I mean this in the most literal sense. We're on the final leg of the 48-hour event.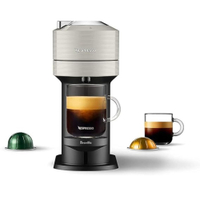 Nespresso Vertuo Next Coffee and Espresso Machine by Breville, Light Grey | Was $179.95 Now $126 (save $53.95) at Amazon
Ask Joe Public to name one of the best pod coffee makers and the likelihood is that they'll say Nespresso. This really is a great capsule-compatible, compact machine that has a comprehensive coffee catalog. With 30% off this Prime Day, you can afford to pick up a few of your fave caps too.
Nespresso Vertuo Next review
What I thought of the Nespresso Vertuo Next
Now, if you're a newcomer to Nespresso and the Vertuo system, as I was before trying the Vertuo Next, let me explain how the system works. In contrast to the Original Lines espresso machines, Vertuo systems can brew both coffee and espresso beverages.
As one of the best small coffee makers on the market, the Vertuo brews a number of cup sizes including a 1.35 oz. single espresso, 2.7 oz. double espresso, 5 oz. grab lungo, 8 oz. coffee, and the 14oz. alto, as well as an 18 oz. carafe that is exclusive to the Vertuo Next. Each Vertuo capsule has a barcode that the machine reads to optimize and automatically adjust its brewing parameters to consistently deliver the best in-cup results for precision brewing. That means if you have a pod designated as an espresso pod, it will only brew the 1.35 oz.
So if you like variety, you will want many pod sizes in your rotation, as well as to familiarize yourself with the color codings or reading each label if one day you're feeling particularly in the mood for a cup of coffee, over an espresso.
There's a reason Nespresso has a cult-like following. They make beautiful machines that make quality coffee and espresso in one of the easiest and most convenient ways. The Vertuo Next is beautiful and stylish to look at without taking up much space, is simple to use, and showcases Nespresso's commitment to sustainability.
Paired with the Aeroccino 3 milk frother, your coffee options seem to exponentially increase. The milk frother was another device that was amazingly simple to use. Whether I'm brewing with the Nespresso machine or not, the Aeroccino 3 is about to see a lot of daily use alongside my cold brew obsession.
I can say I now understand what all the fuss is about. As a first-time user, I noticed some kinks to get used to, like keeping the machine latched or understanding the light signals, but overall, minor things compared to the bold flavors provided to me in just moments.
Now, while I can say I enjoyed my experience, I also acknowledge that a Nespresso machine may not be for everyone. With a Nespresso, you're also committing to the Nespresso-branded Vertuo capsules, which perhaps my biggest gripe is that they're only available at select retailers (unlike a very popular 'you know who' competitor). You'll want to stockpile them too, meaning if you're in short supply, well, you may be out of luck that one particular day.
Testing the Nespresso Vertuo Next
Jaclyn Turner is our former US eCommerce editor across the home titles at Future, including Real Homes, where she specializes in a variety of topics ranging from vacuums to mattresses. She spends her days tracking the latest buzzworthy releases and testing a variety of products to determine whether they are worth bringing into your home. The real fun is in coffee makers, where those around her get to partake in taste testing. And if you're wondering her preferred coffee order, she's currently loving cold brew with oat milk and caramel, and will never say no to a mocha.
Nespresso Vertuo Next specifications
US Manufacturer: Nespresso, De'Longhi, or Breville
UK Manufacturer: Krups
Model tested: GCV1
Water tank capacity: 1.1L/ 37 oz.
Dimensions (in.): W5.5 x D16.9 x H12.4
Weight: 8.8 lb./ 4 kg
Cord length (in.): 29 in.
Water filter: No
Warming plate: No
Programmable: No
Warranty: 2 years
Centrifusion brewing
Centrifusion is a term coined by Nespresso and combines the concepts of centrifugal force and infusion. The capsule spins around in the machine at up to 7,000 rpm to blend the ground coffee and hot water. The pressure resulting from Centrifusion leads to extraction and helps develop a thick luxurious layer of crema.
Vertuo capsules
The system reads the inserted capsule and tailors the brew settings–water volume, brew temperature, capsule spin rate, flow rate, and water contact time–to that capsule's optimal parameters. Nespresso offers over 30 Vertuo coffee varieties across six sizes, including special editions like Reviving Origins, Barista Creations, and Single Origin. Vertuo machines work only with Vertuo capsules, though sometimes you'll be able to find special licenses with your popular coffee shops, such as Starbucks.
Wifi and app connectivity
The Vertuo Next can also be connected to Bluetooth to work with the Nespresso app, but use is not necessary to actually use the machine. Rather, it lets the machine keep track of the capsules you use so that you can get a warning via the app when you're running out of coffee, as well as alerts you for when its time to descale or the water tank is low.
Nespresso Aeroccino 3 milk frother specifications
Capacity: 8 oz. hot, 4 oz. cold
Dimensions (in.): 3.9" x 3.9" x 7.2"
Weight: 1.87 lb.
Warranty: 1-year
Unboxing and setting up the Nespresso Vertuo Next and Aeroccino 3 milk frother
The first time you run the machine, you'll want to place a 1L container under the spout, I used a large glass measuring cup, turned on the machine, and then pressed the coffee button three times to begin the rinse cycle. The process takes up to seven minutes and stops automatically. I expected the whole water tank to empty through the machine, but only about half did. The instructions cater to seven different languages, so are very photo-heavy. I prefer written instructions, but videos are also readily available to help through the process.
The machine only has one button, which blinks in different intervals and colors to signify different operations. For instance, during the rinse cycle, the icon blinked orange before turning to a steady white when it finished. This makes it very easy to brew but should there be an error such as an empty water tank or descaling alert, the 12 different blinking patterns have you reaching for the manual every time. Perhaps, that's where the app comes in handy.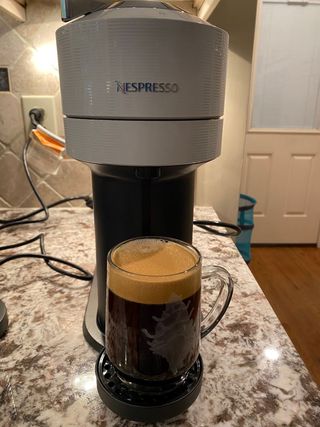 To brew, you'll turn on the machine by pressing the coffee button. The light will blink for approximately 30 seconds as it heats up, which will then transition to a solid white light at which point it's ready to go. During this time you can insert a Vertuo capsule by sliding the locking mechanism to the unlock position to lift the brewing head. It takes a moment to get used to the right amount of force to unlock and actually requires two hands to shut and lock the machine back into place. Hit brew and the machine will read the chosen capsule and start brewing, watch the crema form, and you'll soon enough be treated to a delicious cup of coffee (or espresso).
The machine makes a whirling sound as it spins the capsule round and round, but it's not overly loud, before simmering to a low hum as the coffee dispenses.
In just a minute, your fresh coffee will be ready, though the time does vary depending on your chosen capsule and its intended size. The overall process, however, is very quick. To save energy, the machine auto-shuts off after just two minutes, though it is still easy to make drinks consecutively.
One of the most convenient parts of the Nespresso Vertuo Next is it has a mechanism that automatically collects the used capsules into a bin that only needs to be removed once it's full. My Vertuo Next fit about 10.
Before you think about dumping the full bin straight into the box, the capsules are made of aluminum and fully recyclable. Nespresso makes it easy for you to properly dispose of the capsules by including a bag with capsule purchases that can be sent back so they are properly recycled. It's small enough it can easily be placed under the kitchen sink to collect until the bag is full.
Using the Nespresso Aeroccino 3 milk frother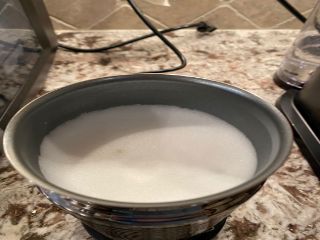 I cycled through both hot setting options with fresh whole milk, skim milk, and oat milk, and the results all yielded frothy milk. And the cold, frothed milk was truly delicious enough to drink on its own.
The frother consists of two MAX fill lines, one for frothing milk and one for steaming it. The stainless steel jug, with a non-stick interior is placed on a small base that uses induction heating. Operation is as simple as filling and then pressing the power button once. For cold froth, you'll hold the button down for two seconds until it turns blue. Once the milk froths and reaches between 160 and 170 degrees Fahrenheit, it'll automatically stop. The milk frother doesn't have a spout, but it did not make a mess when pouring. If you plan to scoop it out with a spoon, Nespesso did not recommend using a metal utensil due to the non-stick coating.
I placed it neatly next to the Nespresso machine for show. The milk frother itself is very small and stores compactly tucked into the corner of the counter when not in use. Because it only has the one power switch, I recommend unplugging in between uses to not accidentally turn it on.
A frothing disc hooks on and off a notch inside for easy cleaning. If you are simply steaming milk, and don't need the froth, you will detach the whisk part and can snap on to the clear lid to keep it from getting misplaced.
For cleaning, it's best to clean up right away, though it's tempting to let the used frother sit while you sip. The frother can not be immersed in water, nor is it dishwasher safe. I took special attention to make sure I only got the interior portions wet. Some milk did stick to the inside, but overall, it just needs some good water pressure or a sponge.
Is the Nespresso Vertuo Next right for you?
The Nespresso Vertuo Next is for those who are uncompromising when it comes to deciding between coffee and espresso when they can have both in a single, compact machine. It's great for those who want an entry-level espresso coffee maker, as the one-touch operation is easy and takes little know-how as to how to brew a single or double shot. The machine does all the work for you and optimizes each brew to your selected capsule.
Those who want to brew more than a single cup can also try the 18 oz. a feature that could easily satisfy the needs of two or three people in one pod. The carafe and capsules are sold separately, however.
On Amazon, the Vertuo Plus has 4.5 out of 5 stars, with over 3,000 5-star ratings. Fans rave about its easy one-touch operation, ultra-quick heat-up, and delicious creamy coffee results. The enthusiasm is truly found in the brewing process and the delicious coffee and espresso that Nespresso machines create.
One reviewer makes a very fair point that while the machines are seemingly available everywhere small appliances are sold, the Vertuo Pods are only available through Nespresso directly, or Amazon. Several also responded that they don't care to use Bluetooth technology.
As detailed earlier, the Vertuo Next is the newest and slimmest design from Nespresso. It's also made of 54% recycled plastic, which is something we hope to see on more machines going forward, making it one of the most sustainable machines.
Most similar to the Vertuo Next, would be any of the other Vertuo lines available, including the Vertuo, Vertuo Plus, and the Evolou, which make both coffee and espresso beverages. Their key differences are found in the design and water capacities.
For more traditional espresso, you'll want to consider the Original Line collection, which is available in a number of designs, capabilities, and upgrades. It's traditionally broken down into classic espresso (make solely espresso-sized portions) and milk machines categories. The Latissima collections have an automatic milk frother that dispenses right into your cup, and Creatista which most closely replicates the true coffeehouse experience with a steam wand. Almost every machine can be bundled with Aeroccino milk frothers too.
Where to buy the Nespresso Vertuo Next
As well as direct from Nespresso, and via Amazon, these retailers also stock the Nespresso Vertuo Next.
How we test coffee makers
All our reviews, as in the case of the Nespresso Vertuo Next and Aeroccino 3 are based on the real-life experience of using these products at home. The products are given to us free of charge and we test them for as long as possible before sending them back to the brand unless we are able to keep them as we are with this coffee maker. This means that we can continue to use the product which gives us the opportunity to return to our reviews for updating, so you can keep up-to-date with how it's fared over a period of time.