I consider myself to be pretty good at keeping my space clean and neat. I've read every book by Marie Kondo, I've binge-watched Get Organized with The Home Edit twice, and I'm extremely thoughtful about the items I choose to bring into my apartment.
That said, I don't know what it is about my kitchen counters but I've struggled to keep them clear for as long as I can remember. I'm not a neat freak by any means, but I do like my space to be kept in a very particular order—so this little snag in my organization life has always bothered me. It's not like I let my dishes pile up or leave takeout containers to linger in my kitchen, but I've just never had the discipline to curate a picture-perfect kitchen...
Until I decided to take the plunge on a ridiculously pricey kitchen appliance.
I recently bought a coveted Smeg toaster almost entirely for the aesthetics. The cream colored, Instagram-friendly appliance looks so good next to my flame-hued Le Creuset accessories that it has actually inspired me to keep my kitchen totally clutter-free to really appreciate the look.
Check out our favorite kitchen storage ideas for more ways to keep a tidy space.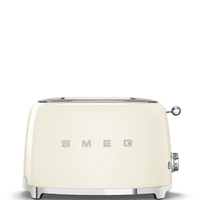 SMEG 2 Slice 50's Retro Style Toaster | Currently $169.95
Whether you're a bread-and-butter for breakfast type of person or you're thinking the glistening Instagram-friendly toaster may inspire you to declutter your counters once and for all, it's currently available in a slew of cool pastel colorways for just under $200.
I figured if I actually dropped $200 on a toaster of all things, I owed it to myself to really get the most out of the visual aspect of the appliance… little did I know, the investment would help me finally overcome my clutter blindness that has become a topic of conversation with my partner for years.
While I don't actually make toast that frequently (I'm actually more of a smoothie person if I'm being honest), the sophisticated and retro design of my Smeg toaster looks magazine-perfect (or at least Kardashian kitchen-perfect) against my marble terrazzo countertops.
That said, when I do pop in a bagel or piece of rye, I love the exaggerated pop the Smeg toaster makes when my breakfast is ready—it's akin to my whistling kettle in terms of grabbing my attention, which I appreciate as I'm someone who starts preparing something and gets very easily distracted. But, most mornings, I just admire my carefully curated countertop while sipping a coffee and a smoothie. Was it worth the price for the inspiration to keep my kitchen Instagram-ready at all times? Definitely.
Read more: