The Our Place Wonder Oven definitely fits the bill for my meal-prepping goals ATM. You see, to make space for actual cooking, I've been trying to invest in more multi-functional gadgets. I'm somewhat of a kitchen appliance collector — I've never met a unitasker I didn't want to take for a spin. While I love having a tool for everything, I don't love the clutter it creates on my kitchen counter.
The brand is known for its aesthetic and versatile Always Pan, and its new small air fryer-toaster oven combo promises to be just as handy in the kitchen. It looks more like a miniature oven than a traditional air fryer, and it boasts a total of six cooking functions, replacing several common countertop appliances. Consider me intrigued!
Quick Menu
1. TLDR
2. Testing
3. Important stuff
4. Unboxing
5. Cooking
6. Cleaning
7. Is it right for you?
8. Where to buy
9. How we test
To see if it's worthy of a permanent spot on your countertop, I put the Wonder Oven to the test, using it to cook all sorts of food, from air fryer staples like French fries to homemade strawberry pastries — yum! Here's what I think about this gorgeous gadget from Our Place.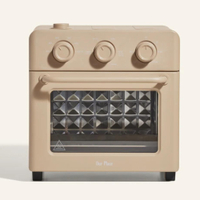 This 6-in-1 air fryer and toaster oven also has a steam infusion. Its limited edition Spice colorway ships by October 10.
What I thought of the Our Place Wonder Oven
I lived in small apartments with small kitchens for many years, and I wish I had a small kitchen appliance like the Wonder Oven back then. It doesn't take up too much space on the counter and looks cute enough so you won't mind leaving it out. It does the job of several other useful kitchen gadgets, and I had no problem air frying, baking, toasting, and reheating with this countertop oven. I also love that you can cook with multiple racks at once.
As cute as it is, there are a few design quirks that you should know about. The biggest one is that the timer is a little analog dial, and it's pretty much impossible to set precisely. If you try to set it to 10 minutes, you might get 9 or 12 minutes by accident. Still, once you get used to using the Our Place Wonder Oven, it's impressively versatile and a breeze to use.
Testing the Our Place Wonder Oven
I'm Camryn Rabideau, a freelance writer and product tester for Real Homes, and to date, I've tested close to a dozen air fryers from lots of different brands. (Not to mention plenty of other kitchen appliances, such as juicers, toasters, food processors, and more!) I currently use a basic Ninja air fryer whenever I need to whip up French fries or chicken wings — which happens at least once a week — but I'm always on the lookout for multi-tasking gadgets that will help keep my counters clean(er).
Our Place Wonder Oven specifications
Exterior dimensions (in.): H11.6 x D10.6 x W10.5
Interior dimensions (in.): H7.6 x D10.3 x W10
Weight: 11.6 lbs
Capacity: 12 L
Modes: Air fry, bake, toast, roast, reheat, broil
Heat range (Farenheight): 200°F–450°F
Timer (minutes): Up to 60 mins
Wattage: 1400 W
Volts: 120 V
Color(s): Char, Steam, Blue Salt, Spice
Includes: Bake pan, air fryer basket, wire rack, crumb tray
Unboxing the Our Place Wonder Oven
It took me less than five minutes to unbox and set up the Wonder Oven. The oven comes wrapped in a plastic bag and secured with cardboard, and its accessories are wrapped in cardboard and tucked next to the oven inside the package. I definitely appreciated that there wasn't excess plastic or styrofoam in the box — the majority of the packaging was recyclable, which is always a nice touch.
Once I had everything unwrapped, it was just a matter of inserting the crumb tray and racks into the oven. The door has a large handle and opens downward, allowing you to slide the racks inside. The crumb tray goes underneath the bottom heating element, and there are two different tracks on the sides of the oven, allowing you to set two racks at different heights. My oven came in the color Char, which is a pretty matte charcoal color, and it has three control knobs to adjust the cooking mode, temperature, and timer. I will say that the markings around the control knobs aren't the most defined — because they're in a light gray color, they're tricky to read in low lighting.
The final step before I jumped into testing was to run a test cycle with the oven. The directions say to run the oven at 400 degrees Fahrenheit for 10 minutes before first use, so that's exactly what I did. The manual said there might be some smoking or odors — pretty common for right-out-of-the-box appliances — but I didn't notice any while it was running.
Cooking with the Our Place Wonder Oven
Cooking French fries
Why you can trust Real Homes Our expert reviewers spend hours testing and comparing products and services so you can choose the best for you. Find out more about how we test.
For my first test with the Wonder Oven, I opted to make frozen French fries — one of the most common things I use my air fryer for. I put the air fryer basket, which has a mesh-like bottom, into the oven and let it pre-heat for five minutes before putting in a single serving of fries. I don't love that there's no way to pause the oven to insert/remove items — you just have to open the oven while it's running and use a mitt to remove the basket. The tray also doesn't support itself when pulled out more than halfway, so I had to use one hand to hold it up so my food didn't slide off.
The fries were supposed to be cooked for three minutes on each side, but it was impossible to tell if the analog dial was actually pointing at three minutes. I ended up setting the oven to 20 minutes and just using a separate timer on my Amazon Echoto let me know when to turn the fries. (Thanks, Alexa!)
The interior of the oven has a light that turns on when it's cooking, which let me monitor the color of my fries. They were perfectly done in around eight minutes. When they finished, I turned the time dial back to zero to turn it off. The fries were crispy and golden brown on the outside and fluffy on the inside, making for the perfect mid-afternoon snack.
Cooking pastries
I was feeling ambitious, so I decided to try out the Wonder Oven's bake function with a pastry. I used frozen puff pastry dough and strawberry jelly to create two cute triangular turnovers, which I was able to fit back-to-back onto the oven's baking sheet. (I wouldn't have been able to fit a third one, though.)
After preheating the oven for five minutes, I put in the desserts and set them to cook for 10 minutes at 375 degrees Fahrenheit. I loved being able to monitor the progress of my treats as they cooked — it's so satisfying to watch the pastry dough puff up. The filling of the pastries ended up leaking (my fault for not sealing them well), which led to jam being burnt all over the baking tray, but they still tasted so good and had the perfect amount of crunch.
Making toast
My toaster lives on a high shelf in my pantry (mostly due to my aforementioned cluttered kitchen counters), so instead of climbing up a step stool to get it, I decided to try toasting some bread right in the Wonder Oven. There's a little note on the dial to set it to 450 degrees when using the toast function, so I did that and inserted the wire rack into the middle of the oven.
I popped a piece of sliced bread in for around five minutes, and I ended up flipping it mid-cycle for more even cooking. I wasn't sure how long it would take, so I ended up just keeping my eye on it. My bread was nicely browned after about four or five minutes, and it was the perfect crunchy base for some avocado toast. It was definitely convenient that I didn't have to get the toaster out of the cupboard, but I will say that it wasn't as easy as using a toaster, as I had to flip the bread manually and monitor its doneness.
Cooking turkey burgers
While I would usually broil turkey burgers, or use a small portable grill in the summer, I wanted to see how the Wonder Oven would handle a larger recipe like this. I used the air fryer basket, but if I ever made this recipe again, I think I'd use the baking sheet to prevent it from dripping juices down onto the heating element.
The recipe I followed said to cook the burger for five minutes on each side at 375 degrees Fahrenheit, but that wasn't nearly enough. The total cook time ended up being around 25 to 30 minutes (it's hard to tell exactly because the li'l dial is so imprecise), and while it did take much longer than expected, the burger was nicely browned on the outside and still juicy inside.
Reheating leftovers
The next day, I decided to have a leftover turkey burger for lunch, and the Wonder Oven proved to be the perfect way to reheat it. I put the burger on the baking sheet and popped it in the oven for around 10 minutes on the reheat setting. Toward the end of the cycle, I also slid the wire rack in with a burger bun to toast it up a little. It was really handy to be able to heat up both elements at once, and the results were way better than what even the best microwave could have delivered.
Cleaning the Our Place Wonder Oven
The Wonder Oven did get a bit dirty after a few weeks of use. There were grease drippings on the lower crumb rack, and the air fryer basket had some discoloration. Not to mention the incident with the burnt jam! Unfortunately, none of the trays are dishwasher safe, and I found that some of the accessories were easier to wash than others.
After baking the pastries, I had to soak the baking tray for about four hours, which gave the burnt-on jelly enough time to soften up. From there, it came off easily with a sponge, and the tray looked as good as new. The crumb tray was also easy to wipe clean, but the air frying basket was trickier. The manual says to clean the air fryer with a nylon brush (like this one on Amazon), but it's still tricky to get the gunk out of all the little crevices.
Is the Our Place Wonder Oven right for you?
I can see the Wonder Oven being a game-changer for anyone who lives in a small apartment — or even in an RV or dorm room. Its 6-in-1 functionality is really versatile, and you can use it to cook almost anything, from classic air fryer recipes like French fries to made-from-scratch desserts. It can toast, roast, and reheat leftovers like a pro, and despite its compact form, it does the job of a conventional oven, air fryer, toaster/toaster oven, and microwave. So if you're looking to make the most of every inch of space in your kitchen, I'd say to kick the other appliances to the curb and upgrade to this multifunctional gadget.
While I was impressed with the oven's overall performance, I do need to mention its design quirks. There are a few poorly-designed elements that may impact your experience with the appliance. First and foremost, the analog dial-style timer can be really irritating, as it's impossible to tell exactly what you're setting it to. It could be 10 minutes or it could be 13 minutes — which is a great way to end up with burnt food. I ended up using my Alexa to set timers for most of my meals, just to be safe.
There are a few other little issues to keep in mind, as well. For instance, the markings on the control panel are faint and small, making them hard to read, especially in low light, and the oven racks don't support themselves, making it tricky to insert or flip food mid-cycle.
Still, if you don't mind working around these aspects of the Wonder Oven, it's a stylish and useful appliance that's perfect for small homes.
Where to buy the Our Place Wonder Oven
Because it's a new product, the Wonder Oven is currently only available directly from Our Place.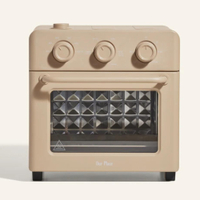 This 6-in-1 air fryer and toaster oven also has a steam infusion. Its limited edition Spice colorway ships by October 10.
How we test
There are several different factors that I look for whenever I'm testing an air fryer — or in this case, a 6-in-1 countertop oven! I make a point to test out as many different features as I can and cook popular foods, as well as more unique meals. During testing, I make notes on several factors:
Power: The best air fryers are able to give your food a crispy, brown exterior with minimal oil, and they often cook faster than traditional ovens. In addition to the wattage of air fryers, I consider things like how long it takes to cook different foods, how well the ingredients are cooked, and whether recipes need to be adjusted to achieve the expected results.
Ease of use: Is the control panel intuitive to use? Does the tray slide in and out easily? Can you hear the end signal from the next room when the TV is on? I consider all these factors (and more) to determine whether appliances are convenient to operate. For instance, one of my biggest woes with the Wonder Oven was its less-than-perfect timer, which I found made it somewhat inconvenient to use.
Safety: I've heard horror stories about air fryers melting countertops or setting food on fire, so safety is always a top priority when I'm reviewing appliances. To this end, I look at things like the device's safety features, construction quality, and overall design, noting if it gets overly hot during operation, turns off as expected, and overall feels safe to operate.
Clean-up: There are some people out there who enjoy washing dishes, but I'm not one of them. After cooking (and devouring) a homemade meal, I want the clean-up to be as quick and easy as possible. I look at whether components are dishwasher safe, and if not, evaluate how easy it is to keep them clean.