Rumour has it the Beast from the East – aka the super cold weather we experienced last winter – is set to return this year. Given that us Brits won't ever pass up the opportunity to chat (or rather complain) about the weather, we thought we'd start the conversation right here, right now.
But rather than go all in with the negatives that accompany frosty days and nights, we wanted to talk about how smart home tech can transform (by which we mean 'improve') your experience of the colder months – and possibly even save you some money along the way.
Far from being a gimmicky addition to the (ever expanding) world of smart home tech, smart thermostats are a super handy addition to a modern home. Discover five reasons why we think you need a smart thermostat (before it gets too cold).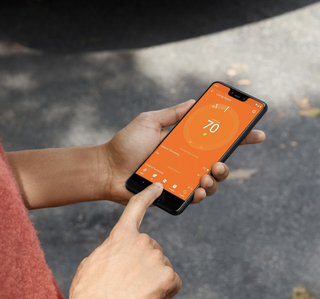 1. Smart thermostats can reduce your monthly bills
What is a smart thermostat?
A smart thermostat connects your heating system to your smart phone, making it easy to control your heating from any location, as well as monitoring your energy usage. Learn more in our handy guide: what is a smart thermostat and do I need one?
We're pretty certain that everyone reading this wouldn't mind reducing their monthly bills – we certainly know we wouldn't – so what better place to start when discussing the pros of a smart thermostat?
Designed to help you monitor your energy usage, smart thermostats make it easy to identify when – and where – you're heating your home unnecessarily. From there, it's easy to make changes to your heating behaviours and, in turn, save money.
2. Smart thermostats help reduce your overall energy use
Arguably more important than saving money is your ability to save energy through the use of a smart thermostat. If you're conscious about doing your bit for the planet, identifying where you're using energy unnecessarily is a great first step.
3. Smart thermostats ensure you have a warm home to return to
One of the major perks of being able to control your heating from your smart phone is being able to turn it on just before you arrive home. This means never returning to a cold house again and – if you're working with an older heating system – ensuring your water is warmed up in time for that much needed soak in the bath.
4. Smart thermostats help stop your pipes freezing
If, like us, you'd rather not have to think about frozen pipes this winter, consider it a good enough motive to invest in a smart thermostat.
Certain models – including the Nest Learning Thermostat – are designed to monitor the state of your heating system, even when you're not there, and have programmes built-in to prevent pipes from freezing over. Smart thermostat registering a risk of frozen pipes? It will let you know before it's too late.
5. Your smart thermostat makes your heating system adaptable
The best smart thermostats are designed to learn your heating behaviours and adapt to your needs, accordingly. Beast from the East rolling in harder than anticipated? Your smart thermostat will adjust to ensure your home maintains the perfect temperature without you having to lift a finger.