If a baby monitor is one (of the many) things on your list to buy for a new arrival then our Nanit Pro review is worth a read.
I've been using the Nanit Pro with a floor stand for several months since my daughter arrived and although, admittedly, it took some getting used to, I couldn't be without it now. The day and night vision has to be up there as one of the best you can get, along with all the handy functions such as two-way talk and background audio. I'm still using it, and will probably continue to use it until she sleeps through the night every night (which will be the dream) so until that point I'll keep you informed on how the camera performs for mine and my family's needs.
If that doesn't speak enough for how much I vouch for this camera then keep scrolling to hear more about how I've found the set up and using it, from day 'til night. Whilst you're here you may as well stop by our best baby monitor guide, to compare against more top buys.
Nanit Pro specifications
Video resolution: 1080P HD
Power supply: Mains
Subscription: 1-year subscription to the Nanit Insights app
Who does the Nanit Pro suit?
Expectant parents: it'll be on the list
New parents: for more confidence when you're putting baby in their crib
Family and friends wanting to buy a (generous) gift: they can be added to the app so they can keep a watchful eye on baby, or for easy use if they get tagged in to babysit.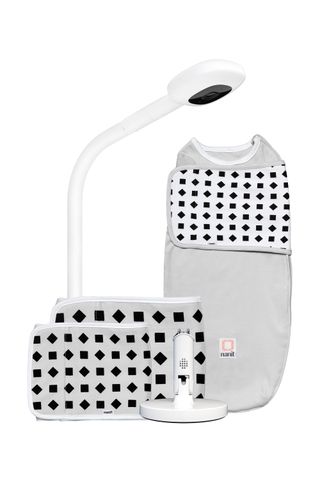 The setup
I've been testing out this baby monitor with a camera on the accompanying floor stand, so setting up the hardware was pretty intuitive and I didn't need to get out the toolbox (hurrah). The stand has three legs and slots together in three sections, which ends up making it stand 68cm (approx) in height above the crib. The camera head – the hub of all footage, sleep tracking and temperature and humidity – then slots on to two pins.
The magic then comes once the app is downloaded onto your smartphone. The app is available on iOS, Android and Amazon Echo Show. I have an Android phone so I have only used the app on this device, but I'm sure that across other smart devices there is no differences to the user-experience. There is no parent unit with this baby monitor so you'll need to ensure that your existing smart device is always charged and near you. When you're watching the live stream, your device shouldn't 'time out' so you'll always have baby next to you (so long as you keep your device to hand).
With the app installed on your smart device you can start to use this smart baby monitor. To start with you're asked to enter your child's name, gender, due date and date of birth. This information is used for memories which are automatically stored in a digital baby book that you can share. You'll also receive personalised messages to your inbox (from Nanit) which offer words of encouragement, guidance and ideas once a week or so, if you opt for this.
You can add multiple users, too. Ours, for example, has Mom (that's me) and Dad on our plan. If you upgrade your subscription for a fee, you could have up to a whopping 50 parenting team members. You may have noticed here that I snuck some English-American language in (Mom), because that's what is used in the app. This is something which you can't change, but what you can change are the units used for temperature, weight and length to something you're more familiar with as imperial and metric options are both available.
Using the Nanit Pro
It's simple. And is (pretty much) all done on the app. There are a few elements to the Nanit Pro which makes it all work as a package. You can even buy accessories separately so you can build your own, if you like. They all bring something different so to make it easier to digest I'll rally through my findings in separate chunks.
The camera
When baby finally falls asleep in their crib you'll receive real-time notifications of movement or sound. You can adjust the sensitivity (frequency) of these notifications as and when something is detected. These are useful if you're not watching the live stream as they'll come as an alert on your phone. Less useful are notifications on the temperature and humidity in the bedroom, which you'll only get when using the floor stand or wall mount. The temperature is pretty accurate and aligns with the GroEgg (RRP £27.99 at Amazon) but the humidity levels are pretty far out with scores in excess of 70 per-cent most nights – our bedroom surely can't be more humid than the Amazon rainforest, right?
If baby wakes up, two-way audio is mega useful for talking to baby, or your partner if it's their turn to soothe. If that doesn't work? There's a bank of background music such as waves, white noise and birds which is there to help soothe (although this caused more confusion than anything else), along with a light and the ability to take a photo of your view of the crib.
We have noticed that when watching the live stream whilst sat in our 120 year-old home that we lose connection. We've tried various gadgets and gizmos to increase the wi-fi strength throughout the home but, alas, it still drops out. Nanit say that it'll all still work if our internet goes down, which is great, but if the wi-fi strength isn't there all the time there's not too much that can be done – keeping patient helps, though.
I've checked all over the camera, the stand and in the app – even mistaken the reset button for the switch – and there doesn't appear to be an on / off button. I've been turning it on / off at the mains as I didn't want it running when we don't need it.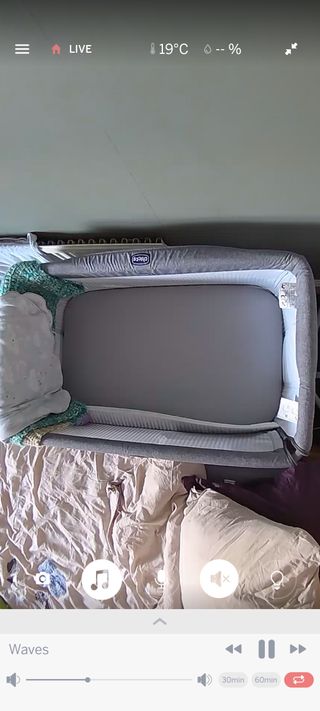 Floorstand
I opted for this because I wanted to be able to move it around. You can, however, choose the wall mounted version if you prefer to keep floor space clear.
It was easy to set up since it can all be slotted together. And there has been some great effort made to have some level of cable management with the floor stand. Plastic tubes wrap around the wires which can be slotted together so little hands can't easily get hold of it and put in the mouth. I've found that how we've positioned the floor stand (in the corner of our room between our bed and baby's bed) means the cable management gets a little confined in the space causing the tubing to easily become detached. I guess this isn't also helped by the three legs which take a bit of navigating around with the furniture that surrounds it.
And on those legs are glow-in-the-dark feet which would be useful if the stand was stood in the middle of the room, or elsewhere which would be more of a trip hazard. I have mistaken these for a dummy when I've dropped one on the floor during the night…!
It's not overly sturdy, either, so just be careful when manoeuvring it. It is top heavy with the camera in situ, and you really don't want to damage it.
Accidents do happen though so if the stand breaks then you can get buy the floor stand separately over on the Nanit website.
Breathing band
This comes in the box with the Nanit Pro. It's in the small size which Nanit say is suitable for 0–3 month olds. Every baby, and parent, is different so this may or may not be useful to you.
Personally, I have not tried this so cannot vouch for its effectiveness, etc. She kept scratching at it and didn't easily settle on each attempt so, I'm afraid to say, it didn't work out for us. We didn't let our daughter out of our sight for the first few months. She wasn't even in her own room until we were seven months in.
However, what I can say about it is that it feels good quality. It's made from cotton which is naturally breathable. There's a Velcro fastening. And there are no cables, hook-ups or anything. Just an eye pleasing black and white pattern which is the only colourways babies can see for the first few months, or so I'm told. It's this pattern that the Nanit camera will monitor for any changes to your baby's breathing pattern, alerting you when they need you.
If you enjoyed using the breathing band which comes with the Nanit Pro, the larger size is available on the Nanit website.
Other breathing wear
I was also sent the Nanit swaddle to try out. It's made from the same soft material as the breathing band and is suitable for babes who can't yet rollover. It does rely on your baby being comfortable swaddled, however. My child, for example, really didn't like it.
I can totally see the benefits of the swaddle for any new parent, but I would personally wait to see how your baby responds to being swaddle, before splashing out £49.99.
The Nanit pyjamas look good. They too have the unique pattern, are made from your same cotton material and are suitable for up to nine month olds. They've even been designed with a zip fastening which is a godsend when desperately trying to change a nappy quickly at 3am.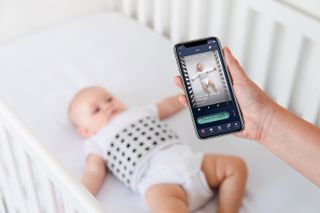 Multi-stand
This takes up less space than the floor stand but does need something sturdy to perch on close to the cot. And it doesn't have the same level of analytics available as the floor stand, just live streaming. You'll also need to re-add the camera to the app when using another Wi-Fi. All other settings will stay the same though.
It comes with its own plug so its ready to grab when you need, but doesn't come with a carry case – this can be bought separately.
What's the difference between the Nanit Pro and the Nanit Plus?
Although you may be hard pushed to get your hands on the Nanit Plus, you may be curious to find out what the key differences are between the new and old models.
The image quality is perhaps one of the most significant upgrades with the Nanit Pro featuring a 1920×1080 pixel resolution, which is a marked upgrade from the 1280x960 pixel resolution of the Nanit Plus. This also allows for a much improved night vision which is pretty crystal clear, until you properly zoom in on the little one's face (for example!)
Nanit Pro's new night light is stronger and gives off a warmer glow than the previous model's. And the status light – a completely new feature to the hardware – indicates different functions such as power cycling, Wi-Fi connectivity and pairing with a flashing blue LED light. A physical reset button (which I originally mistook for an on/off button) now replaces what once was a pinhole on the original model, too.
Ordering and delivery
The Nanit Pro camera is available at nanit.com, as well as some of your favourite online and in-store shops including Amazon, John Lewis, Mamas & Papas and more. Depending on the retailers delivery promises, you could have this smart baby monitor all set up the day after ordering.
Don't love it? There's no need to worry. On Nanit's website it clearly states that they have a 45-day happiness guarantee which means that you'll get all your money back if returned within this time period.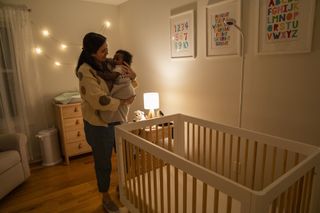 Don't just take my word(s) for it...
A John Lewis customer echos how highly we rate the image quality, and the ability to speak to baby. They bought it as a gift and feel that it's a really excellent piece of equipment.
And a customer at Mamas & Papas have found that it's 'very user friendly', and we concur.
Over at Amazon, there are 1,268 global ratings (and counting) with 81 per cent five star ratings and eight per cent four star ratings. It takes a bit of filtering to find out what customers think about the camera since there's a lot on there commenting about the multi-stand but, in a nutshell, users have found it really easy to use, were impressed with the picture quality and how you can have more than one user on it. Any negatives were to do with the extra charges of a subscription and that the multi-stand didn't work as expected (insights and breathing wear).
Real Homes verdict: is the Nanit Pro for you and your family?
This is, without a doubt, one of the more expensive baby monitors with a camera. It costs in excess of £299 but what it has to offer rivals the majority of its competitors. We're particularly impressed with the HD video, two-way talk and alerts when motion or sound is detected.
It was super easy and quick to set up, and the app is equally easy and quick to navigate. In fact, it's the app which steals the show because it's the hub of where you can not only live stream but also engage with your baby, track sleep, read milestone messages and manage settings. It is pricey, yes, but it's worth it for everything that comes with it.
About this review – and our reviewer
Jennifer is our Appliances Editor across the homes titles at Future. This means that she spends her days working with brands to ensure that you get the best products for your home. She lives in a Victorian terrace which is undergoing an unintentional renovation so whilst stripping back walls, ceiling and floors (etc!) she visualises how the space can be best used with a suite of gadgets, gizmos and home comforts to make home life that little bit more streamlined.
As with all our reviews the Nanit Pro has been tested first-hand in our home, using it just as you would so you know exactly what you are buying. The products are given to us free of charge and we test them for as long as it takes until reporting back to you, our readers. In this instance, the Nanit Pro is still in use at home so we'll continue to test it and update this review should there be anything worth noting.