Looking at smart home gadgets and wondering 'do I really need these?'? As part of National Smart Home Month, we asked our colleagues at TechRadar (opens in new tab) to reveal the three key bits of home technology we should all be investing.
You can see tech writer James Peckham reveal the three items in this special episode of the Real Homes Show. The video is designed to tell you everything you ever wanted to know about smart homes but were afraid to ask, from what a connected home actually is to how to get started. Once you know how to make your home smarter and connect devices together, there are the three gadgets you should be investing in:
1. Set the scene with smart lighting
Forget traditional wall switches, smart lighting allows you to control your lights using your phone, tablet or smart speaker. You can do everything from dim the lights without leaving the sofa when it's time to watch a movie, to turn them on in the evening when you're hundreds of miles away on holiday to deter burglars. You can even set up smart sensors in each room so it knows when you walk in and will automatically turn on the lights.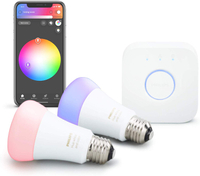 (opens in new tab)
Get £47 off a Philips Hue starter kit (opens in new tab)
This Philips Hue white and colour ambience wireless lighting kit includes everything you need to get started with smart lighting. And it's currently got £47 off – hurry!
2. Banish the chill with smart heating
Smart thermostats are designed to help you reduce energy use – and consequently bills – as well as making it possible to control heating and hot water from a smartphone. As the chillier weather arrives, imagine being able to get the house nice and toasty before you arrive home from work. It's the stuff dreams are made of.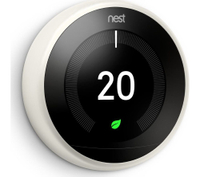 (opens in new tab)
Get £51 off the third generation Nest thermostat (opens in new tab)
This self-programming thermostat makes controlling your heating and hot water easy. You can get £51 off the RRP at Amazon. It's slim and stylish but doesn't need professional installation.
3. Keep an eye on your home with a security camera
Improve your home's security by investing in security cameras or a video doorbell. These allow you to check on your home from anywhere in the world (as long as you're connected to the internet, obvs), giving you peace of mind when you're away. Some can even link to smart locks, allowing you to accept deliveries when you're out.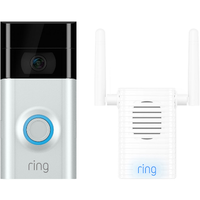 (opens in new tab)
Save £40 on a Ring 2 video doorbell on Amazon (opens in new tab)
Save £40 on the video doorbell lets you see, hear and speak to visitors from your phone, tablet or PC. You'll get a notification when movement is detected or when visitors press the doorbell.
Find out all you need to know about smart homes on The Hub, our jargon-free page