Husband and wife duo Brian and Mika Kleinschmidt are known for their hit HGTV show 100 Day Dream Home, in which they design and build their clients' dream homes from the ground up. The experienced home renovators have revealed one thing first-time homeowners shouldn't neglect when it comes to home maintenance.
Brian and Mika explain why it's crucial to give your HVAC system regular attention to avoid headaches. A bit of TLC can save you money in the long run, too.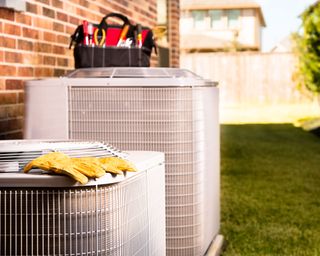 Brian and Mika Kleinschmidt's heating tip
'Get your HVAC systems checked regularly, so you can stop worrying about if they work and relax when at home,' say Brian and Mika. Whatever type of heating you have, it's important to get your system serviced by a professional once a year.
This will not only help to identify any problems, but as the HGTV stars say, it'll also give you peace of mind. The 100 Day Dream Home stars say that replacing the air filters of our HVAC systems is another thing we shouldn't neglect.
'Swap out your air filters every 30-90 days,' Brian and Mika add. This will help you save energy at home, and could save you up to 15% on your monthly energy bill.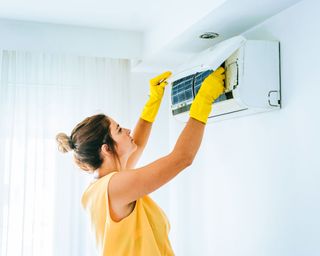 There's no manual to prepare us for handling the unexpected costs involved with maintaining your own home. Getting your heating checked and replacing filters regularly are two simple steps you can make to keep things in working order.
A new survey of 2,000 American homeowners showed that 64% admitted to knowing nothing about how to perform ongoing maintenance on their HVAC or other systems in their homes.
The same study revealed that homeowners underestimated the total maintenance costs in their first home. On average, they spent about $2,700 within the first five years on repairs and replacements.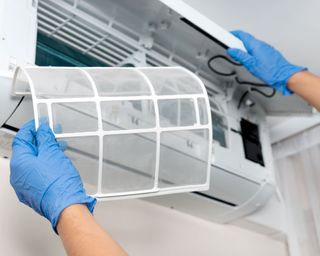 There are lots of common home repairs you can fix yourself, from fixing creaky stairs to draft-proofing your windows. But if you'd like more help, head to Brian and Mika's Homeowning 01's second semester.
On their free online course, they share some tips for first-time homeowners to help offset maintenance costs and save money in the long term. Good luck!