Ahhh the H&M home sale, our holy grail for all things affordably Pinterest-worthy. We never miss a beat when it comes to our favourite retailers so obvs didn't hesitate to have a gander of their sale and do the legwork for you (like it was hard work). We're forever bookmarking H&M home buys, so coming back to see some of our faves to see price slashes has kind of made our week.
We've rounded up a few pre-Christmas goodies, some bedroom essentials and some homeware staple must-haves. So, if you love what you see as much as we do, make sure to put them in your basket ASAP 'cos we've got a sneaky suspicion that they won't be around too long.
You'll find loads more deals over on our hub page so check those out too.
1. Get a head start on Christmas wrapping with berry print paper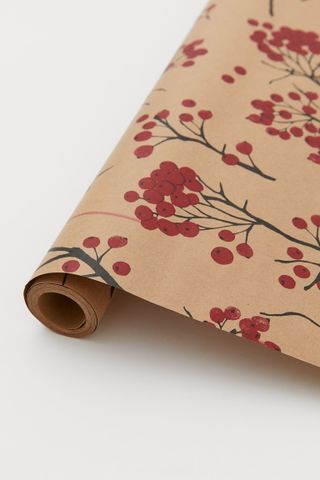 Gift wrap | £2.99 £2
If you needed a sign that it's time to get a head-start on your Christmas wrapping it's this price slash from H&M. This understated beige wrapping paper peppered with bright red berries is classy and cute. Perfect.
2. Dress your table in charcoal linen for relaxed but refined dining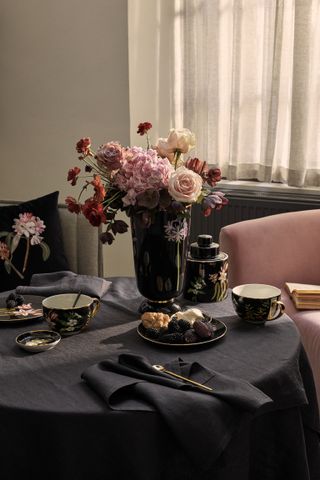 Washed linen tablecloth | £34.99 £25
We love grey interiors and dressing your table in charcoal linen is one of our favourite styling hacks. Not only is it stylish and offers a room a touch of ambience, it's also super low maintenance.
3. An oversized rug for Scandi-style monochrome vibes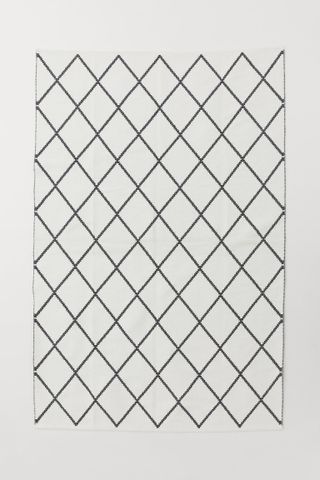 Large jacquard-weave rug | £149.99 £100
This oversized rug in monochrome print is an absolute Scandi-style staple and we're all over it. With 33 percent off, we can't resist this gorgeous rug that'll go with pretty much any kind of interior. The jacquard weave pattern is super on trend right now and we don't see it going anywhere anytime soon!
4. Make a statement with a boho-chic tasselled scatter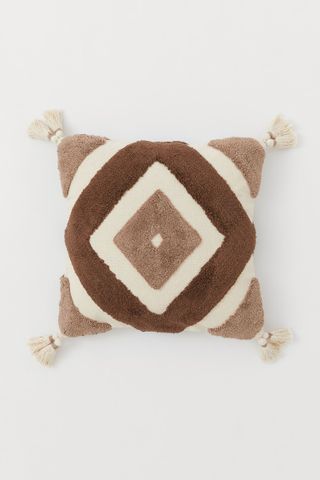 Cushion cover with tassels |£19.99 £14
This cushion cover is giving us seeeerious Anthropologie vibes - nobody will ever guess it's just urm £14?!?! The cushion cover is made from a soft cotton yarn with a diamond shaped beige and brown print and tassels in the corners. Oh, and the zip is concealed on one side.
5. Golden candlestick holders for festive feels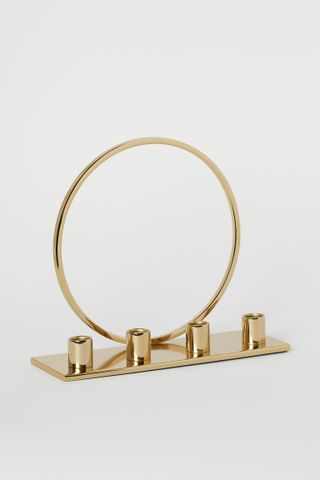 Metal candlestick |£17.99 £13
There's something so elegant about this candlestick holder and we're imagining it on our mantlepieces and kitchen tables come Christmas day and are really feeling it. The metal finish is at once traditional and contemporary and the bold design is sure to make a statement.
6. Treat yourself to a cotton satin fitted sheet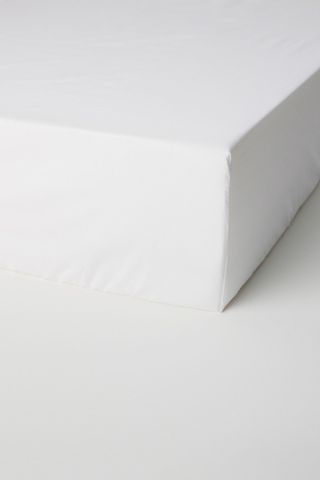 Fitted cotton satin sheet | £34.99 £20
If you're in the market for a new fitted sheet then now is your time to snatch one up. The H&M home sale is stocking their goooorgeous cotton satin sheets at a discounted price so there's no reason to wait any longer. The fine-threaded, closely-woven cotton satin has a thread count of 600.
7. A scatter cushion that delivers on warm and fuzzy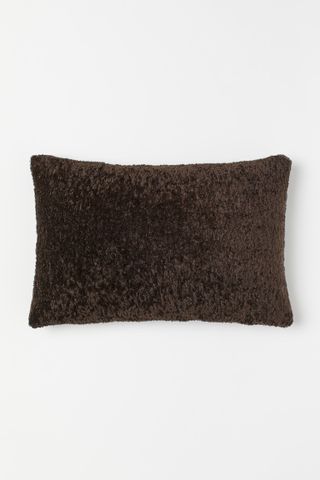 Pile cushion cover | £12.99 £6
This soft pile cushion is warm in look and feel with a brown furry case for ultimate softness. We're surprised that this bad boy made it into the sale because we reckon it's an autumn/winter refresh must-have. The perfect scatter cushion for your bed or sofa.
8. Navy paisley bedding for a dreamy bedroom set up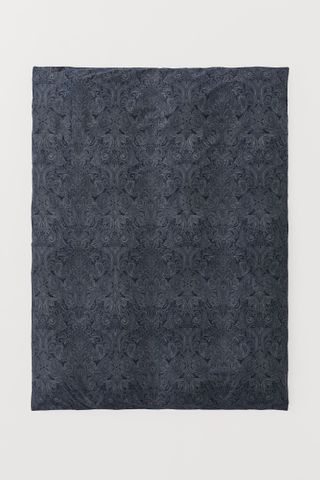 Patterned duvet cover | £49.99 £25
Navy is a killer colour because it works all year round. Perfectly balancing the calm of blue with the warmth of charcoal, this paisley print duvet cover will give your bed some character and charm. Oh and it's made from fine-threaded cotton with a thread count of 310.
9. Minimalist makeup storage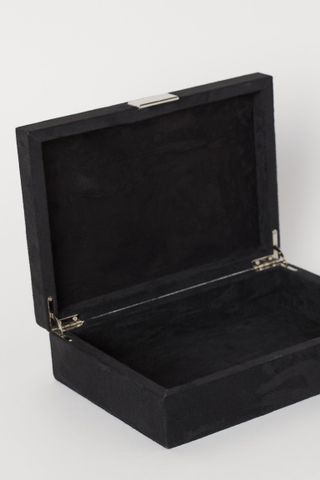 Large pot | £29.99 £20.00
This sleek storage solution in the H&M sale is a great find (if we do say so ourselves). For just £20 this is the perfect portable storage solution for makeup or just general bits and bobs. It's made from wood and is covered in black imitation suede.
10. Treat your post-bath feet to a deep pile rug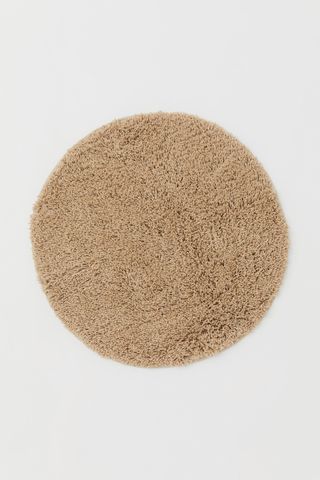 Deep pile bath mat | £19.99 £14
We kind of love the idea of a round bath mat. We're keen on avoiding a sterile look in the bathroom and adding a round, fluffy, deep-pile warm coloured bath mat/rug is an easy way to achieve this. Especially if you're dealing with a space that has square tiles and a square mirror, this will soften your bathroom space.
Read more: