Small details make a big difference, which is why it's important to figure out how to style a small bedroom nightstand.
Designers offer a few tips and tricks to make your bedside station not only adorable, but functional. (Where else is your nightly skincare supposed to go?) It might seem like an insignificant piece in your room compared to all of the other spots, be we assure you, it's great for storage and for making a decorative statement.
As you hash out small bedroom ideas and peruse the selection of the best nightstands, make sure to keep these tips in the back of your mind.
How to style a small bedroom nightstand: seven tips
Mirror or no mirror? Storage shelf or storage bin? There's a lot to decide for a small piece of furniture, ironically. Here's where to start the thought process:
1. Consider your needs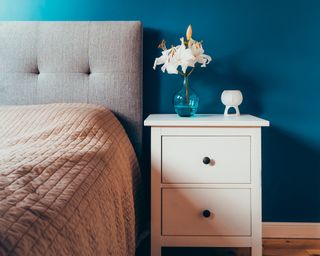 When styling a small bedroom, you need to play with proportions and ensure you're using furniture that's not only stylish, but practical. Think about how you want your nightstand to function and what you're planning to put on top of it. Regardless of how you want to tackle the staple, there are a few storage options at your disposal according to interior designer Laura Price, founder of The Home Organisation.
"If you have a few drawers below, they're perfect for hiding away small items, just use a few drawer inserts to keep categories separated within them," she says. "If you have open shelves or no shelves at all, invest in beautiful storage that matches the design of your bedroom."
Laura Price is the founder and director at The Home Organisation. After a career in PR for national events and with three young children, she realized that creating organized spaces brought her moments of calm in a busy life. With a vision to help many others experience the benefits of living an organized life, The Home Organisation was born.
2. Select the essentials — and a lamp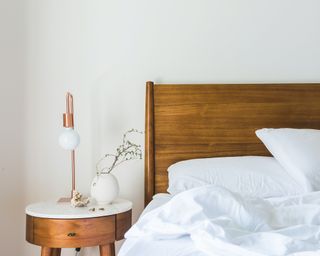 One of the biggest small bedroom design mistakes is overcrowding. To keep the space feeling light and airy, it's essential to only display what you absolutely need — anything else can find a home elsewhere.
"Your nightstand needs to have your sleeping essentials close at hand during the night, but also look chic and organized during the day," says interior designer Nicole Cullum, founder of Color Caravan. "An easy trick to achieve both goals is to have a pretty accent lamp either centered or tucked neatly towards the outer back corner."
From there, attempt to style things in threes (or odd numbers), as it "helps create a cohesive look amongst different objects," per Cullum. This can include creams, tissue boxes, books, picture frames — whatever you need by your side.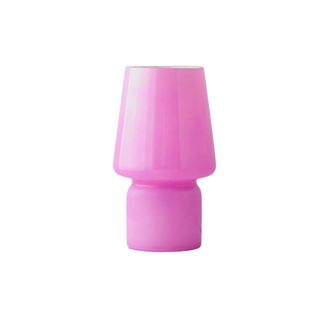 nine colors
Price: Was $49, now $37
Dimensions (in.): D4.92 x H8.27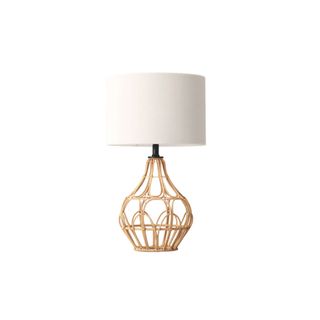 1 LED Bulb
Threshold Boho Rattan Table Lamp Brown
Price: $55
Dimensions (in.): H11 x W5.38 x D5.38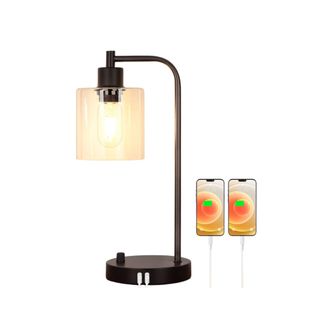 2 USB Charging Ports
Price: Was $49.99, now $29.98
Dimensions (in.): D5.91 x W5.91 x H16.34

Nicole Cullum is an interior designer, color expert, and professional organizer in Taos, New Mexico. She is the creative founder of Color Caravan, a charming hand-painted line of wallpaper, textiles, and home decor.
3. Make a statement on the wall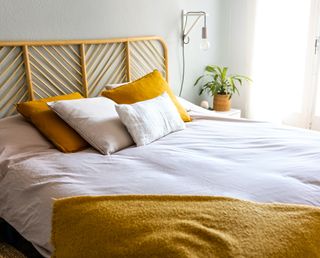 Speaking of overdoing it, don't feel the pressure to make a decorative statement on the nightstand itself. Utilize the area around it.
"Consider wall-mounted or pendant lights to save space on the nightstand itself," says interior designer Soledad Alzaga.
Luckily, if light fixtures aren't a possibility, there's plenty of creative (yet inexpensive) wall art to liven things up.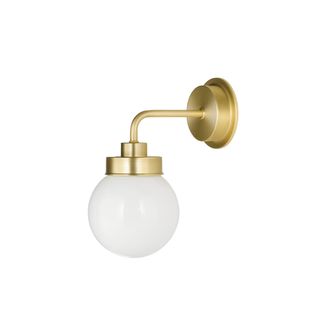 brass
Price: $34.99
Dimensions (in.): D5.5 x W9 x H11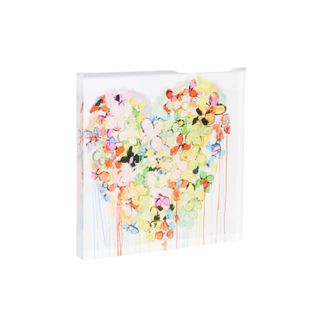 Lasercut plexiglass
Kerri Rosenthal Life With You Block
Price: Was $158, now $79
Dimensions (in.): 8 x 8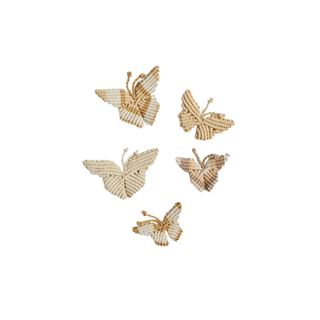 two finishes
Macrame Butterfly Wall Hanging Set
Price: Was $59, now $49
Dimensions (in.): L5 x W8 (small), L8 x W12 (large)
Soledad Alzaga is the founder of her eponymous business, a boutique residential and commercial interior company based in San Francisco, which was named one of the top 15 best interior design companies in the city. It assists in all aspects of the design and build process of residential and commercial properties from start to finish including consulting and working with architects, builders, and engineers
4. Show off your interests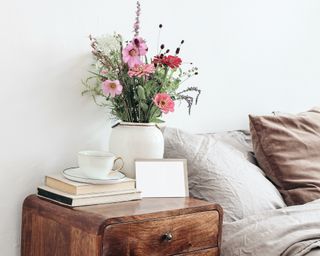 Love a good sci-fi read? Catching up with the latest entertainment mags? Doing some old-school gaming? Whatever the case might be, a nightstand is a good place to store and show off whatever sends your heart aflutter.
"At IKEA, we believe in celebrating life through storage. Giving yourself the opportunity to display what makes you, you, is always a great way to make a space livelier," says Erik Smith, interior design leader at IKEA U.S.
Smith pleads guilty to using a tablet before bed and finds IKEA's BRIMNES nightstand to be a good storage selection for literary lovers.
"I'm able to tuck my tablet into the drawer and still get to show off some magazines for pops of color on the shelf above," he adds.
Erik Smith is an Interior Design Leader at IKEA U.S., where workers possess a "special set of values and a vision to enable people to live a better, more sustainable everyday life."
5. Keep cords out of sight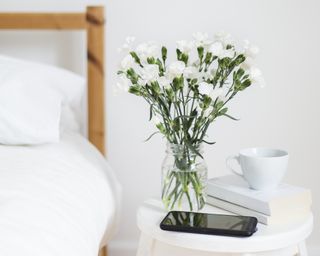 When decluttering a small bedroom, you might come to realize that your nightstand acts as a charging dock for your tech gadgets, which is totally fine. But if you want to streamline the craziness (and avoid any tangles), consider hiding the cords.
"If you have a drawer in your nightstand, consider drilling a small hole in the back to run charge cords for your iPad and phone to keep them out of sight," Cullum says.
6. Consider an alternative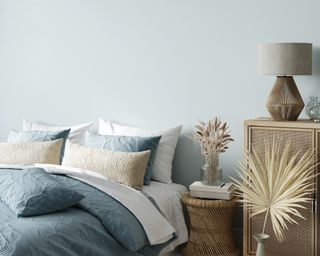 When it comes time to pick and choose furniture, you might have to consider nightstand alternatives in order to get the most usage out of your space. But don't sweat it — there are plenty of alternatives you'll love.
"Instead of a smaller nightstand, consider using a wooden desk or oversized chest of drawers for visual impact and adequate storage," says Ursula Carmona, HomeGoods style expert and the host of Table Wars: The Look For Less on HGTV GO.
Even better? Interior designers are spilling on how to fit a desk in a small space, so your bedroom/office hybrid will not only look good but keep things running smoothy.
Ursula is a HomeGoods style expert and the host of Table Wars: The Look For Less on HGTV GO who specializes in homes and gardens.
7. Add a mirror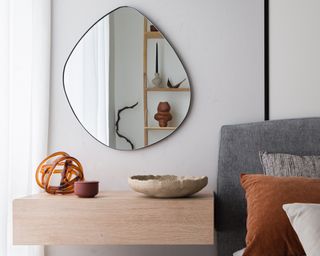 A classic way to brighten a small bedroom, especially when natural light is limited, is to add a mirror or two — and a nightstand is a prime location.
"An oversized mirror like this set atop your nightstand is an easy way to add style, reflect a beautiful room back in on itself, and is incredibly handy for getting ready for the day," Carmona says. "Plus, a dry erase marker and sticky notes can turn that mirror into a high-style reminder board."
Sounds like these mirrors are working overtime if you ask us.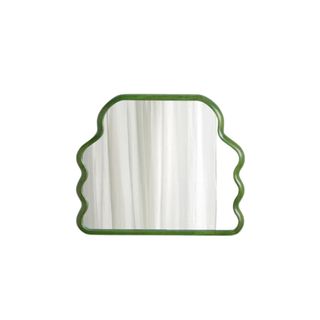 two colors
Prices: $199
Dimensions (in.): L26 x W1.3 x H22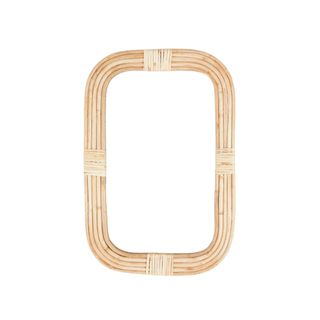 boho
Price: $36.99
Dimensions (in.): H17 3/4 x W12 1/4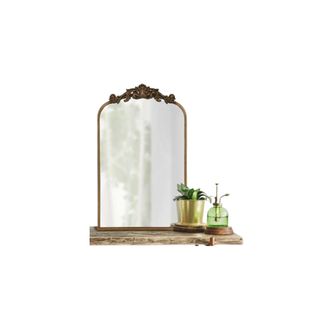 Antique Gold
Anglo Arch Metal Wall Mirror
Price: Was $135.99, now $101.99
Dimensions (in.): W19 x H31
FAQs
What do you put on a small nightstand?
Interior designers recommend not overdoing your nightstand; place only the essentials on it that you need before bed. Try to organize items in a set of three, or odd numbers, as this is visually appealing to your eye. A lamp can help keep everything in focus, whether you choose to place it in the center or towards the corner of the nightstand. To ensure things are orderly, make sure to keep the cords out of sight as much as possible.
What to do if you have no space for a bedside table?
If you don't have room for a bedside table, utilize the space you have for something you'll need, like a desk or additional storage. And, as always, this is an opportunity to use vertical space wisely.
Artem Kropovinsky, an interior design expert and founder of Arsight says, "Wall-mounted shelving can elevate a room's design while providing necessary storage without crowding the floor."
---
Looking for more ways to make your sleeping quarters chic and cozy? Experts reveal how to give your bedroom a refresh — for free! If you're really working on a big overhaul, there are quite a few small bedroom trends that designers love right now.