When we say DIY kitchen ideas, we don't necessarily mean build your kitchen from scratch yourself (although if you fancy having a go at that then great, good luck!). What we are talking about here are quick, easy DIY jobs you can do to your current kitchen to give it a bit of a spruce up.
We have rounded up five kitchen ideas that are cheap, easy and can completely transform your kitchen in a just few hours. So pull out your overalls, stick on some tunes and get creative...
1. Paint your kitchen cupboards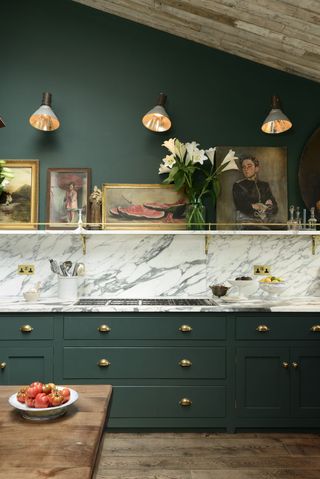 Painting your kitchen cupboards, or just your kitchen doors is the perfect has got to be one of the most satisfying DIY kitchen jobs. It's not a super quick job and does take some patience, but even a DIY novice can do it. For a complete guide to what type of paint you need, what type of material can be painted at how to paint your kitchen cabinets, head over to our step by step guide.
2. Replace your kitchen doors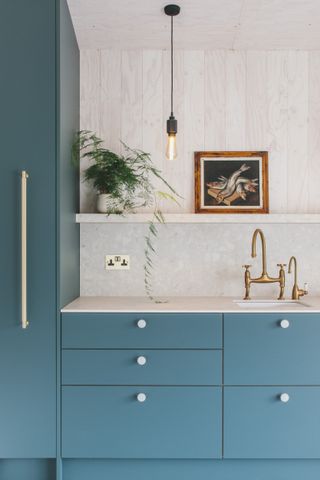 If you want to totally transform the look of your kitchen without starting from scratch, replacing your kitchen doors is great idea. It's obviously way cheaper than getting a whole new kitchen and much kinder on the environment too. Most of the big kitchen names sell single door fronts for their standard cabinets or you could go down the route of getting new doors made to fit your current kitchen carcass. Companies like Plykea and Husk make doors, drawers, worktops and more to fit popular brand kitchens, but will give your kitchen more of a handmade look.
3. Invest in cute new kitchen hardware as a quick DIY kitchen idea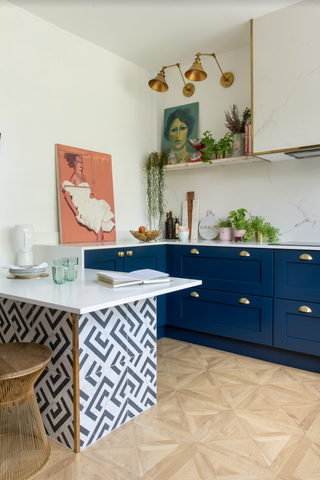 Replace all the knobs and handles, easy peasy. You would be surprised how much of a difference it can make; if you are after a more modern look pick out simple T-bar handles (black is super on trend right now) and for a more traditional vibe switch your handles to a cupped style. We love Anthropologie for hardware, and just think, new handles are way cheaper than a new kitchen so go on, treat yourself to handles you really love.
4. Learn how to tile a new splash back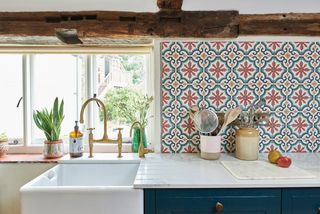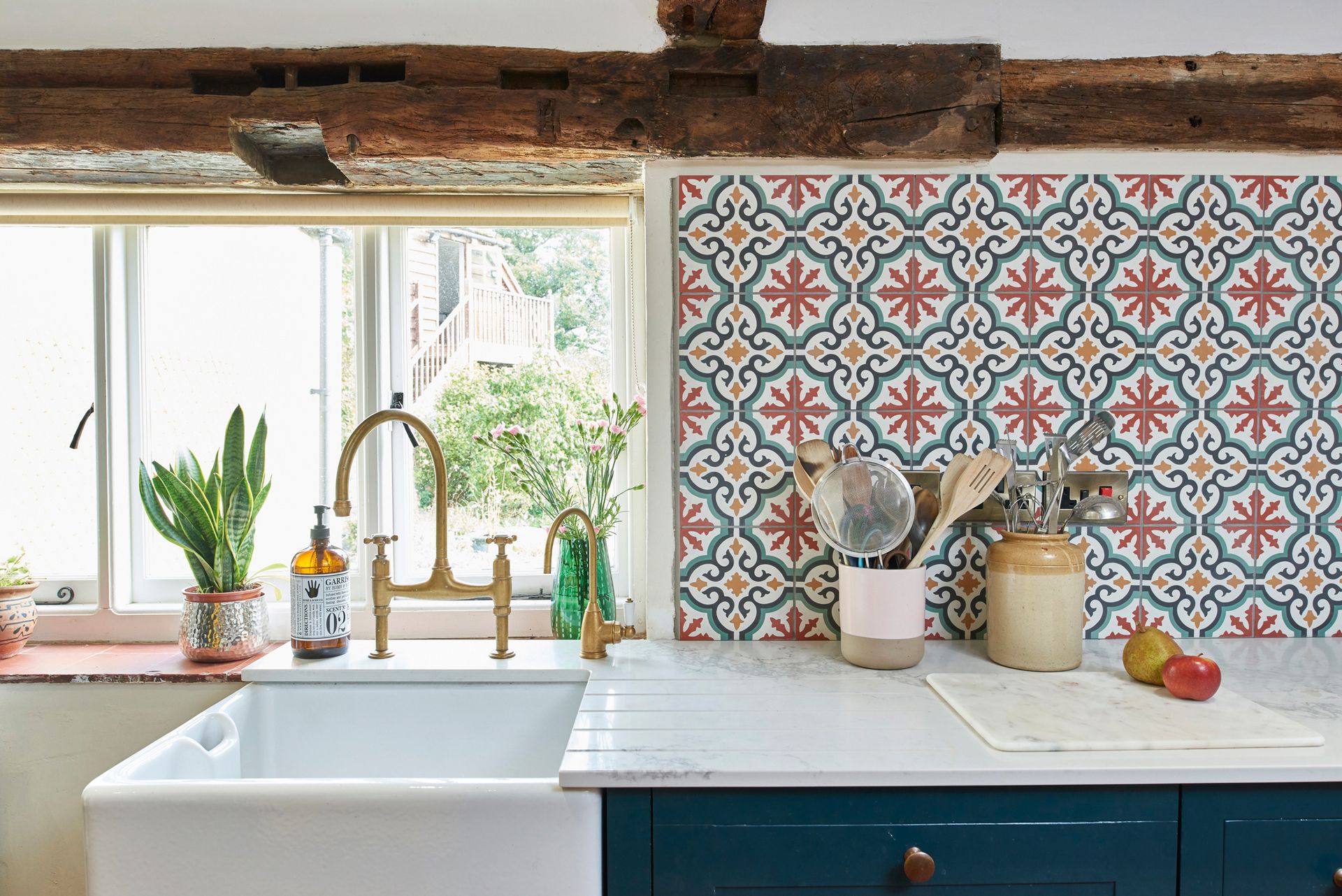 Think tiling a splashback is beyond you? Think again. We've done it, so that means literally anyone can. It's not as much of a complex job as it sounds and it's a great way to cheaply add color and texture to your space. To find out how to tile a splashback head over to our step-by-step guide.
You could of course also cheat the look by covering your current splashback in tile stickers. Etsy have some gorgeous options that are really affordable too.
5. Change up your kitchen flooring with paint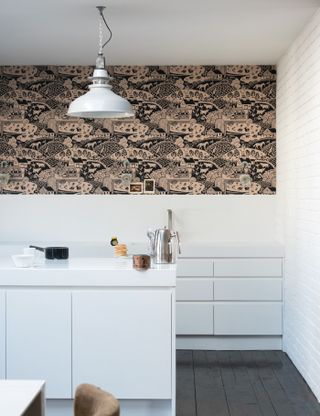 Got floorboards in your kitchen? Paint them! This was a massive trend last year and looks like it will continue to be into 2021. White is an obvious choice for a sleek, modern look, but you could be brave and go for a dark moody color or even whack out the stencils. We've put together loads of ideas as well as a step-by-step on how to paint floorboards in our guide, so go and check that out.
6. Create DIY kitchen cupboards with curtains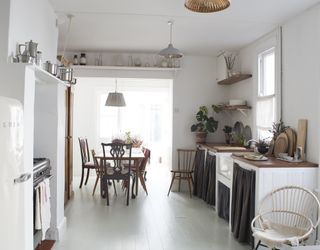 Hear us out. If your kitchen cabinet doors are so beyond saving, that even paint can't improve them, then just take them off. Chop them up, use them as firewood, take them to a recycling center, just get rid (in the most eco-friendly way possible obviously) and replace them with curtains!
If you would like a guide (it's so easy) just check out our DIY kitchen cabinet feature.
7. Update your worktops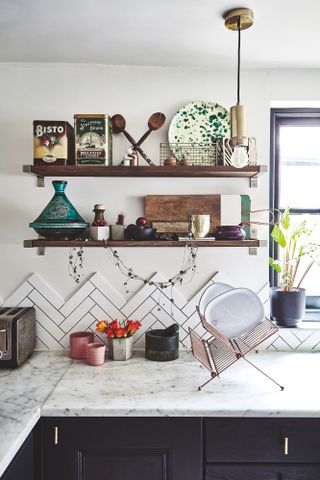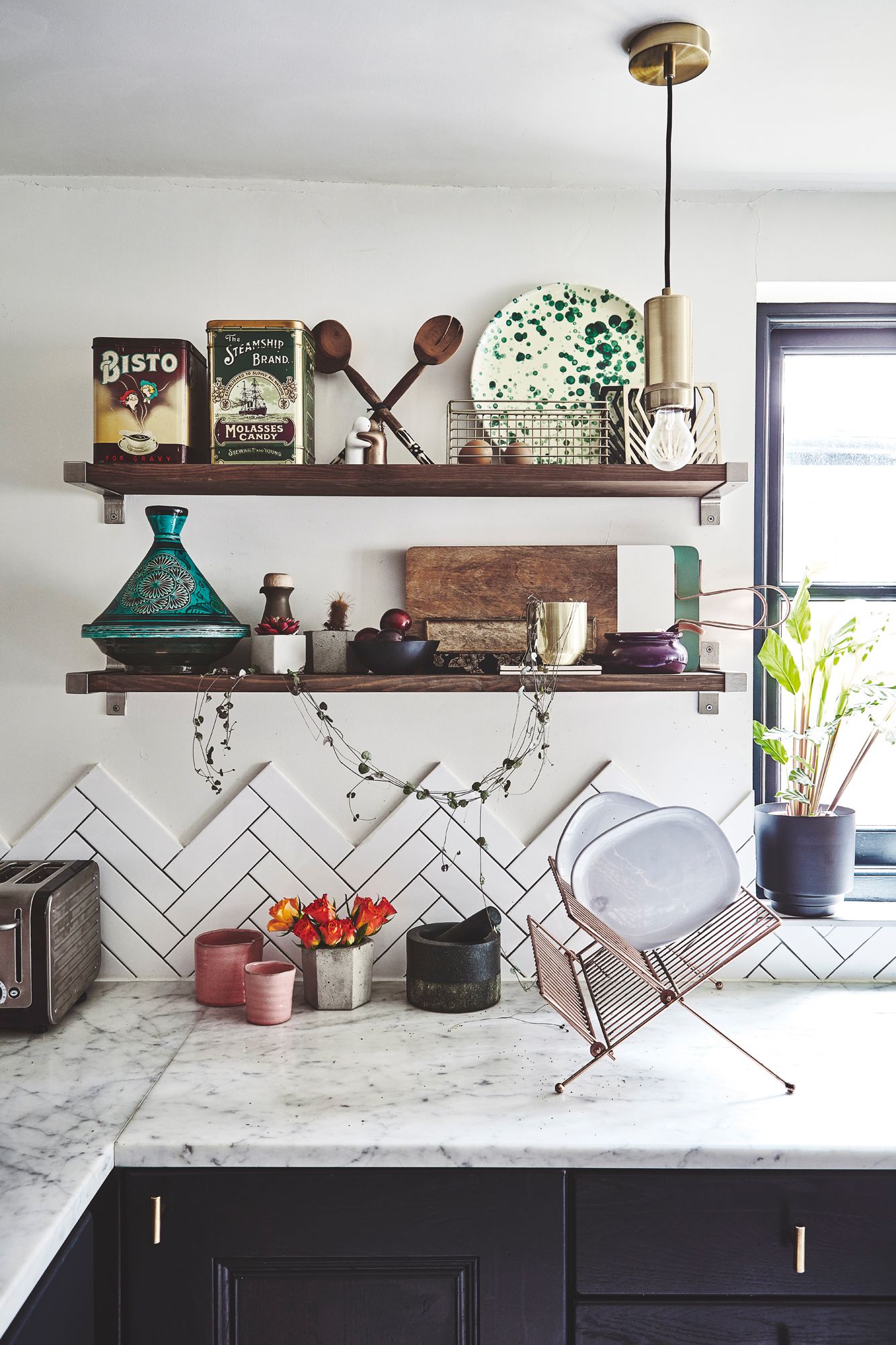 Got tired looking kitchen worktops? There are loads of DIY countertop ideas for you too try. The easiest and most effective is to cover them in contact paper. There are loads of really lovely, realistic options on offer now, especially if you like the look of marble worktops but not so keen on the price. Wayfair sells a marble-effect self-adhesive film for just £8. You will need a wallpaper smoother and a fair bit of patience for the job but the result can be amazing.
8. Update your kitchen cupboard doors
Love this idea from @hotpinkpineapples – her DIY doors give her kitchen a cute retro feels and it's a look you can so easily create yourself. Simply cover your doors in half-round trim and paint! There's a really handy video for you to follow too so check that out.
9. Create extra surface space with freestanding pieces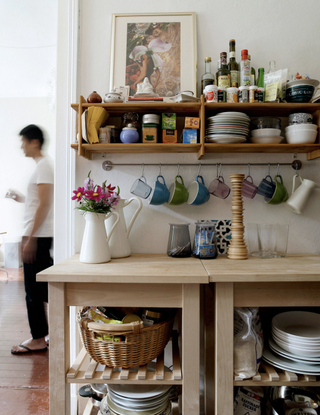 Need to add extra surface space and storage? This DIY kitchen idea is perfect, plus it works if you are renting too! Make more of your kitchen using freestanding pieces to create more storage and more prep space – you can make it feel like more a permanent part of the kitchen by adding wall shelves and a rail. You can recreate this exact look just by using two Bekvam trolleys from Ikea.
10. DIY a storage wall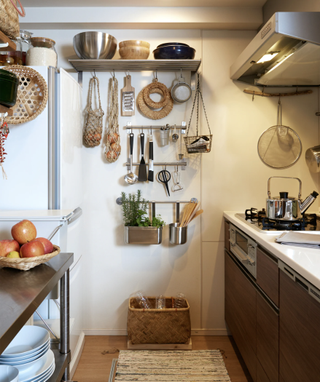 This is a great DIY for adding storage to small kitchens. If you have a wall in your kitchen that doesn't work for cabinetry so is just going wasted, turn into in a practical (but stylish) storage wall. Oooh and add in some herbs too in a hanging pot for color and a nice rustic look.
Are DIY kitchens any good?
If you can trust your DIY skills, DIY kitchen can be a great way to create a space you love on a budget. Obviously there's a huge difference between changing out some handles and trying to build your own DIY kitchen from scratch, but you've got the skills or the time to learn the skills there is no reason a DIY kitchen should be any less stylish or practical than any other kitchen.
Can I install a kitchen myself?
Again, you can install a kitchen yourself if you trust your skills are up to the job. Fitting your own kitchen isn't a straightforward job, you'll need plenty of tools, time and patience. That's not to say it can't be done, and if you commit you could teach yourself how to install a kitchen and save up to £5,000 on the costs of getting someone else in to do it.