Ashley Tisdale's sofa — a renowned Mario Bellini Camaleonda sofa, to be exact — just received a little social media love, and we'd be remiss not to discuss the stylish deets.
The former Disney star frequently shares gorgeous imagery of her design projects via Frenshe Interiors, her new company. Sometimes, she posts inspo by way of personal pieces, and we're always eager to gobble up her tips. She describes the classic sofa as one that can stand the test of time. Although it has "been with [her] through multiple homes," it's in impeccable condition.
The '70s classic, reminiscent of a chic marshmallow, is an elegant statement that can cost thousands of dollars. Not to mention, it's a pretty decent size. But if you're working with small living room ideas and want to snag a similar aesthetic, we asked the pros how to make it happen.
Ashley Tisdale's sofa: a classic Mario Bellini Camaleonda
The beige beauty is a work of art in itself, and it's one sofa color that makes living rooms look bigger, so essentially it's a win-win. If you are still new to the Quiet Luxury trend, look no further than Bellini's iconic piece for a crash course. Ashley pairs hers with modern, minimal, and sophisticated details — an arched floor lamp, a wooden coffee table, etc.
But how do you make a small living room look cozy — and functional — with such a sophisticated number? Do you have to implement a "no-sit" policy with a couch like this? Fear not, it's meant to be stylish and enjoyable.
How to style a Mario Bellini Camaleonda alternative
So you want to channel the famous '70s aesthetic in your own place? Let's make it happen, folks. There are plenty of affordable luxe picks for small living rooms that can recreate this chic, retro vibe.
1. Style minimally
Let the couch do the talking — it's the focal point, and it should be treated as such. Don't overwhelm the room with excessive prints and countless throws that will hide the unique shape.
"The Mario Bellini sofa is a classic, and showcasing the design is the most important thing," says interior designer Soledad Alzaga. "Adding many pillows would detract from that. I would recommend using one or two."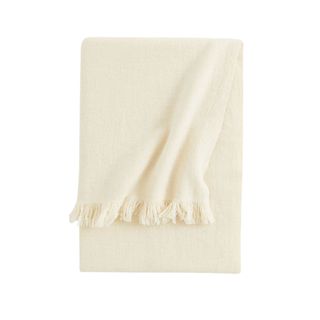 Three colors
Price: $36.99
Dimensions (in.): L51 x W67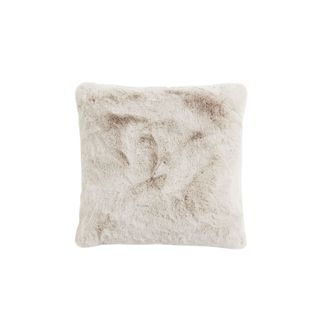 Insert not included
Price: $26.99
Dimensions (in.): L20 x W20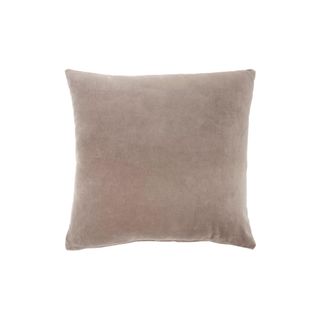 11 shades
Solid Velvet Throw Pillow
Price: $29.99
Dimensions (in.): L20 x W20
Soledad Alzaga is the founder of her eponymous business, a boutique residential and commercial interior company based in San Francisco, which was named one of the top 15 best interior design companies in the city. It assists in all aspects of the design and build process of residential and commercial properties from start to finish including consulting and working with architects, builders, and engineers
2. Add texture
Even though you shouldn't go overboard with styling the couch, it is important to mix up textures for the few pieces you intend to place on it. Think faux furs, velvets, and linens. Alzaga is all for one or two accent pillows and one throw to up the coziness without taking away from the star of the show. Pro tip: make sure you're styling with monochromatic colors.
3. Pay attention to the enviornment
Living room trends extend beyond the couch. You have to pay attention to other accents, too.
"Look at what's around the couch to make it cozy," says Melony Huber, designer and co-founder of La Peony. "This can be a coffee table or size table, lamps and other lighting, decor selections or even a rug. How you style these bonus items around the couch plays a huge role in the overall look and warm feel of the space."
She adds, "Ashley does a great job at this because you can see items on the coffee table and the lamp is being used."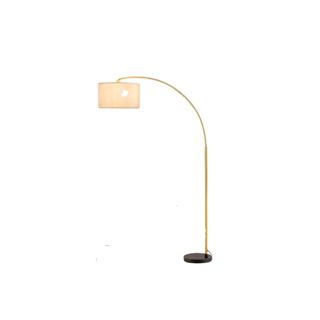 60 Watt/bulb
Salcedo Arched Floor Lamp
Price: Was $129.99, now $98.99
Dimensions (in.): 78.4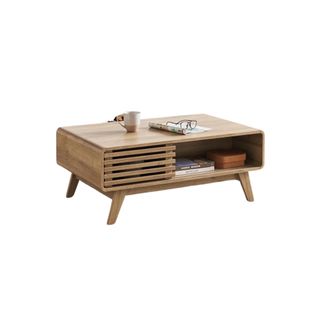 two finishes
Price: $233.99
Dimensions (in.): H15.7 x L39.2 x W23.2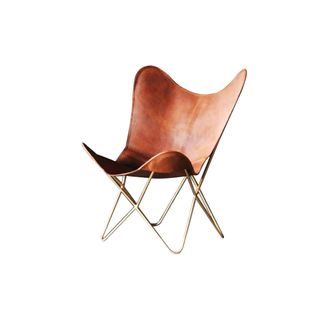 Modern
Price: $159.99
Dimensions (in.): W29.1 x D26 x H35.4
Melony Huber is a global travel fashion, textile, and exclusive interior design stylist/buyer and co-founder of ethical lifestyle collection La Peony.
4. Make the area accessible
While yes, the sofa is beautiful and worthy of maintenance, you shouldn't forgo utilizing your living room to keep it pristine — that defeats the whole purpose of what you're trying to achieve.
"That can make a space feel cold and give you just about the opposite vibes of cozy and functional," Huber says.
She recommends you copy Ashley by packing on magazines on the coffee table, draping a throw over the edge of the couch, and keeping other stylish and useful trinkets nearby.
5. Find a Mario Bellini alternative
Yes, you can nail the look without the price tag and without a large space. Here are a few items to consider.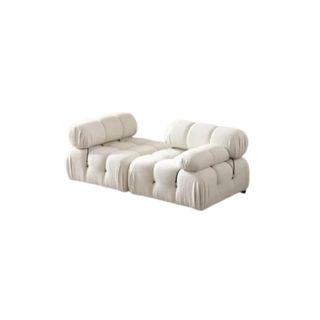 Three colors
Quiteri Upholstered Loveseat
Price: Was $1,079.99, now $849.99
Dimensions (in.): H26.77 x W70.87 x D35.433'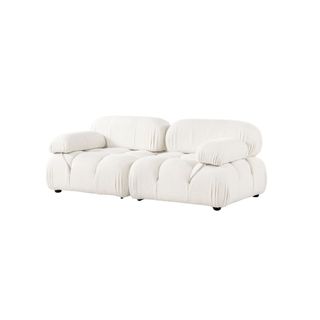 deep seats
Price: Was $3,024.99, now $2,494.00
Dimensions (in.): W77 x D37.75 x H26.7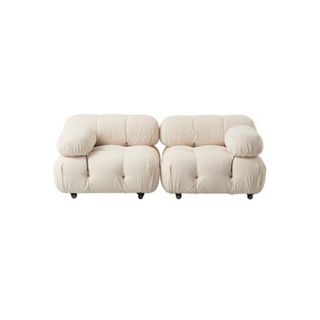 Two, three, or four pieces
Jennifer Taylor Home Marcel Loveseat
Price: $1,190
Dimensions (in.): D36 x W72.5 x H27.5
---
Going gaga for the star's style? Since Ashley Tisdale's dark-green kitchen is such a vibe, we also asked designers to help us recreate her culinary aesthetic in our own abodes. It's all Ashley all the time, folks.