Looking for summer house interior ideas? Whether you have a garden room, a summerhouse, a shed or just want to be inspired by some lovely looks that you can bring into your actual home, we have you covered.
We have delved into our archives, scrolled through Instagram and scoured the internet for some totally dreamy ideas to get you inspired. And as we said, if you aren't blessed with a summer house, these ideas would definitely work indoors too – so let them inspire your living room makeover!
For more garden ideas, head over to our feature next and if you want more advice on garden rooms check out that piece too.
1. Go for a beachy neutral vibe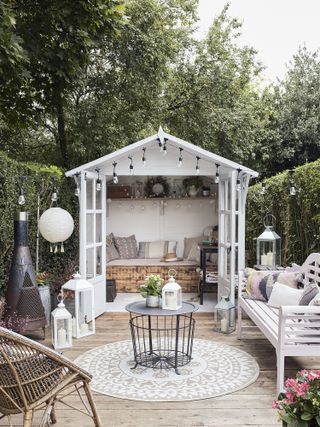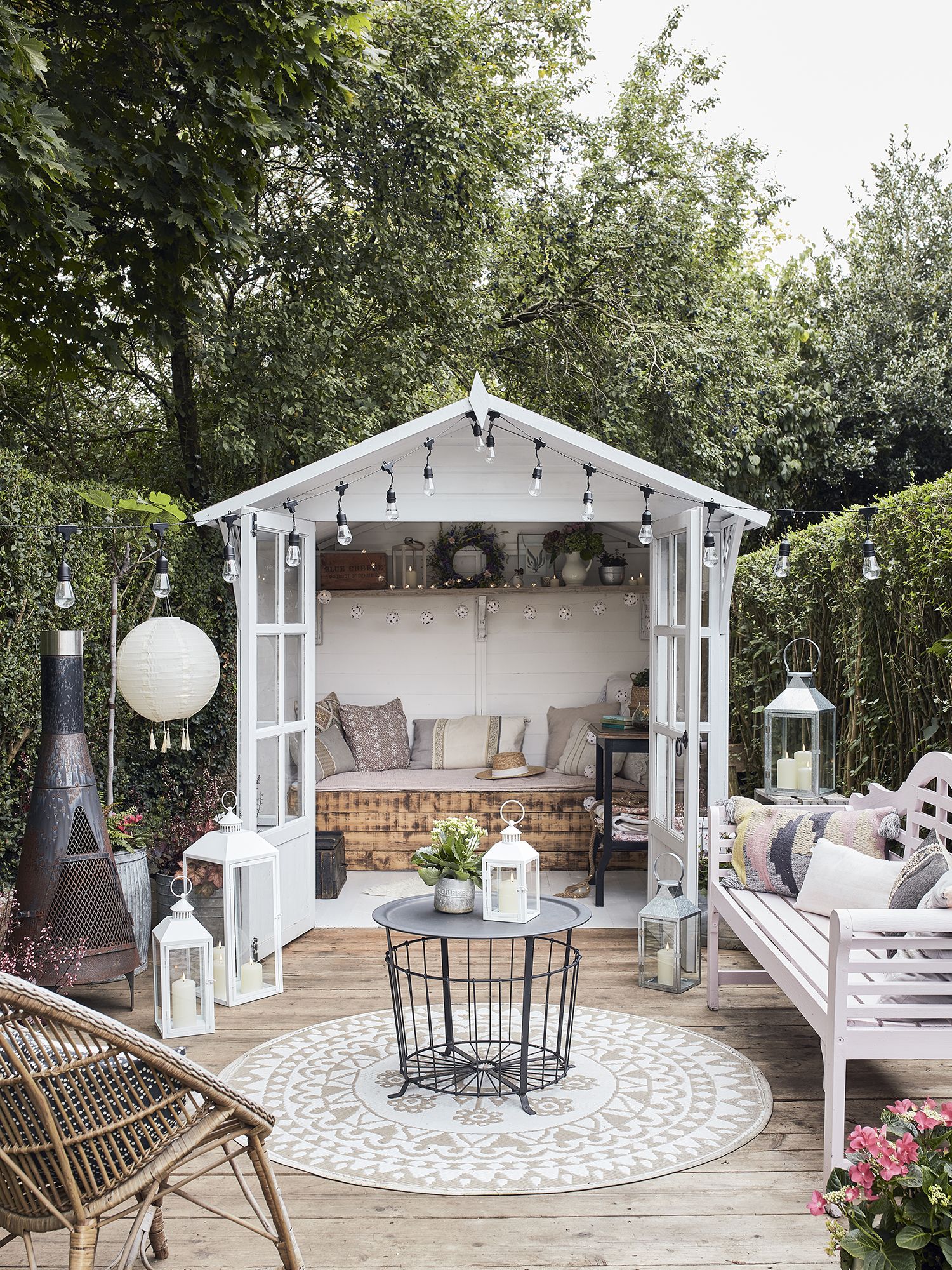 The whole outdoor living room thing, has been around for a few summers now. Everyone wants a space in their garden that feels as comfy and as relaxed as their living room. Obviously, incorporating a summerhouse is a great way to do this, but you can still copy this gorgeous look without one.
It's all about the layering, and the muted neutral colour palette. Add cushions, rugs, baskets, lanterns, a fire pit if you can, they will all add to the cosy, beachy feel. And of course you have to string up the fairy lights!
For more outdoor living room ideas, check out our feature.
2. Get a coastal feel with blues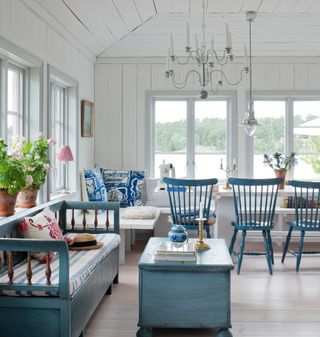 How stunning is this space? And the colours are very reminiscent of a summerhouse. The white washed walls, blue furniture and stripes would all work perfectly in either your summerhouse or your actual house. Copy the look easily too by painting your furniture in lovely blue hues (Farrow & Ball's Stone Blue or Cook's Blue would work well in a summerhouse).
You could even go as far as to add shiplap to your walls – in a summerhouse this might not be necessary if you already have bare wooden walls, but if you want to get this style inside, all you need to do is install cladding .
If you love this summerhouse, you need to check out our beach house interiors feature too, because there is plenty more where this came from over there.
3. Create a country cottage feel with colour and texture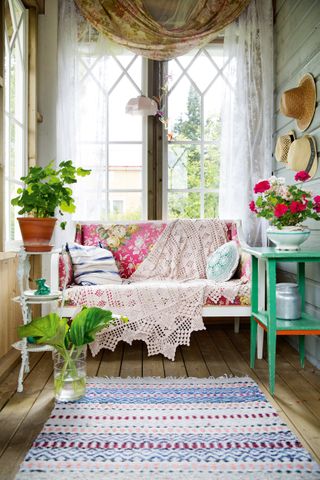 Ooooh how lovely is this space? We just want to curl up and read a book here, it's so summery and has a kind of romantic, really traditional English feel about it. To create this look in your summerhouse, just layer up different fabrics, colours and textures – the more the better. Have a look on eBay from some vintage garden furniture and benches, you should be able to find them for really reasonable prices, even if they do need a paint.
Soften up the windows in your summer house too, even if you don't add actual curtains, hand fabric from the windows, with net or lace panels underneath.
4. Mix and match muted prints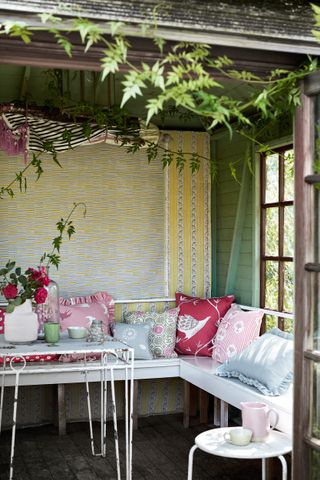 And if you like the idea of creating a vintage style in your summerhouse, but want a more simple, contemporary take on it, get inspired by this space. There's still a vintage vibe here that's so synonymous with garden rooms and summerhouses, it's just a more muted version of it and we LOVE it. Pick a few colours to create a clear colour palette, this will stop the room looking too chaotic and keep any furniture really simple too.
The prints are all Vanessa Arbuthnot so be sure to check out more of her lovely designs.
5. Keep your colours light and bright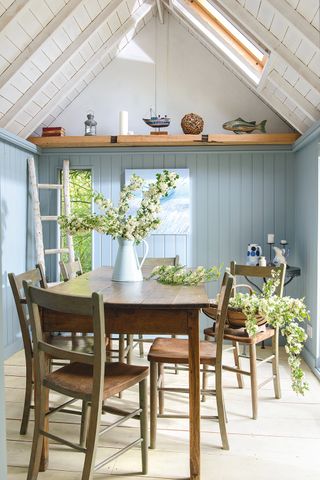 See we told you these summerhouse interior ideas could be copied in your home, this summerhouse is basically the size of our homes! Your summerhouse might not look as glorious as this one, but you can still give it an update with a lick of paint. We love this lovely duck egg blue, it such a nice colour to bring into a garden as it works so nicely with natural greens. Go on, spend this weekend, painting the inside of your shed in a lovely pastel hue, you won't regret it!
If you are after the best paint for exterior wood, make sure you check out our guide. And make sure you check out the rest of this gorgeous lakeside summerhouse.
Read more: