Looking for decorating inspiration? Want an unusual design idea for one of your rooms that's on trend, easy to live with and space-enhancing. We're thinking ombre paint effect ideas.
Whether you're a handy DIYer who's excited by the idea of an ombre paint effect or want to achieve an ombre effect with the help of a gorgeous wallpaper or mural, use our pick of stylish ombre effects for inspiration.
You'll find tons more decorating ideas and how tos on our hub page – and you can use our guide to painting an ombre accent wall step-by-step guide to get this paint effect spot on.
1. Add subtle colour to a white, minimalist space
If you're a fan of the clean and contemporary feel of an all-white scheme but want to experiment with injecting colour with paint, an ombre effect is a great option that allows you the best of both worlds. To retain a minimalist feel, stick to furniture with simple silhouettes and style with house plants and ceramics.
This happiness-inducing ombre effect was achieved by combining the shade Blank Canvas with Lemon Squash. Both Crown Paints.
Love this kitchen/diner, go and check out our white kitchen ideas for more inspiration.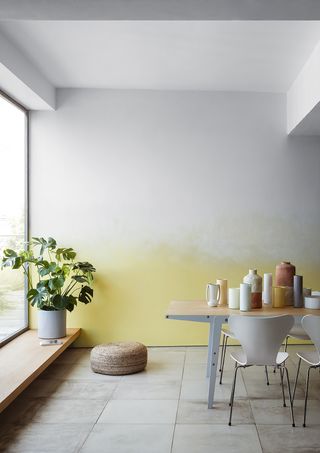 2. Consider grey ombre wallpaper for longevity
If you're conscious that you'll get tired of an ombre effect or if bright colours simply don't suit your home's aesthetic, a grey-toned ombre wallpaper is a great alternative that allows you to use the ombre trend in your home in a stylish, timeless manner. With grey being such a popular wallpaper option, we've put together a selection of grey wallpaper ideas for even more inspiration.
We love the watercolour effect of this Gryning Wallpaper from Sandberg.
3. Embrace pink with a striking ombre effect wallpaper
Opting for deeper shades of pink – as opposed to light, pastel shades – in an ombre effect wallpaper is a great option if you're looking to design a space that feels equally masculine and feminine. Find this Ink Blush Pink Ready Made Mural at Graham & Brown.
Love this look? You are going to want to check out our pink room design ideas too.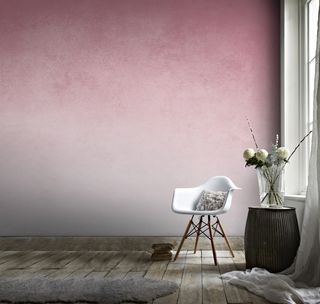 4. Enhance a rustic scheme with trendy deep green
While deep, inky paint colours – especially greens and blues – are on-trend, they're not the perfect option for every home. Integrating these shades into a scheme using an ombre effect is a great alternative, achieving the same on-trend feel without compromising entirely on the light and spacious feel that white walls offer.
We love this combination of Crown's Carrie Matt Emulsion and the shade Steam Engine for enhancing a rustic scheme.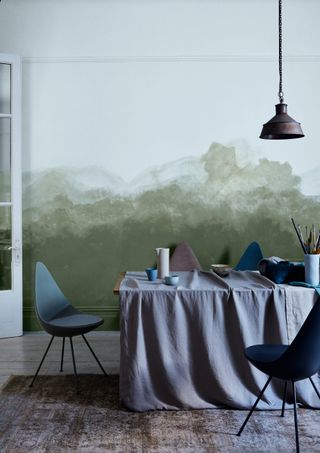 5. Combine pink and blue for an iridescent effect
The key to a successful ombre is choosing paints with the same hue – pastels are a fail-safe option. Combining shades of pink and blue can create an attractive, almost iridescent effect and should be styled with white accessories for maximum impact.
Recreate this look using the shades Fairy Dust and Chance, both from Crown.
6. Opt for blues to create a calming bathroom
Blue is one of the most popular paint colour schemes for bathrooms on account of its calming properties. We love the idea of maximising this look with the use of a blue-toned, ombre paint effect. This can be further enhanced by painting the bath in a tone that complements the scheme.
To achieve a similar effect, combine Aubusson Blue Wall Paint with Provence Chalk Paint, both by Annie Sloan.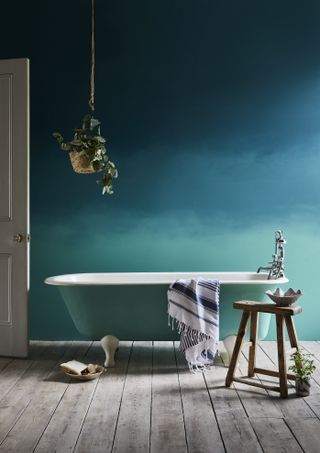 7. Add interest to a white scheme with a touch of pink
For a more subtle ombre effect, consider blending a light pink with a white. This is a great option if you're working with a small room and want to maximise space and light. Style with white accessories and light-coloured woods.
Recreate this look using Manna Ash and Hansel & Gretel, both from Fired Earth.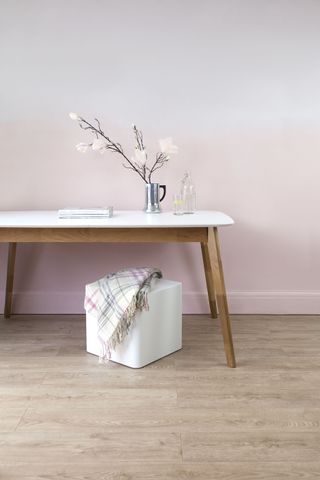 8. Create a unique effect with a mural
An alternative to the traditional ombre accent wall, we love the clever effect you can achieve with a watercolour-inspired murals. Opt for dark, inky tones with colour variation to make the most of the moody interiors trend – and find more mural design ideas in our feature, too.
Find this Pseudo Purple Watercolour Mural at Murals Wallpaper.
9. Combine peachy pinks for an on-trend blend
Embrace the pastel trend by blending peachy pink and pastel tones in a stylish ombre effect. Use white as a basis for the space to prevent it from feeling overwhelmed by colour. We love this Skymning wallpaper from 5QM Tapeten; use it to draw the eye to a feature wall or throughout a space for a more impactful finish.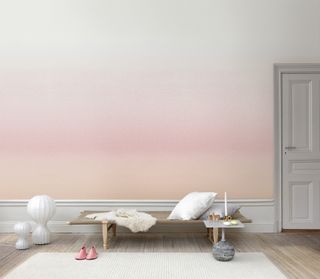 10. Create atmosphere with a misty, moody wall mural
While ombre is best known in the paint world, why not take the easy option of a wall mural – it offers a similar effect, without the need for creativity. Find this Dense Pine Forest in Morning Mist Wall Mural at Pixers.
Check out more dark decorating ideas if you are after more inspiration.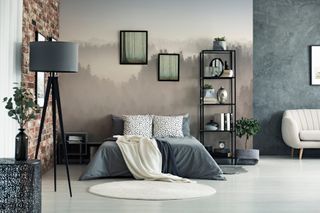 How to paint an ombre wall and more inspiration...