Stuck with a compact cooking space and wondering how to store plates and cookware in a small kitchen? We feel you. Small kitchens can be a total nightmare to navigate when it comes to storage.
I'll level with you. I've just moved into a new place and the kitchen is teeny tiny. There's really limited space, which means that when it comes to storing my plates and cookware, I have to think a little more creatively.
If you're running out of small kitchen ideas, I've reached out to design and storage experts for advice. See all the crafty solutions you haven't thought of yet.
Where to store plates and cookware in a small kitchen
I sat down with some experts and brainstormed the best places to store your dishes. Soon enough you'll be organizing your entire small kitchen from top to bottom.
1. Utilize vertical space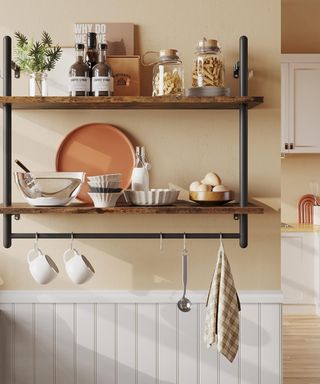 You might lack floor space but the chances are that your kitchen, regardless of how small it is, has plenty of vertical space. So, making the most of this space is essential.
.Samantha Odo, a Real Estate specialist, says: "One of the first things I recommend is using vertical space. Install shelves (like this Bestier super handy multi-purpose shelf from Amazon) or wall-mounted racks to free up counter and cabinet space. You can display your beautiful plates while keeping them easily accessible."
Taking advantage of any vertical space that your home offers is a great way to pack more into a compact kitchen. In my kitchen I have a shelving unit, up on the wall above my countertops, that offers so much additional storage. Honestly, it's a total godsend.
Shantae Duckworth, professional organizer and founder of Shantaeize Your Space, says: "Don't waste precious cabinet space with stacks of plates. Invest in a vertical plate rack (like this Stock N Wares vertical plate rack from Amazon). It's like a high-rise for your dinnerware. Your plates will feel so fancy in their new digs, and you'll free up valuable cabinet space."
Samantha Odo is a Real Estate Sales Representative & Montreal Division Manager.
Shantae Duckworth is a professional organizer and founder of Shantaeize Your Space in Seattle, Washington. She is a Member of National Association of Black Professional Organizers, and Member of Black Girls Who Organize Group. She is a public speaker and writer about organization as well.
2. Invest in drawer organizers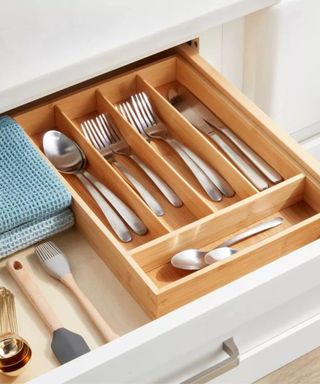 Kitchen drawers get messy super quickly, so using organizers to keep them neat and ordered is essential.
"Another great tip is to use drawer dividers (like this six-piece Criusia drawer organizer set from Amazon) or organizers for your cookware. It makes finding that specific pot or pan a breeze, and you can stack them efficiently," says Odo.
Until I had drawer dividers in my kitchen, every drawer ended up in a total state. But once I added some organizers and was able to actually keep my drawers neat and ordered, it turned into a cinch keeping everything in its place.
3. Opt for stackable cookware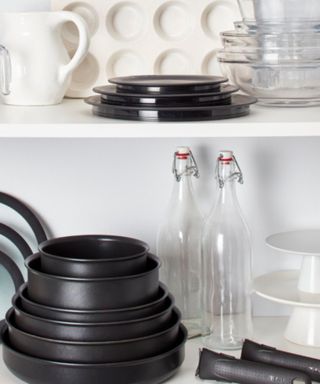 If cabinet space is an issue, stackable pans (like this Carote 11-piece set from Amazon that has over 5,000 five-star reviews) can be a godsend.
Odo recommends: "If you have limited cabinet space, invest in some stackable pots and pans to save room."
A friend of mine, who has the smallest kitchen I've ever seen, swears by stackable pans. She might lack cupboard space but her kitchen never feels like pots and pans are overflowing or that it lacks space.
4. Hang your cookware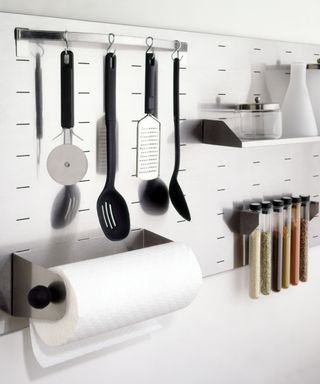 Alternatively, if you don't fancy replacing all your pots and pans with stackable counterparts, you could opt to hang them instead.
Duckworth says: "I always recommend using a pot lid storage holder and hanging up any pots and pans that you can!"
Pop some pan hanging hooks above your stove or on an external wall, and you can use them to neatly store your cookware.
5. Use cabinet doors for extra storage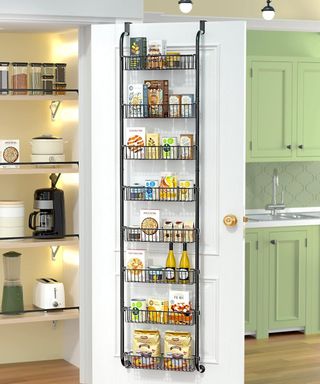 I always like to utilize the inside of my cabinet doors. They offer so much extra storage space, so utilizing them is a must.
"Don't forget about the inside of cabinet doors — they can be a goldmine for storage. You can attach hooks or magnetic strips to hold utensils or even lids (like this Joseph Joseph set of pan lid holders from Amazon). It's a space you might not be using to its full potential," Odo recommends.
I always make sure to take full advantage of every cupboard door I have, by adding over-door storage racks or attaching peel-and-stick hooks for utensils.
6. Install under shelf baskets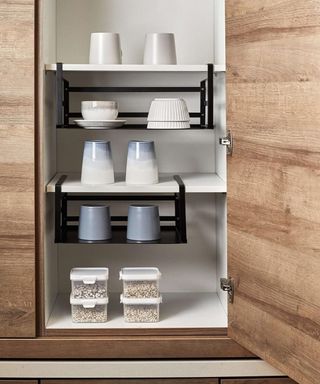 This is something that I'd never thought of trying myself until a friend showed me her under-shelf baskets. And, honestly, now I am obsessed.
Duckworth says: "Install under-shelf baskets. Under-shelf baskets (like these Couwilson under-shelf storage baskets from Amazon) are like secret storage weapons for small kitchens. Slide them under your existing shelves, and voilà, instant extra space for mugs, spices, or whatever strikes your cooking fancy."
FAQs
How do you store cookware in a kitchen cupboard?
Stacking your cookware can be a great way to store pots and pans in a kitchen more easily. Alternatively, investing in a cookware organizer could be a good way to make storing your cookware easier.
How much cookware should I own?
There's no hard and fast rule in regards to how much cookware you should own. It will depend on how often you like to cook, as well as the dishes that you like to cook. As a general rule of thumb, having a set of three sauce pans plus a frying pan is considered a good amount.
---
These helpful tips will help to make keeping your small kitchen, and your plates and cookware, organized a little easier. Keen to make sure that you don't make a mistake when it comes to organizing the space? Our guide to small kitchen organization mistakes to avoid can help.