On the hunt for some small bedroom window ideas? Designers have you covered.
If you're designing your sleep sanctuary to perfection, a window is a valuable tool, no matter how large or small it might be. It can alter your perception and bring together the entire look of the room, so don't leave it unattended or overcrowded.
Before embarking on those small bedroom ideas and aesthetics, have a look at your natural light source.
5 genius small bedroom window ideas
Mirrors can be deceitful, but not in a bad way. When they're strategically positioned, they have the power to make a room look more spacious than it actually is. Windows have similar capabilities, so you might as well use this hack to your advantage —especially if you're setting up shop in a confined area.
"Styling windows in a small bedroom can significantly impact the overall look and feel of the space, creating an illusion of a larger, brighter, and more inviting room," says Marzia Dainelli CEO and interior designer at Dainelli Studio.
And when it comes down to it, we all want a sleep space to beckon us into its coziness for some much-needed R&R. Without further ado, here's how to work those windows.
Marzia Dainelli is the CEO and interior designer at Dainelli Studio, a Milan-based architecture firm with a dual soul: product and interior design.
1. Hang curtain rods high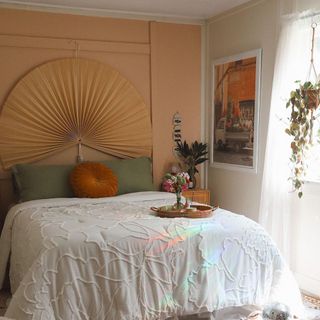 While you're hanging curtains in your rental, you're probably so focused on keeping the walls intact and hole-free that you're not really paying attention to where the curtain rod ends up. Now is the time to break out the ladder, folks.
"I like to hang the curtain rod high up where the wall meets the ceiling," admits Alex Bass, interior designer and art curator. "Measure to hang your curtains high on the molding, otherwise this will truncate the height of the space."
Plus, the long drapery that you'll use will add an ethereal aesthetic, Bass adds. Now doesn't that description alone sound like a good place to get some shut-eye?
Single or Double
Classic Steel Rod in Brass
Price: $59—$89
Dimensions (in.): 28-48, 48-88, 60-108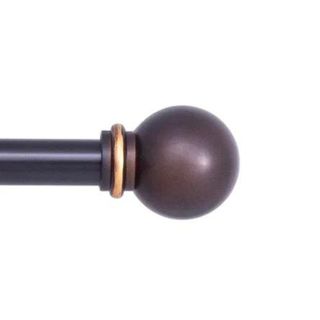 Single rod
Wayfair Basics Adjustable Curtain Rod
Price: Was $24.99, now $15.99
Dimensions (in.): 28-48, 48-68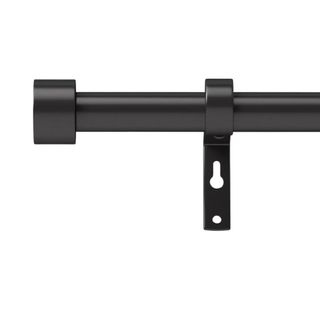 Mounting hardware included
Project 62 Dauntless Curtain Rod
Price: $36
Dimensions (in.): 66-122
Alex Bass is an art curator and interior designer. She founded Salon 21 to fill a void in the social experiences available to her demographic interested in arts and culture and access to new talent. Alex graduated from Columbia University, majoring in Art History and Business Management, and continued her education at the Sotheby's Institute of Art in London for Art Business, culminating in the development of a comprehensive business plan for Salon 21.
2. Choose light and airy curtains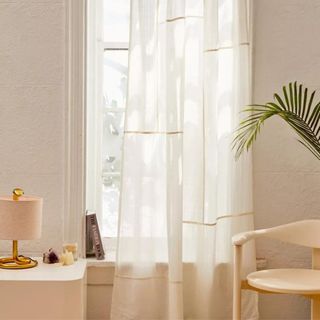 While you might be drawn to emerald green and can't resist a moody red; dark colors and complicated patterns can look and feel overwhelming when you're working to maximize space in a small bedroom. Instead, go for a low-key hue that relaxes you, especially when working with windows.
"You can use light-colored curtains like white or neutral colors to create an airy feel," recommends interior stylist Vivianne Chow.
Likewise, Dainelli says, "Avoid weighing down the room with curtains with elaborate designs or overly complex patterns that can overpower a small space. Opt for simple, straightforward designs that complement the overall aesthetic of the room."
Doesn't an airy feel sound delightful, especially once 5 PM hits? Let these Urban Outfitters curtains help you embrace the zen.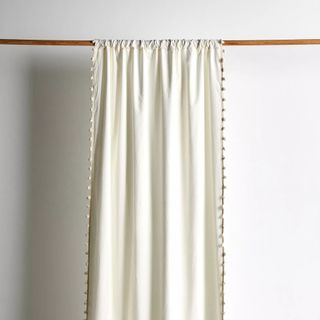 Online-only
Price: Was $69.99, now $39.99
Dimensions (in.): 52-84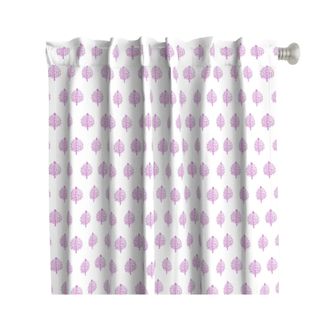 Handmade
Bohemian Tree Of Life Curtain Panel
Price: $141-$181
Dimensions (in.): W50 x L84, W50, L96, W50 x L108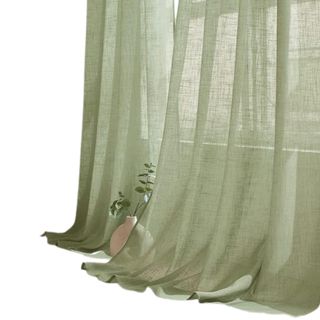 Linen blend
Woaboy Sage Green Semi Sheer Curtains
Price: $26.99
Dimensions (in.): 52 x 84
Vivianne Chow is an interior stylist and founder of the home decor blog, VivandTimHome.com. She's passionate about sharing the best modern home decor to buy and recently built a dream custom home with her husband Tim. Together they're tackling decorating room by room and sharing design tips and ideas along the way!
3. Opt for blinds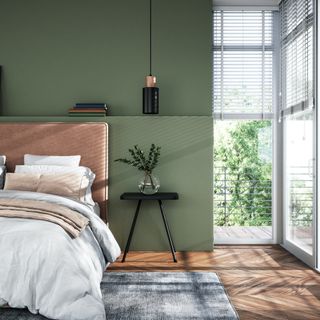 As much as we love curtains, it's OK to opt out of the accessory if that's what you'd prefer. We promise we won't hold the decision against you.
"Using blinds can save more space and be a modern choice," says Carlie Gasia, a certified sleep science coach at Sleepopolis. "Blinds have a clean and minimalistic look, making them a better fit for small spaces."
The only downside? Maintenance can be a bit demanding, but with the help of this viral $8 TikTok blind-cleaning tool, dust doesn't stand a chance. As far as privacy is concerned, Carol Wilson, who specializes in home decor writing at YouComfort, ensures there are ways to keep the world outside, well...outside.
"Consider layering with light-filtering roller blinds that can be easily pulled down at night," she says. "Keeping the window treatments simple and streamlined avoids overwhelming the space."
Carlie Gasia, is a certified sleep science coach at Sleepopolis, a site dedicated to bringing readers the most comprehensive sleep-industry information on the web.
Throughout an extensive career in home décor and textiles, Carol Wilson has developed a nuanced and comprehensive understanding of the field. Working alongside some of the industry's notable names in bedding has been a truly enlightening journey for the YouComfort writer.
4. Position mirrors nearby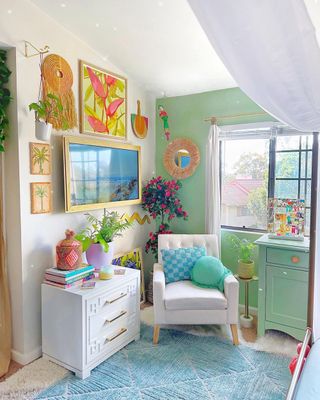 Curious where to put a mirror in a small bedroom? You'll want to take note of the window first, that's for sure.
"Mirrors are a small room's best friend," Wilson notes. "Placing one opposite or adjacent to a window can reflect light and give the illusion of more space."
Didn't we tell you these two can be deceiving?
5. Keep it simple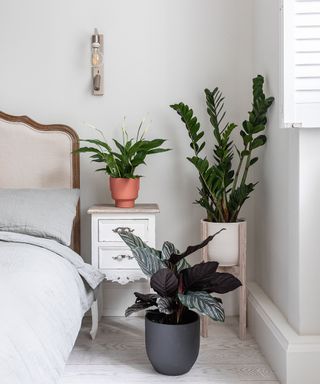 When styling a space that's yours, you want it to be a representation of everything meaningful to you. Our first instinct always seems to be to pack on the decorating, but it's OK to take a step back and remove the excess—especially near the window.
"Keep window treatments simple and avoid heavy or very ornamented curtains that can be overwhelming," suggests Alexandra Cooper, architect and interior designer at Planner 5D. "If you have a window sill use it as a functional space for plants or decorative accents, without making it feel cluttered."
An architect and interior designer with seven+ years of experience working in architectural firms and online interior design, Alexandra's experience is extensive: from large office and educational projects to small and detailed residential projects. She has lived and worked in Uruguay, Spain and the US.
FAQs
How do you style a small bedroom window?
You want to keep things light and airy, so as not to overwhelm the small room. That means opting for light colors and fabrics if you're going with curtains. Don't overcrowd the space and place a mirror either adjacent to or across from the window to let in more natural light and make the room appear larger.
How can I make my bedroom windows look good?
Once you choose a bedroom aesthetic, think about a look that will complement it. Perhaps if you're going for a Scandi look, you'll want minimalistic blinds. If you want boho, you'll want light and airy curtains. Once you've nailed down a look, think also about what you want from the window: do you need protection? A blocked-out view of the sun? That will play into your decision of how to style it. And from there, keep things neat but add a few personal touches, like nearby plants, where appropriate.
---
Looking to add the finishing touches to your space? These 12 must-have small bedroom needs are perfect for tiny rooms of all styles.