With more and more of us working remotely from home, often in multi-functional hybrid spaces, maintaining a calm and compartmentalized environment you live and work in is key. And when you've invested in a chic desk, implementing the most stylish and functional desk organization ideas is a must to keep your WFH space working for you. We've already rounded up our favorite desk organizers to buy, but here's some inspiration if you've got a small space to work with.
Because with a well-thought-out home office setup. we can be our most productive selves. Simple tweaks can make for easier starts and streamlined days, whether your head is in a spreadsheet or not...
Must-try desk organization ideas to improve your space
Re-energize your desk to tie in with your favorite home office organization ideas for a stylish and productive workspace. Chris Harvey, interior expert, Stelrad, says: 'A cluttered workspace makes for a cluttered mind, or so they say. An organized desk makes sense though, it's inviting when you sit down at it and can help you feel motivated to get on with your work. Whether it's your home office, a makeshift workspace in the corner of your living room, or a cubicle, a tidy space can be really beneficial.'
Virtual boxing gloves on – get ready to tackle bulky monitor screen monsters, filing fails, and stationery storms with expert desk organizing hacks that deliver above and beyond results.
1. Feng shui your desktop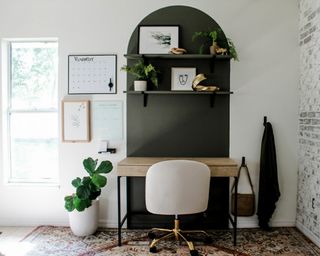 Clutter chatterboxes can bother and confuse – especially first thing on a Monday morning! Adopt the mantra tidy workspace, tidy mind, and create the perfect home office desk space to stay focused on work deadlines, and not get distracted by messy bits and bobs.
Marty Basher, organization professional, Modular Closets, comments: 'One easy way to an organized desk, is to get rid of any items that no longer work or that you have duplicates or too many of. No one needs to hang on to a stapler or monitor that's broken and do you really need 500 pens?'
Amy Stansfield, interiors writer at Wallsauce.com, says: 'There are only a few items you need on your desk. Your device – whether that's a laptop, tablet, etc. A notepad and pen and maybe a potted plant to add a sense of calm. If you can, choose a desk with drawers so that you can organize items in there rather than keeping them on the desktop all of the time. Having a clutter-free desk is one of the top feng shui desk organization tips.'
2. Invest in some shelves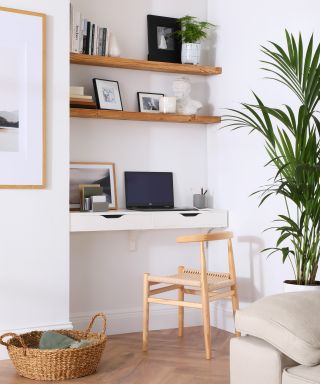 Free up your desktop and expand your workspace with shelving ideas to store home office essentials like box files and stationery. Mix in decorative details and objects you love, to create a space-savvy and functional, yet visually stimulating environment that motivates your everyday.
Julie Stobbe, professional organizer, Mind over Clutter, says: 'Clutter may prevent you from having a large enough space to compile documents and the technology you need. The clutter may also become distracting causing you to lose focus and concentration. What's the solution? Mount a shelf that is 8" or 24 cm wide, 10 inches or 28 cm above your desk. This gives you lots of space for extra lighting, files, books, stapler, pens, brackets to hold cell phones or tablets. It is easy to reach, out of way and the shelf is narrow enough to still have good lighting on the work area. Between the desk and shelf, you have a space for a bulletin board, whiteboard or motivational pictures.'
Shoshanna Shapiro of Sho and Co. interior design, comment: 'Consider the best floating shelves for easy access to frequently-used desk items, books, and art/photos. Storage in an office is key to reducing clutter. Incorporate a desk that has plenty of drawers so you can easily tuck away your files and papers. Only keep what you need to accomplish your task on your desk.'
Richard Petrie, home expert, Thomas Sanderson, says: 'Install some shelves above or next to your desk. This will open up the room and create more floor space while making it easier for you to reach the things you need to complete your tasks at hand.'
Harvey says: 'Install floating shelves. This isn't just about making your space look nice, but it's also a practical suggestion as well. Having multiple shelves means that you can not only store stuff on them, but you're free to play around a bit and add whatever takes your fancy. It can be a bookshelf or a space to practice your green thumb. Floating shelves just gives you a few more options that you wouldn't have if you just stuck to having one desk.'
3. Use desk organizers to group items by type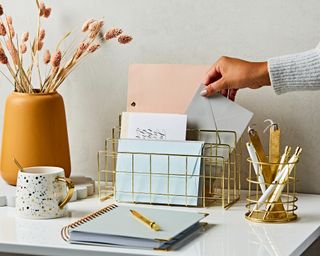 Keep unruly but essential stationery in check (yes we're talking about you pens, pencils, and paperclips!) with a desk organizer. Choose metallic designs for a glam and shiny accent; add playful personality with patterns, or keep things calm and collected with natural or transparent materials.
Jessica Litman, CEO and founder of The Organized Mama, says: 'Clear your desk and find an organizer: In order to create a tidy desk, everything needs a home. I always start any organizing job by removing everything from the space. So clear your desk completely. Then group like items together. For me, I have notebooks and notepads that needed space on my desk, along with my Post-It notes. Find a desk organizer that can actually hold the items you need to keep on your desk. That's why we group first, the find a product second. The product should help you maintain organization, not just a placeholder to collect more stuff! That is why I love these smaller organizers for the desk.'
4. Keep tech tangles at bay with drawer organizers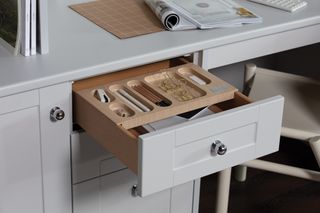 Avoid the tech terrors and keep multiple cable tangles at bay with home office storage ideas that turn a jumbled mess into an organized dream.
Basher comments: 'To maximize the space in and on your desk, install drawer dividers and other storage hacks. The key to an organized desk is efficiency. That can only be accomplished if the drawers allow a user to easily and swiftly find something that they need and put it away in the same manner. Fabric desk dividers (also known as fabric desk bins) provide extra cubby space for office supplies and smaller items. You can also get creative with miniature canning jars and even eating cutlery trays.'
Shiv Gupta, CEO of Incrementors Inbound Marketing, says: 'Having a well-organized desk transforms your workplace from a run-down motel to the Ritz-Carlton in no time. A jumble of charging devices and tangled connections make for an untidy workspace right away. Reclaim your desk with a hidden charging station hidden within a drawer.'
Lidia Salazar, home influencer, @everyday_homedecor, and @everyday_home, says: 'My biggest desk organization tip is to effectively manage all the cords by using a wireless keyboard and mouse, cable clips to contain and re-direct cords, and lastly, a cable management box to conceal the power strip and excess cords.'
Litman adds: 'All those techy components of the desk area need a home too! I use these InterDesign Drawer Organizers to section off my tech stuff. I keep an organizer for my earbuds, USB cords, extra memory cards, and camera card transferer (and, yes, that is the technical name for that thing)! By creating a home for all of the tech gadgets, you can easily find them and not create a box of unused cords that you have no idea what they go to!'
5. Keep on top of paperwork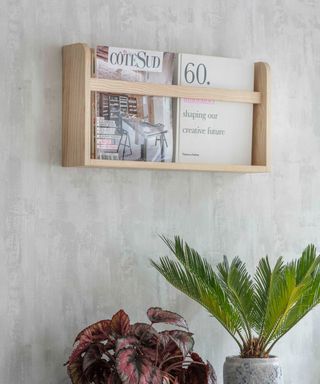 Despite supposedly living in 'paperless' times, the paper piles somehow continue to appear, on a daily if not weekly basis! Don't let the relentless stacks develop, but instead tackle things with 'now or never' gusto, and develop good habits to last a lifetime.
Litman suggests we 'Deal with paper clutter immediately. Come up with a plan for dealing with the paper. I like using a tray or magazine holder to hold items I need to sort through. Then I either shred the papers using my GBC Shredder or file them. If I need to take action on a piece of paper, say a bill, I will do that when I am looking at it.'
Basher comments: 'One organizational task that will have the biggest impact on clearing desk clutter is digitizing as much paperwork as possible. Storing files on your computer vs. in desk drawers or on top of your desk will alleviate the paper clutter that so often is the reason we can not find what we need when we need it and not as productive as we would like to be. Shred and recycle anything that you don't need. Scan documents of which you don't require hard copies; then back them up on your computer.'
6. Label with love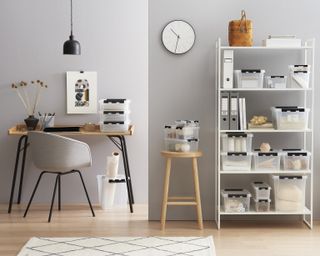 Far from being excessive, labeling what's what is one of the simplest (and most satisfying ways) of making sure things are easy to find, and put back where they belong. No excuses for losing things now!
Jessica Samson, cleaning expert at Maids.com, advises: 'Labels can also be a highly beneficial tool to help you stay organized. Within each of your work zones, label accordingly and adhere to these labels. This will help you not only declutter but keep your work zones organized and clean over time.'
Litman says: 'On all my drawer organizers I have labels that say what goes where. This way anyone in my family can put things away without asking. Because there is a label.'
7. Get creative with wall space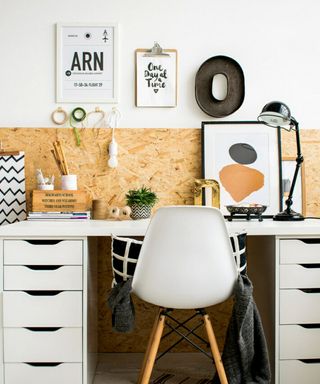 Utilize your vertical space whilst creating a 'visualization board' of inspiring images and motivational prints, with a noticeboard or gallery wall idea, or hang stationery essentials like tapes and scissors on hooks, to keep crafty bits within easy reach.
Home experts at Command Brand advise:
1. Hang tapes, cords, and other tools on the wall in front of your desk for more space and keep everything within arm's reach. Try hanging with Command Small Metallic Hooks and organizing your cords with a Command Cord Bundler.
2. Make your home office more efficient, and personalized, by hanging calendars, photo memories, succulents with Command™ Medium Designer Hooks to help you stay motivated throughout the workday.
3. Keep that creativity flowing with inspiration boards, quotes, and images. Even try a whiteboard to keep though ideas flowing! Turn any space into your home office with Command Medium Picture Hanging Strips and Command Picture Ledges.
Basher comments: 'Use vertical space. While it's tempting to keep all your supplies on your desk, consider using your wall space for storage as well. Wall office supply holders can hold everything from files to staplers, tape dispensers, and much more. Adding a couple of shelves or cubbies above your desk also adds storage as well as decor space.'
8. Continue the story by recycling old books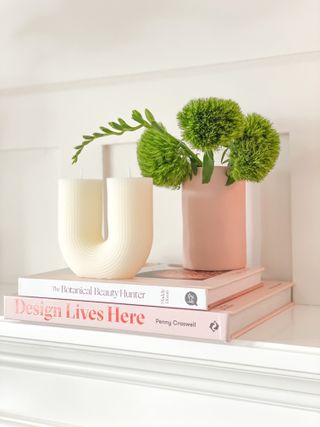 A good old home declutter always results in a mass of preloved items. But instead of automatically filling up the trash can, think mindfully, and re-gift surplus office supplies to friends, family, charity shops, and sustainable platforms.
Brad Bonic, sellbackyourBook.com, comments: 'A BIG part of decluttering & organization that is often overlooked is the question of what to do with the stacks of unused books that we tend to accumulate. Whether it's a college student clearing out their often limited living/studying space or homeowners anywhere in the country, sellbackyourBook.com offers a free and easy way to sell your books and have them resold to others looking for bargains.'
9. Set-up work zones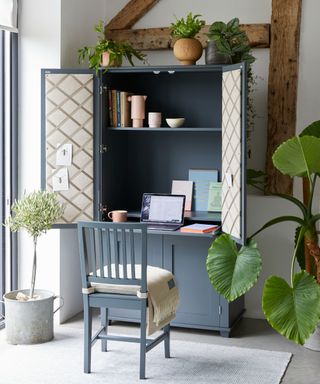 Get in the work zone and boost productivity with dedicated areas for specific tasks and items.
Samson advises: 'When organizing your desk, it is important to get a proper system in place. Setting up "work zones" can be highly beneficial. It is best to set up three main work zones for your desk. The first being a zone that you use frequently. This zone should be well lit, next to a window is possible, and should hold things that you use daily like files, folders, books, calendars, and other office staples. Zone 2 should be out of the way, but easily accessible. This zone should include books, files, folders, and other items that you only need occasionally. Zone 3 should be out of the way and include office supplies, water, or snacks that you replenish regularly. Keeping your items in the appropriate zones will help you declutter and stay organized.'
Samson continues: 'Clean your workplace daily. At the end of each day take a few minutes to clean and organize your workspace. This will not only provide a positive work environment but will also help you stay focused and productive during the workday.'
10. Create a calm space with neutral shades and plants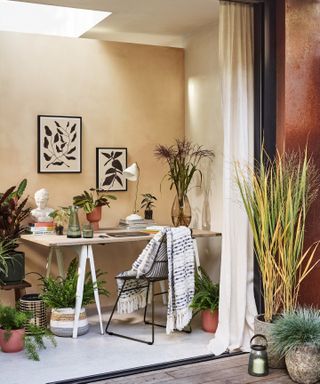 Bring the outside in, and create a mindful sanctuary to conceptualize, produce and create… A happy home office means a happy home worker.
Shoshanna Shapiro of Sho and Co. interior design, comment: 'Choose a calming, neutral color palette for the walls and furniture, and add color with accessories that speak to your style and interests. Houseplants can literally bring a room to life. Plants are a great addition to an office space.'
11. Stay on schedule with a planner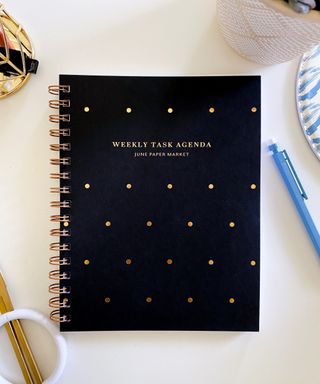 Writing things down sets the wheels in motion for taking action and getting things done. And who can resist a selection of gorgeous stationery to pretty up the desktop?
Monique Snyder, owner of the innovative planning and organization stationery company, June Paper Market, says: 'My tip - Always keep a planner on your desk. Why? A planner will help you keep your schedule organized and track everything that needs to get done. Regularly using a planner will reduce mental clutter and keep unfinished tasks from looming over your head.'
'Declutter your thoughts, and organize your day all with this Daily task notepad planning tool. Because this planner pad is un-dated, you'll never have to worry about wasted pages. '
12. Employ drawers as the ultimate office assistant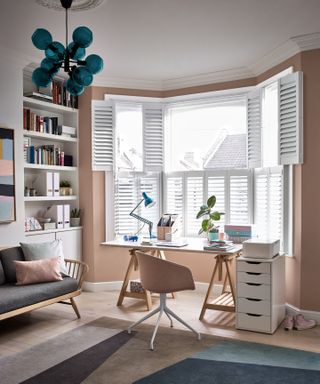 When thinking about how to set up a home office for comfort and productivity, combining different storage solutions is key. Keep your workspace tidy, and stow essentials and tech out of sight and out of mind, but within easy reach with drawers under your desk or a drawer tower (organized with the pre-mentioned drawer organizers of course!)
Stansfield shares her must-have desk organization pick: 'A small set of drawers for under the desk. Underneath your desk's tabletop there is often a vast amount of space. So don't waste it! Keep a small set of drawers underneath with at least one drawer that has a lock and key. Although the world is more digital, some workplaces have hard copies of important docs and this drawer is what will keep them safe. If not, it's a great spot for hiding your secret stash of chocolate or candy! You don't want anyone else getting their hands on those!'
13. Make yours to-go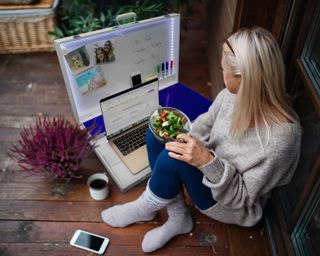 If you're a digital nomad on the constant move, or just like to flex things up between home and cafe working hot spots, then a portable workspace is the perfect pick for you.
Worky The Home Office is the first-ever portable workspace in a box. It is the ideal solution for today's mobile work and study setups – allowing remote workers to quickly set up and put away desk stations anywhere (hybrid office, kitchen table, desk, etc) and easily store away for an organized and decluttered living space.
Worky The Home Office brings together 15 key elements of a productive desk set up in one convenient, mobile solution. Benefits include:
*Holds paperwork, pens, charging cords, and sticky notes to keep one's work items gathered
*Built-In Power and Device Charging
*Built-In Video Conferencing Light
*Built-In Storage
*Magnetic Dry Erase Board
We're sold.
14. Go minimalist with a floating desk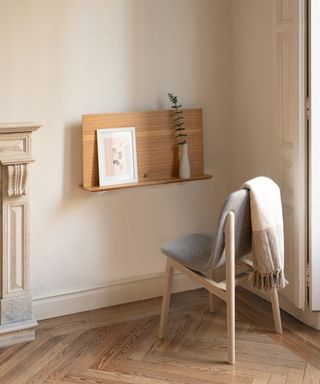 In a multifunctional living room-meets-home office, utilizing every inch of space at all levels is key. Opt for a floating desk that has minimum impact on floor area, whilst adding functional value to the space. You can even choose a folding desk design that doubles up as a shelf when not in use for extra space-saving savvy.
Lucas Travis, founder of Inboard Skate and minimalist lifestyle advocate, says: 'Table legs can be quite frustrating and take up unnecessary space. Floating tables are the minimalist standard, especially to those with odd corners or work in a small room.'
Dominic Harper, organized entrepreneur and founder of Debt Bomshell, says: 'A floating desk is the minimalist standard. It is the ultimate space-saving idea by keeping your office or room appearing neat and tidy by removing those unnecessary desk legs, making it easier to access any area of the work desk.'
15. Elevate your monitor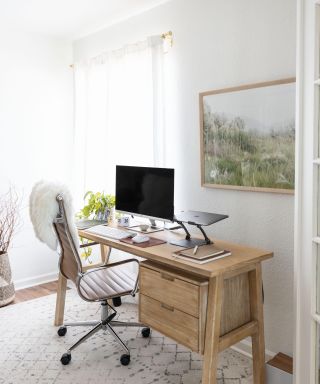 Incorporate a computer monitor stand from the likes of Amazon onto your desk, to maximize the space on your desk with a vertical supply of storage beneath your monitor.
Beril Yilmaz, designer and writer, Garden Furniture Sales, comments: 'Consider investing in a laptop or monitor riser, this will give you more space on your desk and create storage areas for your stationery. Additionally, you can try adding floating shelves to the wall above your desk to store your books, stationery, craft supplies, and office must-haves.'
16. Optimize space around your desk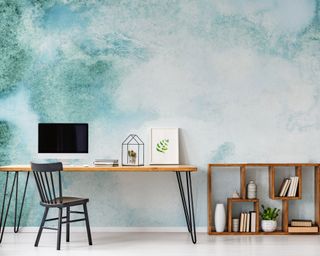 Think outside the 'desk' when it comes to getting the most out of your space, with a variety of simple storage solutions. A trolley on wheels is a great storage hack for additional storage on tiered levels that can be easily moved about and neatly tucked beneath the desk when not in use. Whilst handy storage baskets in all shapes, sizes, and woven and fun finishes, can happily hide all manner of paraphernalia in an effortlessly stylish way.
Harvey says: 'Don't just rely on your desk to keep your office space tidy. Get some nearby cubbies, hooks, and baskets to keep the clutter off your desk so you'll have plenty of room to work.'
Harvey continues: 'If you're short on storage space, then just take a peek around your house. Kitchen, bathroom, or craft supplies like mason jars, coffee mugs, a jewelry box tray, or even a makeup brush organizer could be great additions to your desk. Even something as simple as a cupcake holder can work well for storing different items and won't clutter up your space.'
How should you organize your desk?
Harvey says: 'A tidy desk is one that only has the essentials on it. This will obviously depend on your job, but it could simply be just your computer and an empty space where you can write and spread out should you need. You don't want to get distracted by bits and bobs. Even making sure that your wires for your computer are tidied away properly and not just floating around your desk space can make a big difference. Simplicity is often key to a good work environment.'
What is the best way to organize office supplies?
Litman advises: 'When storing your office supplies, you should keep the same items together. For example, keep all the tape together. That way, you know when you are running low. An easy way to create office supply storage is to use InterDesign Linus pantry bins. Store office supplies in the bins based on the category. I have grouped items such as tape and staples together. Then all the clips together, things like paper clips, binder clips, and binder rings. However you group the office supplies, make sure that all the same item is stored together so you can easily keep tabs on how much you have left so you know when to buy more!'