Still working from home? That is set to continue for those of us who can, as the government seeks to limit contact in as many workplaces as possible. Most of us working from home are used to an office environment and the move has led to plenty of distractions – the kids playing in the next room, noise from the neighbourhood, perhaps a needy pet – so it can be hard to get as much done as you feel you should.
Firstly, we want to ease the pressure a little, in unprecedented times your employer is not expecting the levels of output that they would get in usual circumstances. They know you may be homeschooling or limited by the tech you have to hand. However, there are a few steps you can take each day to improve your productivity. These are simple things many on the Real Homes team are trying now as we work from home, too. Obviously a good working from home setup is required, so after you have read this, check out our working from home essentials to make sure you have the right kit.
1. Set a schedule
Those who work a standard 9–5 might be finding this hard to maintain in a busy house. It is still important to have a schedule to give yourself a routine that is easier to work to, but this doesn't have to be based on your standard hours. Lots of our colleagues are finding it easier to get their work done on shifts that suit their household. That could mean starting and finishing a couple of hours earlier, or if you are a night owl, moving your shift to later in the day when you find you are more productive.
Talk to your boss about mixing up your shifts, perhaps doing a few hours at the start and end of the day with a big break in the middle to occupy the kids and go shopping. Once you have your schedule though, try and stick to it as many of us tend to work better with consistency – and so the people you work with know when they can contact you.
2. Get dressed
We might joke about the freedom of working in your PJs, but we have found that it is much easier to get in the zone when we follow our normal working day routine. Try not to lie in and mess up your sleep patterns just because you have no commute now. Set your alarm for the usual time, get up, have a shower, brush your teeth and get dressed. Some days doing your hair, wearing what you might to the office and popping on some jewellery really helps boost your mood – and none of us want to be caught in our dodgy pyjamas on a video conference...
3. Don't forget to take breaks
When you are working from home and worried about how much you have to do, it is very easy to work through your lunch or miss the breaks you accidentally take in the office walking to meetings, or popping to the printer. Without colleagues there going on their own breaks you are less likely to have the social cues you get in the office. But breaks are so important for our wellbeing and tiredness levels – both of which can affect how well you work.
Set alarms if you need to, to get away from your desk. Going for a walk on your lunch break is a good way to force a screen break and get some fresh air. And do what we have been doing to remind ourselves to take breaks throughout the day – grab a coffee when the postie calls or take a quick stroll from your work station when you finish a video call.
4. Have clear work zones
If you have a home office it is very easy to separate work life and home life, closing it off at the end of the day and giving your mind a good break. This is much harder when you are having to use a corner of your bedroom, or the dining table for work.
Define clear work zones in your home (you might have a few in the house to move around family) and if these are multifunctional spaces, pack them away at the end of the day. A laptop bag with all the stuff you need for the working day will be handy to keep this tidy. If you are using a desk in your lounge or bedroom shut your laptop down when you finish and tidy the space, perhaps putting the laptop away in a drawer. It is much harder to be pulled back into an email chain or piece of work when you should be finished if you laptop is off and out of sight.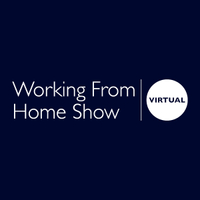 (opens in new tab)
Don't miss the UK's first virtual Working From Home Show, which will take place on July 30 & 31. Whether you're a business owner or employee, you'll be able to join interactive seminars, watch product demonstrations and visit exhibitors with products that will make working from home that little bit easier.
Register your interest now (opens in new tab)
Need more working from home inspiration: