Decided it's time to make more of your attic space? Well, we have you covered with loads of gorgeous attic ideas. Whether you want to turn it into a cozy extra bedroom or finally tick a library of your dream house wish list, don't let all that room up there go to waste! That's prime real estate that's going to add space and value to your home.
We get that attics can be a bit awkward. Sloping roofs, wonky walls, potentially some hefty beams. But don't let any of these put you off converting or finishing your attic space. Attic rooms have the potential to be just as lovely and inviting as the rest of your home.
So to help you start planning your project, and to prove just how stylish even the smallest of loft spaces can be, we've pulled together our favorite looks. From traditional attic bedrooms with exposed beams to super cool lounge spaces fit for modern homes, your sure to find some inspiration here.
How can you style an attic room?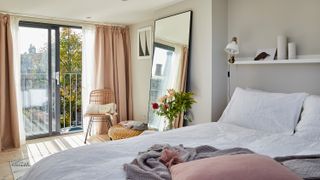 Attics can be unused, unloved spaces that you just use to store the Christmas decs and old crockery, however, their unusual shapes can make for really gorgeous, liveable spaces.
The key is natural light, that's what takes an attic from creepy to cute. Adding in skylights, a dormer or a Juliet balcony will fill the space with light and make it instantly feel like more of a room than just a storage space above your house. And then it's just all about decor. Embrace those sloping ceilings and create a really cozy space up there, and be sure to consider storage too – it has to a functional space as well as lovely looking.
We'll talk you through loads of ways to style your attic rooms, plus plenty of practical ideas for adding storage too.
1. Bring in plenty of natural light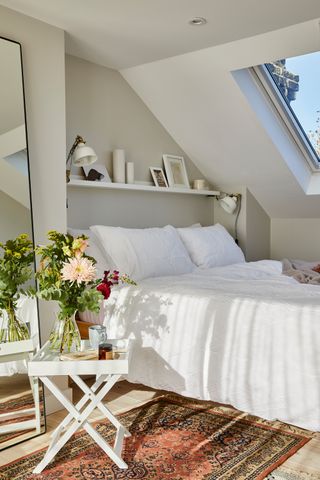 As we've said, the key to a lovely attic room is plenty of natural light. Skylights are a must. Plan to have them on both sides of the space to maximize light throughout the day and let them dedicate your layout too. A bed placed under a skylight is a lovely thing as it means you will be able to see out when you lie down, avoiding a claustrophobic feel.
You could also consider adding a dormer, which will not only expand your attic's space but mean you can have larger windows that face out rather than up. Then there's the option to add a Juliet balcony too, with French doors that can really open up an attic room.
2. Make an attic space feel more spacious with white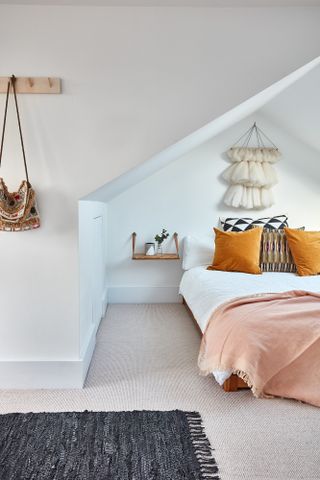 It's interior design 101 that white is going to make a room feel more light and spacious, so in an attic with low and sloping ceilings a light color pallet makes sense. Plus this is a great look if your room doesn't have much natural light as it will reflect any light you do get around the room.
White doesn't have to mean cold though. Just look how cozy this attic bedroom is just from bringing in some warmer tones with the cushions and throws and picking a beige carpet to keep things neutral but soften up the space.
3. Or just embrace the coziness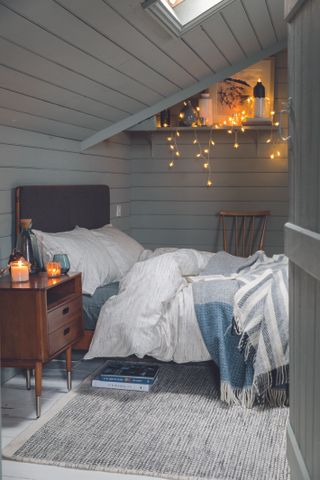 Sloping ceilings may seem like an awkward thing to get around in an attic room, but don't fight those low ceilings, embrace them and make an attic bedroom or living room feel simple but cozy.
In this attic bedroom, the paneling makes the space feel really inviting and despite the small proportions it's doesn't look too cluttered. The simple color scheme and soft lighting are giving us all the comfy cabin vibes.
4. Build in your storage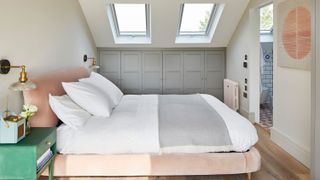 Adding storage into an attic couldn't be easier. Make use of all that space in the eaves that isn't really fit for much more than built-in storage. It can be tricky to add in anything like a wardrobe or a shelving unit because of limited ceiling height, so going bespoke makes sense. You could go with a row of cabinets that blends seamlessly into the rest of the room or mix in open shelves too.
5. Be bold with your decor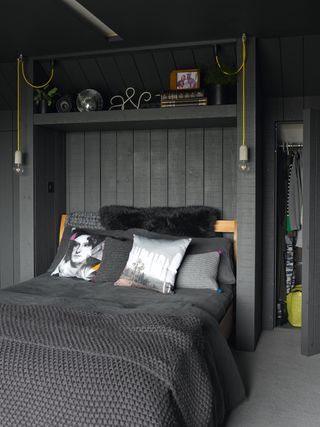 If you have been blessed with plenty of natural light in your attic, why not scrap the all-white look and go bold? We love this dramatic attic bedroom with its charcoal walls and that tiny pop of yellow in the lights.
Going for an all over color, ceiling included, is actually a clever design trick for making a small space feel bigger as it blurs the edges of the room. Sometimes going darker can have just as much of a space-expanding effect as a lighter scheme.
6. Create a dressing room in the eaves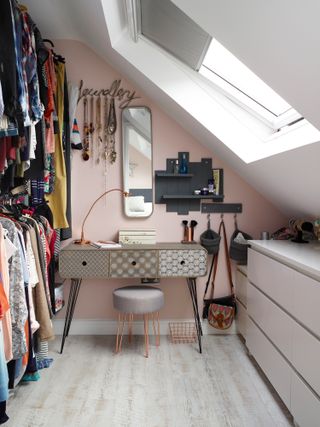 Dreamed of a walk-in wardrobe? An attic space could be the place to make those dreams come true. If your attic is big enough to break up into different areas, dedicating a section to a dressing room would be an ideal way to store clothes and accessories.
If you are turning your attic into a bedroom, it can be really tricky to work out where to put a wardrobe, but something like this setup is a better alternative. Add clothes rails to the main wall where the ceiling is highest, and use under to eaves for drawers. Add in a dressing table if you have room and a mirror to give it more of a walk-in closet feel.
7. Wallpaper your ceiling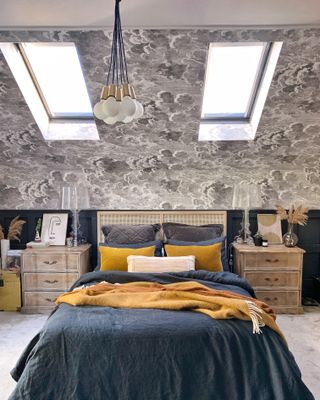 This is a great hack for adding height to an attic room. Wallpaper your sloping ceilings and then bring the wallpaper slightly down the walls too, as you can see here. You can't really see where the wall ends and the ceiling begins, alluding to loftier ceilings and making the space under the eaves feel less cramped.
8. Go for a modern rustic style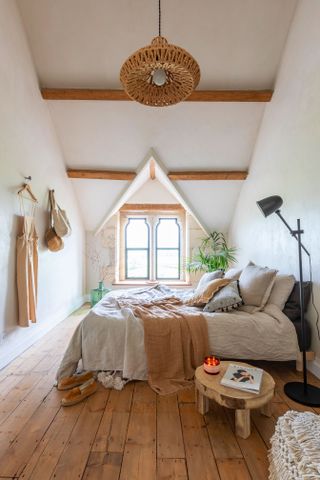 Excuse us while we just spend a second drooling over this attic. Loving the rustic modern style and it suits attic spaces so well because it's light and airy, but inviting at the same time. Recreate this look in your home with linen bedding, raw wooden pieces and plenty of rattan lighting and accessories.
9. Get creative with lighting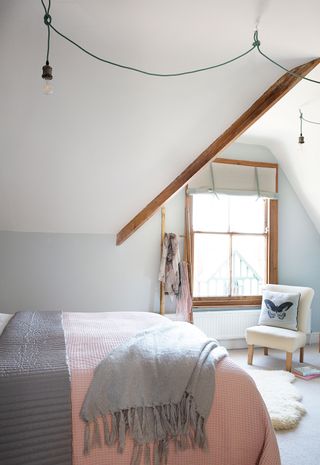 Lighting is a really important part of an attic room no matter what you plan on using the space for. As they can often be spaces that don't get a ton of natural light, or only get light at certain times of the day, it's key to replicate that light with artificial options.
You're going to want to have a few layers of lighting, overhead lighting, task lighting and ambient lighting. Spotlights are a good option, but alternatively, we love this idea of having numerous light sources strung up around the room. It looks lovely and adds a feature to the room but also effectively lights up different spaces.
10. Make your beams a feature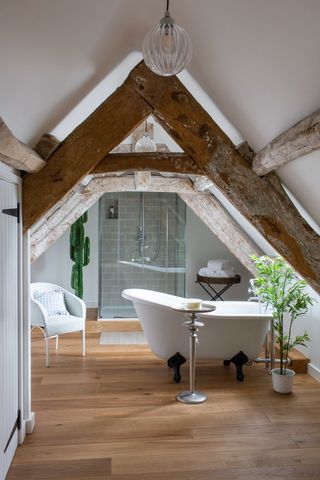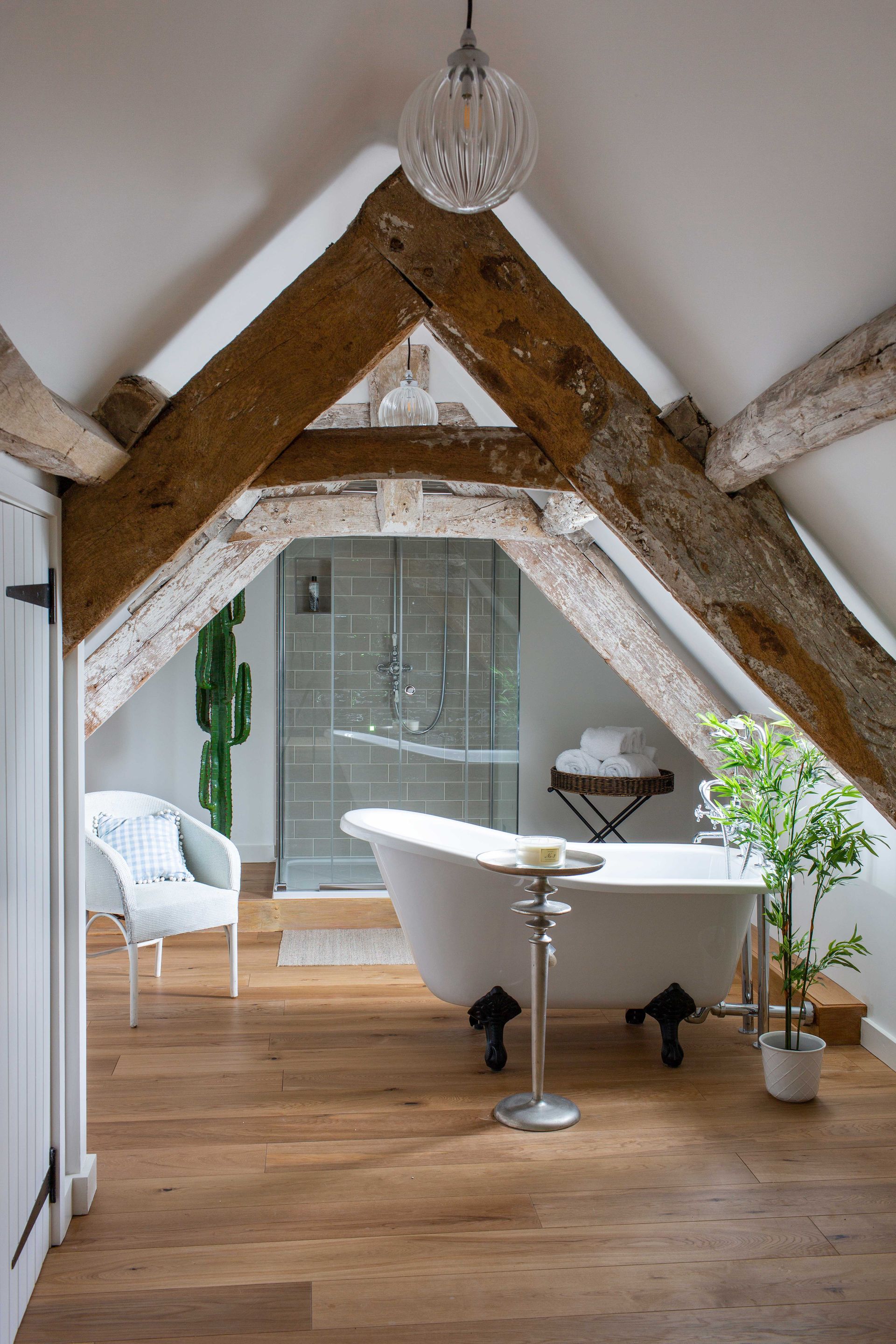 Beams are present in lots of attic rooms but don't immediately feel the need to hide them by painting them, instead let them be a feature of the space. In this bathroom the beams are in fact what make the room, they add texture and interest to an otherwise quite neutral modern space. Also, this room proves beams don't only work with more traditional styles, they can look just as cool in more contemporary rooms.
11. Utilize mirrors for even more light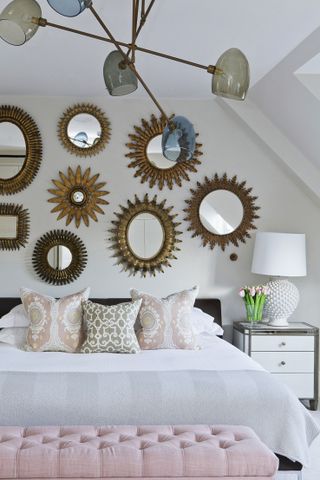 A feature wall doesn't always mean paint or wallpaper, a wall of mirrors is a gorgeous alternative. Plus all those mirrors are only going to help bounce more light around the space. We love this display of antique mirrors, it adds interest and texture but because all the mirrors are the same color and similar shapes it doesn't overwhelm the small space.
12. And add a reading nook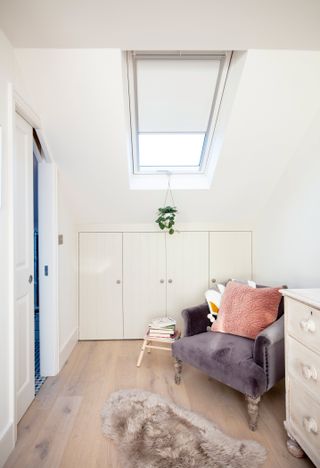 Attics lend themselves so well to creating cozy nooks, and adding an armchair and a small side table is a lovely well to fill a space that would otherwise go unused. Pop down a small rug too to make it feel like its own little zone. If you can position your reading space under a skylight then do so, but if not replicate that natural light with a pendant light and a side lamp.
13. Create a second living room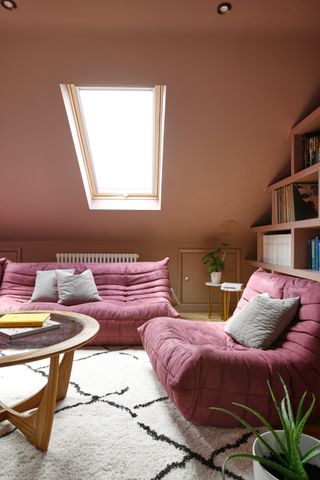 Adding a second living room to your home is ideal if you have kids or if you are just stick of arguing with your partner over what you watch on TV. It also means you can create a space with a very different vibe to your main living room. You can enhance the coziness and create an at home cinema, or turn it into a reading room or have a games room going on up there.
Note all the low-slung furniture in this attic, not only does it look super cool, it gets around the low ceilings and gives the room a bit of height.
14. Or an attic home office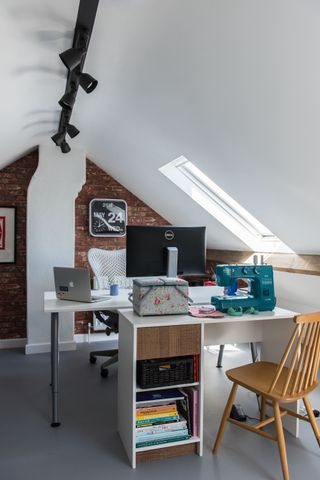 With so many of us working from home now, it makes sense to create a dedicated space to become your at home office. Attics are great workspaces because they can feel very separate from the rest of the house and they tend to be the quietest rooms too as they are far from the main living spaces.
Always make sure you have some natural light in your office, and plan your layout around that. See here how the desk is placed under the single skylight so you light streams in over the workspace.
15. Factor in a bathroom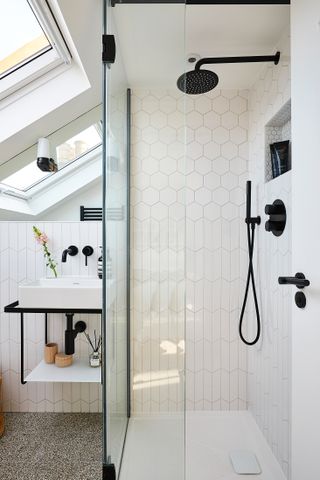 If you intend to turn your attic into a bedroom, a bathroom is a must. You don't want to be traipsing downstairs to the main bathroom, plus a second bathroom will add the most value to your home.
Walk-in showers are perfect for attic bathrooms, they feel really luxurious but actually make sense in a small bathroom too. A shower enclosure would just waste space in this small attic room, whereas a walk-in shower creates a seamless feel. Mirrors are important too, the mirror in this bathroom almost creates the impression the room is double the size with two skylights.
How much does it cost to convert an attic?
According to homeadvisor.com the average price to convert an attic is $40,000. If you are looking at a straightforward finishing job rather than a total remodel, the price starts from as little as $4,600 going up to $16,400. The price of your project will of course also be determined by what you want to make of the space and the quality of the finish.
Does finishing an attic increase your homes value?
Yes, finishing an attic can add value to your home. Turning your attic space into a bedroom with an ensuite is the best way to go if you are looking to add substantial value to your home. But even just finishing it to the point it has electricity, windows and heating and can be counted as a liveable space, will add some value.