Shopping for the best toilet seat may not incite the same level of excitement as other home furnishings and decor would, but we all know how important they are. One of our most-used fixtures in your bathroom, and arguably your entire house, the toilet seat is often overlooked when designing our dream bathroom, given its practical rather than decorative presence.
But we wouldn't want a toilet seat in our bathroom that would spoil the whole aesthetic of this space, or equally, one that would be uncomfortable to sit on every day. That's why choosing the best toilet seat is crucial — for the completion of our bathroom and our daily comfort.
Our top picks cover all the bases, from wooden to plastic, to self-cleaning and soft-close features. There are even options with built-in LED lights and heating technologies for those who are looking to add a little luxury to your toilets, because why not?
Once you've chosen the toilet seat of your practical or aesthetically pleasing dreams, you'll need to figure out exactly how to replace a toilet seat. We've got you covered, and more than that: we've included everything you need to know about the differences in materials, shapes and styles when it comes to picking a toilet seat.
---
The best toilet seats to buy for your bathroom
Why you can trust Real Homes Our expert reviewers spend hours testing and comparing products and services so you can choose the best for you. Find out more about how we test.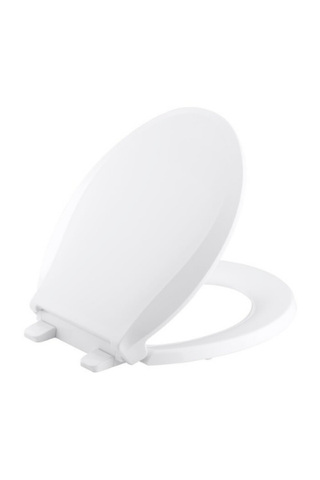 Kicking off our list is the Quiet-Close Round-Front Toilet Seat from Kohler, a classic design that does exactly what it says on the tin.
Quiet-close
The selling point of this toilet seat is the gentle closing feature, achieved through a combination of innovative technology and subtle styling, so that you'll never make yourself (or your family) jump when closing the toilet lid again. The seat is fastened with bumpers that grip onto your toilet so that it doesn't move about when in use either.
Comfort
The seat is also ergonomically contoured to provide maximum comfort to the user, meaning your bum slots nicely in and you don't have to wiggle around to find a comfy position.
Various finishes
We love this one because of the wide range of colors it comes in. None of them are tacky either; you can choose from off-whites and pale tones such as Biscuit, Almond, and Dune, or from shades of gray like Cashmere, Sandbar, and Thunder Gray.
The only downside is that this seat doesn't boast any antibacterial properties, but the Quick-Release hinges mean it can easily detach from the toilet for convenient cleaning.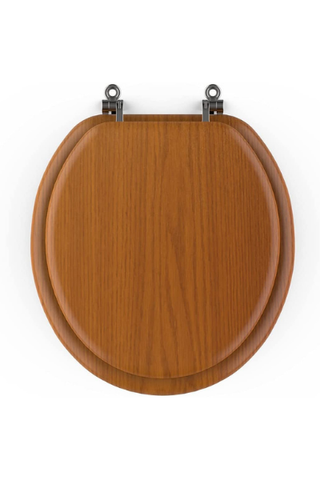 This wooden effect toilet seat will add style to your bathroom with an earthy, homey touch. Wooden materials can also be comfier to sit on than plastic too.
Wooden design
We had to include this wooden toilet seat in our list, simply because we think it looks great. Wooden seats are an easy way to bring spa-like vibes into the bathroom, and can give the space a classic but contemporary feel at the same time.
Comfort
Put simply, perching on a wooden toilet seat is more appealing than a plastic one. Not only do they feel less flimsy, they're usually a lot warmer too. Definitely worth considering given the amount of time we spend sitting on them.
Durability
The other advantage of a wooden toilet seat is that they're a lot more likely to withstand wear and tear. Wood is a stronger (and heavier) material than plastic, so will last a lot longer and you won't have to think about replacing it for a good few years. This is an important point, because as we mentioned before, toilet seat shopping isn't the most thrilling endeavor, so we're better off picking one we know won't need replacing for a while.
The downside to this seat is of course, the lack of quiet-closing. The heavier material means it can be hard to avoid the slamming sound we all come to dread when we're finished using the toilet, so bear this in mind if this is a priority for you.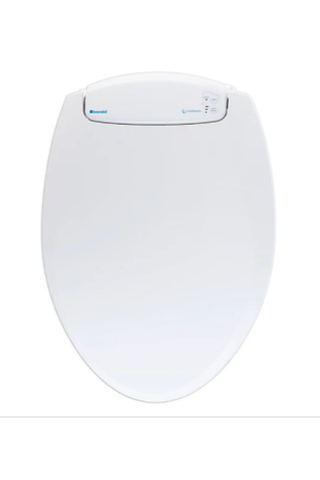 Fancy giving yourself a toasty behind every time you go to the toilet? This seat has adjustable heat settings, a lifesaver for when the bathroom feels a little chilly in the evening.
Heating technology
There aren't many toilet seats that can be heated to our desired temperature, so we're pretty impressed with this one from Brondell. The four settings - off, low, medium, high - can take your toilet experience to the next level, and is perfect for adapting to different moods and weathers.
Nightlight feature
If the heated seat didn't sell you, there is also a built-in nightlight which is activated via a simple on/off switch. If you're used to waking in the middle of the night in need of a wee, the Illuminating glow from the nightlight will guide you easily to the toilet, so you don't have to fumble around in the darkness or squint painfully from switching the overhead light on. The LED lightbulb is energy efficient, so a guilt-free feature too.
The round seat has been designed to fit onto any standard fixture, and it comes in white, so will be a seamless addition to any bathroom.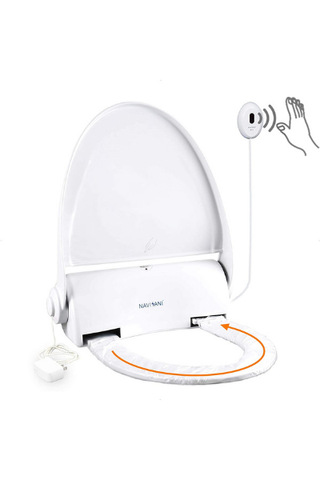 If cleanliness is your priority, this smart hygienic toilet seat from Fashome is the way to go.
Automatically self-cleaning
The seat is equipped with a micro-computer system to automatically change the disposable hygienic film that covers the seat via an infra-red sensor, meaning after it's been used, the film cover is dispensed and replaced each time. It doesn't get much more hygienic than that, and any waste is limited because the film changing will stop after exactly one turn.
Soft close
There is a slow drop function to avoid fingers getting injured and the loud noise caused by the sudden drop of the cover plate.
High-quality materials
ABS plastic is a strong and durable material, so the seat will withstand wear and tear for a prolonged period of time. The disposable film is waterproof and non-slip, and one roll has up to 135 uses in it.
Though this toilet seat was designed with commercial purposes in mind - and we think it's a genius idea for any public restroom - it would absolutely serve its purpose in the home as well. It made it to our list for those of you prioritizing hygiene, as this is the cleanest option on the market.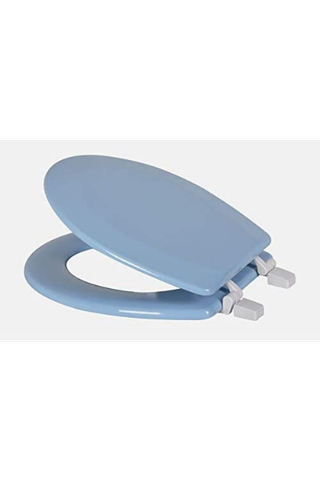 If you're looking to jazz up your bathroom, a colorful toilet seat can quickly transform a boring fixture into something fun and cheerful.
Various colors available
We love this toilet seat from J&V Textiles because of the different color options, which will appeal to a variety of tastes and preferences. The light blue option might be our favorite because it's reminiscent of calming blue waters, and who wouldn't want to invoke precious memories of the seaside every time you go to the bathroom. But there's also pink, red, and black options which would be ideal if you wanted to create a definite color scheme and make your bathroom a talking-point of the house.
Wooden effect
There aren't many wooden toilet seats that come in a variety of colors, hence our selection of the J&V Textiles product in our list. With this one, you get all the benefits of wooden material we discussed earlier - durability, comfort, easy to clean - but you have the freedom to pick a color of your choice and make your toilet a little more fun than it was before.
Bear in mind that this seat isn't soft-closing, a feature you'll have to sacrifice if you want to sit on a wooden, rather than plastic, toilet. Regular cleaning will also be necessary if you want to keep the seat looking nice and fresh too.
A marble effect toilet seat is a great way to add style to your bathroom, and this mesmerizing design from Kingzone is sure to inspire some toilet envy from your guests.
Marble finish
We think the elegant marble finish on this seat is just divine, and a sure way to add a touch of luxury to your bathroom. The range of colors available are all equally as pretty as each other, and we really recommend this pick if you want to transform your toilet from drab to fab.
Wooden material
Another seat made from wood, this will withstand wear and tear better than most plastic options. This one also has a powder-coated and glossy finish to give your bathroom a glamorous feel.
The seat is also fastened with Quick-Release hinges, so that it can easily be detached for cleaning.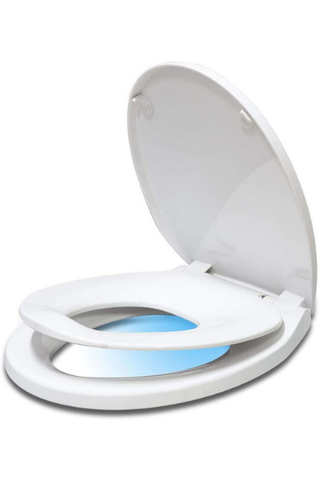 The perfect next step for toilet training youngsters is this seat, designed to encourage them to use the grown-up toilet all on their own.
Kid-friendly
The built-in potty seat is a genius idea to make little people's transition to using the toilet easier. It has a specially designed splash guard to prevent urine from spilling out, so you no longer need the messy toilet rings and separate training toilets inside the bathroom. The potty fits snugly inside the regular seat with a length and width of 7.64 x 5.87 inches, and magnetically attaches to the lid for when it's not in use. 10/10 for practicality.
Nightlight
Another great feature of this seat is the built-in nightlight, which has two brightness levels to choose from. Leave this switched on if you or your children often need to get up in the night for a wee, and be guided easily towards the toilet in your sleepy state.
Soft close
Both the adult and child seats are soft-closing, meaning you don't have to worry about loud noises or fingers getting pinched when opening and closing the lids.
Once your children have outgrown the potty seat, you can simply detach it and enjoy all the benefits of the regular seat.
---
How we chose these toilet seats
Our picks of the best toilet seats were carefully considered against a number of criteria, including the quality of matierals, variety of finishes (in terms of both color and shape), soft-close and antibacterial properties, and price point. We strived to include a range of seats with unique selling points, so that as many of you as possible would find one that suits your home and lifestyle. Though we haven't personally tested the products in our list, we cross-checked customer reviews to ensure that we only recommended seats that others were happy with.
What to consider when buying a toilet seat
Choosing the best toilet seat isn't as simple as it may sound. There are different factors to consider, but don't worry, it doesn't have to be overwhelmingly complicated. It's important that you keep your personal priorities at the forefront of your mind while you're shopping, so get clear on what those are first. It may be having a toilet seat that looks fabulous and guests are sure to remember after they've visited, or it may be going all out on hygiene and cleanliness. We've simplified the core factors to consider when shopping for the best toilet seat.
Material
The two primary options for toilet seat material are wooden and plastic. The advantage of wooden seats is that they are more long-lasting, and less susceptible to chipping and fading than plastic alternatives, but their downside is that they are not soft-closing. Plastic seats are more family-friendly, as many of these can be designed to close quietly, which is ideal for avoiding slamming and clipped fingers if there are a lot of you using the toilet.
Comfort
A toilet seat should first and foremost be comfortable to sit on, because what's worse than fidgeting restlessly around when we're trying to relieve ourselves? A lot of toilet seats these days are ergonomically designed to fit comfortably around our bottoms, so look out for this feature when browsing.
Shape
As with material, there are two main shapes of toilet seats to choose from: oval and round. If your toilet pan is already fixed in your bathroom, which it likely will be unless you're renovating from the ground up, take note of its shape before you buy a seat that won't fit. Toilet seats will specify which fixtures they can attach to. Round seats are usually cheaper, and are smaller too, so a better option if your bathroom is a little tight on space. Oval seats are becoming increasingly popular in contemporary designs, and a lot of people believe them to be comfier, though this is likely a matter of preference.
Added features
There is also the option between simple and smart technology seats. Toilet seats have upgraded in recent years, and can now boast features such as self-cleaning, built-in nightlights, and heated seats. Have a think about which - if any - of these features appeal to you, and if your budget allows, splurge on a seat which is going to make your everyday life a little better. If however you just want a seat that gets the job done, stick to the classic (and cheaper) options.
Color
Lastly, have a think about the color of toilet seat you'd prefer. Some products only have the standard white option, but others have tonnes of shades to choose from. There are also patterned options that look great too. If you see a toilet seat with a fun and adventurous design that appeals to you, we say go for it! We're sure your bathroom can pull it off.
Browse more toilet seats...
If you haven't yet found a toilet seat you're happy with, we recommend browsing the options from the retailers below. We're sure you'll find the best toilet seat for you in no time.