Choosing the best colors for small entryways for airy, bright spaces will change the look and feel of your hallway. The right shades will make a great first impression on guests and will look more welcoming.
If you're able to paint in your rental or are moving into your first home, prioritizing your entryway is a smart idea. Even if the rest of the house is a little incomplete, having the first room look stylish will make you feel more relaxed in your place. One of the easiest ways to transform the space is with color — especially ones that will make it feel brighter.
If you're searching for small entryway ideas, looking for the right color is a smart place to start. I've spoken to design experts to find out which ones you should go for an easy breezy space, plus picked out paint colors so you can get started ASAP.
Choose these small entryway colors for an airy space
Looking for the best paint color for small entryways? These shades will make your space look brighter and more airy, and can be incorporated on the walls, floor, and even on the decor.
1. White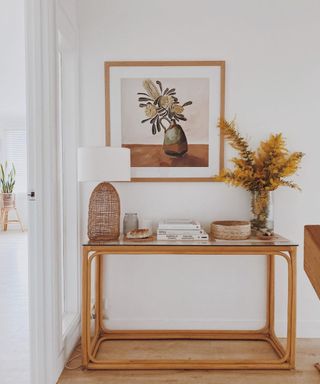 You can't beat the classic shade, which will create a clean finish. "When your entryway is small, I recommend sticking with a bright and clean color like white," says Vivianne Chow, interior designer and founder of Viv and Tim Home. "My personal favorite white paint to use is Sherwin Williams Pure White, which is a classic white with a slightly warm undertone."
This shade of white (you can view it at Sherwin Williams here) will help your entryway feel bigger while creating a light and airy feel.
Vivianne Chow is an interior stylist and founder of the home decor blog, VivandTimHome.com. She's passionate about sharing the best modern home decor to buy and recently built a dream custom home with her husband Tim. Together, they're tackling decorating room by room and sharing design tips and ideas along the way.
2. Beige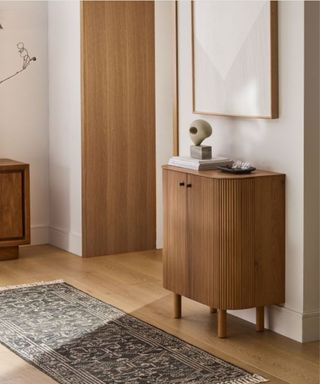 The warm shade of beige will create a cozy feel in your small entryway, while still maintaining a polished look. "A neutral color like beige is always a safe and effective choice for small entryways," says Ricky Allen, interior designer and founder of Ever Wallpaper. Pair it with cream colors and wooden textures for a Scandi finish.
Ricky Allen is the Interior Designer and Director of Ever Wallpaper. It sells high-quality wallpapers and murals, using non-toxic, odorless, and environmentally friendly materials.

3. Light gray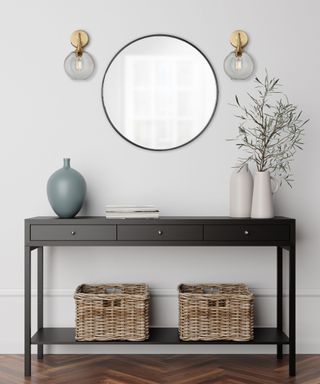 Light gray is a brilliant color for small spaces, as it can make them appear bigger. Shades such as eggshell gray and silver are especially wonderful at reflecting light. "These colors reflect light and create the illusion of a larger space," says Allen. "They also provide a clean and timeless look that can easily be paired with different decor styles." Whether you want a soft natural look or a luxe small space, gray is a stylish, versatile choice.
4. Cream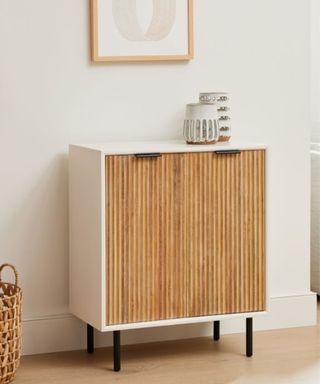 If you're looking for a halfway point between the brightness of white and the warmth of beige, cream is the way to go. "The light paint color will help reflect any natural light that comes through any doors or windows which will help make the entryway feel spacious and airy," says Luis Carmona, interior designer at VERDE Interior Design. If you can't paint your walls, you could incorporate this in with wall art.
Luis Carmona is the owner and lead designer at VERDE Interior Design. With almost two decades of experience in the creative space, Carmona gets to blend his many passions into one design studio, offering interior design and branding services to his commercial clients.
5. Pastel colors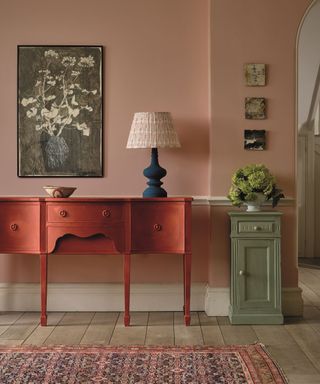 Love bringing a pop of color into your home, but want your small entryway to look airy and sophisticated? Pastels are the way to go. "Color can be brought into an entryway through paint, a vintage rug, patterned peel-and-stick tile, or wallpaper," says Peyton Helsen, interior designer at Rumor Designs.
"Especially if the room is relatively closed off to the rest of the home, it can be a great space to sprinkle in some personality and make an impression on those entering the home." Shades you could choose include pastel pink, lavender, and baby blue.
Peyton Helsen is a Michigan native who relocated to Steamboat Springs after studying Interior Design at Kendall College of Art and Design. Helsen describes her design style as eclectic, with the incorporation of contemporary and rustic natural elements.
6 paint colors that will make your small entryway look light and bright
Follow our experts' advice with these six paint colors, which you can use on walls, ceilings, and even furniture.
The prices below were correct at the time of publishing this article.
FAQs
What color should I paint my small entryway?
If you're struggling to pick a color for your small entryway, you can't go wrong with a classic pure white. It's versatile, timeless, and easy to layer with other colors and styles.
What colors make a small entryway look bigger and brighter?
White, beige, light gray, cream, and pastel colors will all make a small entryway look bigger and brighter, as the soft shades will help reflect light.
---
As well as color, lighting can make a small entryway appear brighter. These small entryway lighting ideas are expert-approved and are easy to do — even in rentals.