If you're decorating your rental or apartment, and are wondering, "Does light gray make a small space look bigger?", you're asking a very good question. Different color choices can make a space look and feel different, so it's worth knowing what can do what.
I'm not going to lie: This color does get a bad rep for being a bit boring and dull. I think the opposite about it, though. Gray — especially light gray — is a classic color that can be used in a variety of styles and aesthetics, so it's a great choice in terms of versatility. But is it a magic color that can make your place appear bigger, too?
Whether you're looking for the best paint colors for your small space or want to change up your furniture's color scheme, I'm here for you. I've spoken to experts to find out if light gray really does make a small space look bigger, how it does that, and how you can complement it.
Can light gray can make a small space look larger? Experts explain
Want to make a small room look bigger and think light gray is the way to go? I've broken this down into answering the core question, giving design tips, and picking out shoppable buys.
Does light gray make a small room look bigger?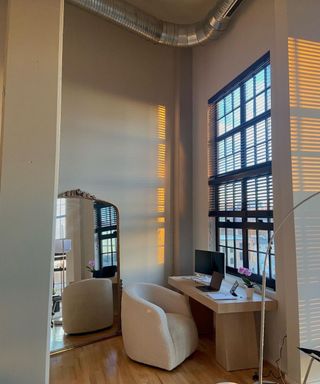 Using gray in a small space can definitely help amplify its appearance. "When you use a shade like light gray, it can introduce warmth to the room," says Adrian Pedraza, owner of The California Home Buyer. This can make a room feel more inviting and cozy.
Adrian Pedraza is the owner of The California Home Buyer, a professional house-flipping company. He is a licensed real estate broker with over 10 years of experience buying, selling, and flipping properties in California. He keeps a close eye on all the changes in the real estate industry and home development.
Gray, particularly in its lighter shades, helps to reflect light, making the space seem more open. "It's a neutral color that provides the perfect backdrop for various decor styles, adding depth without overwhelming the space," explains Ana Coddington, lead interior designer at Archival Designs.
Ana Coddington is the lead interior designer at Archival Designs. She has over 10 years of experience with consultations, CAD software, and space planning, helping to create unique and stylish homes.
In terms of specific light gray shades, there are a few that are especially impactful. "Soft dove gray and pale silver have a natural ability to reflect light, making a room appear brighter and more expansive," says Vitaliy Vinogardov, interior designer at Modern.Place. If you do want to paint with either of these, be sure to test a swatch on your desired wall before going all in.
Vitaliy Vinogradov is an interior designer at Modern.Place. With years of experience in the industry, he is an expert in creating beautiful and functional spaces.
How to style light gray in a small space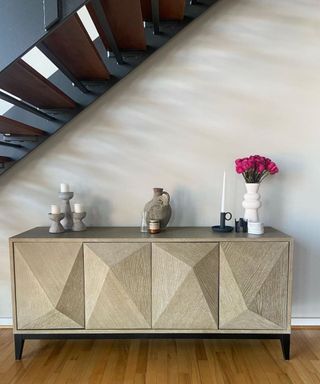 If you've decided to use light gray in your small room — whether that be through paint or with a statement piece like a couch — you might be wondering how to style it. "Remember to balance it with appropriate lighting and other complementary shades to prevent the room from seeming too cold or sterile," says Coddington. For example, accessorizing with warm-toned accents like wood or brass can add warmth and balance to a light gray room.
You can also incorporate textures, patterns, and pops of color to create interest and prevent the space from feeling flat. "Some great lighting options to consider in a gray room are warm-toned bulbs, natural light through sheer curtains, and strategically placed full-length mirrors to reflect light," Coddington tells me.
It's all about creating harmony with color and light. Whether you're going for a minimalist, modern, or even a vintage vibe, light gray can be a wonderful choice to give your small space a bigger look.
3 buys to help you bring light gray into your small space
Want to use a light gray to make your rental or apartment look bigger? Here are three buys that will help you do just that.
The prices below were correct at the time of publishing this article.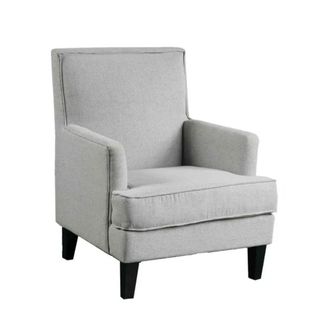 Thick cushioning
Price: $264.09
Got a dark corner in one of your rooms that needs brightening up? You could create a reading nook with this armchair, by pairing it up with a small bookshelf. So versatile
2. Grey 02 Eggshell Paint
Price: $70 for 1 gal
If your landlord allows you to paint (lucky!), coating your walls with this sweet eggshell gray will make them look more airy.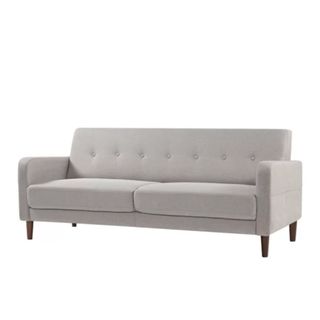 Linen fabric
Price: $385.93
Wayfair shoppers love this couch, saying it's excellent quality, is super comfortable, and fits well in small apartments.
FAQs
Does light gray make a room look smaller?
No — in fact, it has the opposite effect. Light gray shades such as eggshell and silver can make a room appear more airy, bright, and spacious.
How to add light gray to a small space?
You can decorate with light gray by choosing statement pieces like couches and TV stands in that shade, as well as decor like throw cushions and blankets. If you can paint your walls, you can also add it to them, too.
---
Now you know more about one of the best colors for small spaces, you might be wondering what colors you should avoid. These are the worst colors for small spaces according to designers, because of how cramped and dark they can make a room look.