Kitchen island seating is probably the last detail of your kitchen you'll consider, but it should never be an afterthought. A kitchen island unit without seating is nothing short of a missed opportunity, and a kitchen island without good-looking seating is missing the point: the seating shouldn't just be practical, but should add to the kitchen's overall feel. Happily, there are many ways to add a comfortable and handsome spot to rest your derriere. A little advanced planning will ensure the best solution for your needs.
Don't miss our kitchen island design ideas to ensure your seating works with this important element.
Plan your kitchen island seating
Start by deciding what you need seating for: how many do you need to accommodate and for how long? If your island will provide the only eating area in the room, dedicate as much dining space as you can spare. And be sure to source bar stools that are designed for easy access and comfort – high backs are best.
Next, think about the area around your island, which will help determine where the seating should go. Stools that tuck underneath a breakfast bar, out of the way, can be helpful in maximising space in small kitchens but try to imagine them in use too. Will your guests be sitting in the way of a main entrance or access to the fridge?
One final tip; locate your seating well away from your island's hob, if applicable, and prep spaces to keep little fingers safely away from hot pans and sharp knives.
1. Enhance space with a floating effect
Clever design details can elevate inexpensive cabinetry to designer status. Here, barely-there chrome legs create the illusion of a contemporary cantilevered dining space – without the costly structural engineering of the real deal. Caple's Darga kitchen in white, costs from £6,200.
2. Go for comfort with banquette style
Banquette seating offers the cosy intimacy of your favourite diner, at home. It's also a great space-saving solution on a kitchen island unit, as fitted seating requires less floor space than freestanding. This elegant bespoke banquette (also seen top), upholstered in luxurious leather, is by Humphrey Munson, kitchens start from £40,000.
3. Colour match for a cohesive kitchen scheme
Brightly coloured bar stools can play a vital role when colour co-ordinating your kitchen. We love the zesty lemon hues of these Ernest bar stools, £139.99 each. John Lewis of Hungerford's Shaker kitchen is priced from £17,500. The peacock mural is by Alex Lucas.
If you love this kitchen, head over to our colourful kitchen design ideas.
4. Island seating for small kitchens
Squeezed for space? All you need is a small overhang and a couple of simple wooden stools to create the perfect resting point for your morning coffee. The New England Shutter Company's Café Style Tulipwood Shutters in bright white start from £307.30/m2.
5. Double up your dining options
Cover all the bases with an island that boasts bar style seating at one end, and a lower dining level at the other. This dynamic island from Davonport's Soho range features a stunning mix of materials including sandblasted ash, industrial concrete and hand-stitched fabric panels. Kitchens start from £60,000.
6. Create a slick contrast with materials
Designer bar stools can instantly take a classic kitchen in a fresh modern direction. Here, the unexpected combo of manmade polycarbonate and natural timber is seriously covetable. Bespoke kitchens by The Secret Drawer start from £62,000. Kraft Furniture sells Victoria Ghost bar stools for £79.99 each.
7. Small kitchen? Choose island bar seating
A raised breakfast bar will elevate your kitchen island design, literally, and provide a separate surface for serving drinks, away from the clutter of cooking and prepping. This is the Calatrava Island, £1,889 as shown, from Wren Kitchens.
For more ways to make the most of a small kitchen, make sure you check out our dedicated feature.
8. Make legroom for all
Legroom can be an issue with traditional breakfast bars, not least when small children kick and scuff the rear panel as they clamber onto a stool. This generous kitchen island with seating for four solves the problem nicely and provides a spacious elevated dining area for all the family. Harvey Jones' Linear kitchen starts from £18,000.
9. Low-level island seating
While a bar stool is the perfect pit stop for a quick lunch or glass of vino, there's no denying a dining chair is more comfortable for languishing over dinner. If your kitchen is your only dining option, consider a drop-down kitchen island like this sleek design featuring Kitchen Architecture's bulthaup's b3 cabinetry in Alpine White, prices start from £35,000.
10. Design difference
The breakfast bar on this bespoke island unit is shaped like the end of an elegant table, complete with beautiful hand-turned legs. The results are undeniably striking and provide plenty of kitchen island seating space too. Lewis Alderson's bespoke hardwood kitchen, painted in Little Greene's Mortar 239 and True Taupe 240, starts from £40,000. The gorgeous Beetle stools are from £971 each, The Conran Shop.
11. Go Art Deco
Easiest way to transform your kitchen into a chic kitchen diner? Add kitchen island seating straight from the Jazz Age.
This New Deco kitchen by Martin Moore features velvet-upholstered kitchen island seating, which completes the Jazz-era-inspired design scheme (and takes comfort to the next level).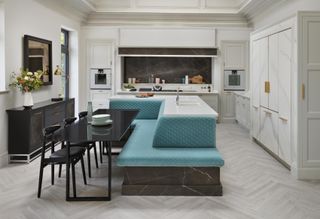 12. Go industrial for a boho-inspired look
Want to create a laid back look? Mix and match classic metal chairs with a wooden kitchen island – or breakfast bar in a small kitchen – and pile the worktop with house plants to complete the relaxed look.
Find bar stools like this at Cult Furniture.
13. Go for a simple design in a Shaker-style kitchen
Make like the Shakers and keep things simple and pratical. The pared back design of these stools from Plain English fit perfectly in this no-fuss (but also totally gorgeous) kitchen. To recreate this look, pick island seating in neutral colours that are a near match to your kitchen cabinets to keep the look cohesive and classic.
If you love the look, find more Shaker-style kitchen design ideas, over in our gallery.
More kitchen design know how: