If you're designing a stylish kitchen on a budget, looking for quick fixes for your kitchen or simply updating a small space fast, use this round-up of fresh ideas to choose the best design ideas. From swapping old cabinet doors, to painting tired ones or wallpapering above splashbacks, these quick, easy and affordable kitchen updates will create maximum impact for minimum cost and effort.
And if you are completed designing a kitchen from scratch, make sure you have a read of our guide for loads more practical advice.
1. Swap old kitchen cabinet doors for new ones
If your unit carcasses are in good working order, but the doors are worn or not to your taste, replacing them could be the answer for a total transformation. This should be easy if you bought your kitchen from a supplier that still stocks carcasses of the same dimensions, but bear in mind that you may need to buy end panels, infills, panels and corner posts as part of the package. Find inspiration for your kitchen's new look in our 25 kitchen cabinet ideas feature.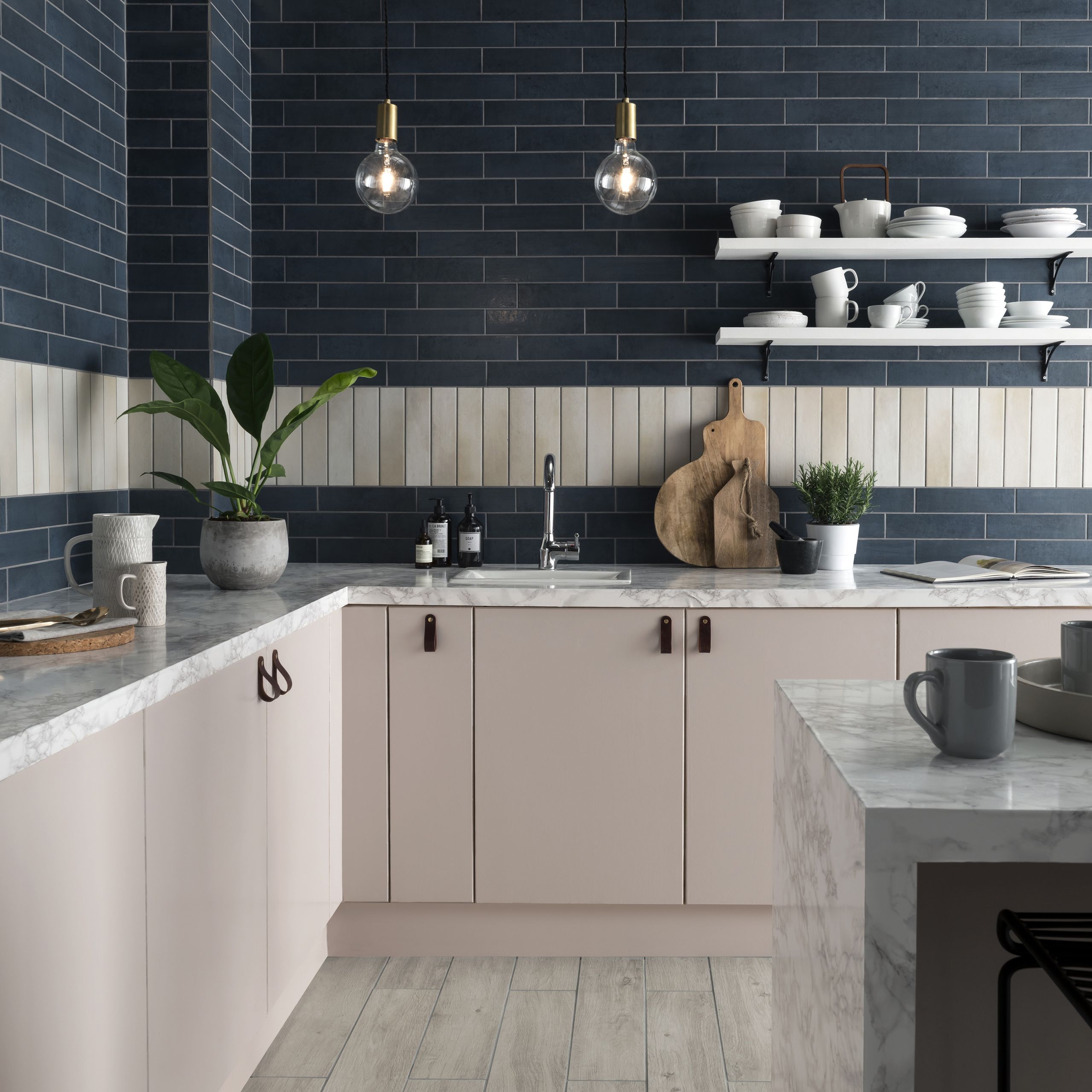 2. Paint tired cabinet doors
If your kitchen cabinetry is in pretty good condition but could do with a lick of paint, why not DIY-it? Painting kitchen cabinets is an easy job, as long as you choose a suitable kitchen cabinet paint for the surface you're painting. Perfect for a Shaker-style kitchen, which will suit more moody tones, flush cabinet doors can be painted to give you a colourful contemporary kitchen. Some cabinetry, such as those with a high gloss finish, won't take paint brilliantly, so always do a patch test in an unseen corner before you take the plunge.
3. Paint the kitchen walls
Choosing the right paint colour for a kitchen can instantly transform it – all for the price of a tin of paint, and it's an easy update to move on from when you want a brand new look (again). Be inspired by the best kitchen paint colour schemes to transform your kitchen.
4. Or paint your kitchen tiles
Painting over those eye-sore tiles rather than replacing or putting up with them is a much quicker (and cheaper) solution. So get out your paint brush and get those ugly tiles covered! It's actually a very easy DIY job if you know what you are doing, so go and have a read of our step-by-step guide to painting tiles to get started.
5. Hang wallpaper in the kitchen
Wallpaper needn't be limited to a living space or bedroom. Putting a modern wallpaper in a kitchen – especially an open plan kitchen diner and living space or vintage-style kitchen – will add instant personality to a kitchen. Ensure it's wipeable, and protect any areas that might get repeatedly splashed with glass splashbacks.
6. Update your kitchen's splashbacks
If your kitchen lacks splashbacks or perhaps you have perfectly even but very ugly tiles you're not quite ready to spend the time and money hacking off and replacing, new panel laminate splashbacks like these from Ikea could be the perfect solution. Resistant to heat, water, grease and dirt, they can be quickly glued on to the wall behind your kitchen worktop and hob (except gas).
We've got loads more kitchen splashback ideas in our gallery.
7. Make the most of a small kitchen window
In a small kitchen, a window dressing that sucks light and space is a real 'no'. Space enhancing kitchen blinds are affordable, DIY-fit shutters let in light – but cheaper, slimmer and quicker to fit still is window film. Choose a design that suits your style and budget from our window film design gallery, and find more pretty, practical kitchen window treatment ideas in our feature.
8. Add a freestanding kitchen island
Designing a kitchen isn't something we always get right first time, so if you've not planned enough worktop space into your kitchen but still have enough room, a freestanding kitchen island will be a massive bonus to both prepping and storing. Or, perhaps you're renting and frustrated by the lack of kitchen storage in the room? A freestanding kitchen island is something you can take with you when you move... or flog. Plus, it often comes packed with kitchen storage space, worktop space and room for kitchen island seating.
If you are keen on a kitchen island, we have loads of ideas in our dedicated feature.
9. Boost kitchen storage
There's no getting away from it, good storage for small kitchens (in fact, storage for all kitchen sizes) will improve how your kitchen looks and functions in a heartbeat. Storage jars, laundry storage ideas and pantry storage ideas... they'll all help your kitchen feel neater and look more streamlined. Say no more.
10. Introduce a dining area to a small kitchen
No matter that you have a small kitchen, there's often space for an inventively squeezed-in dining area. In the smallest of kitchens, a table that folds flat against the wall when not in use and chairs that similarly concertina and can hang on the wall; if you have a little more room, a breakfast bar with bar stools tucked neatly beneath will give you somewhere to perch while you eat; or, if there's room under a window, a small dining table (even a half-moon-shaped one) will do the trick.
11. Add personal touches
You might not have the budget to pay for an interior designer, but adding interior design touches to a kitchen needn't cost a fortune if you know how. Plus, adding personality to a kitchen with anything from house plant display ideas to creating a gallery wall might be something you can do for free – after all, it's likely you already have everything you need hanging about at home.
More fab ideas for your small, budget kitchen: