When planning your new bathroom, you will more than likely include a shower and this will require a shower enclosure of some kind to shield the rest of the bathroom from spray. But with so many types and styles to choose from, finding the right shower enclosure to suit your set-up can be a daunting task.
Don't worry – our guide will give you all the answers you need to get it right.
To begin, think about the way your shower will be used and which style suits your needs. The type of the shower enclosure you choose will have a big impact on the overall design and look of your bathroom.
How often will you use it? Does it need to be easily accessible for children or elderly relatives? Are you limited on space? These questions will help you think about the way it needs to be accessed, how the shower door opens, if it's user friendly and space enhancing.
Which type of shower do you have?
First of all, is the shower over the bath, or completely separate? If you are putting a shower over a bath, you will be in the market for a screen. But, if the shower is to be self contained, you will be looking at cubicles, enclosures and shower doors.
For separate showers, you then need to ask where the shower will be – in the centre of the room, a corner or a separate area all together? This will dictate which shower tray and glass you choose. For example a corner shower will need a quadrant shaped shower tray and an enclosure that wraps around.
Choosing screens or enclosures for shower trays
Finding a shower tray to meet your needs will be no problem as there are a plethora of options available – square, rectangular, pentagon or quadrant shaped, solid, traditional stone or a more contemporary lightweight tray. Avoid flimsy options that bend under weight – movement makes them hard to seal and prone to leaks.
Of course you then need an enclosure to match. Often trays and cubicles come as part of a set and you can be sure these will fit together perfectly. Alternatively, you might fit a tray against a corner, then find a screen to shield the side for a walk-in, or add a door for a fully enclosed space.
Picking a screen for a space-saving over-bath shower
When space saving is your number one priority but you still want the pleasure of bathing and showering, the best option is a shower over the bath with a shower screen. You need not only choose based on functionality as you can still provide a level of beauty and style.
Designed to fix to the wall and over your bath it will provide more of a sense of light and space, even in the smallest room. There are a number of styles to choose from including hinged, square, curved, sliding, folding, fixed. Always check there is space for the door to swing open and you have plenty of room to clamber in.
Find out how to choose a bath.
Finding shower screens for wetrooms
Are you considering making your bathroom a wetroom? Although the room will need to be fully waterproofed, it is still worth fitting a shower screen to prevent other areas from getting splashed. If the cost of tanking the whole room is prohibitive, a huge, luxurious walk-in shower, protected by frameless glazing will be more economical than a full wetroom.
How much room do you have for a shower?
Consider exactly how much room and height is available, as limited space might mean you need a folding shower door. A shower area needs to be at least 80cm x 80cm to be practical and comfortable to use.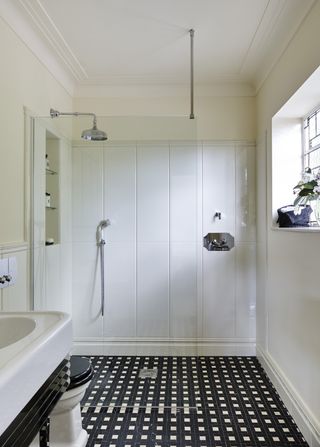 Choosing the right glass for a shower screen
The choice of glass is very important. The thicker the glass, the stronger the enclosure. Whether you choose 6mm, 8mm or 10mm glass, there will be options to suit your needs. Toughened safety glass is always a good choice for a wetroom or frameless shower, especially if you have young children, but expect to pay a lot more for this premium glass.
Are you interested in mirrored glass? Mirrored glass reflects light creating the illusion of a larger space.
Frameless shower enclosures
One of the most popular choices in contemporary bathrooms is a frameless glass enclosure. Their simple, chic and transparent look offers the bathroom an airy and spacious appearance. Without the traditional shower frame, they instantly create an impressive, airy looking space – great for anyone with a smaller bathroom or an area lacking natural sunlight. That said a frameless shower also works incredibly well in large, grand bathrooms where it's understated beauty creates a minimalist, visual impact.
Types of shower door and enclosure
While there are a number of shower cubicles and screens available, here are the most common and popular shower enclosures on the market today:
Single-door quadrant shower
Quadrant shower enclosures are perfect for any bathroom that may have tight corners or are lacking in space. They will fit snugly into any corner meaning no area is wasted. You can choose from a single door opening or to minimalise space even further choose a sliding door option.
Hinged shower doors
If space isn't a problem and a sliding door is not necessary a hinged door is practical and stylish. There are a huge array of modern shower encloses with hinged doors to choose from, they open outwards into the bathroom and come complete with a variety of chrome, brass or metal fittings.
Sliding shower doors
If you want a streamlined, modern looking shower enclosure a sliding door will be perfect for you – a practical and stylish option. Also, ideal if space saving is high up on your list of requisites. There are different glasses to choose between, however they work best using a clear, strong, toughen glass.
Bi-fold Shower Doors
Many shower doors require you to have a certain amount of free space outside of the shower enclosure to allow the door to open fully. Bi-fold shower enclosures, also known as in-fold, are the ideal space saving buy. They fold in on themselves to make space for users to enter and exit the shower with ease.
D-shaped showers
D-shaped shower enclosures provide a spacious showering space and can make a bold statement in any bathroom. The three-sided shower enclosure is a unique style as it only requires one flat wall to fit the enclosure, opposed to using two wall spaces in the corner of a room. This grand showering space is growing in popularity.
How much do shower screens, doors or enclosures cost?
Frameless shower glass costs more than traditional framed pieces: a simple frameless screen can cost as little as £150, but high end ones come in at upwards of £500. Expect to pay more to have frameless screens installed than framed screens or enclosures that can simply be screwed to the wall. Enclosures cost from £150 and up to around £800.
Read more: