Disclaimer
This article was last updated on the 30th of November. In the last update, deal prices were checked, and any that were out of stock or no longer on offer were removed from the guide. We also changed our wording from Cyber Monday to Cyber Week to reflect the progression of the promotional period. Lastly, we've added dimensions to every deal and product block to improve your shopping experience.
Best Target Furniture: Quick Menu
Knowing what the best Target furniture pieces are is a great way to make sure you're getting stylish buys, are great value for money, and will last you a long time.
Shopping for furniture at Target is so easy to do, whether you're browsing its site or heading into the store. It has a whole range of different products, that are simple and stylish enough for a variety of homes. That being said, it has a lot of pages to sift through — and you might not have time to go through them all, especially during sale events like Cyber Week (FYI: Target already has a furniture deals page, but it can be quite taxing to sift through the selections, not to mention the red and grey roundels can be a little off-putting to some.
If you've been searching for where to buy furniture and have decided to do your shopping at Target, I've got you. I've rounded up the best Target furniture, looking at shopper ratings and reading real reviews to ensure that they're top-quality.
The best Target furniture, according to shoppers
Why you can trust Real Homes Our expert reviewers spend hours testing and comparing products and services so you can choose the best for you. Find out more about how we test.
Target is one of our favorite online home stores here at Real Homes, as there's so much to choose from. I've split this guide up into different rooms, so no matter if you're decorating your small space living room or your bedroom, you're totally covered.
The prices below were correct at the time of publishing this article.
The best Target living room furniture
This is the place your guests will see and where you might spend the most time, so it's an important place to get fab furniture for. Here we've focused on multifunctional furniture, including an end table (that could double up as a coffee table), a storage ottoman that could play understudy for a footstool, table, or seat, and a sofa that turns into a bed when you've got guests sleeping over. Because when you've got a small space, it's not about your bank balance, but rather how you spend the money. Work smart, not hard peeps.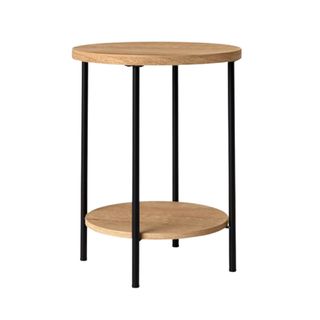 Industrial chic
1. Room Essentials Wood and Metal Round End Table
Size (in.): H22.4 x W18 x D18
Made from: Wood and steel
Price: $32
Side tables are a stylish, space-saving idea for a small living room. This one has two tiers, allowing for plenty of storage space. Place this next to your couch or armchair so you have somewhere to place your morning coffee. You could even decorate it with indoor plants, as it's a lovely neutral base for them.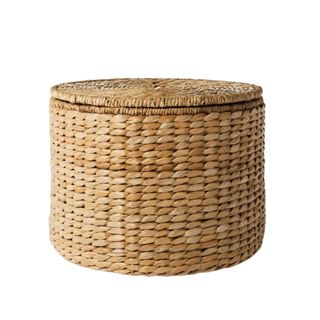 Woven
2. Threshold Natural Storage Ottoman
Size (in.): H15 x W20 x D20
Made from: Seagrass and metal
Price: $100
Looking for a living room furniture piece that does it all? Not only is this a storage ottoman, but it can also double as a coffee table, extra seat, or even a footstool. Target shoppers say it holds its shape well, looks super pretty, and works for everything from blanket storage to toy storage.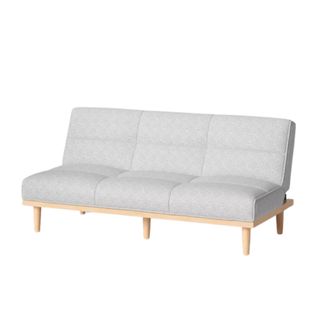 Versatile
3. Room Essentials Convertible Sofa Bed
Size (in.): H32.7 x W70.5 x D35
Made from: Fabric and plywood
Price: Was $399 Now $339.15 (save $59.85) at Amazon
If you've not got a guest bedroom or are using it for other purposes, having a convertible sofa bed is a smart idea. This small couch is so easy to set up — just flip the back, and you've got a guest bed. The neutral gray and wood color and texture will blend well into any home's decor style.
The best Target bedroom furniture
Sweet dreams are certainly made from these bedroom buys, which will allow you to get a good night's sleep in style.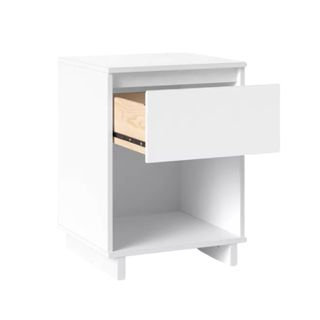 Roomy
4. Room Essentials Modern Nightstand
Size (in.): H25.47 x W18.9 x D17.48
Made from: Particle board
Price: $55
This simple Target nightstand has everything you need for bedside storage, with countertop surface, a drawer, and a bottom shelf. The beauty of grabbing a nightstand like this is that you can dress it up however you want and it will work in other homes you move to in the future.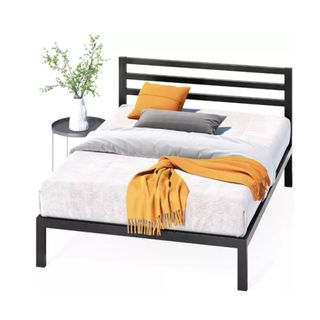 Modern
5. Zinus Platform Metal Bed Frame
Size (in.): H38 x W59.5 x D79.5 (Twin)
Made from: Metal
Price: From $99
A platform bed will give your apartment that hotel luxe feel, thanks to the elevated height. Target reviewers say this bed is easy to put together, very sturdy, and high-quality. The measurements and price in this guide are for the queen size, but it also comes in twin and king, too.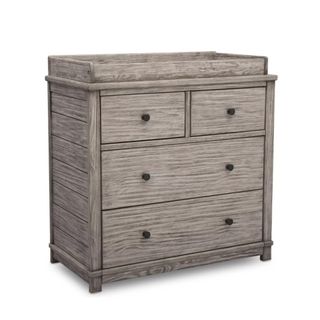 Space saving
6. Simmons Monterey 4 Drawer Dresser
Size (in.): H38.5 x W38 x D20.25
Made from: Wood
Price: Was $349.99 Now $279.99 (save $70) at Target
This does say it's ideal for children's rooms, and even comes with a changing mat topper if you need it, but I think the smaller size also makes it a super idea for small bedrooms. Target shoppers do say it's a little tricky to set up, but once it's built, it looks great and lasts for years and years.
The best Target kitchen furniture
These furniture kitchen ideas will make cooking up a storm so much more stylish. This trio of finds includes formal and informal seating for guests and a portable kitchen island with caster wheels.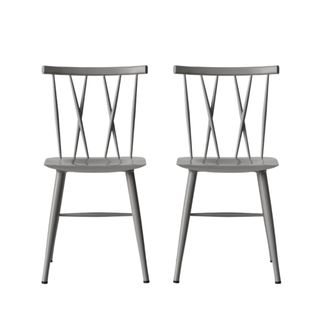 Budget-friendly
7. Threshold Becket Metal X Back Dining Chair
Size (in.): H33 x W16.75 x D 20.7
Made from: Steel
Price: $130 for two at Target
Add a farmhouse touch to your kitchen with these cross-patterned seats, which work out at $65 each. I like that they can either be used as a set or paired with other chairs, for a quirky, contrasting look. As well as gray, they also come in white and black, so you can choose whichever matches your decor.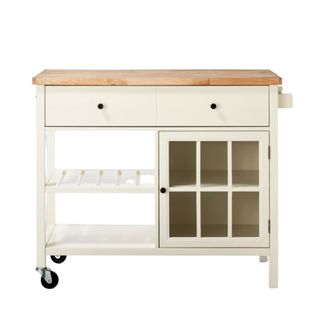 Extra worksurface
7. Threshold Windham Wood Top Kitchen Island
Size (in.): H34 x W42 x D19
Made from: MDF
Price: $310
I don't have much counter space at all, so I've found using a small kitchen island design like this one handy. This Threshold one has plenty of space for recipe books and bottles, as well as a worktop for meal prepping or snack assembling. It also can be wheeled around, so you can move it wherever you need. And, if you do decide to leave your current rental, you can take this with you (unlike a fixed kitchen island or peninsula).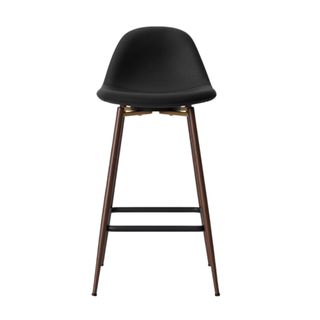 Sleek seating
9. Threshold Copley Counter Height Barstool
Size (in.): H33 x W15.5 x D17.5
Made from: Plywood
Price: $70
Turn your kitchen into a glam hotel bar (well, come pretty close) with this chic barstool that comes in ten different colors. If you've got countertop space that could be utilized as a seating area, adding a stool is a clever way to make the most of that. It's worth noting that this is the price per stool, so if you want to grab a pair, you'll need to double up your order.
The best Target bathroom furniture
Your bathroom will scrub up well after decorating it with these bathroom furniture pieces. And, because we know wash spaces are incy wincy in rentals, we've focused our attention on chic and practical storage for towels and toiletries. The trolley we've picked out is perfect for if you like reading in the bath, but don't want the pages to get wet!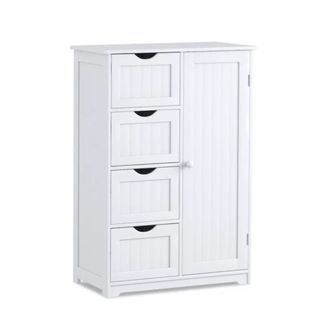 All-rounder
10. Costway Wooden Bathroom Cabinet Storage
Size (in.): H32 x W12 x D22
Made from: MDF
Price: Was $229.99 Now $89.99 (save $140) at Target
If your rental didn't come with a bathroom cabinet (I mean, where does your landlord think all your Olaplex is going to go?), this cupboard is spacious enough for all your different toiletries. With four drawers and a two-tiered shelf, you won't be having arguments with your roommate or partner on who gets what.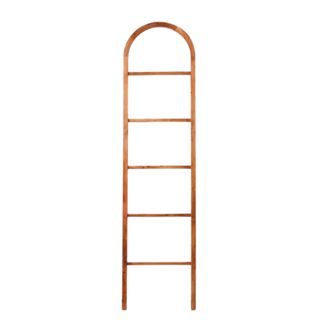 Vertical storage
11. Hearth and Heath Magnolia Ladder
Size (in.): H72 x W18 x D1.5
Made from: Acacia wood
Price: $79.99
This ladder would add such a rustic touch to any bathroom, and it would also come in useful, too. You might not want to put wet towels on it, but it could be a neat place to store extra towels that won't fit in storage or a handy place to hang your clothes, for post-shower dressing.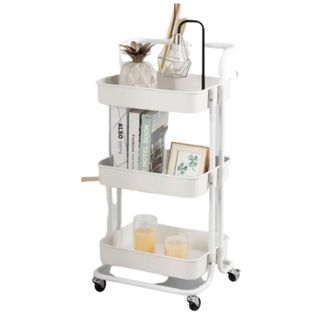 Roll around
12. Costway Rolling Cart Organizer
Size (in.): H34 x W14 x D16.5
Made from: PVC
Price: Was $70.99 Now $40.99 (save $30) at Target
Storage trolleys like this one are brilliant for small spaces, as they can fit in small corners or gaps. You could use this for toilet paper, toiletries, towels, or even a mixture of these alongside decor like plants. I think this could be useful if you're styling your hair, as you can use it to move all your different products between rooms easily.
The best Target outdoor furniture
Want to make your backyard look beautiful? These will all help you glow up your outdoor space. BTW, if you do decide on one of these, be sure to add a Target patio furniture cover to your cart, to protect your furniture from the elements.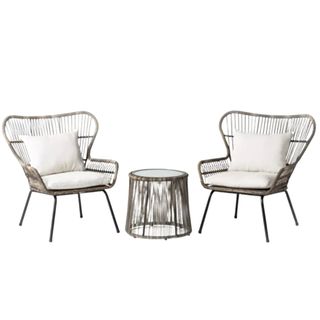 Easy to move
13. Opalhouse Latigo Rattan Patio Set
Size (in.): H34.62 x W31.5 x D29.5
Made from: Steel and rattan
Price: $475
This chic set would work perfectly on an apartment patio or in a small backyard, with two seats and a small coffee table that can be placed together or separately. Rattan never seems to go out of style, and it's a great base layer for different colored throw pillows and blankets.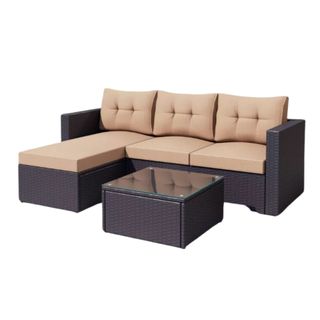 Fade resistant
14. Captiva Designs Wicker Outdoor Set
Size (in.): H24.4 x W51 x D28
Made from: Steel and wicker
Price: $389.99
Corner seats are a useful option for smaller backyards, as they're easy to fit into snug spaces. The seat with this set has an area you can stretch out on, which would be amazing for lounging back and sunbathing on. As well as this, the all-weather wicker is low-maintenance, so you won't have to worry about constantly cleaning it.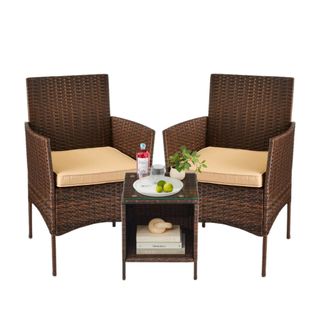 Budget friendly
15. Best Choice Outdoor Wicker Bistro Set
Size (in.): H33.5 x W22 x D20
Made from: Steel and wicker
Price: $119.99
If you want to lounge outside but don't want to spend a lot of dollar on an expensive patio set, this is a brilliant option. With two cushioned seats and a coffee table with storage, you get a lot for your money. It also comes in five color options which are all the same price, so you can match it up to your aesthetic.
The best chic Target furniture
These buys are ultra-stylish and will make your small space look seriously luxe.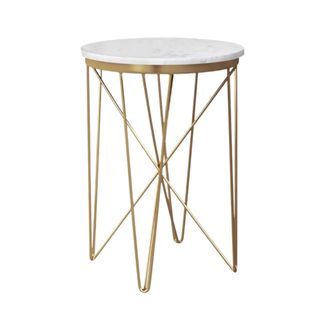 No assembly
16. Threshold Marble Top Round Table
Size (in.): H22.5 x W17 x D17
Made from: Steel
Price: $100
The combo of marble and gold always screams quiet luxury, and this gorgeous table is a stylish way to bring the trend into your home. It can be used as a side table in a living area, a nightstand, or even as a patio table. Target say the top of the table is quite heavy, which gives it a high-end feel.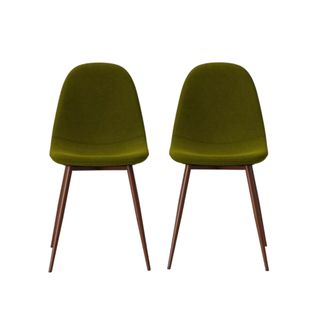 Lightweight
17. Threshold Copley Dining Chairs
Size (in.): H33.9 x W18.1 x D22.8
Made from: Plywood and steel
Price: $130 for two
Have you got a dining table that's a little boring? Elevate it by adding these chairs instead, which are so elegant. It has over 700 five-star ratings from Target shoppers, who say they're a breeze to clean, are just the right size, and are very comfortable. The olive green is beautiful, but it does come in eight other colors.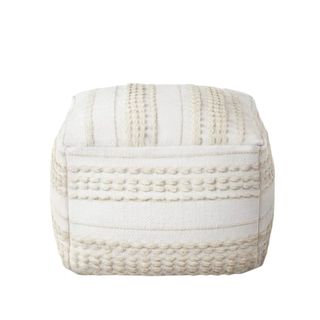 Sturdy
18. Threshold Lory Textured Pouf
Size (in.): H12 x W18 x D18
Made from: Cotton and foam
Price: $65
Add a boho, Scandi touch to your home with this patterned pouf, which has beige thread beautifully woven onto the white fabric. It can be used as a footstool or even as extra seating for guests. It's worth noting that this isn't sold in stores, so if you want to grab it, you'll need to buy it online.
How to choose the best Target furniture for you
Want to know how to choose the best Target furniture for your place? Here are four top tips:
Filter by star rating: When searching through any category, click on filter, guest rating, over four stars, and then click 'see results'. This will ensure that you're only seeing furniture that reviewers have given positive ratings for.
Read the reviews: Looking through real-life reviews by shoppers who have used the products is a useful way to find out how others have found assembling the furniture and using the furniture.
Check the materials: Look for materials that are hard-wearing, such as wood and MDF, as these will last you longer than furniture made out of plastic. If you're buying upholstered furniture, check the cleaning instructions and care.
Check the size: Check the dimensions of each furniture piece, and be sure to measure up the space you intend on putting it before purchasing, to ensure it will fit properly.
Check for any constraints: If you are buying chairs or a table, check the load to see how much weight it holds.
How we chose these Target furniture buys
We can't test every single piece of Target furniture ourselves (our rentals and apartments just aren't big enough!), so instead we looked for pieces that shoppers love. We looked through Target's website by category (living room furniture, bedroom furniture, kitchen furniture, bathroom furniture), filtered it by star ratings, and picked three products from each category with a high amount of ratings and written reviews.
FAQs
Is Target a good place to shop on Cyber Week?
Target is a brilliant place to shop for furniture and other homewares during Black Friday and Cyber Week, as it will have a range of deals both in-store and online. We will keep updating this page with the best discounts on the site as and when we see them.
Does Target furniture go on sale?
Target furniture regularly goes on sale throughout the year, especially during key sales events like Black Friday and Cyber Week.
Why is Target a great place to shop for furniture?
Target has a wide variety of large, medium, and small furniture pieces for all rooms of the house. It also has affordable prices that are budget-friendly.
What is the best Target furniture brand?
Threshold is the best Target furniture brand, as it's Target's own range. As well as the pieces generally being stylish and timeless, this also means that the prices are affordable.
---
Now that you've discovered what the best Target furniture is, you might be wondering what other stores have great furniture ranges. Urban Outfitters furniture is a little more high-end in price, but its pieces are colorful and eye-catching.