If you have a smaller kitchen than you'd like, you'll know just how valuable every inch of countertop space is. And if you want small kitchen island ideas to help you find the space and make it look good too, we can help. 
Because we all too often dismiss the idea of having one, but actually, they can fit in really well when space is tight. They can act as an informal dining area, give you extra worktop space, or act purely for storage – be that for Mason jars or houseplants. Plus, when they come in such a huge variety of shapes and sizes - square, rectangular, with legs, without, some with sinks, some not – the key is to simply find one that suits your space and your needs. 
So we have rounded up six ways with small kitchen islands that prove you can house one in your tiny kitchen, successfully! Keep scrolling to be inspired and head to our kitchen ideas piece for more decor inspo.
1. Create cohesion between your kitchen counters and your kitchen island
Just because your kitchen is small, it doesn't mean the island needs to be, and this kitchen is the perfect example of how to integrate your island successfully. The key is to create cohesivity between the normal kitchen units and the island, this has been achieved by using the same marble finish on the splash back and island worktop. Another link is the brass hanging rail, tap and frames of the bar stools. 
If you're starting from scratch and want help with your overall kitchen design you can take a look at our advice piece.
2. Pick a kitchen island with legs
If you only have one available section of wall and base units, an island can give you that perfect extra bit of storage and worktop space. You don't need to buy a large solid design, choose one that's neat and in proportion to your kitchen. The island shown here has legs and you can see under it, this gives the illusion of space making it ideal for a smaller kitchen, it's also quite narrow and allows the bar stools to fit neatly underneath, another useful option. 
3. Keep yours on wheels
If you've got a small kitchen and therefor need a small kitchen island, keep yours on wheels to make sure it's even more practical. Because if you can't swing a cat in your kitchen, at least you'll be able to move your island around wherever you might need it most! We love this FÖRHÖJA trolley in birch from IKEA as it looks cute and modern, plus, it's one of the most affordable tiny kitchen island ideas we've encountered.
4. Choose a small island with plenty of storage
Kitchen islands don't need to be all wood, in fact, there's one for most kitchen styles, like this industrial style design. If you love modern design then this is a great option, but you will need to keep everything tidy as more is on show! The chunky wooden worktop on top of the stainless steel frame gives you that extra bit of space for prepping food and you can keep all of your most used pots and pans on the shelving underneath for ease. For small kitchen storage ideas we can inspire you through our feature.
5. Give a small kitchen island a purpose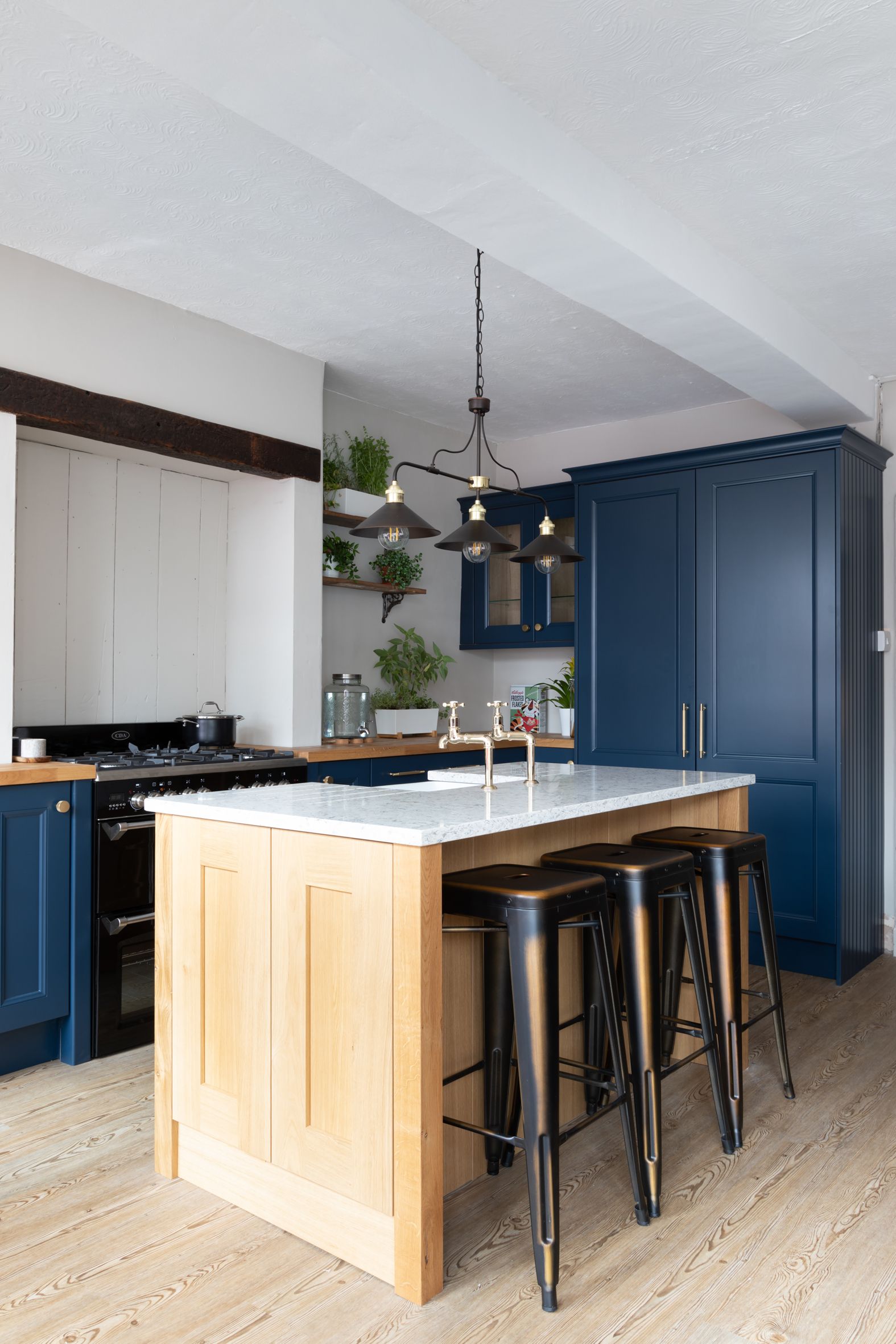 When your kitchen is on the small side, everything you choose for it needs to work, and harder than normal. One way to do this is to give your island a proper purpose - like being home to the sink, and it will free up your base units too. We like how this design isn't painted too, it makes it stand from the blue units and 'lightens' the overall feel of the space. If you do have space for bar stools then go for it - it will give your family somewhere to sit whilst catching up on their news at the end of day. 
6. Blend a small kitchen island into your space
Your kitchen island can become a seamless part of your kitchen, the design here is exactly that. The grey painted tongue and groove in the shelving behind is followed through into the island. The white worktops match too, this creates a cohesive look that helps the eye to read the look as a whole, this is particularly useful in a small kitchen as if the colours are the same throughout nothing competes with each other and you'll create a balanced look. 
Read more: