Grey is one of the most commonly used colors in the home, and for very good reason. A little stronger than a neutral, but calm and collected enough to create a tranquil vibe, grey seems like a super easy color to incorporate into most spaces when, actually, knowing what colors go with grey isn't always that obvious.
It's a grey area shall we say – excuse the pun – but when you're trying to brighten up your home with the latest paint color trends and more, there are some colors worth noting more than others as they enhance and enliven grey especially well.
We've spoken to a handful of interior designers, decorators, and color palette experts to get their insights on exactly how to make the most of whatever shade of grey you're hoping to work into your interior design scheme. Whether you're aiming for something neutral and crisp or you want something a little more warm and cozy, here are some of the best colors that go with grey, according to the experts.
1. Warm neutrals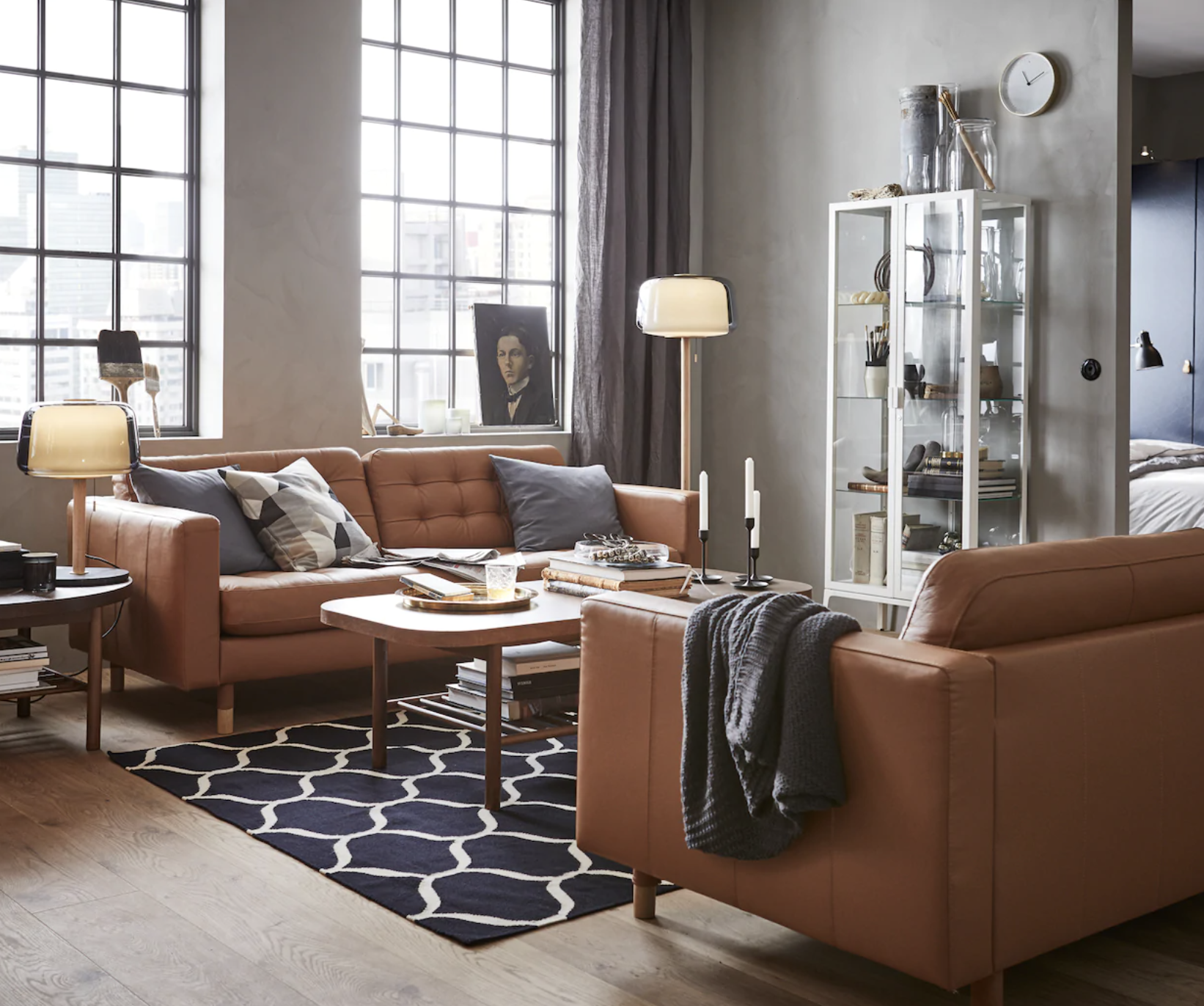 If neutrals are your thing, bring some warmth and texture to your grey scheme by introducing tan leather. This could be on a small scale with cushions, or on a larger scale with a sofa. The best leather sofas are sturdy and long-lasting and will add instant sophistication, depth and warmth to your simple grey room.
2. Primary colors
Give your calm grey room a pop of something powerful by injecting splashes of red, yellow and blue. This gallery wall idea subtly blends vibrant red in with its monochrome palette, and the pale grey wall becomes a simple stage which lets the pictures shine.
3. ...or warm primary colors
'The best primary color to pair with a cool grey is a warm yellow to get an appealing contrasting effect,' says Nichole Abbott, interior designer at Floor360.
'Adding real or faux plants to a warm or cool grey room design is the perfect accent,' she adds.
4. Soft pink
'Gray and pink is a great pairing. This often works best with darker, more serious gray tones and a lighter, airy pink. The contrasting hues play well off of each other and create a balance that exudes sophistication,' says Andre Kazimierski, CEO at Improovy Painters St Louis.
According to Stuart Clark, home expert at Victoria Blinds, the subtle tones of pink can warm greys up and make a space more inviting, which is particularly great for living rooms and bedrooms.
Decorating with blush pink is a great idea for rooms where you want to feel relaxed, cozy and at ease, making it perfect for a bedroom, as shown above.
5. Apple green
'One of my personal favorite color combos is gray and green. Specifically, look for cool, mid-tone grays with blue undertones and cooler green hues (pistachio, light olive, etc) as well. This combination adds naturalism and freshness to whatever space it is in,' says Kazimierski.
'My go-to colors to pair with gray in home decor are shades of green,' says Leonard Ang, CEO at iPropertyManagement. 'It provides a sharp, clean effect, and the contrast between a charcoal grey and a bright green can really pop if the green is used in moderation.'
A grey sofa is a perfect base from which to go experimental with your wall color. Painting the lower half of your wall a bright color is a great way to ease your way into a more vibrant shade, as it doesn't overwhelm the whole room.
6. Shades of blue
'Navy blue works to warm up grey and creates an elegant and sophisticated look,' says Aaron Styles, interior designer and consultant at Juliei Salone.
Blue is often referred to as a cool color, but certain, richer shades, such as navy and cornflower blue have inherently warmer properties, and this comes to life when positioned against a cooler color, such as grey.
'Lighter shades of baby blue will create a gentle and calming feel whilst darker shades like navy will add drama and dynamism,' says Clark.
7. Teal and burnt orange
There are some colors that just gel better than others, and teal and burnt orange are a match made in heaven. These deep, rich, and luxurious shades pop especially well against a soft grey backdrop, being not too harsh and not too neutral to stand up to the colors.
'A silver gray looks fantastic with a deep teal or pastel turquoise,' shares Chris Campbell, Partner at The Charming Bench Company. 'Various hues of aquamarine with black and white accents give a timeless aesthetic that looks contemporary but also classic.'
You can get the look of this stunning statement bed with our DIY upholstered scalloped headboard hack – it's easier to recreate than you may think!
8. Lime green
The perfect zingy way to add some fresh spring vibes to your space, lime green may not be for everyone, but paired with the calming and somewhat neutralizing effects of grey, it works.
9. Mix and match colors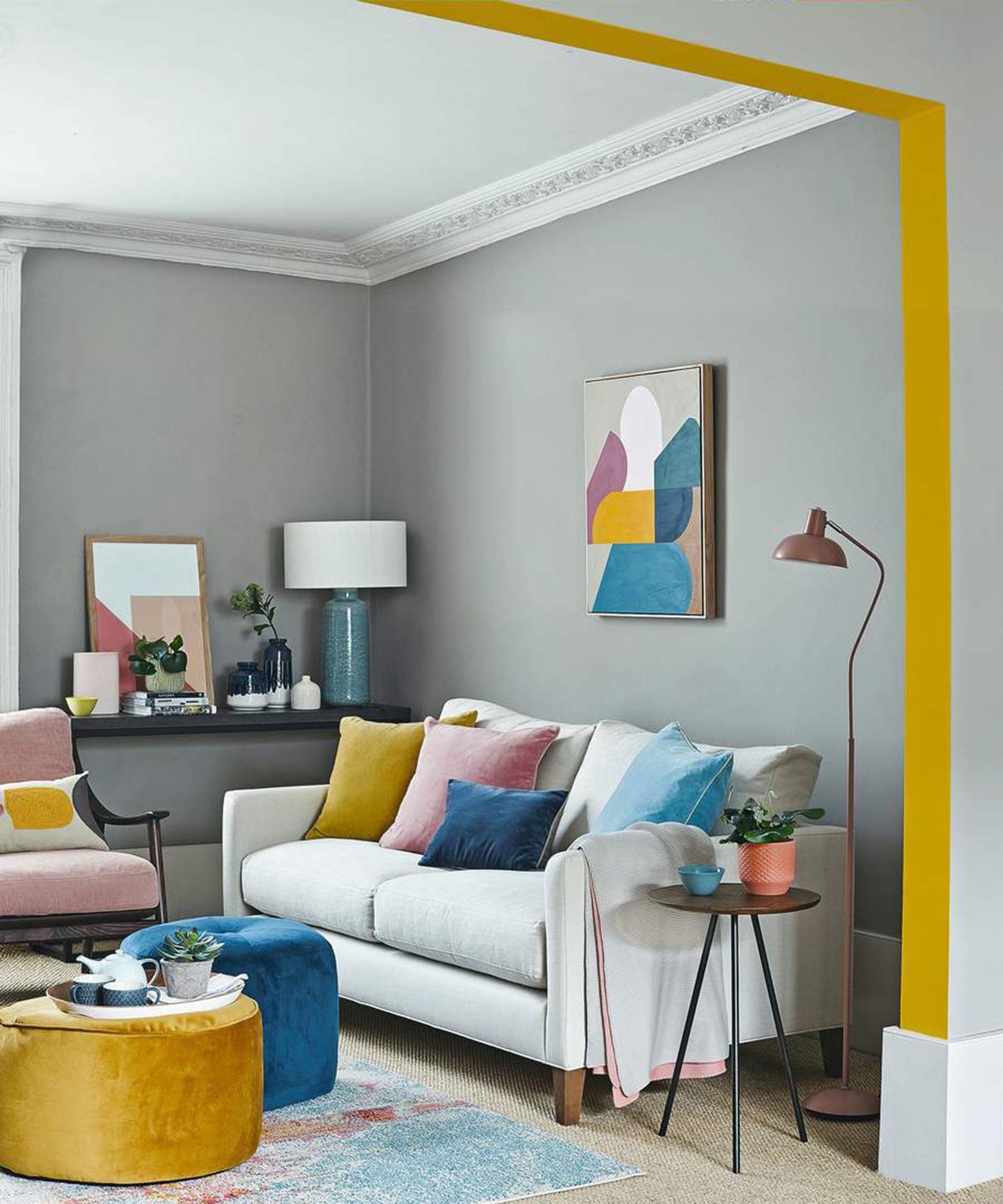 If you're a color lover, it's a great idea to see a pale grey as a simple blank canvas from which you can mix and match colors of your choice. Like with many interior design rules, think odd numbers. In the above image, three colors are used together throughout the space in various shades - pink, blue and yellow – and it works to bring life to the neutral gray scheme.
Yellow and gray living rooms are a popular choice as this color combo never disappoints.
10. Stark black
To take advantage of the cool and sleek effect of gray, Abbott suggests mixing it with stark black accents, such as light fixtures, cabinet pulls, or even furniture. Adding a black coffee table and black cushions to a light grey couch can be the perfect way to add some power and dynamism to your scheme.
11. Metallic gold
'My favorite element to pair with light grey is gold,' says Randi Baldwin, interior designer and co-founder of Relaxing Decor. 'I love implementing some gold light fixtures or other small decorative elements, such as side tables. I especially love light gray and gold in kitchens or bathrooms.'
In the above image, high shine metallic accents in the coffee table and wall artwork to warm up the space and add elegance and grandeur.
12. Multiple shades of gray
Baldwin recommends using a large variety of shades of gray in your decor. For example, if you have a light gray couch, add medium and dark gray pillows as well as a charcoal gray throw blanket. 'You'll also want to use plenty of white to keep your space looking bright,' she adds.
The Meurer gray throw from Wayfair will make the perfect addition to gray sofa or bed.
13. Charcoal gray and light neutrals
'When using charcoal gray, my top recommendation is to use plenty of white in the space,' says Baldwin. 'This contrast will help brighten it up and prevent your space from feeling too dark.' According to Baldwin, this is important for lighter gray as well, but even more so for charcoal grey.
Brighten up your grey space with these colorful and quirky accessories
What kind of decor goes with grey walls?
Grey walls can act like a neutral blank canvas for the rest of your scheme to work around. This means that any kind of decor style can be paired with gray walls – from scandi to industrial, and from modern heritage to minimal, grey walls really can work with any interior style. The shade of grey that you choose can impact the overall feel of your room, so always ensure to use tester pots before you buy.
How do you make a grey room look cozy?
As a general rule, darker colors create instant cozy and cocooning vibes, so choose a darker shade of grey for the ultimate space where you can snuggle up and hunker down. While gray can sometimes appear quite cold and clinical, pairing it with lots of soft textures and natural materials is a sure way to add depth, interest, and that all-important cozy factor to the scheme.