There are so many shades of gray, from pale neutrals to dark and intense, it can create a calming, cocooning or even dramatic space. And, including a gray accent wall in your home is a good chance to think outside the box when it comes to decorate with this ever-trending color.
Whether you want to give your living room a lift or, if you've an existing accent wall but you're not sure which colors to pair with it... Look no further. We have interesting ideas to pep up the average gray feature wall, from paint effects to paneling.
Gray accent walls that wow
Justyna Korczynska, Color Consultant at Crown explains how a deep gray is such a versatile accent, 'Darker tones of charcoal can be used to add drama anywhere in the home, from a living room to a bedroom or even a small hallway - with clever lighting and mirrors you can create a look that is both strong and atmospheric. These dark greys are also a perfect strong background for small amounts of brighter colors.' From all out charcoal to simply choosing brighter combos or more classic colors that go with gray, you're sure to find the accent your space needs.
1. Try a paint effect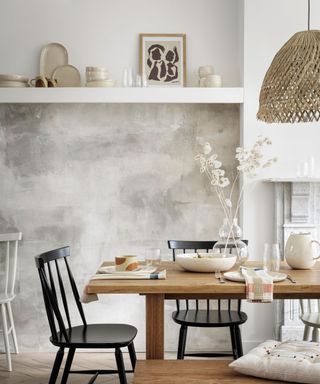 Paint effects...you may shudder at the thought of Nineties throwback techniques like rag rolling and sponging, but they're back! However things have moved on. Now you can buy specialist textured emulsion paints and concrete effect paints for a shortcut to a rustic finish.
Here's how to add a new dimension to dining room wall — to create your own limed wall, simply layer on watered down flat matt emulsion, chalk paint or a specialist limewash. Using a wide brush, apply paint in sweeping strokes, you'll need at least two or three layers to build up a textured effect. Complement the walls with a fresh white for a simple Scandi inspired finish, or create a little drama by pairing it with warm blue or olive green paint.
2. Frame a window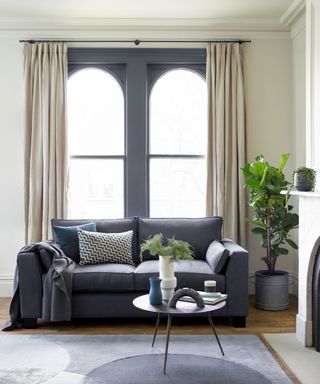 Rethink white paint for window frames and baseboards in favor of a more dramatic approach. By painting window frames in a dark shade, it always looks smart and works well on interior doors too. For frames, the contrast against the light of day is crisp and fresh, but at night, helps large windows feel cozy and contained.
The floor to ceiling windows are a striking feature of this grey living room and the neutral walls picks out the anthracite against the pale walls, highlighting the interesting shape and detailing. You can apply the same transformation by to UPVC windows too, simply look for a specialist primer or paint.
3. Layer gray tones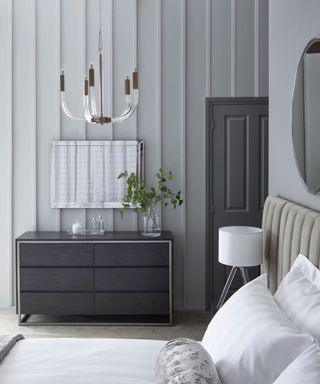 There's no denying, gray bedrooms create a classic look. The soft, dove gray paneled wall creates a chic and tranquil atmosphere for the bedroom, but accents of darker shades for woodwork and furniture adds a smart, sophisticated edge. Team this with polished chrome accents and fresh white sheets to bring a timeless touch of boutique hotel chic to space.
As Arianna Cesa, Associate Manager of Color Marketing and Development at Benjamin Moore explains,'consider a combination of light and dark gray paints for a slick, monochromatic look that doesn't overwhelm the room. A darker charcoal creates depth in the space', .
4. Add a lush accent with houseplants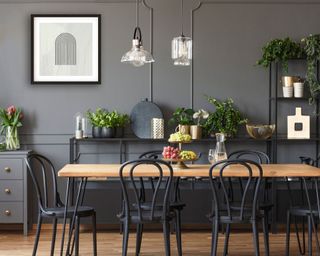 The addition of indoor houseplants lifts the dark grey wall and brings the space to life. Much like a forest canopy, the shadowy tone is the perfect backdrop for lush, deep green plants, making tropical varieties perfect partners too, go for large leafed floor standing palms for a statement option and add trailing plants to high shelves or hanging planters for texture and interest.
5. Break up the wall with a picture ledge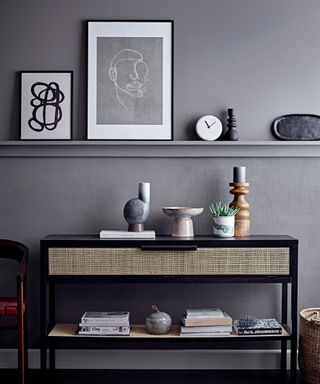 This grey on grey looks super-chic, with a subtle textured wallpaper on the bottom half and matching paint color on the top. However to add varied layers of height, a picture ledge painted in the same color, creates a seamless and discreet place to add framed prints and objets.
A shallow picture ledges will give you the flexibility of an ever evolving display that's easy to add to and adjust as the mood takes you, a shelf with a small lip at the front will also help support the frames and allow you to display collectibles. For a cohesive finish, choose frames and prints in similar color stories such as monochrome or neutrals.
6. Zone an area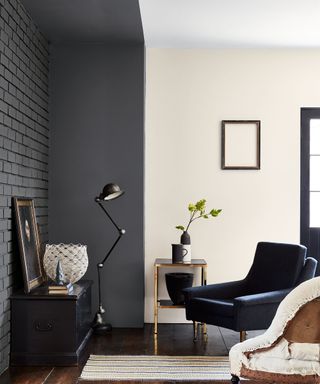 Use a dramatic charcoal to create a cocooned area within a living room. Create an instantly cozy corner by painting either a nook, alcove or if there aren't any natural architectural breaks, section off one end of the room in a deep shade of gray. It's ideal for framing a TV, workspace or reading area within a large living space. Painting brickwork also adds a further dimension and interest to this matt finish.
A warm white and nearly but not quite black softens the monochrome effect, as Ruth Mottershead, Creative Director Little Greene explains, 'When selecting gray for a space, contrast shades such as dark 'Scree' with a warm off-white such as 'Slaked Lime.' When using gray, you can incorporate bolder colors into your scheme such as 'Carmine,' 'Trumpet' or 'Orange Aurora' on baseboards, woodwork or dado rails for a color highlight.
7. Highlight a bookcase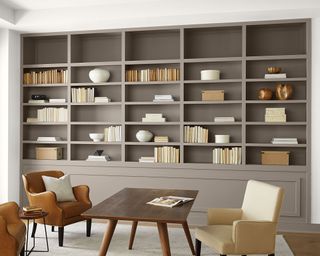 A gray with subtle brown, yellow pink or red tints such as Nightingale Gray from Behr, is guaranteed to add warmth to an all white space or north-facing room with little natural light.
Painting an in-built bookcase makes a statement out of the woodwork but the soft tone means it won't be overbearing in the room.
As Paula Taylor at Graham & Brown explains, 'For a cozy space we recommend a greige shade. Although gray is neutral, it can still make a statement when used as a feature wall.'
8. Team it with yellow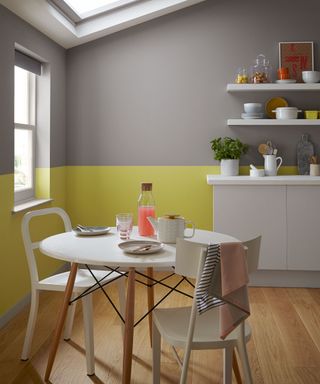 This timeless duo will never go out of style, it's such a winning combo Pantone chose a zingy yellow Illuminating and Ultimate Gray as their color of the year for 2021. For smaller spaces, go for the brighter, yellow shade on the top, but if you have tall ceilings or open-plan living rooms, a warm gray with a brown base will warm up the space.
To create a clean line, use decorating tape and then touch up any paint leaks with a detail brush. Pitch the line above key pieces of furniture or above the countertop, making it either one third or two thirds of the wall.
9. Add jewel accents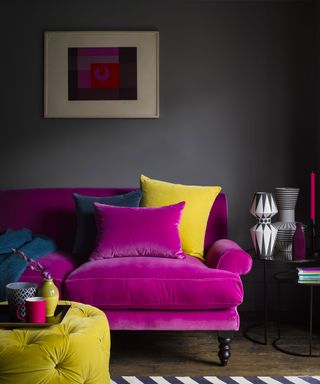 Such strong, dark grays are ideal for bright, sunny rooms that need some cooling down, however, come the evening, painting the wall where your sofa sits in this cocooning shade will instantly invite to curl up on the sofa. Such an intense shade is the perfect way to showcase brave shots of color, try bold contrasts such as chartreuse and yellow, fuchsia and hot pinks like this velvet Saturday sofa from Sofa.com, rich orange or teal to create a sensational pop against this intense gray. Layer the space with tactile accents such as chunky knit throws, tufted cushions, a velvet sofa or buttoned footstool for added oooh factor.
10. Wallpaper the kitchen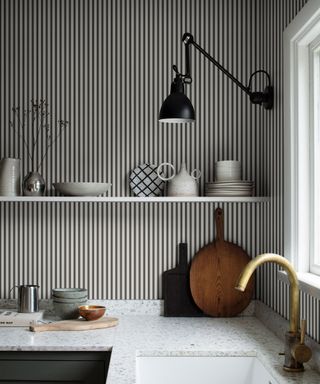 Wallpaper in the kitchen...why not? Just be avoid wallpapering behind a hob and a low level backsplash that extends from the countertop will protect the base from any scuffs or water damage, just ensure it's a well ventilated space and choose a washable wallpaper.
A smart stripe gray wallpaper, like Estelle at Sanberg, is both timeless yet playful, and the graphite colourway makes it a classic.
What accent color goes with gray walls
With so many variations on gray, it really depends on the temperature of your shade as to which colors pair best with your gray accent wall.
If you have a pale almost neutral shade of gray, then pastels are a perfect combination if you want to keep the space looking fresh and airy. So think light pinks, sky blue, pale yellow and mint green. To give this a modern, Scandi spin, introduce black highlights to ground the space and give it a 'grown-up' appeal. For a warmer finish, try linen and calico off whites with a hint of yellow, mid to deep gray-based greens, chalky denim blue and dusky terracotta.
When it comes to those deep, nearly black grays, you can either go tonal and pair with lighter shades of gray — working your way down a paint chip chart is a neat trick to find the right tones. However, if it's a bolder contrast you want, pick jewel colors such as sapphire and teal, fuchsia pink, chartreuse and orange. Justyna Korczynska, Colour Consultant at Crown also advises, 'dark greys are also a perfect strong background for small amounts of brighter color, like chartreuse or mint'.
For warm, mid grays that have brown, yellow or red tints in their base, dirty pinks, ochre yellow, rich plum or lilac and deep blue will complement the cozy tones of this kind of gray.
Arianna Cesa, Associate Manager of Color Marketing and Development at Benjamin Moore explains just how versatile it can be, 'there is an undeniable sophistication to gray. Pairing well with almost any color, from nautical blues, to hunter greens, to crisp white and other gray colors to provide balance,'
Can you brighten a room with a gray wall?
Gray has well and truly secured a place in our hearts and home as the go-to modern neutral. You need to decide on the temperature of gray you use depending on how the light affects the room.
For a north-facing room with little direct, natural sunlight, swerve very light, blue-toned grays, as these will only make a dark room feel cold. Choose a greige with some natural warmth, with undertones of yellow, brown or red. Paula Taylor at Graham & Brown echoes this idea, 'loved for its effortlessness and versatility, gray has firmly earned its spot on our walls, replacing the once-popular magnolias and beiges. Gray can be either cool or warm making it a great contender to use on all four walls.'
David Harris, Design Director at Andrew Martin recommends warm mid greys for a brightening effect, 'they are very calming and gentle, which evoke feelings of fresh open spaces. These colors also work really well in winter months as they don't make a space feel cold. Mixed with lots of brass and crystal fittings, these colors will make a bathroom look super elegant and timeless.'
However, if you do have a bright, sunny room, you can afford to go with cooler grays, these will work well particularly if you have strong midnight and inky blues on other walls.