The besties are back! I don't know about you but one of my favorite parts of the new season of Only Murders in the Building is Mabel's (played by Selena Gomez) new apartment makeover. While the trio is talking about all things murder, podcasts, and musical theater, I've been obsessing over where to get that gorgeous bouclé couch.
If you're new to the series, Only Murders in the Building is a murder mystery show, set in a fictional and super-chic New York apartment building, The Arconia. Starring Martin Short, Steve Martin, and Selena Gomez, the gang investigates these murders all while producing their very own true-crime podcast.
We open season three to find Mabel is finally selling her renovated apartment, which is now filled with luxurious rugs, statement furniture, and marble floors. A far cry from the exposed beams and plastic crates from season one. I sat down with the production designer for the show, Patrick Howe, to get the behind-the-scenes makeover tips and tricks.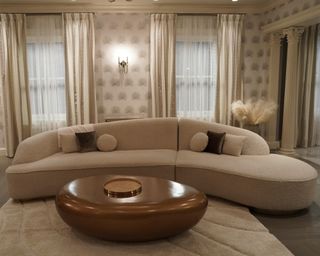 Mabel's apartment inspiration
Mabel's apartment this season is super polished with a light and airy design. The white, cream, and gray color palette is every vanilla girl's dream. I asked production designer, Patrick Howe, about how the makeover came to be.
What was the design process like?
"I learned early on from our showrunner, John Hoffman, that the look was to be very nice and elegant," said Howe.
"However, it should have a quality that does not match the Mabel character. It would be jarring to the audience like, 'oh, that's pretty, but I'm surprised those would be choices Mabel would make for herself.' But then by the end of episode one, when you learn that the apartment was for sale, you would understand, that's why it looks that way."
What was the inspiration for the final look?
"I've staged a lot of apartments in real life and just from research and knowing current trends in New York City in high-end real estate, the kind of styles they tend to have. I knew that everything could be just white on white on white or neutral tones," explains Howe.
"I wanted it to seem like it was definitely choices Mabel was making as the designer of her space but with one hand tied behind her back, not being allowed to sort of flourish like she would want to in color for herself."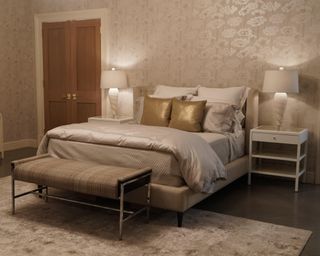 How to recreate Mabel's apartment
Personally, I love the all-neutral color palette and want to give my space a little upgrade. I asked Howe for his best tips for getting Mabel's new look at home.
Where is Mabel's couch from?
"All I can say is it was inspired by preexisting sofa lines but we did do a custom build of our own. Mostly because, like what practically every TV show confronts, you can rarely either afford the real item or it just simply isn't available," says Howe.
(Don't worry readers, I've found some great alternatives below!)
How can you recreate the look on a budget?
"When you're working in that neutral palette, you can have different patterns in a very similar colorway and get more variety that way. It doesn't clash with each other because they're all kind of off-whites or very pale grays."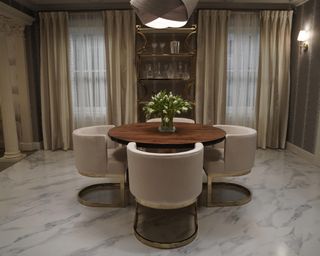 Patrick Howe is a five-time Emmy Award-winning production designer with 25 years of experience in episodic Television design and production. He is currently based in New York and has worked on Godfather of Harlem, Marvel's Iron Fist, and more.
Mabel-inspired buys to get the look
---
You can definitely achieve Mabel's new bougie look on a budget with these design tips and my favorite online buys. For even more ideas, we've found some affordable luxe picks that just scream quiet luxury.
You can stream season three of Only Murders in the Building now Hulu and/or Disney+.