Want to know what things people with nice-smelling homes always do? There's nothing better than walking into a place that smells like a luxe hotel or spa — but it can be a bit awkward asking your hosts what they use to do this.
I'm a big believer in using scents to make a home feel more welcoming. That being said, there have been so many times that I've walked into someone's amazing-smelling home and come away feeling both impressed and jealous. So, I've done some digging to find out what these people do, so I can replicate their tricks.
If you're wondering what home fragrances will make your home smell good all of the time, I've got you. I've spoken to interior designers, fragrance experts, and shopping experts to find out exactly what people with nice-smelling homes do, so you and me both can start wowing people.
9 tips and tricks that people with nice-smelling homes always use
Ready to get started? "One of the best feelings, truly ever, is having someone walk into your home and say it smells amazing," says Jen Reed, influencer, shopping expert, and founder of @TheSisterStudioIG and Life in Lilac. "That's my goal anytime I have people over!"
Jen Reed is the shopping expert behind @TheSisterStudioIG (1.3m followers) and founder of home fragrance brand, Life in Lilac. She is an expert in the fragrance and home space.
From clever candle ideas to scent layering, here are the easy things people with nice-smelling homes do to make their places smell amazing.
1. Layer up scents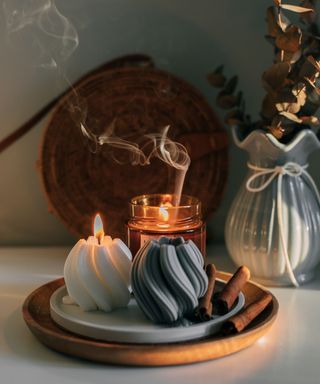 Don't be afraid to mix and match different scents. "I love having a couple of different candles burning at once," says Reed. "It lets the scents really play off of one another, feels extra-inviting, and creates such a luxe scent." If you aren't sure where to start, try lighting two of your favorite seasonal candles, and see how they smell when lit together.
2. Incorporate diffusers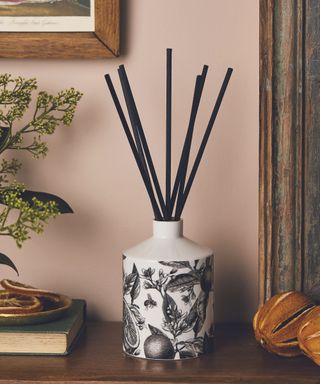 Diffusers such as reed diffusers and essential oil diffusers allow aromas to continuously diffuse into a room without the need for an open flame. "They are an effective and easy way to elevate the appearance and the aroma of your space with little to no effort," Reed explains.
When using an essential oil diffuser, setting a timer is a good idea. "By using an intermittent diffuser, guests in your home will perceive the scent more frequently, and maintain the positive psychological impact of a pleasant scent," explains Dori Bell, aromatherapist at The Blossom Bar.
Dori Bell is an aromatherapist with over 20 years of education and practical experience in aromatherapy. Through her work with The Blossom Bar, she creates custom aromatherapy blends using authentic and responsibly sourced essential oils.
3. Boil fruit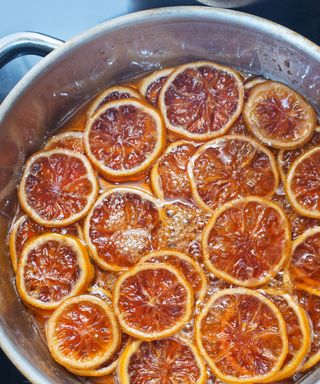 This is a budget-friendly way to quickly boost the scent in your home - perfect if you have last-minute guests coming over. "Boiling orange peels, pineapple slices, or sliced lemons will bring a fresh and natural aroma to your home," says Luis Carmona, owner and lead designer at VERDE Interior Design. "You can take a step further and add a drop or two of essential oils into the water such as sandalwood or citronella." If you like this idea, you can view our favorite fall simmer pot recipes here.
Luis Carmona is the owner and lead designer at VERDE Interior Design. With almost two decades of experience in the creative space, Carmona gets to blend his many passions into one design studio, offering interior design and branding services to his commercial clients.
4. Clean floors and carpets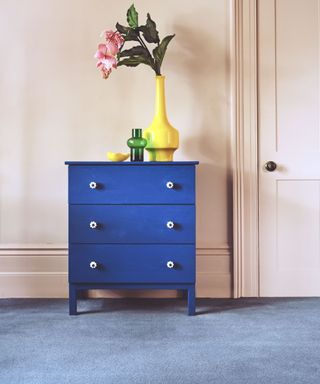 It can be easy to just use a dustpan and brush to clean any major pieces of debris — but it's important to regularly deep-clean them. "People with nice-smelling homes clean their hardwood floors or vacuum their carpet and rugs on a regular basis to get rid of any dust, dirt, and other allergens that can cause funky smells," explains Christina Giaquinto, professional organizer and brand ambassador of Modular Closets.
Christina Giaquinto is a professional organizer and brand ambassador for Modular Closets. She focuses on giving her clients the tools, methods, and techniques to transform their lives and homes through decluttering and organizing.
If you want to really go all-out, you can use an upholstery cleaner on your couches and chairs to freshen them up.
5. Swap out scents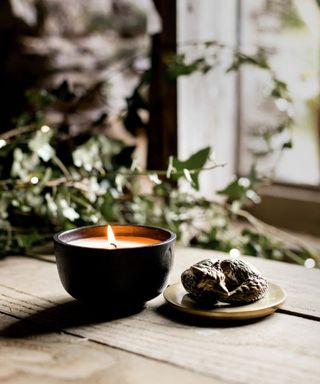 Even if you live in a smaller space, you can create a scent journey for those moving through your home. "I love placing different scents in different areas of my home so that as people enter different spaces, they're met with a fresh scent," Reed says. "This way, your guests will notice the different notes as they move from room to room."
For example, she loves having a fresh, more masculine scent in my guest bath to contract with a warm, inviting scent in the foyer.
6. Clean the sink and sink area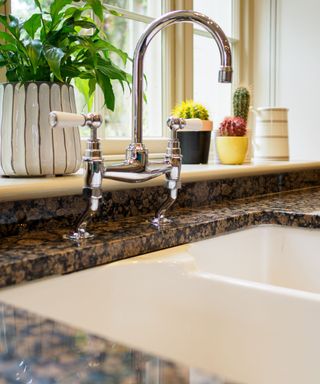 It can be so much effort to clean the dishes and properly wash them up after cooking dinner (especially for those without dishwashers, like me) — but those nasty stale food scents can add up. "Keep your sink free of soiled sponges, dirty dishes, and food scraps, as they can cause funky aromas and attract flies," Giaquinto tells me.
She also adds that people with nice-smelling homes scrub down their sink with dishwashing liquid or another cleaning solution at least once a week, to eradicate any food particles that can smell.
7. Place around lavender sachets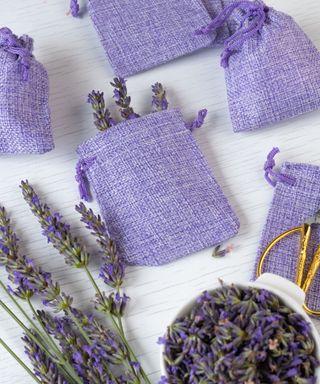 Lavender is one of my favorite scents, because of its calming effects. "Strategically placing small satchels of lavender in certain areas of the home can add a light scent without overpowering you or your guests," Carmona tells me. Placing them under pillows in each bedroom, on a dresser or nightstand, or in a decorative bowl in your kitchen will do the trick.
8. Take out the trash and recycling every week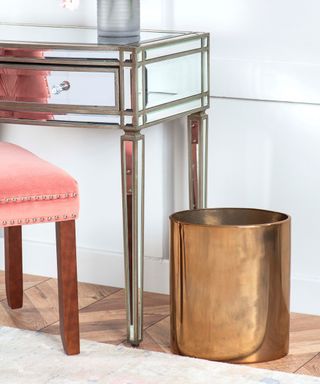 Yes I know — it's a lot of effort to take out the trash. It is key for removing any lingering odors, though. "Make a concerted effort to take out the trash and recycling every week," says Giaquinto. "Old food that is thrown away in the trash can keep going bad and really stink, so it is so important to throw out your trash whenever it gets full." This doesn't just go for your kitchen trash can — this goes for your bedroom and bathroom, too.
9. Hang eucalyptus in the bathroom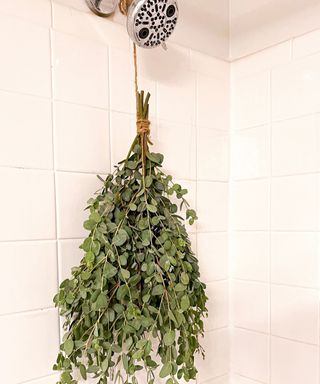 This sounds a little bit random, but it's actually a totally genius idea. "Hanging fresh eucalyptus in bathroom showers will not only provide a relaxing experience while one showers, but in small spaces, the fragrant scent will carry to other rooms," says Carmona. This makes it an especially great trick for those living in small apartments and dorms.
3 useful buys that'll help you make your home smell great
Want to make your place smell as good as those with nice-smelling homes? These buys will help you do just that.
The prices below were correct at the time of publishing this article.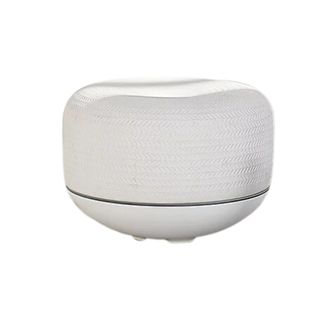 Chic
1. The White Company Textured Ceramic Electronic Diffuser
Price: $109
I have this exact diffuser, and I absolutely love it. It looks so chic on my table, and the sound it makes is seriously soothing, too. The White Company's spa scent is my favorite to use in it, but you can of course use essential oils from other brands in it, too.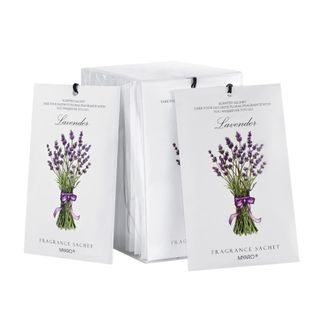 Relaxing
2. MYARO 12 Packs Lavender Scented Sachets
Price: $11.99 for 12
This pack comes with 12 sachets, which works out at around under a dollar per bag. Hide this under your couch, hang them in your wardrobe, and place them in your drawers for a dreamy long-lasting scent.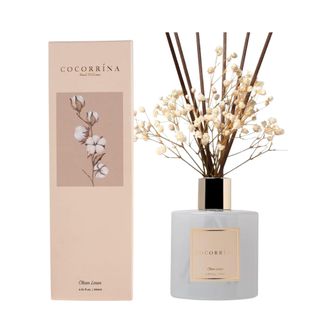 Pretty
3. Cocorrína Reed Diffuser Set
Price: $19.99
Want a classic yet refreshing scent in your home? This diffuser is clean linen scented, making it a really versatile choice. It's also highly-rated on Amazon, with reviewers saying that it smells great and that it's very decorative.
FAQs
How can I make my home smell good?
Making your home smell good will make you feel more relaxed, improve the home's air-quality, and allow guests to feel more welcomed.
What are the benefits of a good smelling home?
Using diffusers, mixing up your scents, regularly cleaning floors and kitchens, and scrubbing upholstery are all easy ways to make sure your home smells good.
---
Now you know what people with nice-smelling homes do to make their places gorgeously scented, you might be wondering how else you can fragrance your small space. These are our favorite ways to make our homes smell good.