Fall simmer pots: Quick Menu
If you're like me, you may have scrolled through TikTok and come across a ton of viral fall simmer pots. 'Tis the season to simmer and enjoy all-things (pumpkin) spice. We're not one to deny ourselves a nice candle but fall simmer pot recipes offer a creative way to autumn-ize home fragrance.
As we prepare to swaddle ourselves in our favorite blankets and watch Gilmore Girls for the millionth time, we need to capture the best scents of the season to truly drive the cozy factor home — hints of cinnamon, bursts of citrus, shavings of honey crisp apples. Ugh, the bliss!
In honor of the best season of the year, we spoke to the pros about the fall simmer pot recipes they turn to once the air cools and the leaves begin to change. And if that's not enough, pair one of these recipes with one of our best scented candles. Enjoy!
Simmer pot equipment list
Ready to get started? You'll need either the best Dutch oven money can buy or a good slow cooker to get things going. Since some recipes can be precise, you'll find measuring jugs (like these OXO ones from Amazon) can come in pretty handy.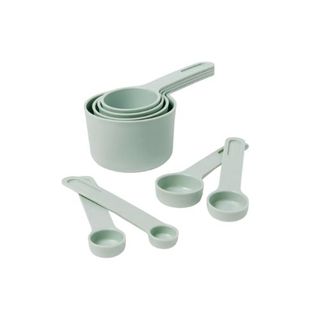 Budget
Room Essentials Mint Measuring Cup Set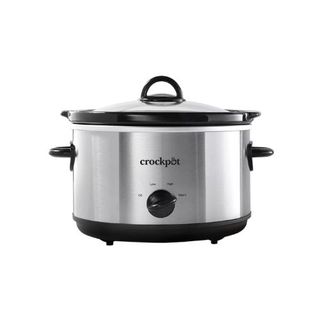 Multi-use
Crock-Pot Manual Slow Cooker
Price: $24.99, $19.99 (save $5 at Target)
Size: 4.5qt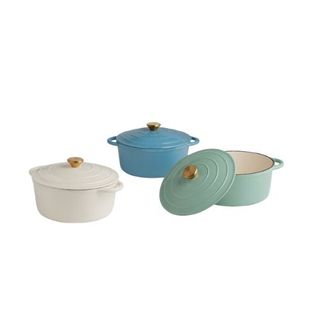 Cast iron
Round Enameled Dutch Oven
Price: $59.99
Size: 5 Quart
How to make a simmer pot
Laurae Carter's method can be used across recipes. She suggests bringing the goods to a gentle boil over medium heat. Afterward, downgrade your heat to the lowest setting so your fall concoction will come to a simmer. Let everything infuse for at least 30 minutes.
Fall simmer pot recipe
The aromas of pastry chef Emily Laurae Carter's autumn simmer pot recipe are far too sweet to resist. The former teacher made her way into baking, and needless to say, we're forever grateful for her coffee macaroons, salted caramel apple spice cake, and of course, her simmer pot go-to.
Note, we've suggested getting your aromatics from Amazon, but there's no reason why you can't shop small at your local ethnic food store or pick up some fruit from an independent farmer's market.
Emily Laurae is a professionally trained pastry chef, recipe developer, and food photographer currently living in Los Angeles. She runs the food blog, emilylaurae.com.
Chai simmer pot recipe
Shilpa Joshi, the mastermind behind the Indian cuisine-focused site someindiangirl.com knows her way around traditional dishes like rotli, daal, bhaath, and shaak. Of course, she's accustomed to working with spices, and her chai creation perfectly encapsulates the best of the fall season.
Shilpa Joshi is a food photographer and blogger, based on the East Coast, and runs someindiangirl.com. Shilpa specializes in vegetarian and Indian fusion recipes.
Spiced ginger simmer pot recipe
Tashelle Darby, the founder of IrieVeda, believes that flavor should never be restricted — even if it's only being inhaled. Her brand is a "blend of positive (Jamaican Irie) and knowledge (Indian Veda) that reminds us to be mindful of who we are, where we are, what we eat, and how it makes us feel in order to live life to the fullest."
3 cinnamon sticks
4 whole star anise
10 Cardamom pods
2 tsp of whole cloves
1 Apple, sliced thin
1 orange, sliced thin
2-3 Slices of fresh ginger
As the founder of IrieVeda, Tashelle Darby-Wong is an entrepreneur, life and health coach, wife, mom, and lover of being hands-on in the kitchen. She fuses Indian and Jamaican ideas and replaces major food allergens and adding various homemade spice blends.
Orange simmer pot recipe
James and Tara, the husband-wife duo behind Sip & Feast, a blog focused on Italian cuisine, love to let their favorite fall ingredients simmer.
"This combo makes our home smell incredible and instantly elevates the coziness factor," Tara tells us. "We like to start a simmer pot midday because it's a great way to welcome the kids home from school."
This recipe is customizable, so you can prepare it however you see fit — you want more cinnamon? Go for it! Too many rosemary branches? Take 'em out. It's up to you!
Orange peels
Fresh rosemary sprigs
Cinnamon sticks
Whole star anise
Tara & James Delmage develop, test, and perfect recipes, photograph our creations, provide instructional and entertaining YouTube videos, and talk, talk, and talk some more about New York-centric food on The Sip and Feast Podcast.
Frequently asked questions
How long can you leave a simmer pot on?
Though you're using equipment that can handle an all-day simmer, we'd recommend playing it safe and only doing so for a few hours. Even though this fragrance method doesn't involve candles, the care is similar; check up on the pot every so often and don't leave it unattended. That means no quick errands or naps when simmering.
What temperature is a simmer pot?
A simmer is just below a boil (212 degrees Fahrenheit). Water that's anywhere from 185–205 degrees Fahrenheit is considered simmering, per MasterClass. Be prepared to adjust the temperatures, stir the mixture (with a large wooden slotted spoon like this one from OXO on Amazon), remove the pot from the burner when necessary, and yes, keep the lid off.
Are simmer pots drinkable?
Each recipe varies, and there's a good chance that you're adding a decent helping of spices and such. While yes, they are possible to consume, we'd recommend leaving the simmer pot for fragrance purposes as the quantities of each ingredient might leave it inedible.
---
Now that you have some gorgeous home fragrance brewing, it's time to get comfy on the couch and watch a fall movie. Preferably with a pumpkin spice latte. Dreamy!