Moving into your first apartment is a very exciting time. Once you've found the right place, there's so much to do and so many decisions to be made.
But there's no reason to be anxious or intimidated. Decorating an apartment, even on a budget, and getting all set up, can honestly be easier than you think.
As long as you've avoided all these rental red flags, you're in the clear! So get started setting up your apartment ASAP.
Tasks and To-dos Before Moving In
You know we're here for all the tidying and decluttering. Funnily enough, this is a top priority according to interior designer Adriana Alvarez of House of Honey. Here is what else Alvarez says to check off:
Measure your door openings, windows, and rooms to be furnished
Buy a shower caddy. ("There's nothing more unsightly than a messy shower area.")
Unpack kitchen and bathroom supplies before anything else
Unpack closet items second– these items make up most people's personal belongings and it will immediately make you feel more at home
From adding more of your personality to the space, to making the most of features you cannot change if you're renting, here is what else the experts have to say about creating a beautiful and functional first home, pronto.
1. Identify The Essentials
It's crucial to identify the essentials and then shop within your budget. According to interior decorator Liz of Toombs of PDR Interiors, the essentials are "Seating for yourself and guests, a place to eat your meals, a bed for sleeping, good storage for clothes and display of decorative items." So you'll want to prioritize these purchases if you haven't got them already, fishing out some good closet organizers and all the rest to keep your space tidy as best you can.
2. Invest In Important Items
Comfort is key. So it's important to invest in a good bed (inc. great bedding) and plush seating. "You will spend most of your time in the apartment sleeping or sitting in the living room watching television. Quality upholstery will last. You can take it with you when you move and have it recovered when the fabric wears out or you tire of it," says Toombs.
A quality mattress is essential because an uncomfortable mattress can impact your sleep and overall well-being.
If it isn't in your budget to buy a decorative bed, purchasing a simple but sturdy bed frame from Amazon or Wayfair for around $200 and elevating it with a beautiful headboard is a great way to save some cash.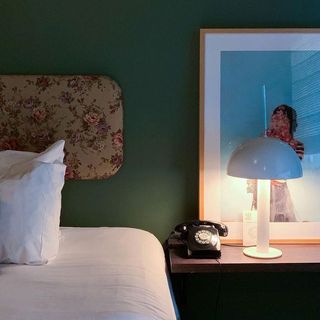 3. Don't Overspend When It Isn't Necessary
While you feel you might need to splurge on that statement pillow or boucle ottoman — trendy items aren't worth the money if you aren't working with a huge budget. "Throw pillows, curtains, and décor should not be investment pieces. The trends change quickly, so don't spend a lot of money on these items," says Toombs.
4. Figure Out Your Floor Plan
"The most important thing to have figured out is your floor plan," says Alvarez. "It's important your space has flow and function and feels proportionate to the room. Create seating areas, and if your space allows it create separate spaces for eating, working, and living. Take the time to move furniture around before accessorizing until you find a flow that works for you."
A great time to make a note of the floor plan is during your apartment tour. Take measurements and photos so you can prep prior to moving in.
5. Save By Purchasing Second Hand
Check sites/apps like Offer Up, Nextdoor, or Facebook Marketplace for second-hand furniture. "Anything that is a case good is usually a great save vs. buying new. If you're in a major metropolitan city like Los Angeles or New York, people with bigger budgets than you are always getting rid of cool things in great conditions that can become your treasure! Think dressers and armoires, coffee and side tables, even bar carts and mirrors," says Alvarez.
6. Swap Out Unattractive Hardware
Rental properties typically lack attractive hardware in places like the kitchen and bathroom, but there are a ton of ways to cover up ugly rental features. Alvarez recommends changing it up. All you need is a screwdriver. "The biggest eye sore is satin nickel hardware in the kitchen. Switching out knobs and pulls to a finish that goes with your color scheme is a small detail that goes a long way," says Alvarez.
Wayfair and Amazon have very inexpensive hardware that can make a major design impact. Swap it back when you leave and you won't get charged by your landlord.
7. Add Curtains To Elevate The Space
So many rentals have hideous window treatments but Alvarez has an easy fix. "Investing in curtains in main areas like your living room and bedrooms will make the entire room feel curated and thought of. My favorite washable curtains are from Ikea."
8. Swap Out Lighting
Much like window treatments and hardware, rentals generally don't have attractive lighting fixtures, but this is an easy swap if you can invest a few dollars. "Have a handyman switch out your light fixtures that are semi-flush mounts or sconces," says Alvarez. "Make sure you also switch out bulbs where you can, so the lighting isn't too cool/harsh. The best-looking spaces have a soft-white/warm color temperature."
Alternatively, Toombs recommends incorporating table and floor lamps for ambient lighting because most apartment overhead lighting is harsh.
Apartment Essentials
Additionally, Alvarez advises a good upholstered bed, loving the Diana Camel Upholstered Queen Bed from CB2. I'm into this more budget-friendly option available at Novogratz: the Holly Upholstered Wingback Bed.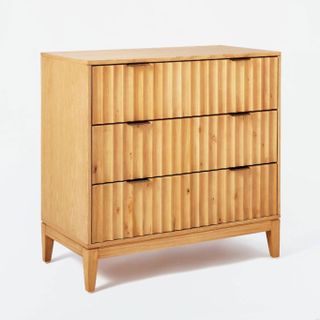 $350
Wood Scalloped 3 Drawer Dresser - Threshold™ designed with Studio McGee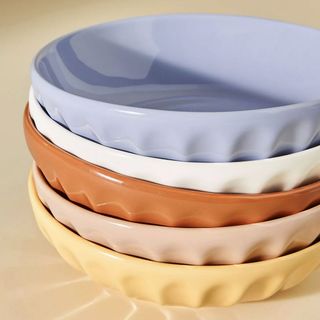 $56
Shiny Latte Pasta Bowls, Set of 4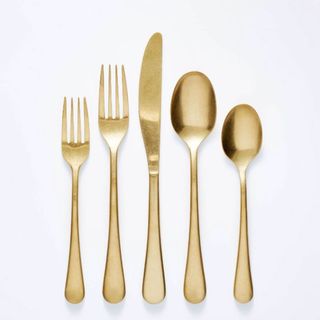 $20
5pc Stainless Steel Flatware Set Gold - Threshold™ designed with Studio McGee
A microwave is another great buy, Alvarez mentions this simple Black + Decker pick available on Amazon.
Next, a couch is a must. And if you're wondering where you can put a couch in a tiny living room, there are ways, trust us! I've got my eye on the Novogratz Cassidy Futon Blush Velvet Sofa which is at a slightly more accessible price point (considering how gorgeous it is).
Team that with a coffee table, beautiful plateware and drinking glasses like these Green Floral Embossed Drinking Glasses, then all you need is some great lighting and you're golden.