Sure, renting allows free-spirited flexibility, but unfortunately, it can also feel super restrictive when it comes to decorating. Sigh. Working with what you have isn't always easy, is it? Especially when rental walls, carpets, and other features are ugly AF.
The awkward fact is that we're stuck with whatever appliances and fixtures the agency or landlord picked out, and let's face it — they're usually cheap, dated, and rather unsightly (I can vouch for that in my current apartment). You may be able to make some simple rental renovations, but tiny details matter too.
So let's think creatively, peeps! As a stylist, I'm an absolute believer that any interior situation can be transformed with a few styling hacks and savvy home decor shopping picks. You see, it's all about the art of distraction and disguise.
Having recently transformed my pocket-sized rental into a sanctuary filled with gorgeous apartment design ideas, I'm here to offer affordable and security deposit-friendly buys to fix up the worst offenders.
1. Use peel and stick wallpaper on doors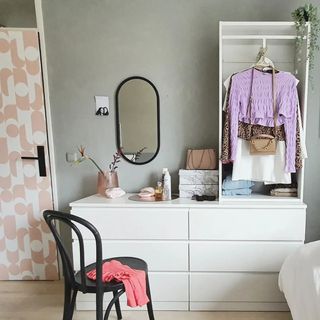 I love this game-changing idea, and it's such a fun weekend project, too. Peel and stick designs offer a super easy way to update offensive doors, whilst adding color, pattern, and personality all in one hit! And it's a fresh take on the basic AF wallpaper feature wall.
2. Swap-in decorative knobs on cupboards and cabinets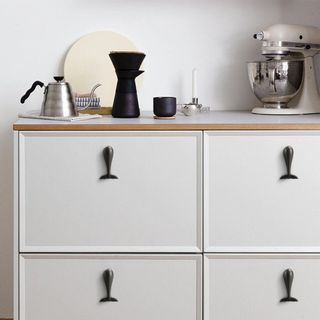 It's all in the decorative details! Glow up weary cabinets in a flutter with a gorgeous glimmer from too-cute designs. A simple screwdriver should be enough (in most cases) to remove the current, très boring designs. (Remember to pop hardware somewhere safe as you'll need to reinstall them pre-vacating the property).
3. Layer ick flooring or carpets with feature rugs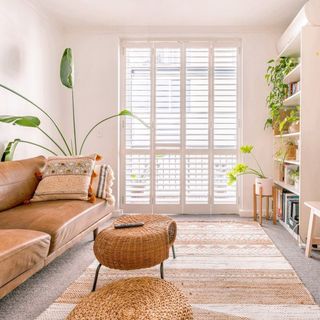 As much as we want to rip it out, we just can't — well not if we want that deposit back! So, let's get over it already and action a remedy! Think like Aladdin and Jasmine, and get on to "magic carpets" with these trendy rugs. I adore uber tactile, boho patterns with tassels or fringing for the ultimate cover-up job. You don't need to hide every inch of flooring — a rug per space will be enough to re-focus attention away from what lurks beneath. A long runner in a narrow entranceway (like mine) sets up a stylish first impression.
4. Make a statement with feature pendant shades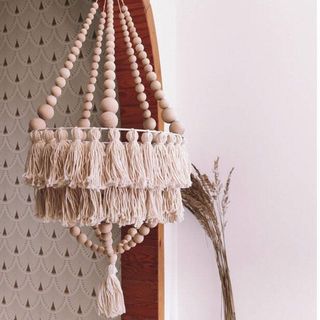 Lone ranger lightbulb glaring harshly at you from above? Glow up your aesthetic quite literally with a trending, textured pendant shade that does all the talking without hogging precious floor space. Create more ambiance with these cozy vibes.
5. Choose chic kitchen accessories to distract from a dated backsplash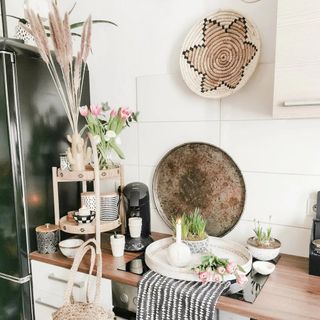 If you're working with a backsplash on the wrong side of retro, you need some budget kitchen ideas to beautify your cozy cooking space. And there's a lot you can do with just a few practical picks of happiness! So instead of choosing "make-do" kitchen essentials, invest in beautiful, unique, and sustainable kitchen products. Think shapely wood and marble chopping boards, gorgeously grainy wooden utensils, and hand-of-the-maker ceramic storage jars — your countertops will be perked up ASAP and you'll be very distracted from the not-so-pretty tiles you can't swap out.
6. Shelfie it up with an over-toilet shelf ladder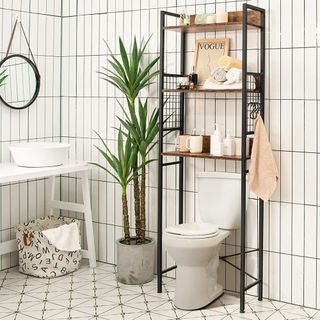 Same tile-torment scenario in the bathroom? I hear ya! And I can not shout enough about the virtues of an over-toilet shelf ladder! Amazon has the best collection of nifty designs. These wetroom wonders deliver instant storage, and a golden opportunity to get your best "shelfie" mode on to create a gorgeous display of cute bathroom decor. Mine has a "mermaid's spa" vibe going on. I barely even notice the toilet or meh tiles now!
7. Hide ancient radiators with a cover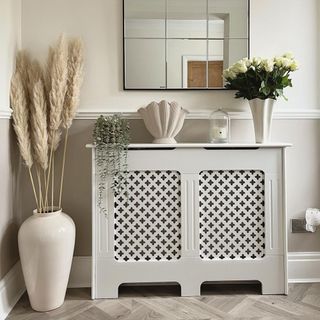 Prehistoric eyesore radiators are a total aesthetic killer! But fear not, there's an easy solution on the toasty-home horizon... With a chic radiator cover that is! These compact "pop-on" designs, cover all the grim whilst still allowing the heating to do its radiating thing. And you can utilize the top as a shelf to display a cute flower home decor idea to elevate your overall scheme. Real cute!
8. Invest in cute small appliances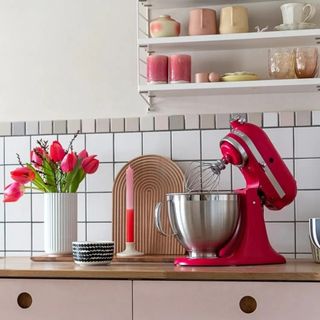 Okay, so bulky white goods (think washing machine, fridge, freezer) might be out of your control (and budget) to shift, BUT you can totally change up a lackluster cooking space with the best small kitchen appliances. So pop that gawdawful landlord-provided kettle in the back of the cupboard, and bring in chic, affordable picks that are as stylish as they are functional. Good things come in small packages amirite?!
9. Add another dimension with light filtering drapes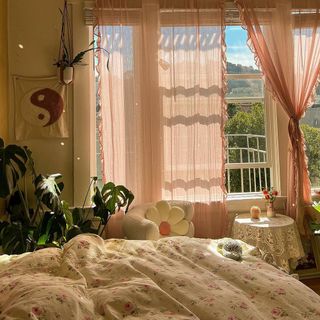 If your apartment is boxy, or perhaps you haven't got that view stripped from a National Geographic, think about setting the scene to homely comfort from the inside out with full-length drapes, waterfalling in texture and tactility.
My ground-floor apartment is narrow and darkish, so I've opted for relaxed material full-length panels in a mid-sheer finish to give the illusion of added height, whilst creating a breezy look and feel. (In fact, they're these exact ones from H&M as listed below.)
Never be afraid to remove pre-installed blinds. Just because it's in situ doesn't mean that you have to live with it (pun intended!) I've always removed the offenders and swapped in my loves. As long as everything is returned to its move-in state, you'll be golden.
10. Use dead wall space to manifest dreams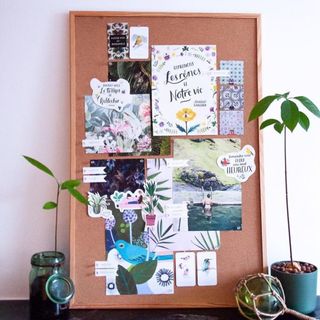 Worried about damaging walls with a full-blown gallery wall? Try a mindfulness-loving visualization wall instead, using tear sheets and cut-outs of inspirational images secured with paint-friendly washi tape. (Try Amazon and Etsy for cute patterned options.)
Put it out to the universe, and the universe shall deliver...