With forever steep rental prices in most cities, tiny apartments and studios are not uncommon. Though your monthly bill is spendy, it doesn't usually match up with the square footage. If you've set up camp in a tiny apartment, you probably have a small living room, too. Sometimes so small that you might be wondering, hey, where can I actually put my couch?
When space is at a premium, you'll want to be extra picky when choosing furniture. Prioritize the essentials, which will likely always be a couch, a console or coffee table, and a space for a television or record player.
Some would argue that the sofa is the focal point of a living room, and although this isn't 100% the case, it does remain THE place to be for curling up with hot cocoa after a long day or sipping something more refreshing with friends ahead of a big night. That means getting your couch placement right is key to a successful small space lounge design.
1. Determining the right spot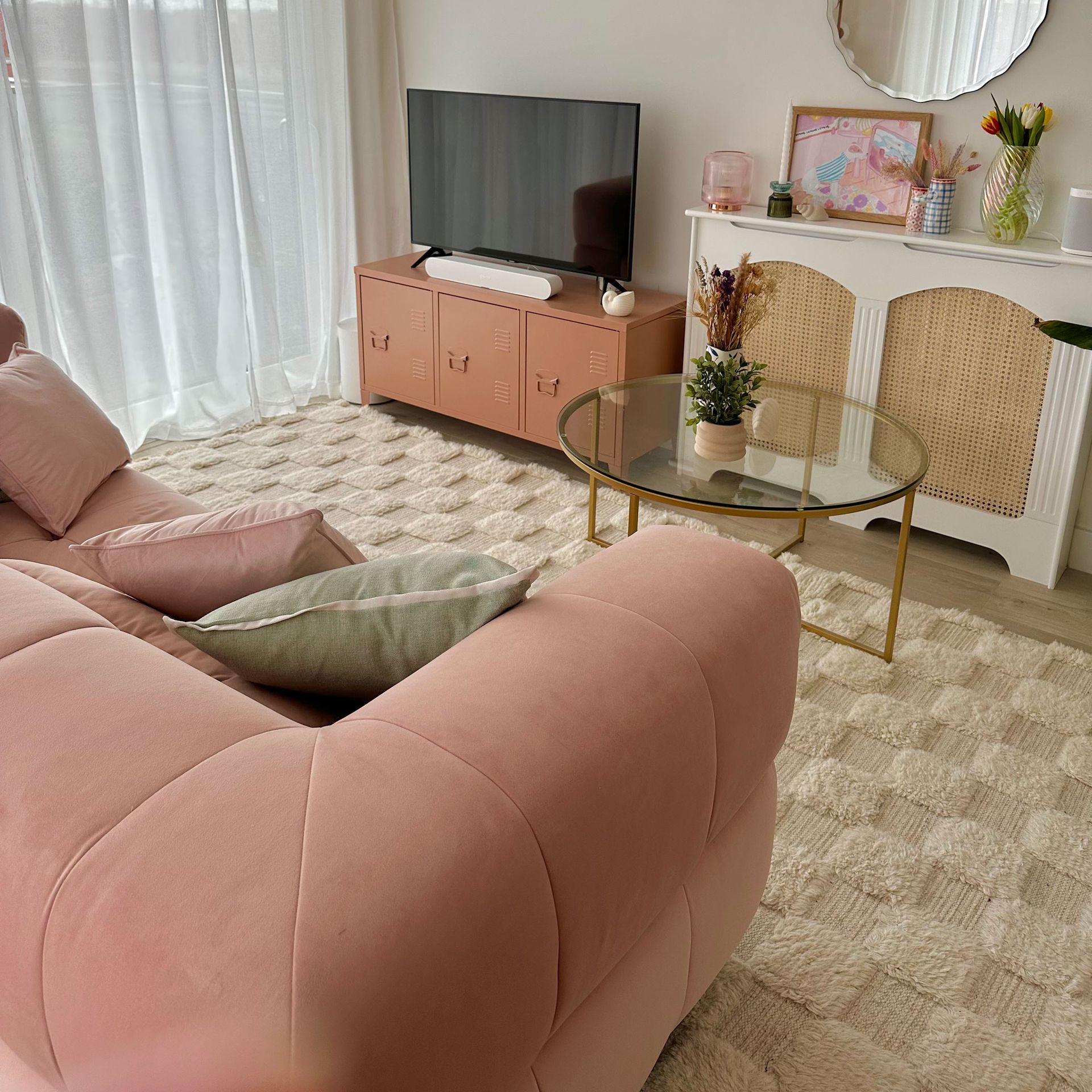 Having rented most of my adult life, I've often had to work with a tiny living room space. Getting the lounge layout right can be challenging, but you just have to be a little more strategic with your furniture placement. Think about the space you have available, the size of the couch in question, and of course, how the area will be used. Also consider what you want your view to be from sitting on the couch, as this will determine your focal point. For more advice, I spoke with a couple of home design experts to get their thoughts on the best approach.
"Walls in small spaces tend to be overtaken by windows, doors, and openings into other rooms," says Corinne Vassallo of Virginia-based Corinne Victoria Design, who admits that small spaces do restrict your couch placement options. From a practical point of view, Vassallo notes that any open blank walls should be used for a TV or media console. "From there, your sofa should ideally be parallel to the TV wall, whether that be against a wall or floating in the room."
2. To float or not to float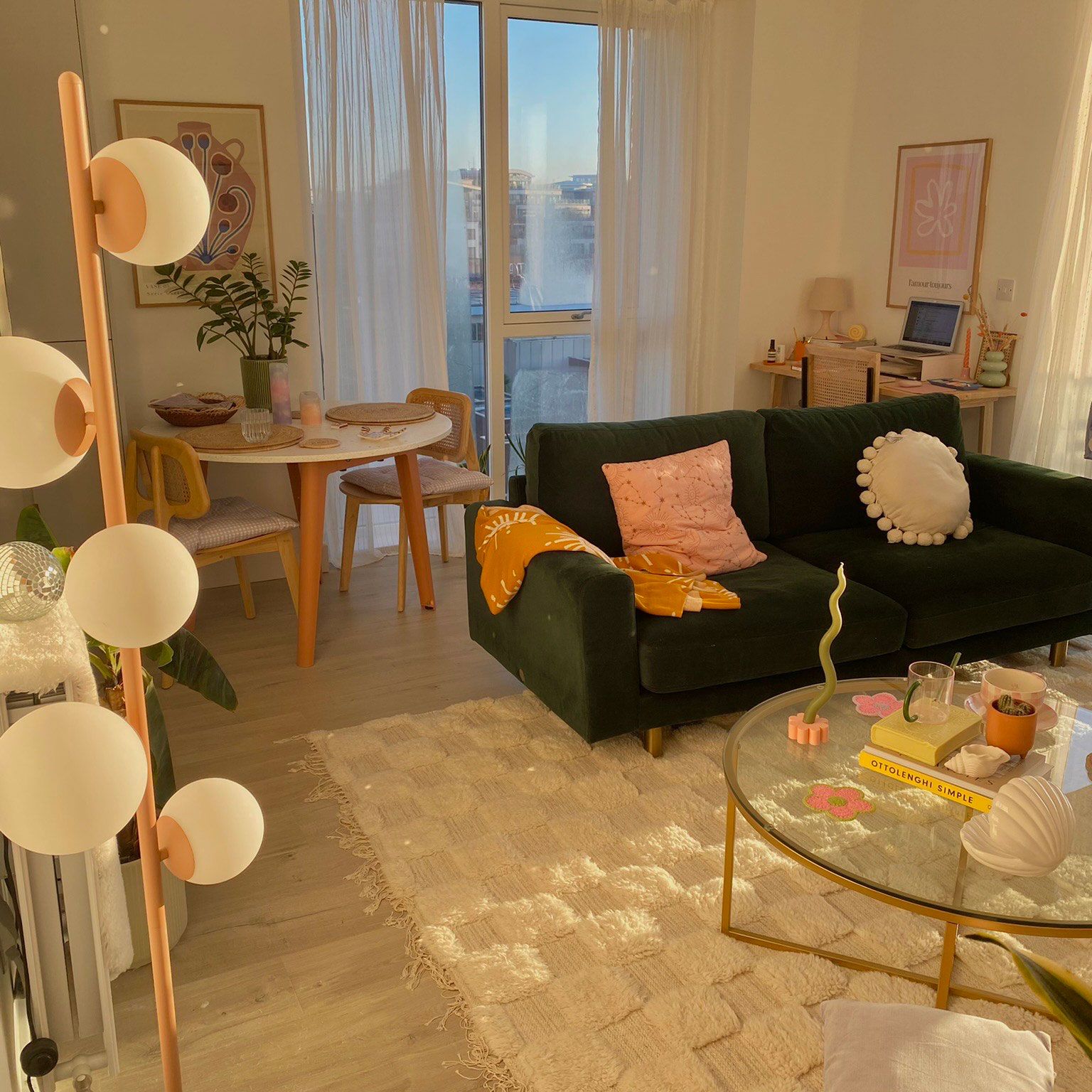 Something that is all too easy to forget is that not all furniture has to fit snuggly right up against a wall. This is especially true when you're working with small or particularly awkward room layouts.
The beauty in letting your couch "float" means that you can either choose a wall that might have otherwise appeared out of bounds, such as one with a window frame or a discerning wall feature.
"From decorating my small one-bed flat, I've learned that 'zoning' is really important and effective," says Steph Kaluza of @ohsorented, who has a beautifully styled living room that's about 145 square feet. Her space is carved out of an open-plan layout, which can present slightly different challenges.
"In an open-plan living space, I prefer to put the sofa in the center of the room rather than up against the wall," says Kaluza. "This allows me to create a little zone that I can dedicate to watching TV/relaxing, while still being able to create other zones in the space for things like a desk/workspace or dining area."
To help you decide if this is the best placement, consider whether there will be clear enough walkways and a good distance between where you're sat and the TV or your other focal point. If you have wiggle room, let it float.
3. Maxing out the rest of the space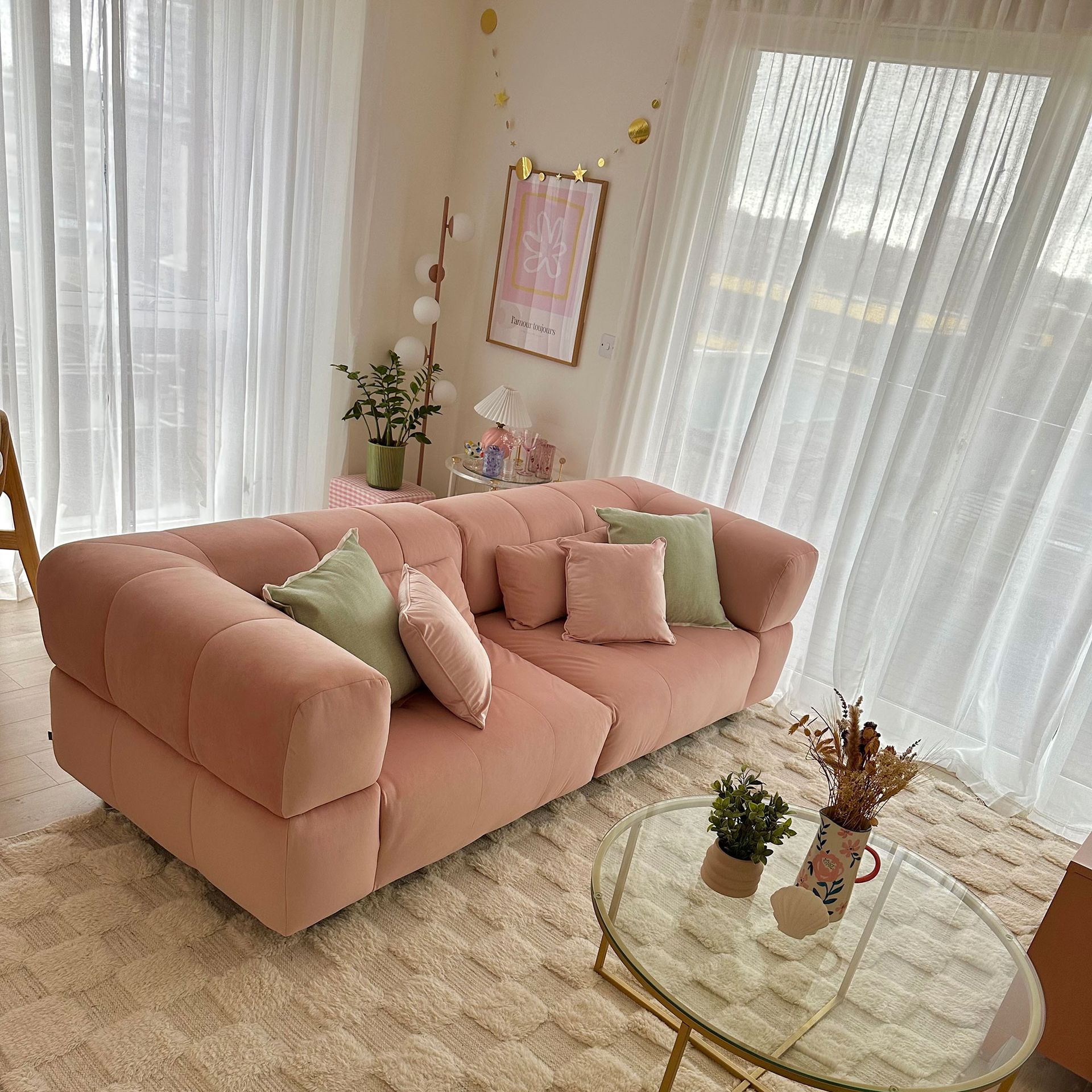 For small apartments and studios, taking both a logical and out-of-the-box approach to designing your entire space will pay off in more ways than one. Choosing to let your couch float will leave room for added function without taking up precious square footage in the center of the space.
"If it floats, add a narrow credenza in the back of it or find a sofa that has an aesthetically pleasing back," suggests Vassallo.
"Another great tip for picking a sofa when you're limited with space is choosing one with built-in storage," notes Kaluza. "I'm always a fan of multi-purpose furniture!"
Vassallo agrees that buying multifunctioning pieces is a great investment for small spaces, like living rooms where you have to be selective with furniture. "For example, coffee tables that have storage inside, sofas that pull out into beds, modular dining room tables that fold up into a console table or desk when not used," she says. "That way, the layout of your space does not need to be delineated into different room sections but rather can function as multiple room types all in one area."
In all, it's about working with the square footage you have and not being afraid to do something different, because even the coziest of living room setups can reward you with a styled and inviting finish — snuggly couch very much included.