One of the most inviting and relaxing rooms in a home is the living room. It's where most of us spend our downtime after a day of work, it's where we sit and catch up with family and friends, and it's where we enjoy movies (and the accompanying snacks). The living room is an integral part of every abode, whether you live in a small house or a three-story apartment building.
Designing a living room may be straightforward — simply add a comfy couch, trendy coffee table, and sleek media stand and you're good. However, knowing how to organize a living room so it stays functional can be an ongoing challenge.
If you're tired of seeing remotes, throw blankets, and books strewn about your living space, this guide will help you keep things orderly. Here, we're walking you through some tips that will help you keep your living room in tip-top shape. Once you have an organizational system in place, the upkeep will feel like a breeze.
Utilize big furniture pieces to store your belongings
Because furniture takes up the bulk of every space, it's smart to purchase pieces that you know you'll get the most use from. In a living room, one of the best furniture items you can splurge on is a media or storage cabinet because they offer so much storage. Having a larger place to store belongings will result in a more organized and put-together room.
When it comes to deciding what to store inside of a media cabinet, consider it a home for board games, throw blankets, candles, or keepsakes. Because these items aren't necessarily used every day, most of the organizational methods you put into place will stay intact, meaning there isn't much to stay on top of. However, if you find that you rarely need items stored inside your media cabinet, then it might be time to do a sweep and see if there is anything you can donate.
Also, even if you don't necessarily need more room to house your living room essentials, a media cabinet might still be worth considering. Because it's such a large and multifunctional piece of furniture, you could use it to store other household items that you don't have a spot for — think extra bed sheets, towels, or off-season clothing. Whatever keeps your items concealed should be considered a win.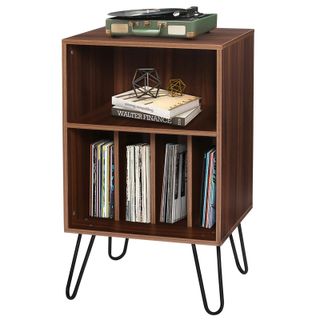 For small spaces
Hommpa Turntable Stand with Storage Shelf
$76.95
A cute media cabinet for records, books, or stacks of video games. Its open shelves are fit for your cutest items.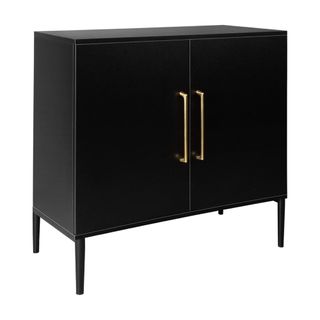 Sleek & chic
Lynsom Storage Cabinet with Doors and Shelves
$119.99
Hide away extra remotes, wires, or even pillows with this cabinet that'll keep your living room clutter-free.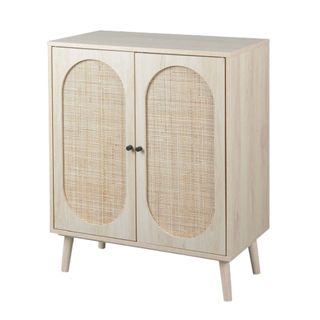 Ultra stylish pick
Qhitty Rattan Sideboard Buffet Cabinet
$124.99
This pretty rattan buffet is a perfect pick for boho and Cali cool living rooms that are in need a breezy storage cabinet.
Opt for a TV stand with built-in storage
One of the most taxing pieces of furniture to decorate and make use of is a TV stand. There are so many varieties of stands out there, but they all pretty much serve just one purpose: to hold your TV. Look for a stand that offers storage, like something with drawers, cabinets, or even shelves.
How you organize your TV stand will depend greatly on the style you're working with (as well as your personal taste), but generally, this is a good spot to stack books, place a candle, and corral your remotes.
If you have drawers or cabinets to work with, use the space to organize any overflow items you can't fit elsewhere in your house.
Use your coffee table to house items you regularly use
The key here is to only place items you regularly use on your coffee table rather than trinkets and decorative pieces that supply no function. A pretty bowl or vase may look visually appealing, but if they aren't items you get any utility from, they're simply taking up space that could be better used. Instead, use your coffee table to store items you continuously reach for, like matchboxes, a candle snuffer, or coasters.
The same concept applies to the highly popular trend of displaying coffee table books. Rather than splurging on a big book you have no connection to (or even have any interest in flipping through), set out a photo album, cookbook, or the novel you're currently reading.
Need some more room? Consider getting a coffee table with storage that's built in. You can stash blankets, extra throw pillows, and chargers inside.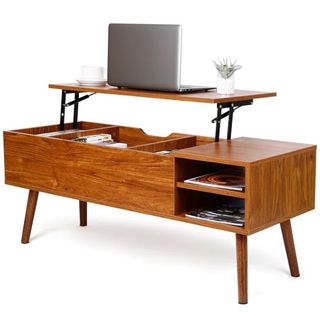 Hidden storage
Corrigan Studio Amethy Coffee Table
$104.99
Make the most of your living room with a coffee table that works overtime to give you a workspace and extra storage. Shop all of our favorite Wayfair coffee tables.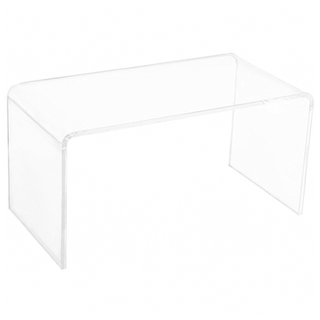 For trendsetters
Orren Ellis Ganley Coffee Table
$226.99
An acrylic coffee table is forever trendy and it's perfect for a small living room as it gives the illusion of more space.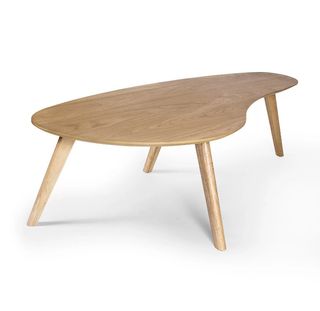 Mid-century modern chic
Mercury Row Campanelli Coffee Table
$226.99
Mid-century modern is the style that keeps on giving. Bring in MCM flair with this cute wooden coffee table.
Limit the knick-knacks on bookcases
Bookcases with open shelving might be pretty, but if you don't style them right they can look chaotic and cluttered. They also take up a lot of surface space. If you have a bookcase that you're struggling to organize, the best approach is to streamline what's on it in the first place.
Go through the books that are lined up and par down on what you don't want or need. Toss whatever you haven't picked up in the last year (unless you're hanging onto it for sentimental reasons).
Next, be honest about the items you have on display. Are there too many knick-knacks in the bookcase? Do you even like that vase your aunt gave you? Are you planning to light that candle that's currently collecting dust? Edit the items you have set out and keep only those that add to the design of your space.
Incorporate an ottoman with storage in your floor plan
When you're really desperate for more space, a no-sweat solution is to swap a coffee table for an ottoman with storage. Make use of the ottoman's surface by setting out a tray that holds your essentials, like a book, diffuser, and any remotes. Then leave the inside of the ottoman to do the dirty work (aka stock the cozy blankets you're hoarding).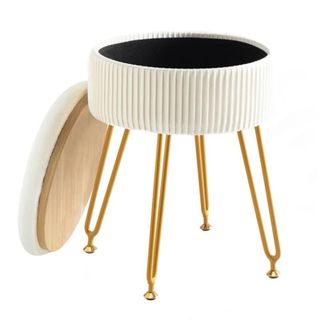 Small but mighty
Marny Upholstered Storage Ottoman
$50.99
For under $100 you can get this triple-threat ottoman that's a seat, side table, and secret storage in one.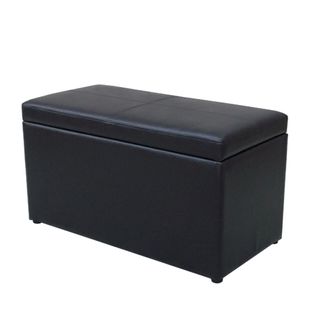 A brilliant bench
Better Homes & Gardens Hinged Storage Ottoman
$62
Doubling as a seat and storage, store all your pillows and throws in here when they're not being used.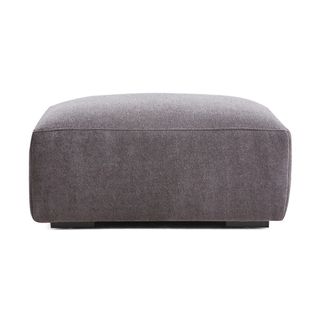 Comfy & cozy
Salo Dark Gray Wide Single Ottoman
s
If you just need some extra seating and don't want to clutter up your living room, this puffy pick is the one.
Always put things back where they belong
While this rule rings true for any room in your house, it's an especially impactful habit to keep up with in your living room. Most people spend a good chunk of time in their living room on a daily basis, meaning things can get sloppy rather quickly.
Try to place anything you use back where it belongs so there's no mess to begin with. When you use a throw blanket to cuddle up on the couch, make sure you place it back in your living room blanket basket (nicely). This will make it more appealing when you go to grab it again — and it will ensure your space is always guest-ready.
If you know that your habits don't align with needing to fold a blanket each time you use it, consider storing it another way. Perhaps a woven basket can house your blankets or maybe you're better off draping it over your couch. The best rule of thumb is to find whatever works best for you and your routines so it's easy to stick with.