Although you may vacuum your carpets thoroughly once a week you need to give them a deep, steam clean every few months. Carpet especially thick, shaggy piles are a haven for dirt, germs, dust mites, dead skin and other nasties. Unwashed carpets can also put you at risk of allergies and cause breathing complications.
If you have no idea how to wash your carpet don't worry our step-by- step guide will make it hassle free and simple. Vacuuming just isn't enough to blast away deep dirt and germs.
To clean your carpet you will need...
1. Clean your carpets regularly
Ideally you should wash your carpets every three to four months using a domestic carpet shampoo machine such as a Vax. It's a good idea to buy a shampoo that includes a carpet protector for example Scotchgard. This will help protect your carpet from future stains.
2. Hire a carpet cleaning machine
If you don't want to buy your own carpet washer you can also hire a machine such as Rug Doctor from B&Q. They're usually £30 for a 24-hour rental including detergent.
3. Clear the floor
The first thing you need to do is clear the area as much as possible. Stack chairs upside down on the table, remove rugs and any random toys or small objects that are lying around.
4. Vacuum the carpet
Quickly vacuum the area before you begin carpet washing to remove any surface dirt, this will also stop your carpet washer getting clogged up.
5. Pre-treat stains
Remove any tough marks and stains you can see with a pre-treatment before you begin your deep clean. A treatment such as Bissell Pre-Cleaner would be ideal. This will loosen the stain making it easier for your carpet cleaner to fully wash it away.
6. Leave for 15 minutes
Once you have applied the pre-cleaning solution to your carpet leave it to work it's magic for 15 minutes. Be careful not to over-wet the carpet as this could make dye from the underlay seep through.
7. Prep and read
If you are using a carpet washer for the first time read the instructions fully and make sure everything looks like it's in good working order. Rinse the tanks and check the filter and brush bar are clear. If there are any obvious problems consult the equipment's manual.
8. Fill the tank
To being simply fill the water tank on your carpet washer with warm water and your cleaning solution.
9. Get cleaning
Move forward slowly holding down the trigger to spray the cleaning solution. Then release the trigger and pull the washer backwards over the carpet. Continue moving backwards and forwards, repeating up to four times in each area.
10. Let it dry
To dry your carpet open the windows and ventilate the room with fresh air. If it's too cold for that put the central heating on and leave for a few hours to speed up the drying process.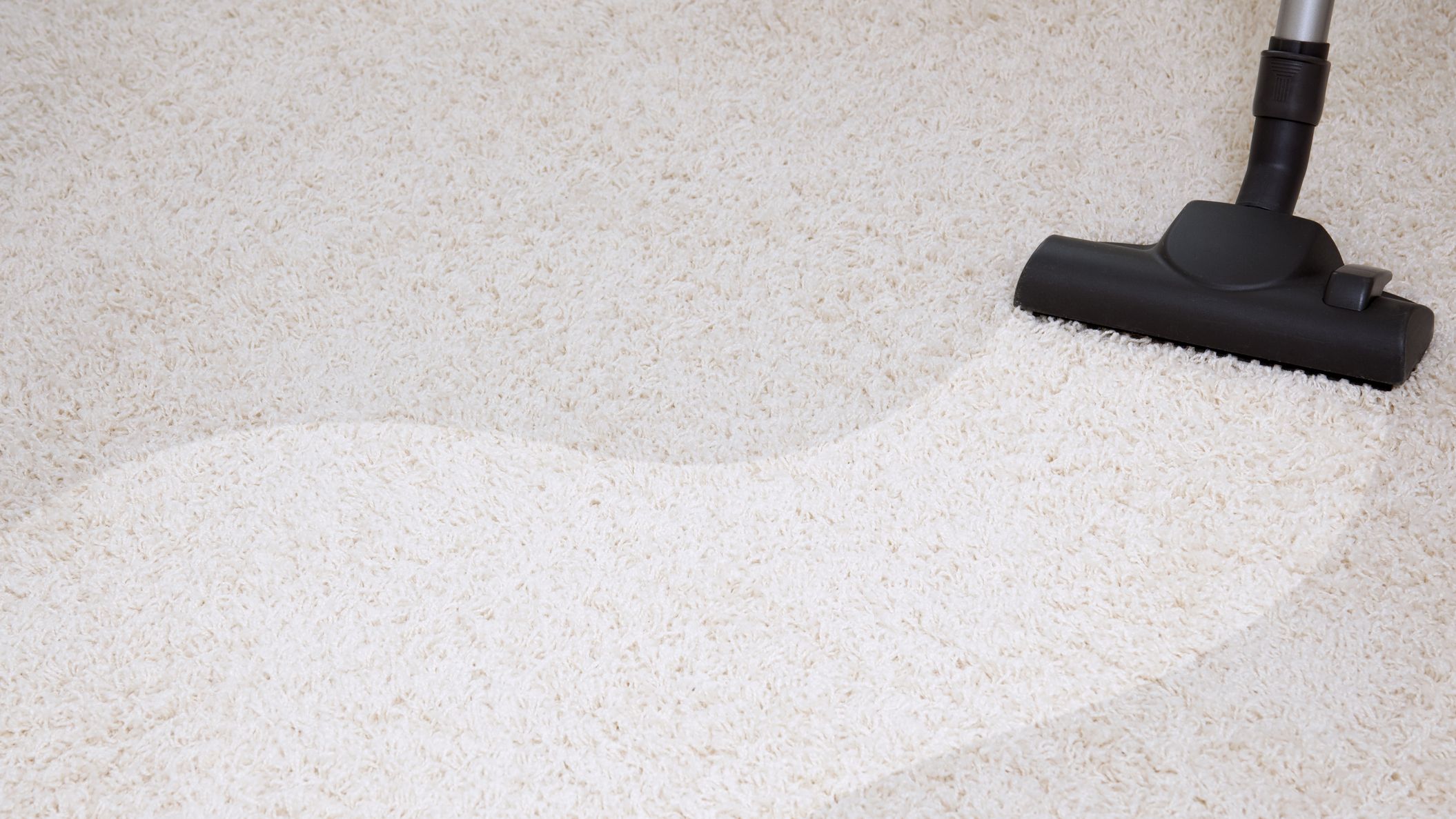 Hacks for keeping your carpet looking and smelling fresh:
1. Remove any stains from your carpet such as tea, wine and ketchup as soon as they happen. Treat the stain with a carpet cleaner straight away, which will lift the liquid out immediately.
2. If you do not have a carpet cleaner available, blot (don't rub) the stain until you have removed as much of it as possible. Dilute the stain with warm water mixed with a small amount of white vinegar and blot some more.
3. Try and remove any dents and impressions left on the carpet by heavy furniture by rubbing an ice cube over the area.
4. For wool carpets choose a cleaning solution that is wool safe. This way you will know it has been tested and approved for carpet care specifically on wool (all Vax cleaners are wool safe).
5. If you have kids and pets rolling around a lot it may be a good idea to wash your carpet more often than every three months.
6. Start in the far corner of the room and work your way back to the door. This will prevent any accidental soggy socks!
7. Enjoy your new perfectly clean carpet for longer by taking your shoes off as you walk through the door.