If you want to be able to wash carpets regularly yourself rather than hiring a machine or needing to call someone into your home to do the job for you, the Vax Platinum SmartWash could be the answer. But does this carpet washer – and dryer – deliver the results you need, making it worth your spend? And how easy is it to use? I put it to the test to bring you this in-depth review.
And if you're searching for more of the best floor cleaning solutions for your home, take a look at our guide to the best vacuum cleaners. I've tested a wide selection of them on carpet as well as hard flooring in my rooms, challenging them with dirt, mud, light debris, and the comings and goings of muddy shoes to give you the lowdown on how efficiently each will do the job, how easy it is to use, and how much space it'll take up in your cupboard.
Vax Platinum SmartWash specifications
Power: 1200W
Cable length: 9m
Dimensions: H107 x W32.5 x D48cm
Weight: 7.4kg
Noise: not available
Energy rating: not available
Capacity: 1.9l (dirty water); 3.5l (clean water)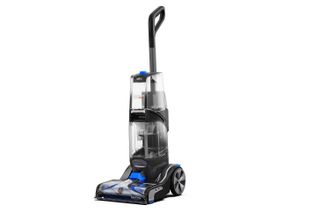 Who will the Vax Platinum SmartWash suit?
Households with lots of carpet in the overall flooring mix plus young kids or spill-prone people of any age, and/or those with pets at home who don't want to go to the trouble of hiring a carpet cleaning machine to get the job done. Good storage is needed due to its size, so it's likely not ideal for a small home.
What is the Vax Platinum SmartWash like to use?
Once this carpet cleaner is in your home you'll be a whizz with it in no time at all. It's easy to set up, and simple to get cleaning with.
Carpet
If you're worried about bacteria in your home, concerned your carpet's a bit niffy, want to revive carpets you've inherited from the previous homeowner, or floor-level spills are a too-frequent occurrence in your rooms, investing in a carpet cleaning machine can be a very sensible strategy. After all, it saves you having to hire a machine or book someone up to take on the job, plus you can deal with issues as soon as they happen, as well as perform periodic cleaning, without the need for forward planning and booking.
That's where the Vax Platinum SmartWash comes in. This is a machine designed to become part of your armoury of home-care appliances alongside your vacuum cleaner and any hard floor cleaner you might possess.
The carpet cleaning tests I set for this home helper were to revive a carpet that looked tired and was starting to seem grubby. I also challenged it with stains – both specific and of unknown origin.
Setting up
The machine proved very easy to set up ready for use. I just had to fill the solution tank with the carpet cleaning solution and then put water into the clean water tank. The machine is mains operated and therefore there was no need to charge a battery before I could begin. Plugging in can feel restrictive – especially if you're used to a cordless vacuum cleaner – but this carpet cleaner has a 9 metre cable so I could move it over a wide area without the need to swap sockets.
How it performed on carpet
Once the machine was switched on, and the foot switch pressed to recline the handle, it was ready to go. The machine automatically dispensed the cleaning solution and clean water as I pushed it forward, then picked it up as I pulled it back towards me.
Vax calls this motion sense technology and it's a boon as it meant I didn't need to pull and hold down a trigger to use the machine, while the mixture of cleaner and water was correct without my having to be concerned about it. The machine's display kept track of what was going on with 'wash' illuminated on the forward stroke, and 'dry' on the backward stroke.
I took advantage of the option to dry the carpet further in my tests. To do this, I pressed the dry only button which prevents water being delivered. This extra process didn't take long, but meant the carpet was back in use sooner.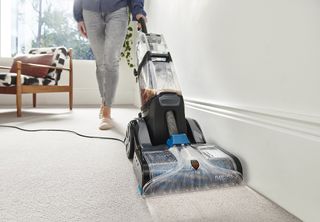 For an awkward stain near to the skirting board, I made use of the machine's hose. This connects into the front of the machine and can be fitted with an attachment suitable for the job (see below). I had no trouble reaching the area in question because the hose is 2.5 metres in length.
Just as with using the machine itself, a forward stroke with the hose released water and solution on to the stain – although this time I had to remember to use the trigger. This didn't make the process hard work because I was cleaning a limited area. To dry, I just had to release the trigger and pull the tool backwards.
Once again, as with using the machine itself, there was the option of extra drying by using the tool with the trigger released.
Manoeuvrability
Shaped like an upright vac but with dimensions of H107 x W32.5 x D48cm, this machine couldn't be called small, but it was still easily manoeuvrable across the carpet. I didn't find it an effort to push and pull as I used it, and it went where I wanted without any supermarket-trolley syndrome.
Taking it up and down stairs was a rather different matter, especially with a full tank of clean water plus cleaning solution on board. There's the option to carry the clean water up on a second trip and then fit it on to the machine, but even so it isn't a lightweight and this is worth being aware of if you find carrying appliances up the stairs an issue.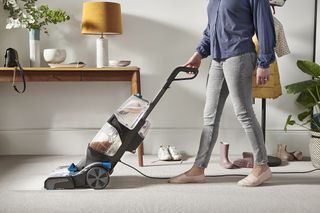 Which attachments does the Vax Platinum SmartWash come with?
The Vax Platinum SmartWash comes with the hose, and a bag to store it and the tools (see below) neatly in, which I found avoided the cupboard tangle. The 2.5m length of the hose not only ensured it was handy for the staircase, but also makes this machine highly usable for car cleaning.
To put on the end of the hose, there's a spin scrub hand tool, which is meant for stains and marks. Alternatively, you can attach the 2-in1 antimicrobial tool with multipurpose and pet attachments to pick from and use with it. This is designed for use on stair carpet and pet beds, and can fit into crevices.
While I found the hose easy to attach to the machine itself, in my tests the tools took a little force to put on to the end of the hose, which some users might find challenging.
Along with the hose and attachments, I received the standard two 250ml of Vax Platinum Antibacterial Solution to use in the machine along with 250ml of pre-treatment solution. Do be aware that if you opt for this machine, you will be tied to using Vax carpet solution. Vax says other versions can cause excess foaming and will invalidate your guarantee.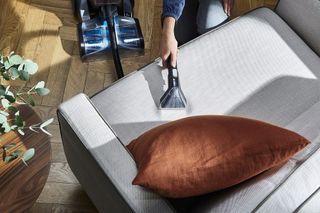 Power and stain removal
I gave the machine top marks for freshening up a tired carpet. It came out looking clean and with the pile revived. When it came to a coffee stain, the results were pretty good on a first clean, although it didn't lift it all in one go.
Vax does warn that this is the case and advises that, if an area is heavily soiled, you should repeat clean it making criss-crossing strokes across the original pattern and overlapping with each pass.
You should also be aware that you need to vacuum carpet before you wash it. Don't expect the machine to work out the debris, fluff and hair as well as clean it.
Container removal
Vacuuming requires emptying the dust container or removing a vacuum bag once it's full, but if you haven't used a carpet cleaning machine before, be aware that there is a lot more container removing, filling and emptying to get to grips with.
Owning the Vax Platinum SmartWash requires you to deal with three containers. The first is the tank for the cleaning solution. The second is for clean water, and has a 3.5 litre capacity. The machine's third tank is the one for dirty water with a 1.9 litre capacity.
Cleaning solution and clean water had to be added before I started my carpet cleaning tasks. Taking the containers off the machine was easy to do, as was adding the necessary contents to each. However, I found filling the cleaning solution tank a slightly more awkward job than it would have been if the tank could be placed flat on a surface (it's shaped to the machine). The clean water tank had the advantage of a flat base that meant it could be placed securely on a surface.
Once I'd finished cleaning, it was necessary to empty all three containers, including the solution tank. But if this sounds wasteful, don't worry. You can pour unused solution back into the bottle ready to use when you start your next carpet cleaning session, and I discovered this was a mess-free job.
I also had to empty out the clean water tank, and the dirty water tank had to be emptied and it and its filter rinsed. All needed to be air-dried before replacing, too. As with putting the containers on to the machine, taking them off is a smooth process.
Handy features
OK, I mentioned it above, but the fact that the Vax Platinum SmartWash doesn't require a trigger when it's used as an upright machine and automatically dispenses Vax's Antibacterial Cleaning Solution and clean water on a forward pass, then dries on the backward pass is very handy in my book because it makes it so easy to use.
It also scores handiness points because the brush bars are simple to remove for cleaning – no tools needed – making maintenance less of a chore.
If it's bacteria that worry you particularly, you'll also find it reassuring that used with Vax Platinum Antibacterial Solution, the machine promises to kill over 99 per cent of bacteria. The brush bars, floorhead and the cleaning attachments also have integrated antimicrobial treatment.
Storing
Decent size cupboard? You'll have no problem putting the Vax Platinum SmartWash away and, like an upright vac, it won't need propping, staying firmly where you put it. If your storage is limited, however, the dimensions of this machine could make a spot washer a better solution for your home.
How does it rate online?
On the Vax site it's a pretty resounding 4.9 out of five as an average score from the users of this carpet cleaner. The machine's purchasers are fans of its cleaning results even in the face of light coloured carpets and stains caused by pets, and impressed by its drying as well. They also acclaimed its abilities on upholstery and car interiors.
The average score was also 4.9 out of five from those who bought it via the Argos site. Here, reviewers noted results as good as those when calling in a professional carpet cleaner, appreciated how easy it was to use, and found it very manoeuvrable.
How does it rate against similar carpet cleaners
The Vax Platinum SmartWash is in the most expensive part of the carpet cleaner market but it's a worthy competitor to its rivals with great cleaning and carpet-refreshing results, as well as effective drying. If you want the lightest weight machine possible, it compares favourably to many rivals, and it scores highly for ease of use, and simple maintenance, too.
About our review – and our reviewer
Sarah Warwick has specialised in homes and interiors for over 20 years. She was Executive Editor of Ideal Home magazine, and has written for nationals, magazines and websites including Real Homes, Homebuilding & Renovating, Grand Designs, Homes & Gardens, Houzz, The Guardian, House Beautiful and Country Homes & Interiors.
She puts vacuums and floor cleaners through their paces all round the house, on all sorts of dirt and debris, and a variety of flooring and surfaces.