If you need to know how to get red wine out of carpet fast, then you are in the right place. Whether you're a few glasses in or not, don't panic as you can save your carpet from stains using generic household ingredients like salt, club soda, vinegar and more.
So if a quiet glass of vino has turned it to an 'oops not the (hopefully not new) carpet' situation, keep scrolling for quick and effective results, plus an expert tip too...
First things first, you need to dry out the red wine spill and this can often do the trick depending on the severity of the stain. You can use kitchen roll, or a towel, to blot and absorb the red wine until it's almost dry. Then flushing the area with carbonated water or soda water while continuously dabbing and blotting the area should work. You may need to repeat this process a few times. This may or may not have worked completely. Keep reading for our full how-tos.
1. How to get red wine out of carpet with salt
If it's a small and fresh spill then salt alone could really help. And we're starting with salt as it's a good buffer while you decide on the best course of action. Pour a generous amount of salt onto the red wine spill and this should keep it from setting, plus, it's great alternative to kitchen towel or a regular towel if you haven't got these to hand!
2. How to get red wine out of carpet with baking soda
Indeed it can be done, and for this method you need to again, blot out as much of the wine stain as possible as above. You will then need to spray hydrogen peroxide on to the stain before adding a good amount of baking soda, ensuring the stain is fully covered. Let the solution sit for 2 to 3 minutes, then rinse and blot with water and a clean cloth. Ta-da. Don't do it again!
3. How to get red wine out of carpet with white vinegar
For this slightly more natural alternative to carpet cleaner, you should mix one tablespoon of white vinegar with one tablespoon of washing-up liquid with two cups of still water.
Blot this mixture onto the stain using a towel or cloth, similar to before. Take another clean and dry towel to blot off any access until the stain has disappeared and you should be left with zero evidence of red wine drinking.
4. How to get red wine out of carpet with club soda
Using soda water as first mentioned, or club soda is a solid way to resolve red wine stains in your carpet. Founder and author of Clean my Space, Melissa Maker's recommends this also: 'As usual blot up as much as you can and then simply add some club soda, not a ton, just enough to cover the stain. The bubbles are going to help break the stain away from the carpet fibers and allow you to lift the stain out. Blot up the club soda and repeat as necessary.'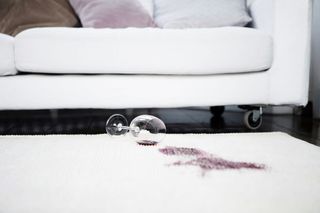 Does red wine stain permanently?
If the wine has time to set in the fibers then it can leave a forever regretted tint. The key is to not scrub and to blot away as much as you can.
How to remove old red wine stains
Saying that, you can treat old red wine stains using one part dish soap, to roughly 3 parts hydrogen peroxide. Apply this to the stain post-blotting and flush out thoroughly.
Will white wine get red out of carpet?
Some say it's a myth, some say it neutralizes the stain – making it easier to lift the color – and we say it's worth a shot if it's all you have to hand. Simply pour a little white over the stained area and blot gently without rubbing. Follow this with one of the above methods and pour yourself a glass when you're done to celebrate your success.
Cheers!